Cities in North Dakota are smaller than cities in many other states because North Dakota's population is smaller. The populations in the chart are based on the most recent estimate. See the population chart below.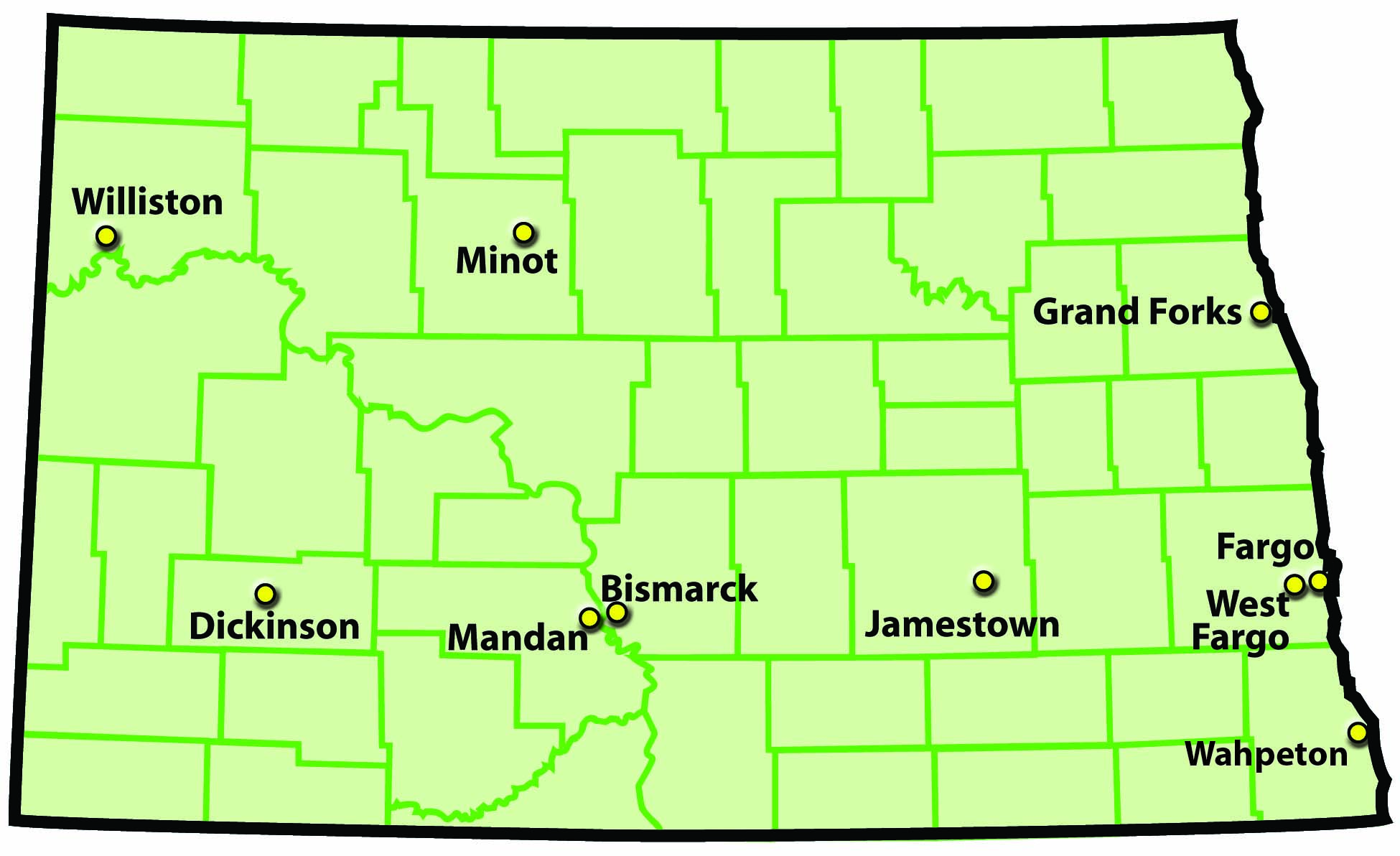 | | |
| --- | --- |
| City | Population |
| Fargo | 128,000 |
| Bismarck | 75,000 |
| Grand Forks | 58,000 |
| Minot | 50,000 |
Fargo
Fargo is the county seat of Cass County. Fargo has a population of over 128,000 people and is the largest city in North Dakota. It is right along the Red River, and the city of Moorhead, Minnesota, lies just east of the river. Together Fargo and Moorhead seem like one huge city, or metropolitan (met-roe-pol-it-an) area.
North Dakota State University (NDSU) is located in Fargo. About 14,500 students attend NDSU and take classes in many different subject areas including pharmacy, engineering, architecture, agriculture, and business administration.

Fargo has the state's largest shopping mall, West Acres. The Roger Maris Museum is located in this mall. Roger Maris was a famous baseball player from North Dakota who broke Babe Ruth's home-run record.
In recent years, Fargo's downtown has seen major growth.  Older, historic buildings have been restored as apartments, condominiums, and stores. New businesses have moved into stores in the downtown region. 
Bismarck
Bismarck has a population of about 75,000 and is the capital of North Dakota. It is located along the Missouri River and is the county seat of Burleigh County.
Several colleges are located in Bismarck. Bismarck State College (BSC), a two-year school, has an enrollment of about 4,000 students and offers a variety of courses. Many students attend BSC for two years and then transfer to other colleges or universities.
The University of Mary (U-Mary) is a private university which means that it does not receive money from the state. U-Mary offers degrees in education, nursing, physical therapy, business, and many other fields. The enrollment of U-Mary is about 2,700 students.
United Tribes Technical College (UTTC) is a two-year private college owned by the Indian Nations of North Dakota. The United Tribes International Powwow is held each year on the UTTC campus. This colorful display of dancing, singing, and drumming is listed as one of the "Top 100 Events in North America" by the American Bus Association.
The building that stands out the most in Bismarck is the Capitol.• Building that houses North Dakota government offices
• Nicknamed "The Skyscraper on the Prairie" This 19-story structure has been nicknamed "The Skyscraper on the Prairie." It was built in the 1930s after a fire destroyed the first Capitol.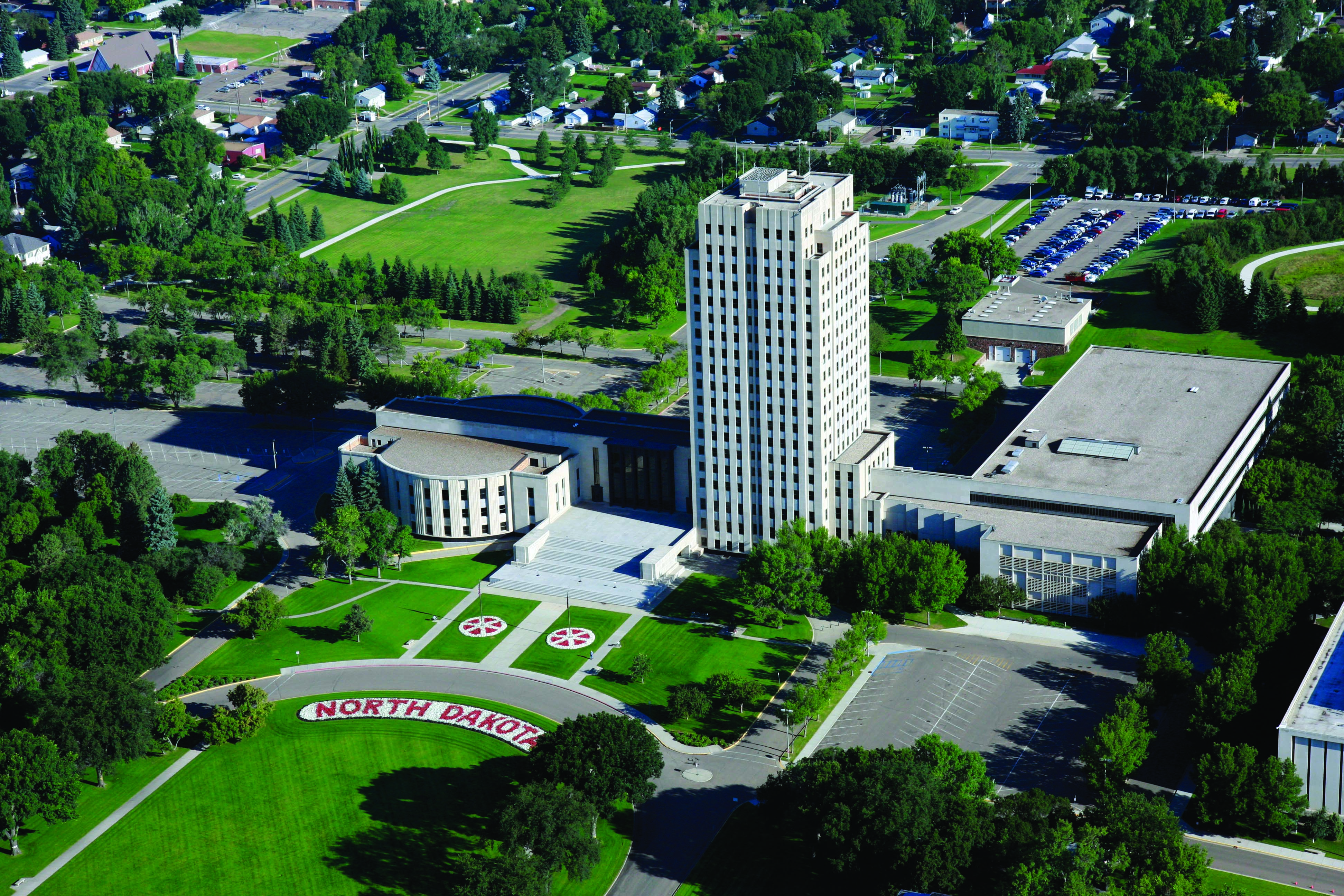 Located in a main hallway inside the Capitol is the North Dakota Hall of Fame. The portraits there honor North Dakotans who became famous because of their outstanding accomplishments.
The North Dakota Heritage Center & State Museum is located on the Capitol grounds. In this building are housed thousands of items including dinosaur skeletons and other fossils, displays from pioneer days, examples of American Indian life, and many other interesting exhibits.
Grand Forks
The third-largest city in North Dakota is Grand Forks with a population of about 58,000. Grand Forks is the county seat of Grand Forks County. The city of Grand Forks is located along the Red River about 80 miles north of Fargo and about 80 miles south of the Canadian border.
One of the state's largest universities, the University of North Dakota (UND), is located in Grand Forks. About 14,500 students attend UND to get degrees in medicine, law, and many other career fields. The UND Aerospace program has one of the largest pilot-training schools in the world.
In 1997, the entire city of Grand Forks had to be evacuated when the Red River caused a devastating flood. To make matters worse, wet electrical wires caused a fire which destroyed several buildings in the main part of downtown. Since that terrible flood, the city has been rebuilt, and dikes along the Red River have been built higher to prevent such a catastrophe from happening again.
North Dakota has two Air Force bases, and one of these is located near Grand Forks. The hundreds of people who work at these "Air Bases" help support the state's economy.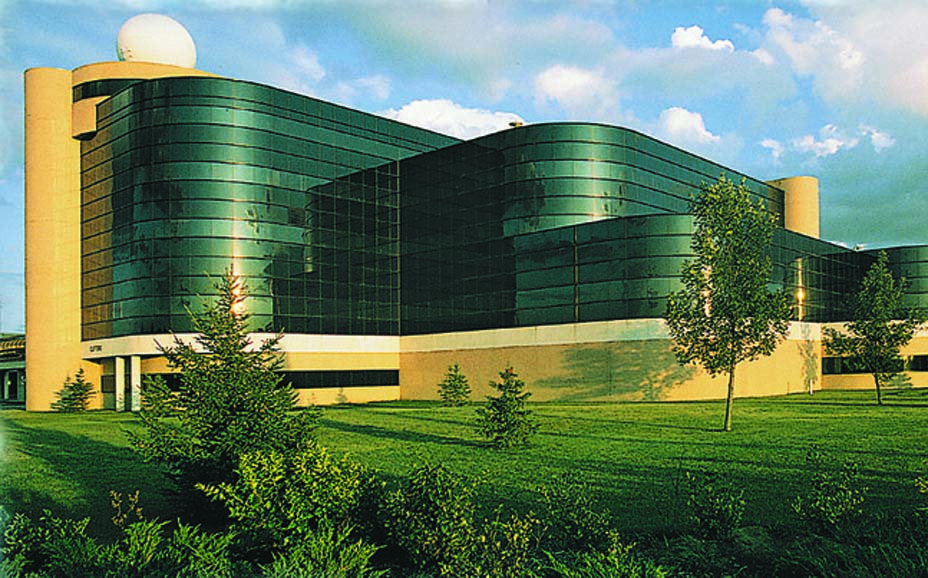 Minot
North Dakota's other Air Force Base is located near Minot in Ward County. Minot calls itself "The Magic City." It has a population of about 50,000, making it the fourth largest city in North Dakota. It is the county seat of Ward County.
Minot State University started in 1913 as a school to train teachers. Now it has about 3,200 students and offers a great variety of career fields.
The North Dakota State Fair is located in Minot and it is one of the main summer events in North Dakota. People from all over the state can bring exhibits or just come to the fair to enjoy the entertainment.
The State Fair grounds are also used for the Norsk Høstfest, a festival held every fall. This indoor event brings thousands of people to Minot to celebrate with people from Norway, Sweden, Denmark, and other countries.