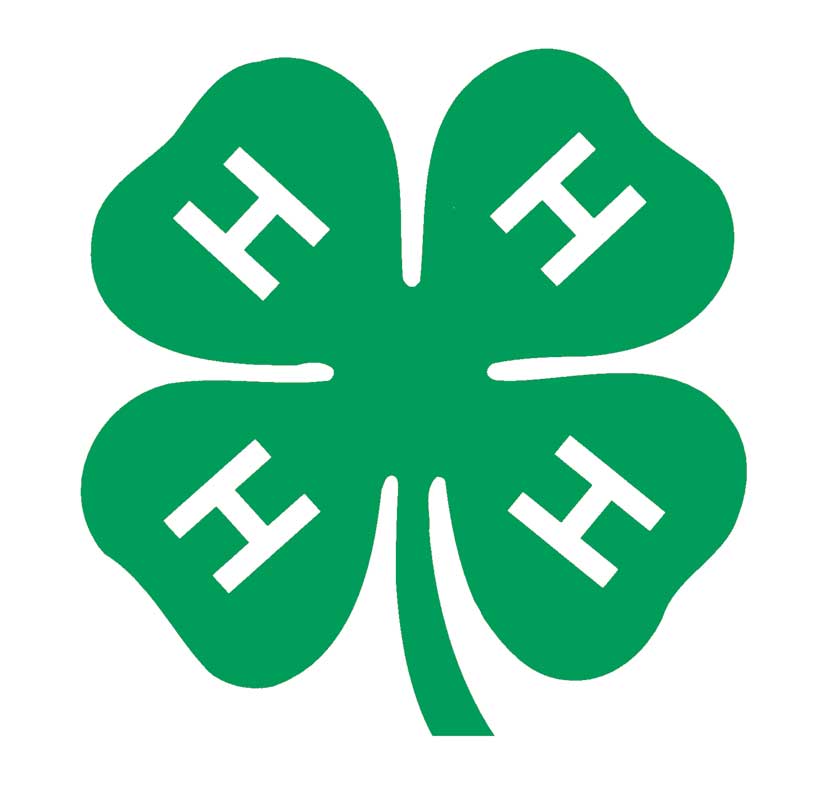 The 4-H Pledge
I pledge...
my head to clearer thinking,
my heart to greater loyalty,
my hands to larger service,
and my health to better living,
for my club, my community,
my country, and my world.
North Dakota 4-H is the largest youth organization in the state. It is offered in every county by an extension agent through the NDSU Extension Service. Any youth, ages 6 through 18, is eligible to join. Thousands of young people across the state of North Dakota belong to 4-H clubs.
The 4-H clubs provide real-life, hands-on learning activities through a wide variety of projects. Project choices include beef cattle, cats, community service, cooking, crops, dairying, dog training, gardening, health and fitness, leadership, photography, rabbits, scrapbooking, shooting sports, welding, and wildlife.
FFA is an organization for high-school students who are studying agriculture. It has three levels: national, state, and local. ("Local" refers to a specific place such as a town.)
FFA was founded in 1928 under the name "Future Farmers of America." At that time, its purpose was to prepare boys to become farmers. Over time, the purpose of the organization expanded, and the name was changed to the "National FFA Organization." Girls were allowed to join the FFA starting in 1969.
FFA is now a hands-on education program for both boys and girls. The goal of FFA is to help students build skills for career success and personal development. These skills help build self confidence, good citizenship, leadership abilities, and healthy lifestyles.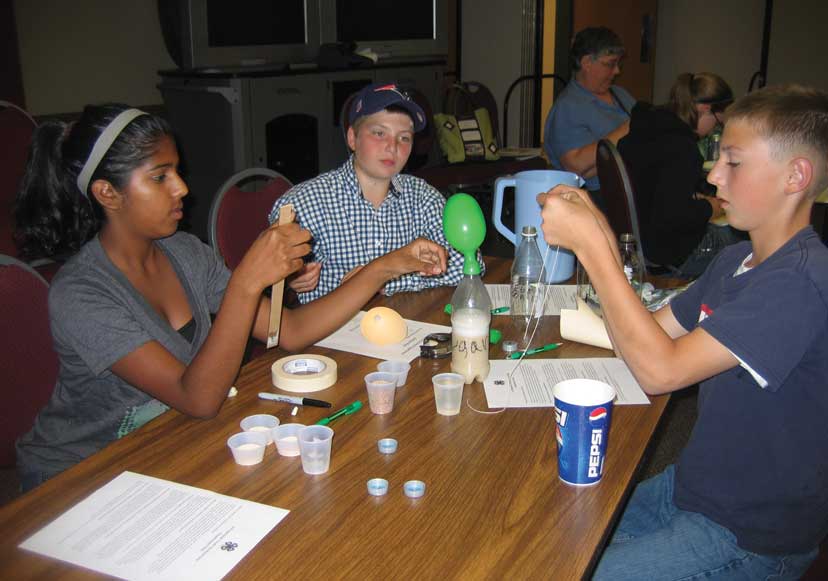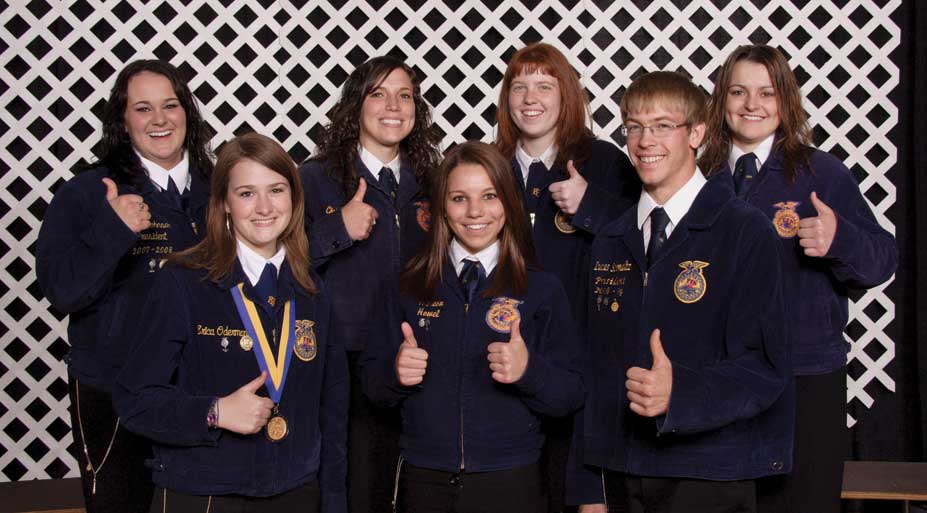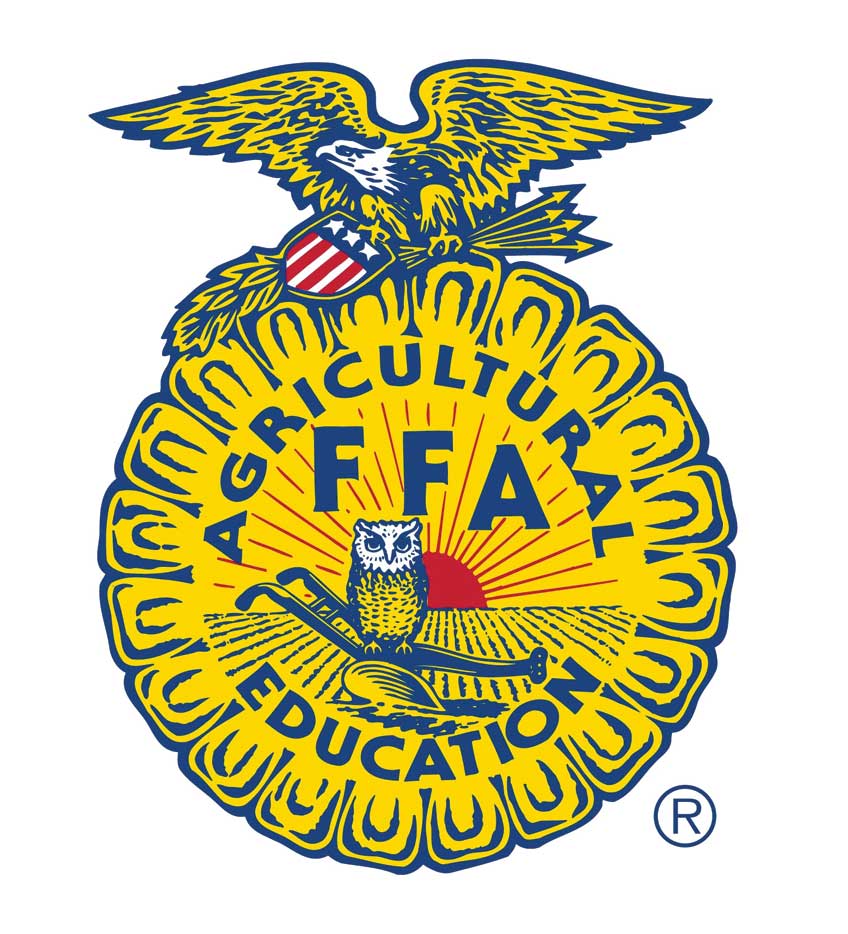 FFA Motto
Learning to Do
Doing to Learn
Earning to Live
Living to Serve
The North Dakota FFA Association is the state level of FFA. North Dakota FFA holds conventions, sponsors events, and supports local FFA chapters. A chapterA local high school FFA club is a local high school FFA club.
Each FFA chapter elects officers and holds meetings. The meetings are important for developing leadership skills, planning activities, and honoring members for their work. FFA chapters also have special events for their members such as programs, banquets, trips, and parties. Thousands of high school students in North Dakota take advantage of the opportunities offered through FFA membership.
Pride of Dakota is a program that was created in 1985 by the North Dakota Department of Agriculture. Its purpose is to boost the sales of North Dakota products and support small businesses in the state. The program helps members with planning, advertising, sales, and other services.
Each year, Pride of Dakota holds "Holiday Showcases" in Bismarck, Fargo, Grand Forks, and Minot. Over 100 vendors set up booths to display their products. Items include foods, beverages, clothing, crafts, and many other types of gift items. These shows attract over 25,000 buyers.
Two of the largest farm organizations in the state are North Dakota Farmers Union and North Dakota Farm Bureau (BYUR-oh). Both of these organizations have connections to their national organizations— National Farmers Union and American Farm Bureau. Local groups form the foundation for the state and national organizations.
North Dakota has dozens of organizations that provide benefits to farmers and ranchers in specific fields of agriculture. Examples are the North Dakota Beef Commission, North Dakota Dairy Coalition (ko-ah-LISH-en), North Dakota Wheat Commission, and North Dakota Stockmen's Association.
Farm Rescue is a private organization that helps farmers who have been injured or hit with illness. Farm Rescue was founded in 2005 by Bill Gross, a pilot who had grown up on a North Dakota farm. Volunteers (people who do a job without getting paid) bring machinery and do the planting or harvesting for the injured farmer free of charge. The machinery, fuel, and other expenses are paid for by people who donate (give) money to the Farm Rescue organization.