North Dakota has five nations, or tribes, located within its borders. They are the Three Affiliated Tribes (Mandan, Hidatsa, and Arikara (Sahnish) Nation); the Spirit Lake Nation; the Standing Rock Sioux Tribe; the Sisseton-Wahpeton Sioux Tribe; and the Turtle Mountain Band of Chippewa.
Because American Indian tribes are sovereign nations, the government of North Dakota does not have authority over the tribes. Each tribe has power over everything within the tribe, and the state government cannot interfere. The tribal chair (chief ) of each tribe is equal in rank to the Governor of North Dakota.
The tribes are headquartered on their own reservations, and the laws of each tribe apply within the boundaries of that reservation. The sovereignty of the American Indian tribes is not affected by state laws.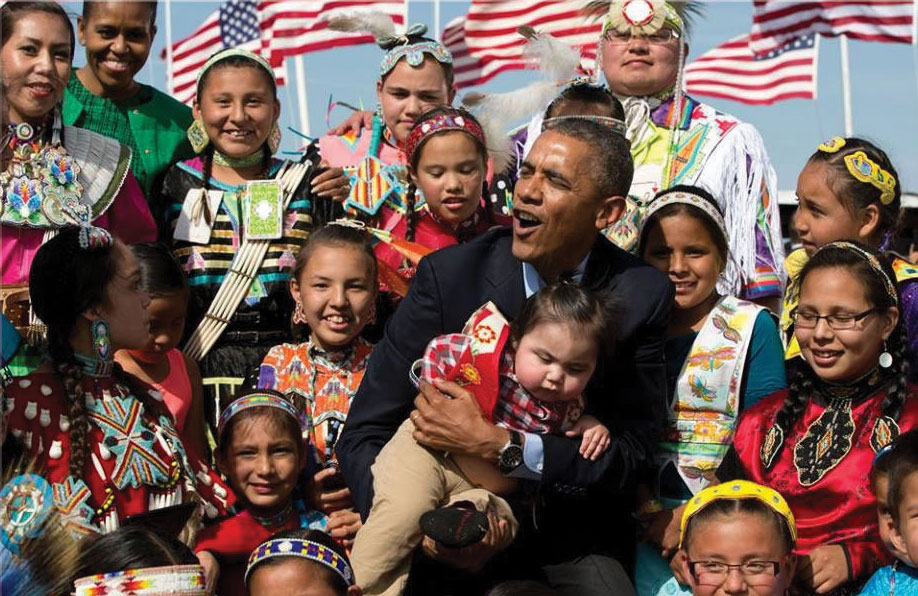 Each tribe has its own constitution which lays out the plan of government for the tribe. Eligibility for tribal membership may be different for the different tribes, and the tribal constitution may list the guidelines for eligibility as a tribal member.
The tribal constitution also explains the election process for tribal officers and council members and describes their responsibilities. A chair (also called chairman or chairwoman) is the chief executive officer of the tribe. A tribal council represents the people in making decisions for the tribe. Each reservation also has its own court system.
The state government and tribal governments need to work side by side. The North Dakota Indian Affairs Commission helps the tribes and the state achieve goals that will benefit American Indians of North Dakota. The director of the Indian Affairs Commission is appointed by the Governor.