The sugarbeet is a large, ugly, whitish-brown root vegetable. It is related to the table beet (small, red, tasty), but has been bred for higher sugar content. Another relative of the sugarbeet is the mangel which was grown in Europe as cattle food.
In 1815, Napoleon encouraged research on sugarbeets as a source of sugar. Factories were built to process the small crop of beets into sugar. This was the first effort to raise a sugar crop in Europe. Previously, sugar from sugar cane was raised in the West Indies by slaves. After slavery was outlawed in the West Indies, European farmers began to grow more sugarbeets to replace cane sugar.
In 1890, Henry Oxnard opened the first beet sugar factory in the United States. Soon after, beet crops were planted in Nebraska and California. By 1918, a few Minnesota farmers in the Red River Valley were growing sugarbeets, but they had to ship their beets to eastern Minnesota for processing. The growing interest in sugarbeets led to the building of a beet sugar plant in East Grand Forks, Minnesota in 1926. Farmers on both sides of the Red River added sugarbeetsSugarbeets can be grown in many parts of North Dakota. They need adequate rainfall, but do not need irrigation. However, sugarbeets need to be grown near processing plants. Once harvested, the sugar content begins to drop, so it is important that beets are transported to the processing plant very quickly after they are harvested. Today, research indicates that sugarbeets would make an excellent resource for manufacturing ethanol fuel. If that becomes a reality, then sugarbeets will be grown in other parts of the state. to their standard wheat crop.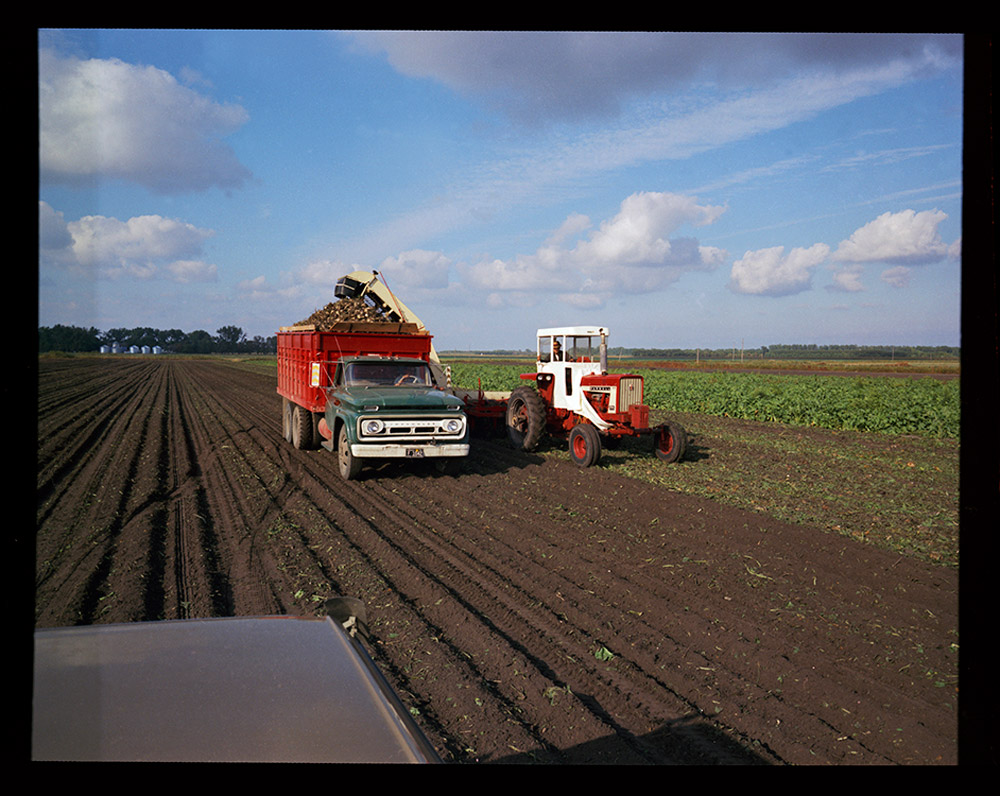 Sugarbeets were a very labor intensive crop, but the work was seasonal. In May and June, the beets had to be thinned and weeded. Much of the work was done on hands and knees with a short-handled hoe. Each row had to be worked two or three times. After thinning, beets required no more work until harvest. Until about 1950, the beets were harvested by hand. In October, workers pulled each beet from the soil by hand, lopped off the green tops with a large knife, and piled the beets on the ground. (See Image 10.)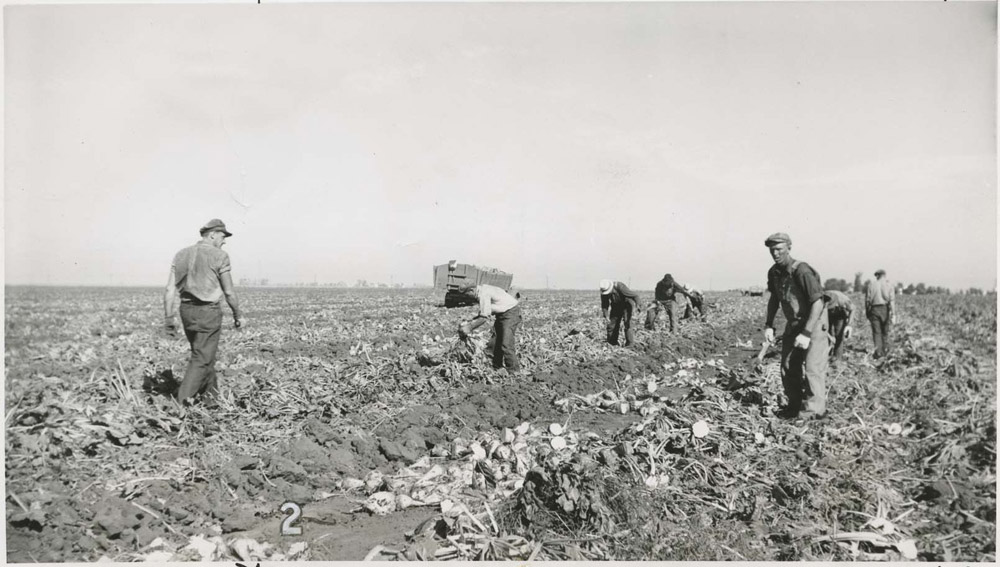 As long as farmers raised only 20 acres of beets, they could manage the labor with family members and other local help. As beet acreage grew, American Beet Sugar Company brought German Russian beet growers from Nebraska to the Red River Valley to work. By 1931, beet field workers included people who traveled north from Texas for seasonal work. Some migrants were Mexican citizens; some were Mexican Americans. As experienced beet field workers, they were called betabeleros (BAY tah bay LAIR ohs).
During the 1930s, beet acreage increased. At the same time, Mexican Americans lost traditional jobs on ranches (their own or others), farms, and coal mines in Texas. Many Mexican Americans sought seasonal work in the Red River Valley beet fields. Traveling back and forth from Texas to the Red River Valley gave them the name "migrant workers." In some ways, this work suited Mexican Americans because the family migrated and worked together. On the other hand, the pay was so poor that children had to work in the fields to contribute to the family income. Beet farmers provided housing for migrants, but it often was of poor quality. Most migrant housing consisted of a single room with an outdoor bathroom and water supply.
Between beet thinning in spring and harvest in fall, migrant families sought other work, usually picking fruits or vegetables in other states. If possible, they returned to the Red River Valley to harvest beets. Many migrant families contracted with the same farmer year after year, and followed the same work patterns each year. Some farmers' families and migrant families became close friends, and their children grew up together.
By 1950, more farmers were using mechanical means of thinning and weeding beet fields. Betabeleros were still needed to thin and weed, but they usually worked each row only once. By 1952, 96 per cent of the beet harvest was mechanized. (See Image 11.) Red River Valley beet growers no longer needed to hire migrant labor for harvest. Migrant families sometimes found other farm work. Others were happy to return to Texas so that their children could be in school for the fall term.
Today, sugarbeets are an important part of the Red River Valley farm economy. There are approximately 2,650 sugarbeet growers in the Red River Valley, growing sugarbeets on more than 450,000 acres. Beet farmers formed a cooperative to purchase American Crystal Sugar Company in 1973. The cooperative operates five processing plants in the Red River Valley.
Why is this important? North Dakota grew into statehood as a wheat farming state. However, farmers needed other crops that would produce income when wheat did not grow well. Diversification of crops (planting more than one kind of crop) is better for the soil and better for farm families. The sugarbeet industry also contributed to North Dakota's culturally diverse population by bringing workers of Mexican descent from Texas to the Red River Valley. Today, the descendants of many of the former migrant workers are permanent residents of North Dakota.