The Great Northern Railroad was built by a company headed by a Canadian businessman, James J. Hill. Hill, often known as Jim Hill, had been engaged in the transportation business since he arrived in Minnesota as a young man. His first transportation business was steamboat shipping on the Red River between Fargo and Winnipeg.
In 1878, Hill and his partners bought The St. Paul and Pacific Railroad. The next year, the company built a bridge across the Red River at Grand Forks. Over the next few years, Hill expanded his railroad into northern Dakota Territory cities and took his road as far as Minot. By 1887, the railroad, now called the St. Paul, Minneapolis, and Minnesota Railroad, reached Helena, Montana. (See Image 10) In 1893, the railroad reached all the way to the Pacific Ocean.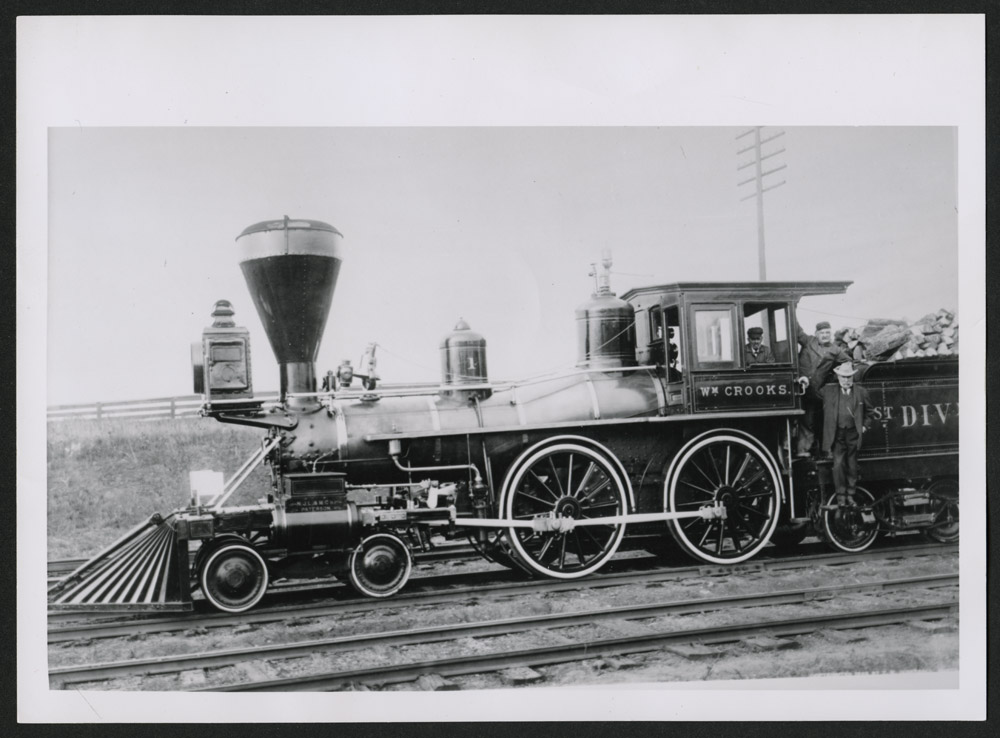 In 1889, Hill changed the name of the railroad to the Great Northern Railroad (GNRR.) The GNRR took a northern route across North Dakota. It expanded west from Minot to Williston. However, it also had a line which ran through Fargo and headed northwest to Surrey, near Minot. (See Image 11)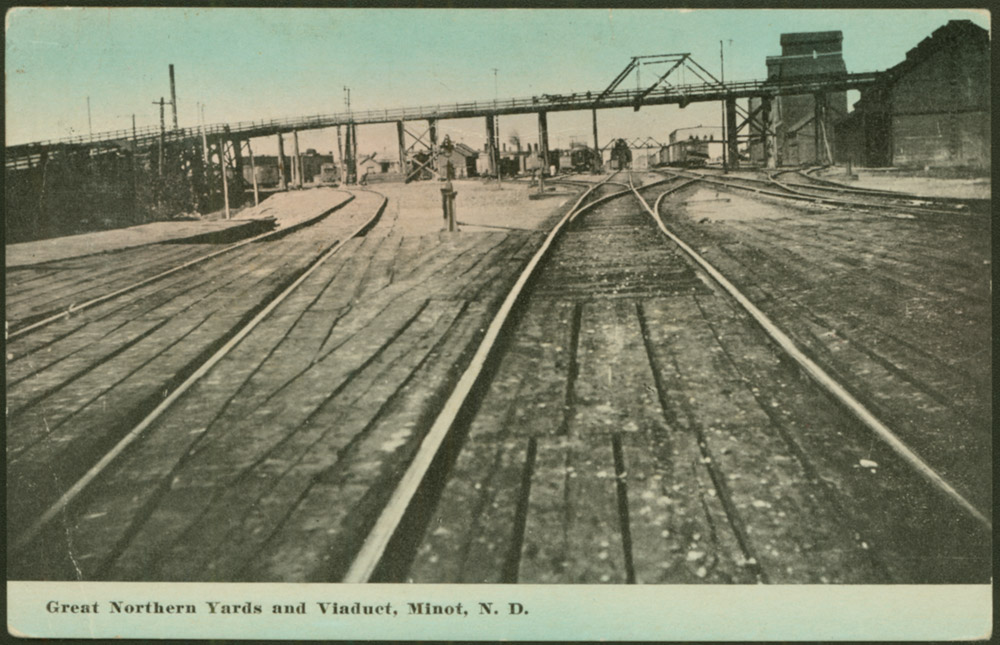 James Hill was a man of great vision and a smart businessman. He built the Great Northern without federal subsidies such as the federal land grants and loans that had helped the Northern Pacific (NPRR) cross the continent. He did not stay in his St. Paul office all of the time. He liked to go where the tracks were being built, meet the townspeople and farmers along his route, and make decisions about where to build towns and depots. (See Image 12) (See Document 2)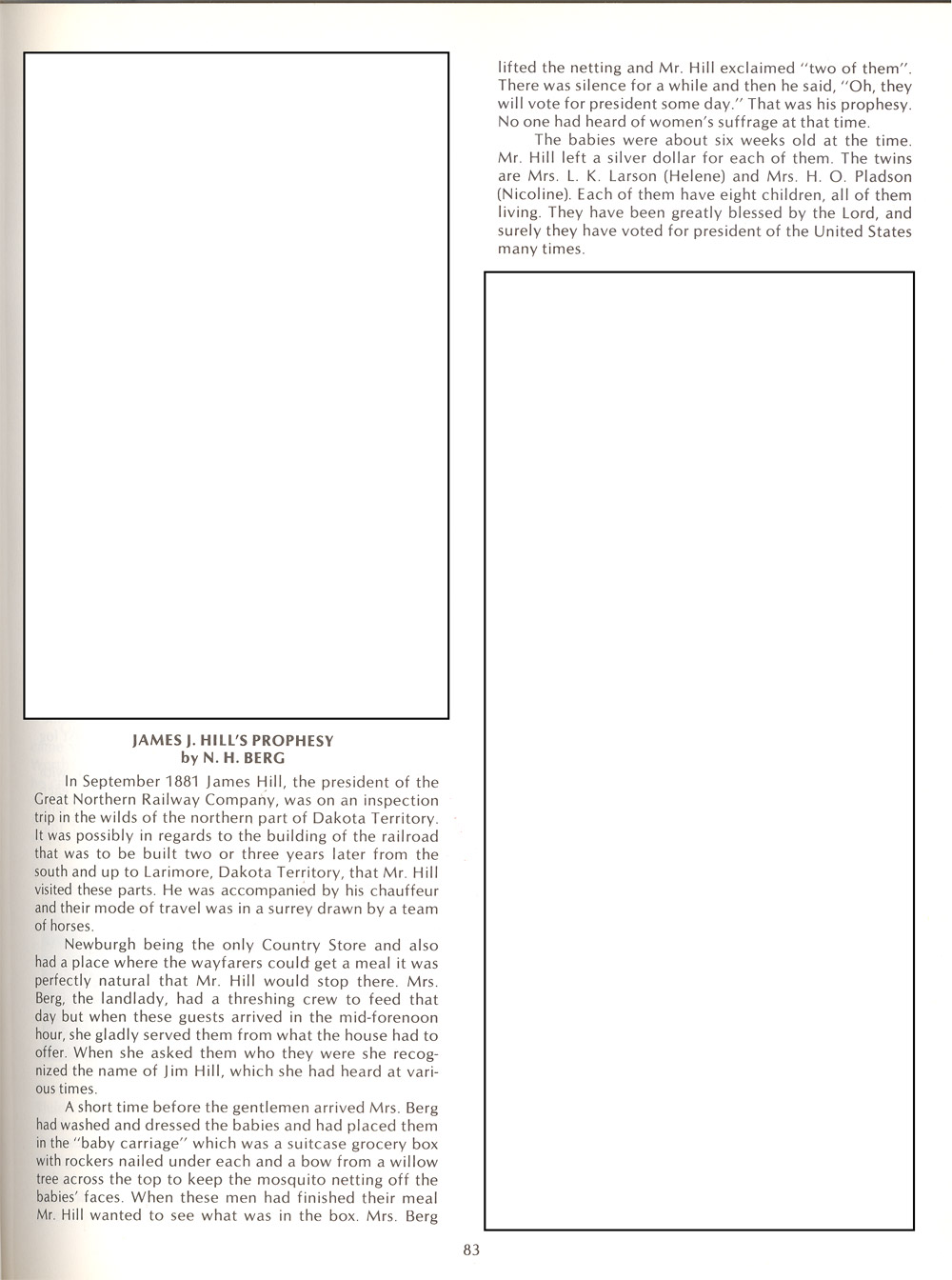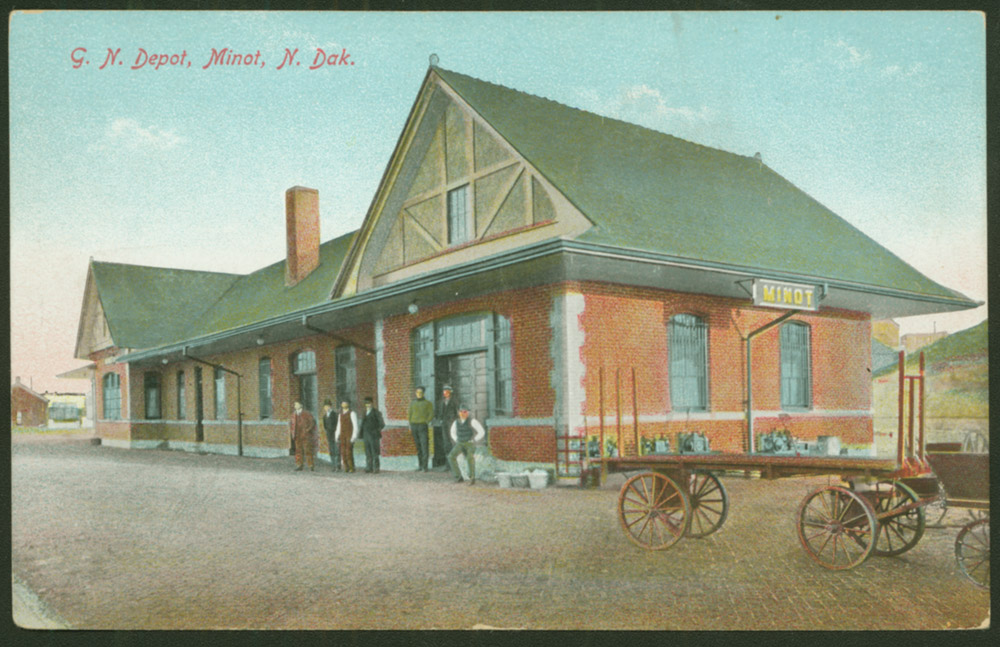 The Great Northern was especially known for its efforts to improve farming along its lines. The railroad company outfitted a special car that took displays and programs about North Dakota agriculture to other states. The company also had a demonstration car that presented the newest ideas about farming. This train car went from town to town educating farmers on how to improve their production.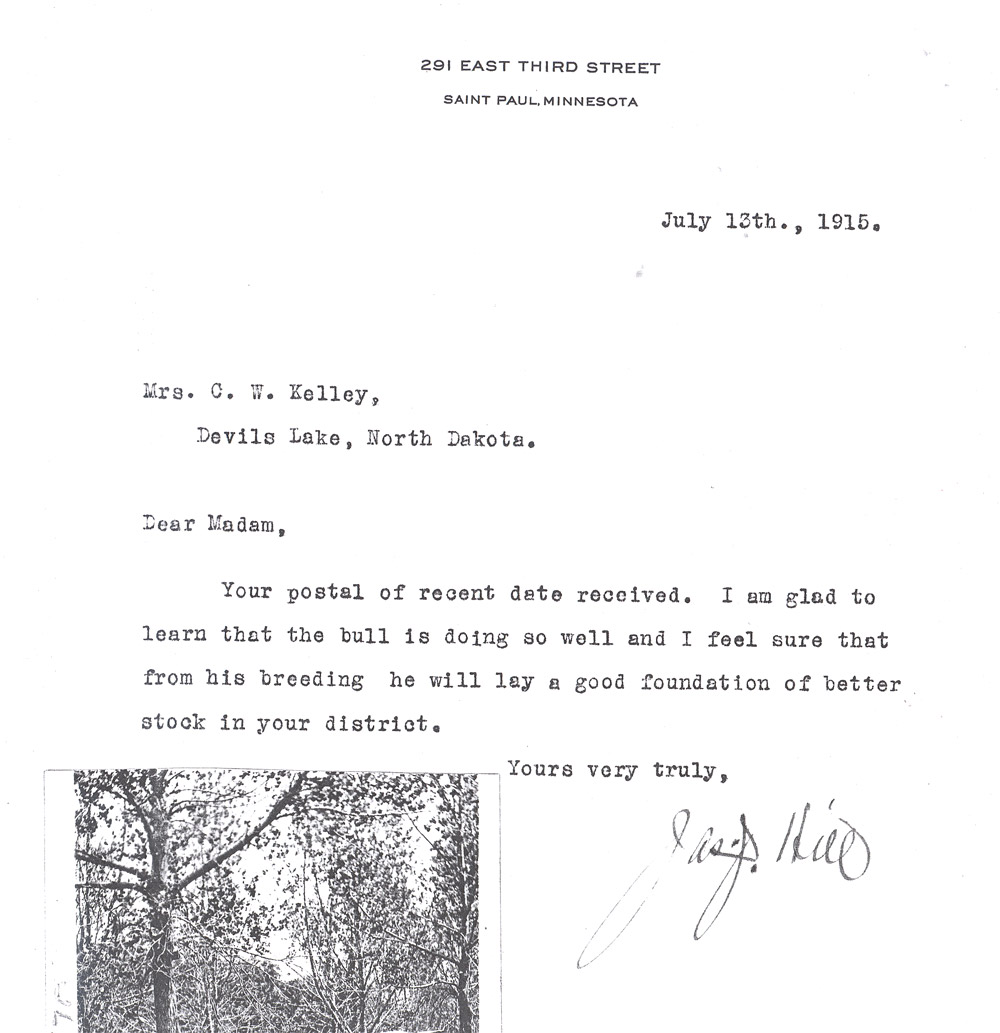 Hill also helped North Dakota farmers by giving away pure-bred livestock, especially bulls of the shorthorn breed. He would usually find a cooperating farmer who would use the bull well and become a model of modern farming for his or her neighbors. One of these farmers was Joanna Randolph Kelley who received a white shorthorn bull at her "White Farm" near Devils Lake. (See Document 3) Mrs. Kelley was famous around the world as a successful farmer. (See Image 13)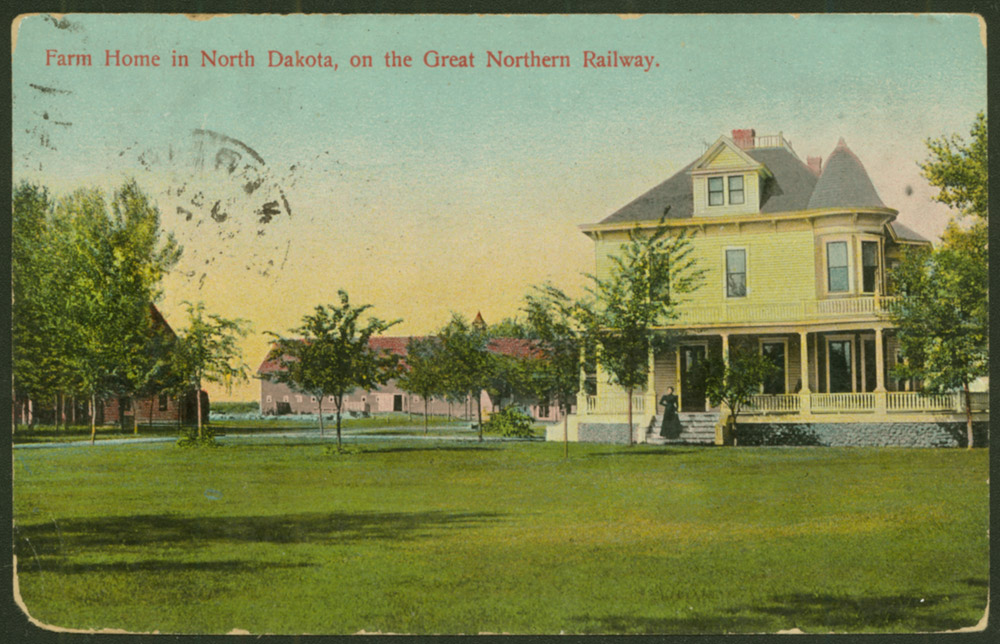 The Great Northern built many branch lines in North Dakota to connect small towns to the main line. (See Image 14) James J. Hill's branch lines caused people to start new farms in remote areas. Hill made sure those new farmers had a town and a grain elevator to bring their business to his railroad. When it was necessary, he reduced his freight rates to keep the farmers' business. Sometimes farmers begged Hill to build a branch line into their area. Hill, however, only built where he thought the GNRR could make money.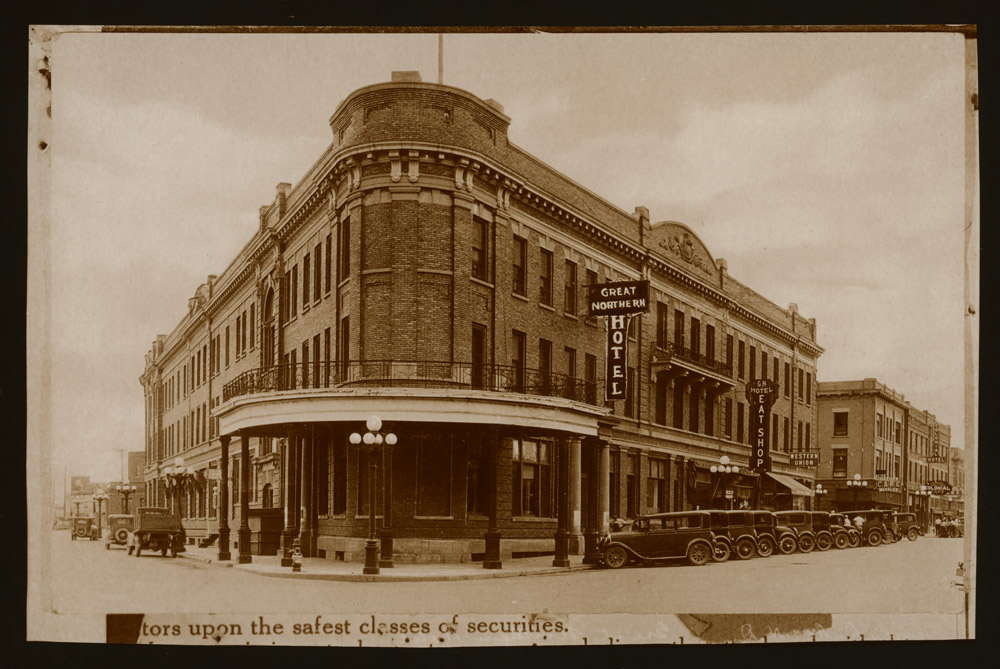 Where the GNRR built a branch line, the towns thrived. When the railroad by-passed a town, it lost population. When the GNRR built a line through Steele County in 1896, the line ran from Hope to Aneta and on to Devils Lake. The county seat at that time was Sherbrooke, but the railroad missed Sherbrooke by five miles. A few years later, the county seat was moved to the railroad town of Hope.
The GNRR, however, was not as successful at building towns as the Northern Pacific or the Soo Line. Many of its townsites were poorly chosen on land that was too wet or too close to another town. When the GNRR did build a town, it liked to name them for important North Dakota politicians. The GNRR town of Sarles was named for Governor Elmore Y. Sarles who was inaugurated in 1905. Hill also named a town for Senator Henry C. Hansbrough. When the company misspelled Hansbrough's name, the town became known as Hansboro. Another town was named for Congressman Asle J. Gronna.
Hill's railroad had 5,000 miles of track between St. Paul and Seattle by 1901. Hill, known to many of his friends as The Empire Builder, continued to build tracks in North Dakota for many more years.
Why is this important? James J. Hill and the Great Northern Railroad were responsible for much of the development of farms and towns in the northern part of North Dakota. Though he did not have the political power of the Northern Pacific Railroad in North Dakota, Hill had a great deal of economic power in many small and large towns along his line. His support for better farming practices was second only to that of the North Dakota Agricultural College in Fargo.