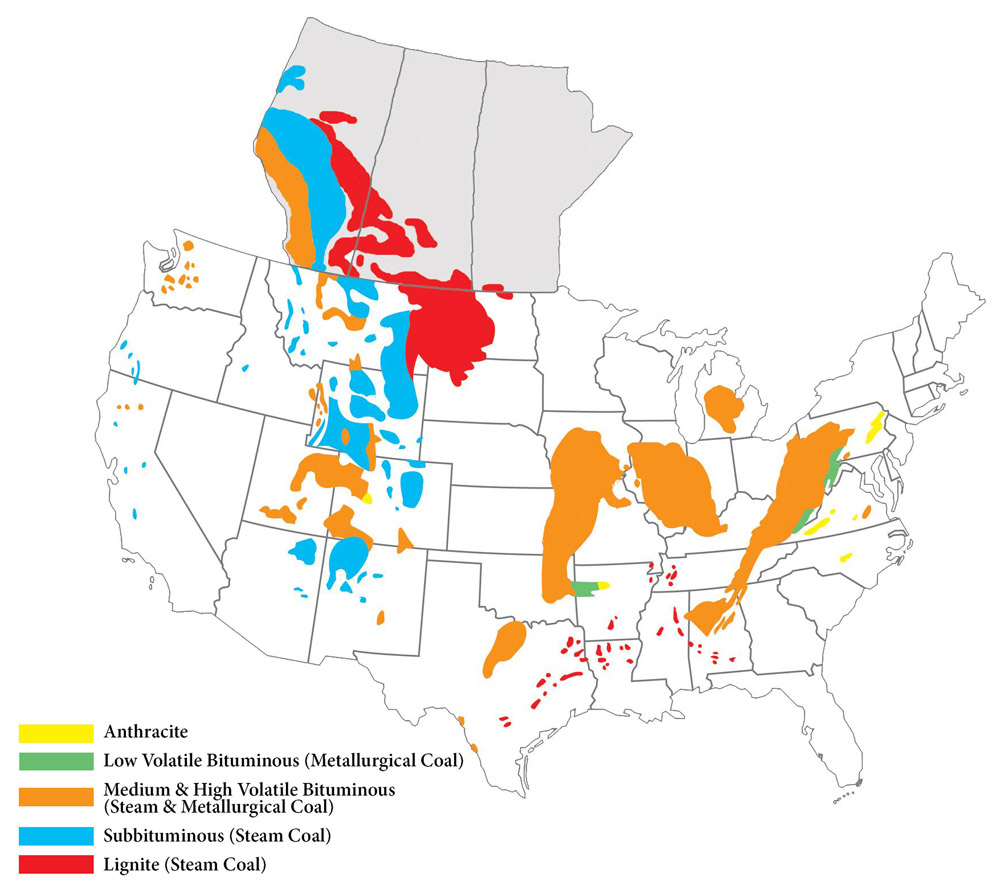 The North Dakota Geological Survey estimates that western North Dakota contains about 1.3 trillion (1,300,000,000,000) tons of lignite.

This is the largest deposit of lignite in North America.
An estimated 25 billion tons are recoverable, enough to last more than 800 years at the current rate of consumption.
While North Dakota's 25 billion tons of recoverable lignite reserves are only 10 percent of the US coal reserves, it accounts for more than 80 percent of the US lignite reserves of 30 billion tons (World Energy Council 2007).
According to the World Energy Council, there are 150 billion tons of lignite reserves in the world. North Dakota contains almost 20 percent of the world's lignite reserves, and Australia is the only country, at 37 billion tons, that contains more.

There are five mines in North Dakota which extract about 30 million tons of lignite annually in North Dakota.
The largest mines are in Mercer, McLean, and Oliver counties, near Beulah, Underwood, and Center.

Freedom Mine, north of Beulah, is the largest lignite mine in the US.

Freedom Mine produces about 50,000 tons of lignite per day, or 15 million tons per year.

This mine supplies Antelope Valley Station and Leland Olds Station for electricity generation and Great Plains Synfuels Plant for coal gasification.

The 13 to 20 foot seam of coal is located 50 to 150 feet below the surface.
In order to uncover the coal, more than 100 million yards of earth (more than in the Garrison Dam) is moved each year.
The lignite contains 37 percent water and 7.5 percent ash.
Dragline Trivia (Freedom Mine)

Your browser does not support the video tag.

Each dragline:

weighs 13 million pounds;
stands 215 feet tall (as tall as 17th floor of the ND Capitol);
has a boom 340 feet long (approximate length of a football field);
has a base of 80 feet (approximate size of a baseball infield);
moves 150 tons of earth per minute (more than would fit into a railroad car);
has 12,000 horsepower (about the same as 50 school buses);
bucket holds 124 cubic yards of earth (could fit 4 Chevy Suburbans or 1.5 million golf balls);
walking shoes are 14 ft. by 72 ft. (equal to man's shoe size 225);
walks at a speed of 1/10 mile per hour (would take approximately 81 days to walk nonstop from Bismarck to Fargo).
Dakota Westmoreland Beulah Mine, south of Beulah, is a 9,000-acre lignite mine.

This mine produces approximately 2.9 million tons of lignite annually.
It supplies Coyote Station and Heskett Station for electricity generation.

BNI Coal Mine near Center mines about 4.5 million tons of lignite annually.

This mine has reserves of about 600 million tons.
It supplies Milton R. Young electric generating stations Units I and II.
The electricity produced from BNI's coal goes to eastern North Dakota and northern Minnesota.

Falkirk Mine, south of Underwood, produces nearly 8 million tons of coal per year.

This mine supplies lignite to the Coal Creek generating station and Spiritwood Station.

The Coyote Creek Mine produces coal for adjacent Coyote Station, which uses about 2.5 million tons a year.

 
Leonardite is weathered lignite and is used in oil-drilling fluid and for conditioning soil.

Two companies mine leonardite in North Dakota:

Leonardite Products – at Williston
American Colloid Mine – at Haynes  
Mining: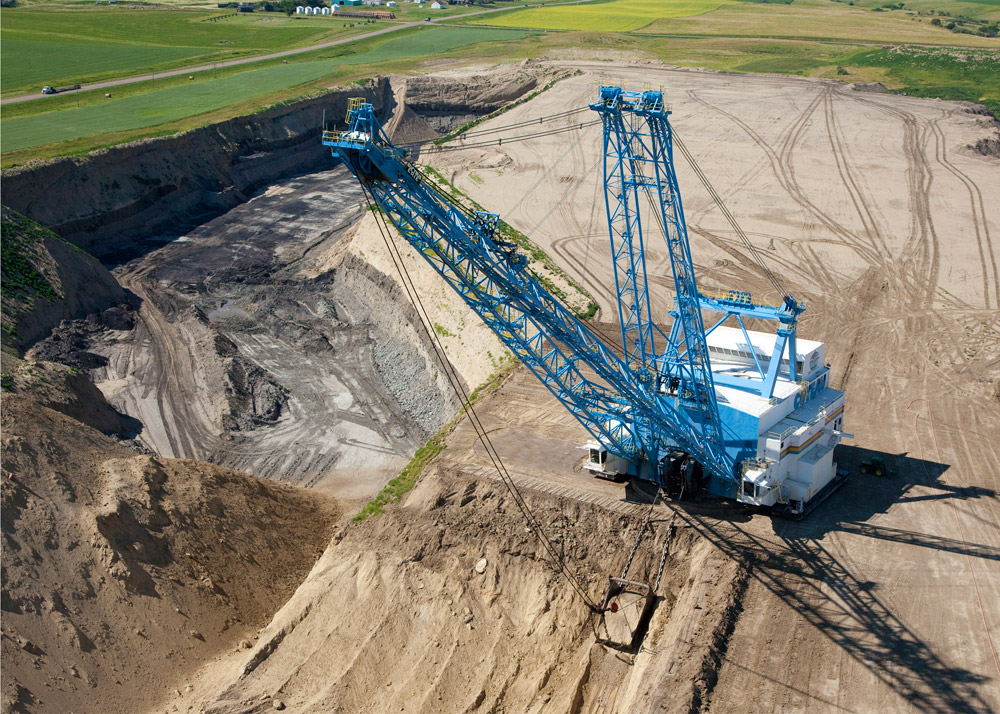 Extensive preparatory work must be conducted before mining operations can begin.

Experts study and complete paperwork on the geology, soil, rocks, water, vegetation, land use, wildlife, cultural resources, and landowner's preferences.
The mining company needs to purchase a performance bond to guarantee that the land will be properly restored when mining has been completed.

Once the authorization and paperwork have been completed, mining can begin.
North Dakota lignite is surface mined (sometimes called strip mined).

Topsoil and subsoil, or the SPGM

SPGM means suitable plant growth material.

are removed and saved in separate stockpiles, or in most cases, directly respreads on adjoining previously mined lands.
Gigantic draglines remove the overburden.

Overburden means rock and soil parent material that overlay the seams of coal.

Each bite of the dragline can fill as much as 50 pickup trucks.
The overburden is removed from on top of the coal and placed in the adjoining pit from which coal has already been removed. This process starts the reclamation process by filling the hole from the previously mined pits.

After the overburden has been removed, the coal is broken up by bulldozers with rippers or explosives.
Electric shovels or large loaders load the coal into haulage trucks that can carry up to 300 tons.

The trucks haul the coal to the tipple, where it is crushed.
The word tipple got its name because it was originally the place where coal mine cars were tipped and emptied of their coal. Today, it means the place where coal is prepared for transport.
From the tipple, the lignite is hauled by rail, trucked or conveyed to the mine-mouth power plant.
A mine-mouth power plant is an electricity generation facility located adjacent to a coal mine. Because lignite has such a high moisture content (usually 30-40 percent water), it is not economically feasible to transport it long distances. (Why pay to haul mostly water!)
Reclamation:
Surface mining temporarily changes the landscape.
After the coal has been removed, the land needs to be reclaimed.Reclamation is the process of reclaiming (repairing) land after the coal has been removed.

As soon as mining has been completed, the mine pits are filled in from the spoil piles.
After the overburden and subsoil are returned to the area, the topsoil is replaced, and the area is replanted.

Overburden depths can range from 25 feet to over 170 feet deep.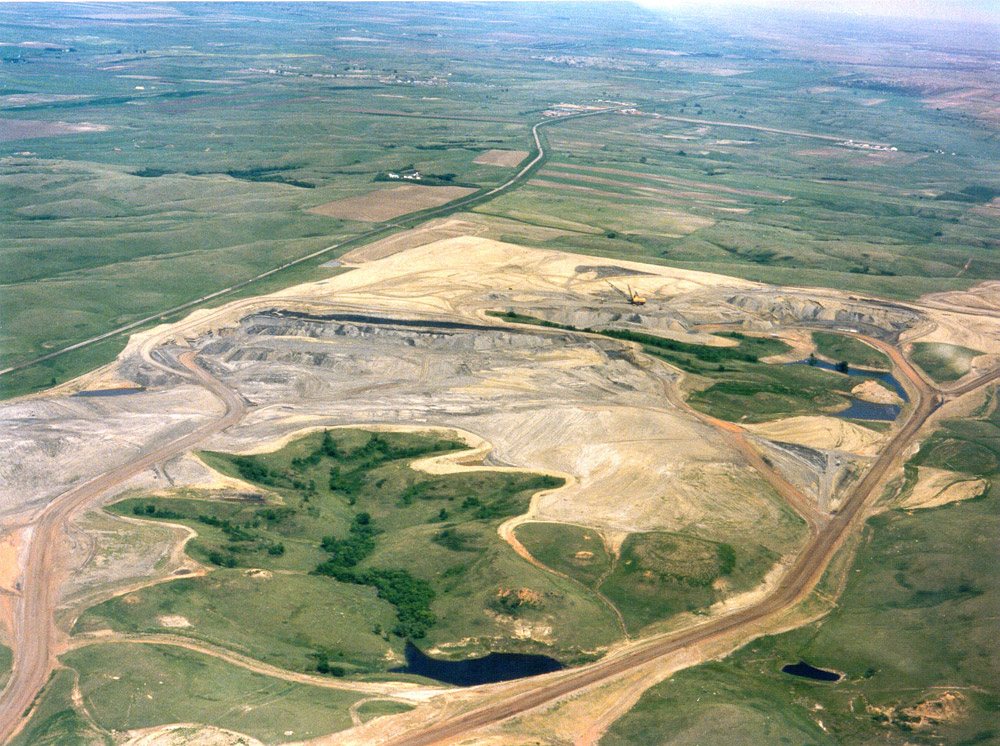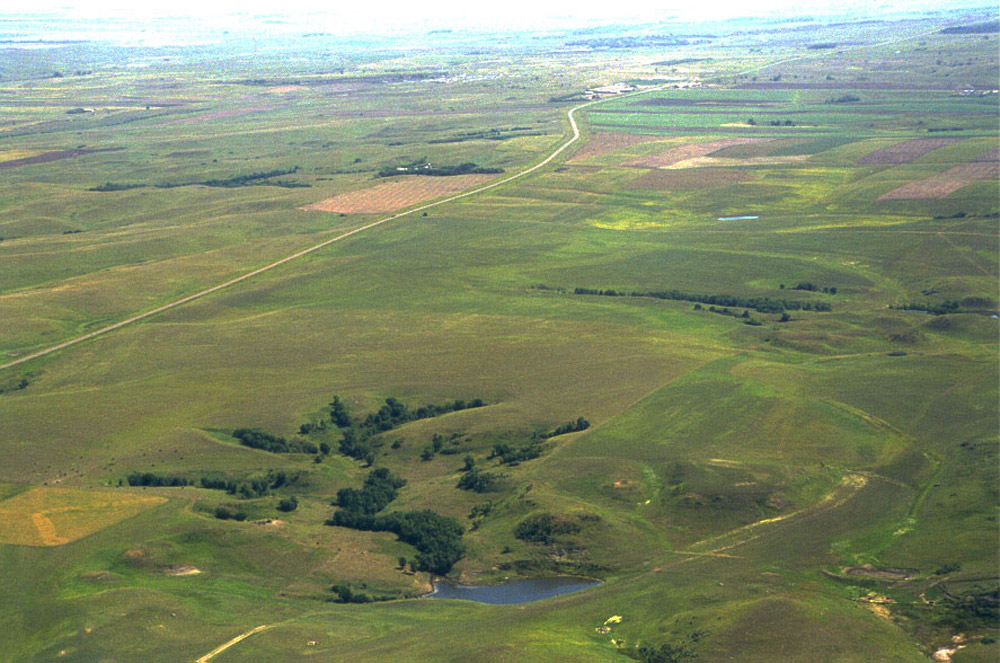 Coal mine reclamation has been required by law since 1977.

Mining companies typically have three years to reclaim mined land by grading and respreading the soil and seeding the land with the proper vegetation.
Test studies and reports are required for 10 years to prove that the reclaimed land is as good as or better than it was before coal was removed.
Between 1,500 and 2,000 acresAn acre? is an area of land about the size of a football field. of land in North Dakota are disturbed by coal mining and reclaimed each year.

Mining companies spend from $40,000 to $70,000 to reclaim one acre of land.
As a result of decades-old mining practices preceding reclamation laws, approximately 6,500 acres of spoil piles are present in western North Dakota.

The ND Public Service Commission and mining companies are working to reclaim this land in the most practical manner.

Some of the spoil piles from the mid-20th century are being left as wildlife habitat.

Leveling these spoil piles could adversely affect the quality of underlying groundwater in some areas.

Near Beulah, spoil piles have been seeded with woodlands for wildlife habitat, and an old open pit is now a nesting wetland.
The fully-reclaimed Glenharold Mine site near Stanton is now a public 450-acre recreation area.
Near Underwood, reclaimed land was developed into a beautiful 9-hole golf course.
More than 30 percent of the cost of mining lignite in North Dakota goes toward reclaiming the land.
Since 1986, North Dakota mining companies have received 15 national reclamation awards from the U.S. Department of Interior.