News
Disaster: The Spring of 1997   
by Barbara Handy-Marchello  
The fall of 1996 began with a warning: early snows caused farmers and ranchers to start feeding hay to cattle a month early. Three blizzards struck the state in November and December. By April, the blizzard count had grown to eight. The last blizzard, named Hannah by the Grand Forks Herald, was the worst. It blanketed the state as the Red River (and other rivers) left its banks and threatened the cities and farms.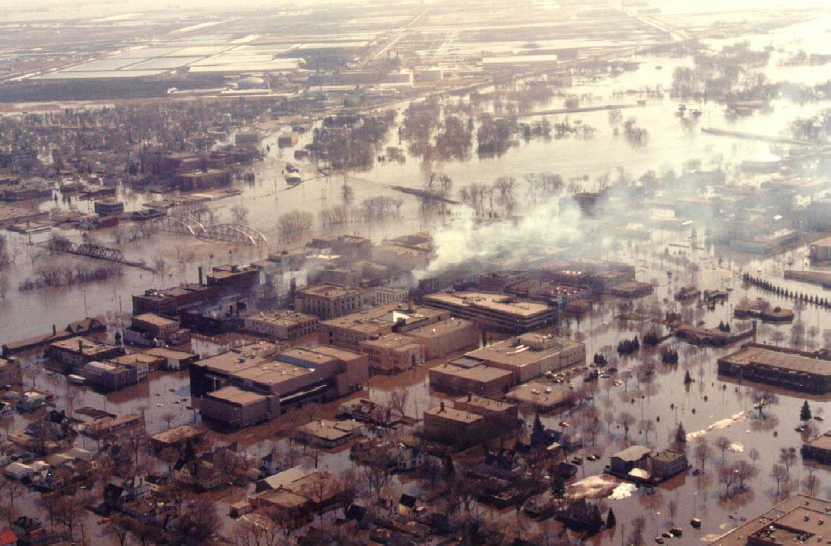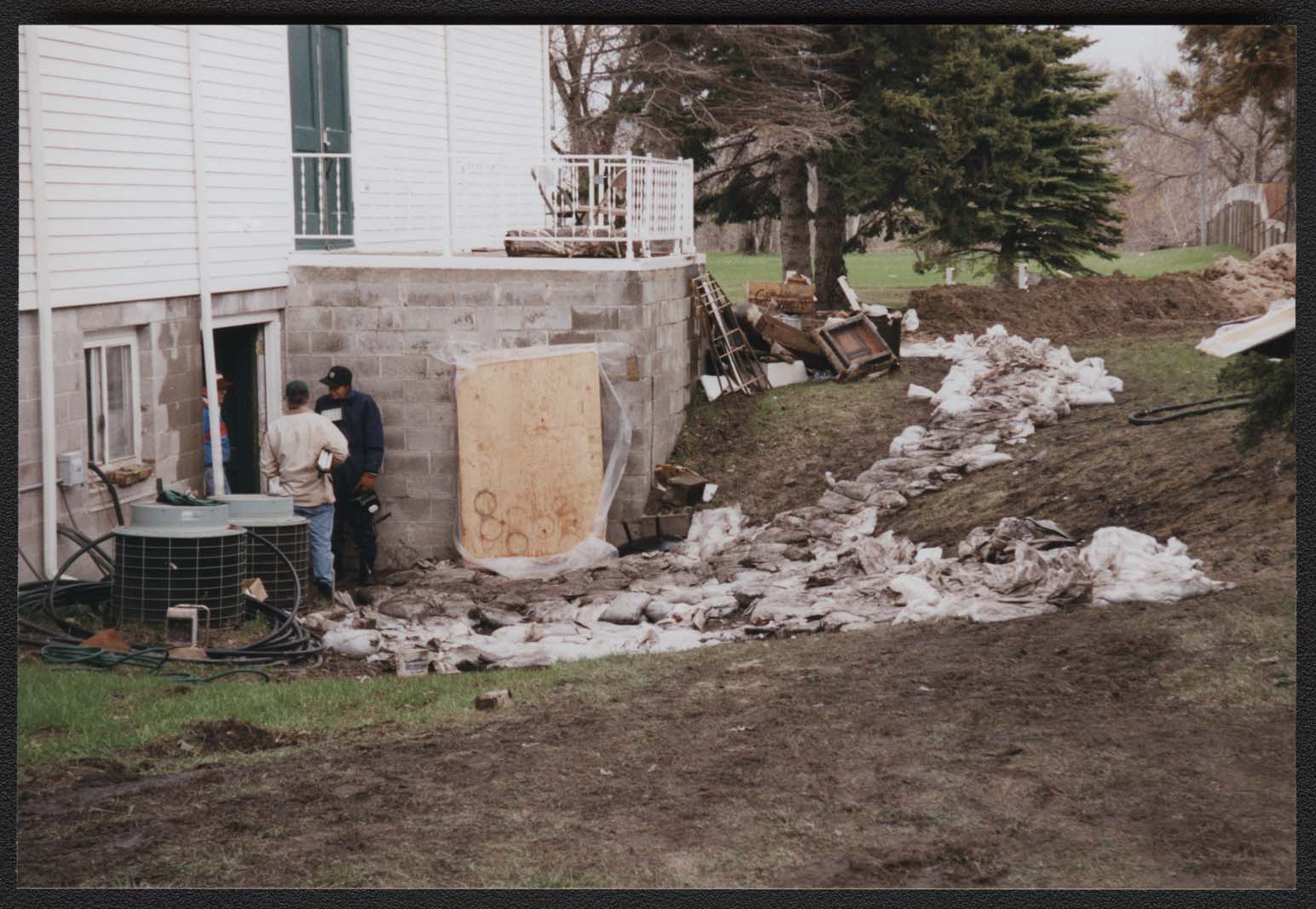 It was an unusually harsh winter with severely cold temperatures that caused the city water tank in Elgin to freeze and heavy snows to break down a portion of the Valley City Winter Show building. By January, snow-clogged roads and extraordinary need for feed made it difficult for farmers to feed cattle. More than 20,000 head of cattle, horses, and sheep died in January and February. Dairy farmers, unable to get their milk to a processing plant, dumped 500,000 pounds of milk between January 10 and January 19. To aid the Highway Department, the North Dakota National Guard was employed in clearing snow from highways and country roads. The state began to prepare for widespread flooding with warmer spring temperatures.
In March, the state Emergency Management office, the governor's office, National Guard, Department of Transportation, and many other agencies as well as private organizations such as the Red Cross and Salvation Army coordinated efforts to prepare for floods. The National Guard built a sandbagging machine that could fill 1,600 to 2,000 sandbags per hour. By the end of March, floodwaters rose rapidly in several counties along the Knife, Cannonball, and Heart Rivers.
Both river flooding and overland flooding affected towns, farms, and highways in early April. Interstate Highway 94 was closed between Casselton and Fargo on April 2. Cities on the Red River reinforced dikes along the river with sandbags. Grand Forks residents noted that the dikes felt "spongy" as they became saturated with melting snow and rising river waters.
On April 4, the last blizzard struck. Snowfall ranged between 10 and 24 inches across the state adding more than two inches of moisture to already saturated ground and swollen rivers. More than 4,300 power poles and hundreds of electrical transmission towers went down. Thirty thousand homes lost electricity. Some of these homes needed power to run sump pumps and heating systems. Freezing rain and heavy snow broke radio and television towers limiting access to emergency information. People were forced from their homes by lack of electricity and rising flood waters. On April 6, President Bill Clinton issued a Presidential Major Disaster Declaration for the state and the Red River rose to record-breaking levels.
By mid-April, ranchers had assessed their losses. More than 90,000 head of cattle died in the April blizzard. It was calving season for many. They brought calves into their kitchens and living rooms. They dried the calves with hair dryers and wrapped them in warm blankets hoping to save a few. Ranchers cried as they watched their cattle flounder and die in the deep snow. However, as temperatures rose, the state with the help of the National Guard had to work quickly to remove the carcasses of the dead animals to prevent contamination of water sources.
On April 18, evacuation began in Grand Forks. The next day, the city asked residents to leave the city voluntarily as the dikes began to fail. Evacuation centers were set up at the Grand Forks Air Force Base, Mayville, Valley City, and Devils Lake. A mandatory evacuation order was issued on April 20. More than 50,000 people evacuated Grand Forks and East Grand Forks, Minnesota. The city water plant failed and natural gas and electricity services were terminated in much of the city. The university closed early and the lower floors of Central High School filled with water.
Pets could not go to the shelters and were often left behind. Later, after residents were safe, patrols re-entered the city in boats to locate houses with "DOG" or "CAT" signs on the windows. Pets were soon re-united with owners.
On April 19, the flood disaster was compounded by fire. Three city blocks in downtown Grand Forks burned even though four feet of flood waters swirled in the streets of Grand Forks. Fire trucks struggled through flood waters to get to the burning buildings.
By late April, the flood had crested and flood waters began to drop. Fargo began its clean-up operations. The city of Grand Forks faced massive restoration projects. When people were allowed to return to the city, they still had no running water or electricity. Portable toilets were set up in neighborhoods and people stood in line to use them. Electricity was slowly restored to neighborhoods after people replaced electrical boxes, furnaces, and hot water heaters that had been ruined by flood waters that filled basements.
The flat Red River Valley has always been prone to flooding. The 1997 flood mimicked the 1897 flood, but flooding was very frequent in the 1990s and 2000s and the population was much larger. Since 1997, Fargo has faced two more severe, record-setting floods. Both Fargo and Grand Forks have implemented improved flood control systems. Both cities are better prepared now to deal with high water on the unpredictable Red River.
...
Barbara Handy-Marchello is retired from the University of North Dakota History Department. She currently works for the North Dakota Studies program at the State Historical Society of North Dakota.
Focus On Youth In Indian Country
By Dakota Goodhouse
The last time a president of the United States met with members of the Lakota (Lakȟóta) Sioux tribe for a cultural exchange was in 1927 when President Calvin Coolidge met the Lakȟóta at Fort Yates on the Standing Rock Reservation. At that time, Coolidge was gifted with the name Matȟó Čhuwíksuya (Bear Rib), in honor of one of the great Huŋkphápȟa Lakȟóta leaders.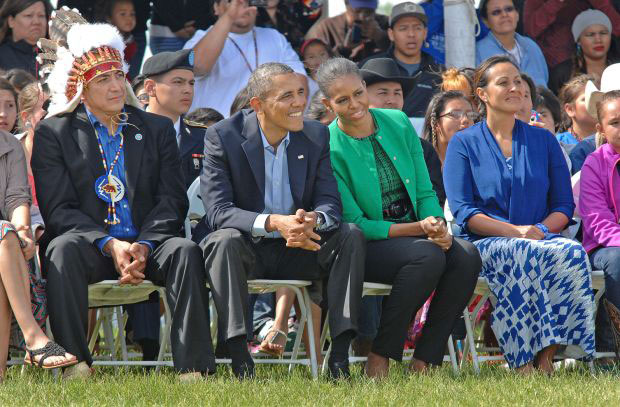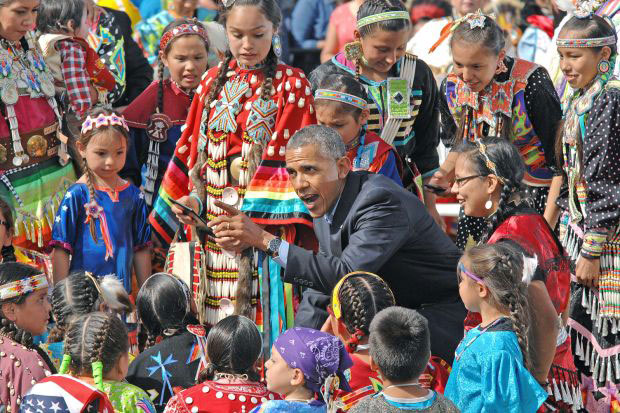 Eighty-seven years later, on June 13, 2014, President Barack Obama and First Lady Michelle Obama visited Standing Rock Sioux Indian Reservation.  Standing Rock Tribal Chairman Dave Archambault II credits former Chairman Charles Murphy for working with the White House Chief of Staff Pete Rouse to arrange the visit.
When the President's helicopter landed in Cannonball, his first order of business was to meet with tribal youth for a roundtable discussion about the many challenges of growing up on the reservation. The topics of discussion ranged from poverty to homelessness.  "The worst is over," said the President, and remarked that neither he nor the First Lady came from wealth, but said that anything was possible and that "the future holds anything."
About 4:00 PM the President and the First Lady entered the wačhípi circle to a song of encouragement by the Grand River Singers. The crowd cheered. The President greeted the people in Lakȟóta, "Haú mitákuyapi" (Greetings my relatives). He spoke for 11 minutes about the improving relationship that exists between the federal government and American Indian nations, and giving Indian Country (referring to all the first nations of the United States) the resources to meet the needs of the youth.
The President told the crowd that he supports "returning control of Indian education to tribal nations with additional resources and support so that you can direct your children's education and reform [the] schools here in Indian Country."
Chairman Archambault honored the President with a star quilt and Mrs. Archambault gave the First Lady a shawl. Dancers, including men, women, and children, danced for the President, exhibiting their living culture. "The pow-wow was a surreal experience. As we sat there, I explained to him the different dances," said Archambault. When Chairman Archambault voiced his doubt that the President would actually visit Standing Rock, the President replied, "I wouldn't miss it for the world!"
As a result of his visit, the President invited a group of Lakota young people to visit him in Washington D.C. and play basketball on the White House court. He immediately challenged members of the Presidential Cabinet to do all they can in their power and authority for Indian Country.  He also established a native youth initiative with a focus on education.
When the Standing Rock young people traveled to the White House, they saw all the gifts from Standing Rock to the President and First Lady on display. "The Youth realized that the President's visit meant more to him than just an afternoon on the reservation. He genuinely cared about the youth. And the youth were inspired to become productive members of their communities," said Chairman Archambault.
...
Dakota Goodhouse is an enrolled member of the Standing Rock Sioux Tribe. His research has appeared in the Smithsonian's The Year the Stars Fell, and other publications. 
The ARC Lawsuit of 1982
By Dr. Kimberly K. Porter
In 1980, the Association for Retarded Citizens (ARC) of North Dakota filed a lawsuit against the state in order to improve living conditions at the Grafton State Home and its sister institution San Haven. Both institutions served as residential homes for the mentally handicapped. Twenty-three-year-old attorney Mike Williams represented ARC.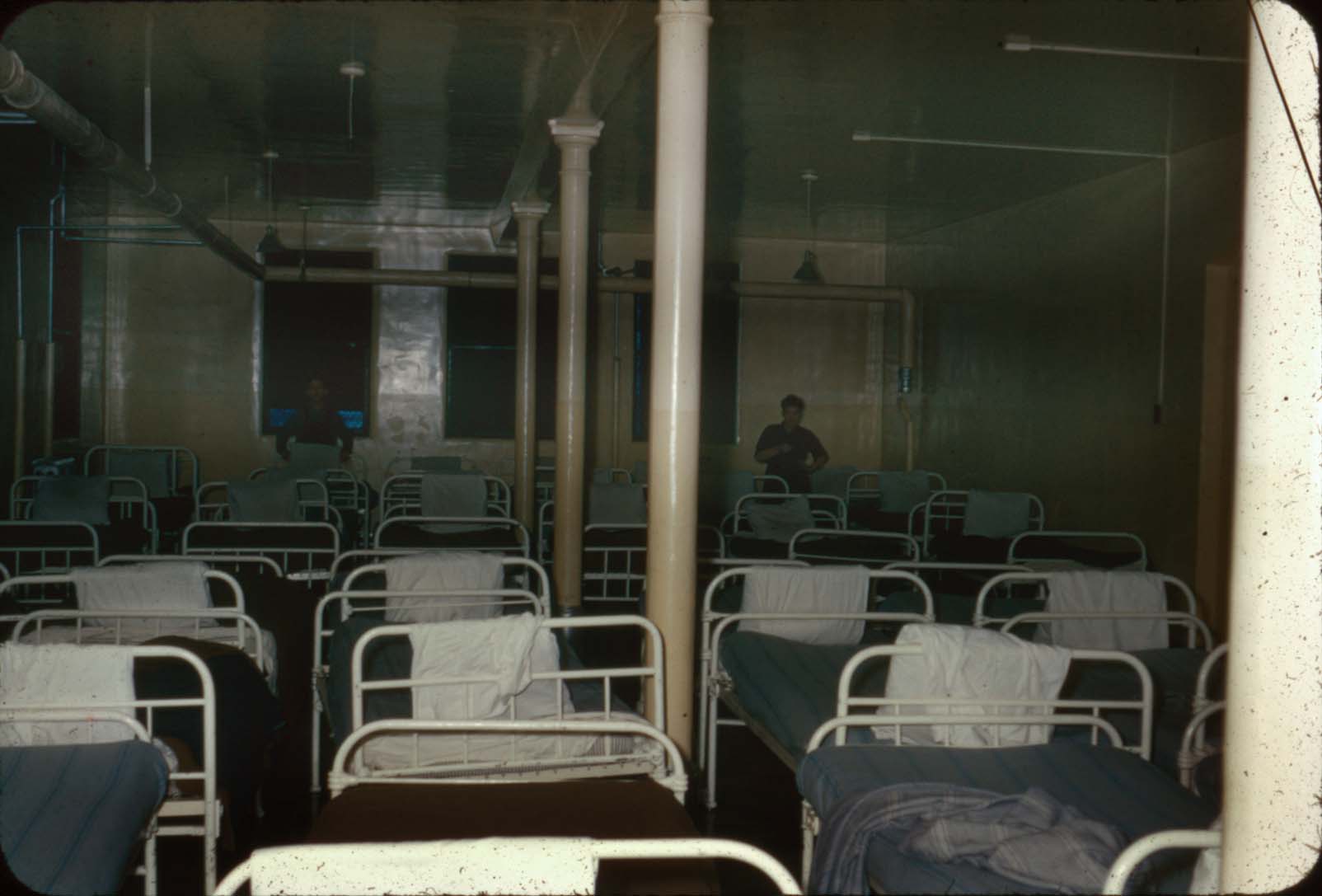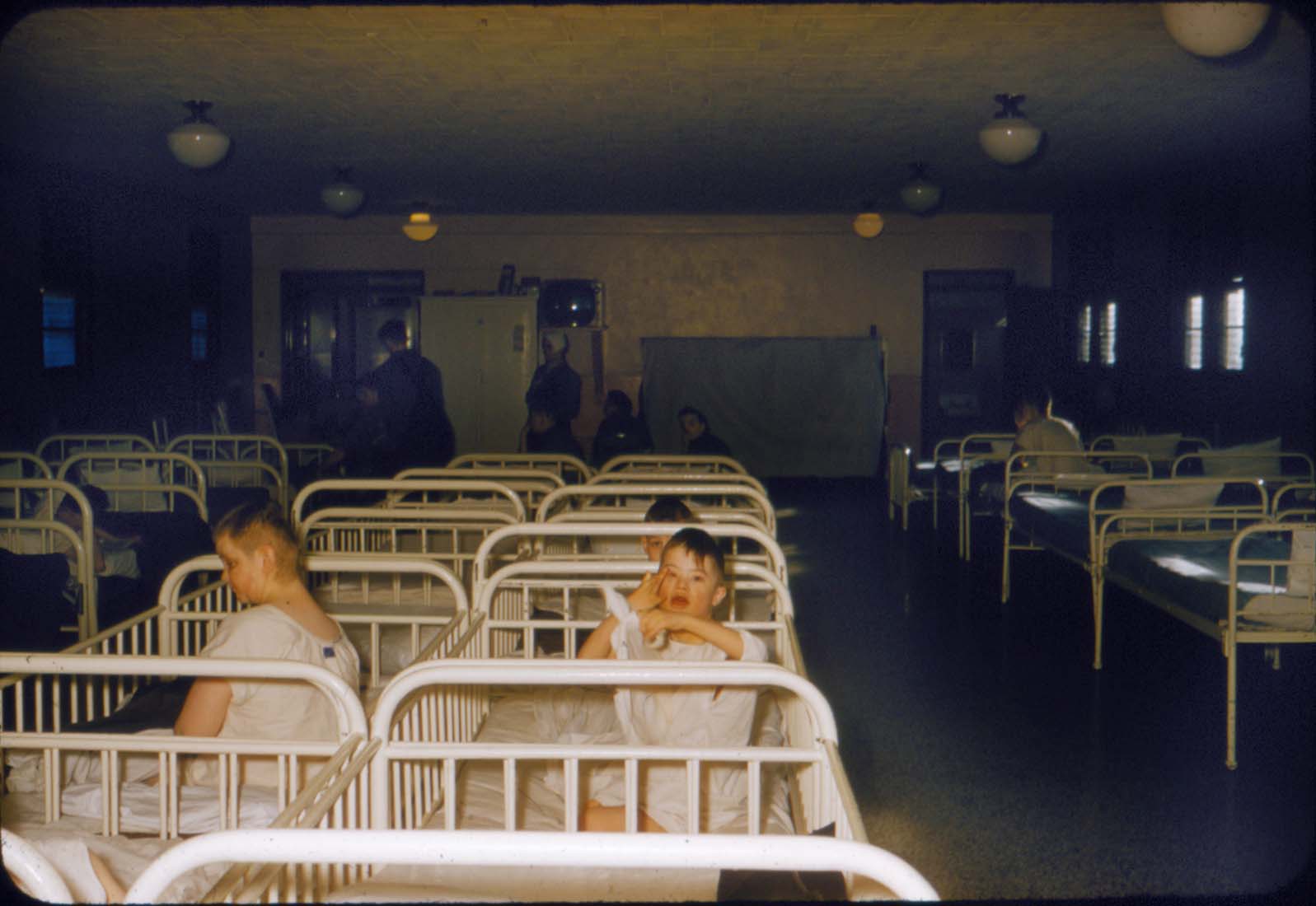 In his video-taped exploration of the facilities, Williams gathered evidence to support hundreds of federal violations. The buildings smelled of body fluids, patients wore dirty diapers for hours, and bored residents frequently pounded their heads or hands against wall in search of stimulation. Many patients wore no clothing; staff found dressing and changing individuals who were not toilet-trained was too time consuming. Some residents existed in mesh cages which kept them essentially bound to their beds.
Overcrowding and untrained staff as well as out-dated attitudes towards the developmentally disabled, combined to make the Grafton State School and the San Haven Institute chambers of horrors. In 1977, an unattended woman was scalded to death by hot bath water; residents suffered broken bones, bruises and neglect at the hands of those hired to assist them. When patients soiled themselves, attendants used stiff brushes to scrub them clean.  Patients committed suicide.  To control the residents in crowded wards, patients often received tranquilizers they did not need. Others were strapped to boards bolted to walls.  Restraint devices kept patients strapped to their beds, toilet bowls, and in otherwise empty rooms.
ARC v. ND commenced in U.S. District Court on January 28, 1982, before Judge Bruce Van Sickle. In the lawsuit, ARC requested that the facility hire more attendants, that attendants be appropriately trained, that medicines be given for illnesses and chronic conditions, and that residents be provided proper dental, medical, and vision care. Moreover, the suit asked that the institutions regularly schedule activities for residents, that residents be allowed to practice the religion of their choice, and that they have appropriate clothing.  The ARC also asked that residents be allowed to vote. The ARC asked for other changes including air conditioning, privacy, and fire safety for the residents.  The facilities, according to the ARC, denied residents basic civil rights.
The state admitted that problems existed at Grafton and San Haven.  The state defended the institutions by saying that it could not provide better care without more funding. When Judge Van Sickle heard this admission of responsibility, he ruled in favor of the ARC. His ruling declared that substandard conditions be improved.  Besides ordering the state to comply with ARC's requests, the judge ordered San Haven closed.  Judge Van Sickle required that the number of residents at Grafton significantly reduced. He urged the movement of individuals to community homes scattered across the state. The state appealed, but failed to make a strong case.  San Haven closed and most of the residents at Grafton moved into community homes. Conditions at the Grafton State Home improved and the welfare of the residents was assured. Today, the facility is home to less than 10% of the state's developmentally disabled population.
...
Kim Porter is Professor of History at the University of North Dakota.
Trouble in Medina
    By Dr. Kimberly K. Porter
Gordon Kahl (1920–1983) once farmed near Heaton, North Dakota with his wife and children. In the winter, he often went to Texas to work in the oil fields. His oil field paycheck supplemented his farm income, but he wanted to be paid in cash so that he could avoid paying federal income taxes. By the 1960s, Kahl had come to believe that the United States government was oppressive. He continued to avoid paying income taxes. In 1967, Kahl notified the Internal Revenue Service, the agency that collects federal income taxes, that he would no longer pay taxes. He referred to the U.S. government as the "Synagogue of Satan under the 2nd plank of the Communist Manifesto." Kahl's views on taxes and the federal government were closely related to his religion and his interpretation of the Bible. Because he refused to pay taxes, Kahl was convicted of income tax evasion and spent eight months in prison. The federal government also confiscated some of his land to cover payment of his taxes.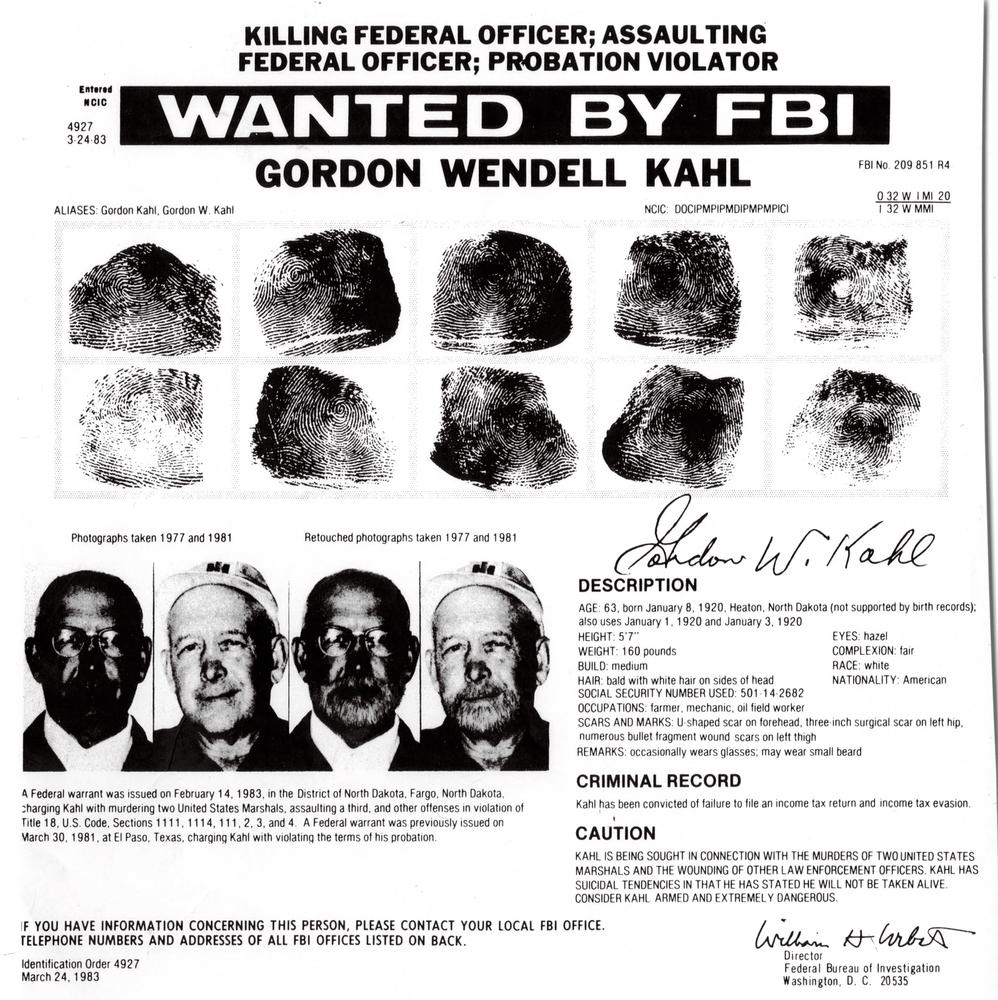 Kahl was not the only person in the United States to hold radical views of the government. There were many individuals who believed that the people of the United States should still be governed by the Articles of Confederation (1781-1789) and that only Christian, white men should hold power. These individuals formed organizations such as the Posse Comitatus. Many also joined a movement of people who believed that government should never be larger than a township government. Suffering from poor crop prices and hard times in the 1980s, some rural Americans found comfort in these ideas and joined  these radical political groups. Gordon Kahl was well-known for sharing some of these views. He also believed that a Jewish conspiracy plotted to take over the United States government.
On Sunday, February 13, 1983, the problems between Kahl and the federal government broke out in violence. During the afternoon, Kahl had attended a meeting in Medina, North Dakota. People at this meeting were interested in Posse Comitatus and the township movement. After the meeting, U. S. Marshals were waiting to arrest him because he refused to pay taxes. Kahl had also crossed state lines to find work which was in violation of his parole.
Kahl, his son Yorie, and follower Scott Faul attempted to avoid the arrest. Kahl and the others were armed. The marshals, also armed, had established a road block just north of Medina to stop Kahl. At the roadblock, both sides opened fire. Marshals Kenneth Muir and Bob Cheshire were killed. Deputy Marshal James Hopson, Yorie Kahl, Medina police officer Steve Schnable and Stutsman County Deputy Sheriff Bradley Kapp were wounded. Deputy U.S. Marshal Carl Wigglesworth survived. Kahl escaped in a police car.
Kahl left North Dakota seeking refuge. He remained at large until June, 1983 when he was found hiding in a private home in Arkansas. The owner of the home held views similar to Kahl's. Federal agents surrounded the house and County Sheriff Gene Matthews entered the building. Kahl and Matthews apparently shot each other. Both died of gunshot wounds. Outside, marshals continued to fire at the house and set it on fire.
Kahl's death ended the nation-wide manhunt. Yorie Kahl and Scott Faul were convicted of their part in the shooting at Medina and remain in federal prison. Many North Dakotans still remember the violence that took place at Medina.
Some people think of Kahl as a martyr to his beliefs. Others believe that he was a criminal. However, the death of one man does not kill his beliefs. The ideas that seemed true and important to Gordon Kahl are still found among people who seek truth in the wrong places. 
...
Kim Porter is Professor of History at the University of North Dakota.
Recent Immigration 
By Sarah Walker
Immigration has long been a relevant topic in North Dakota's history. Throughout the settlement and development of the land, immigrants have had a profound impact on the customs and culture around them. The reasons these men, women, and children come to North Dakota have remained largely the same, though the details change: they come for the promise of opportunity and to start anew, a theme that links the stories of more recent and earlier immigrants alike.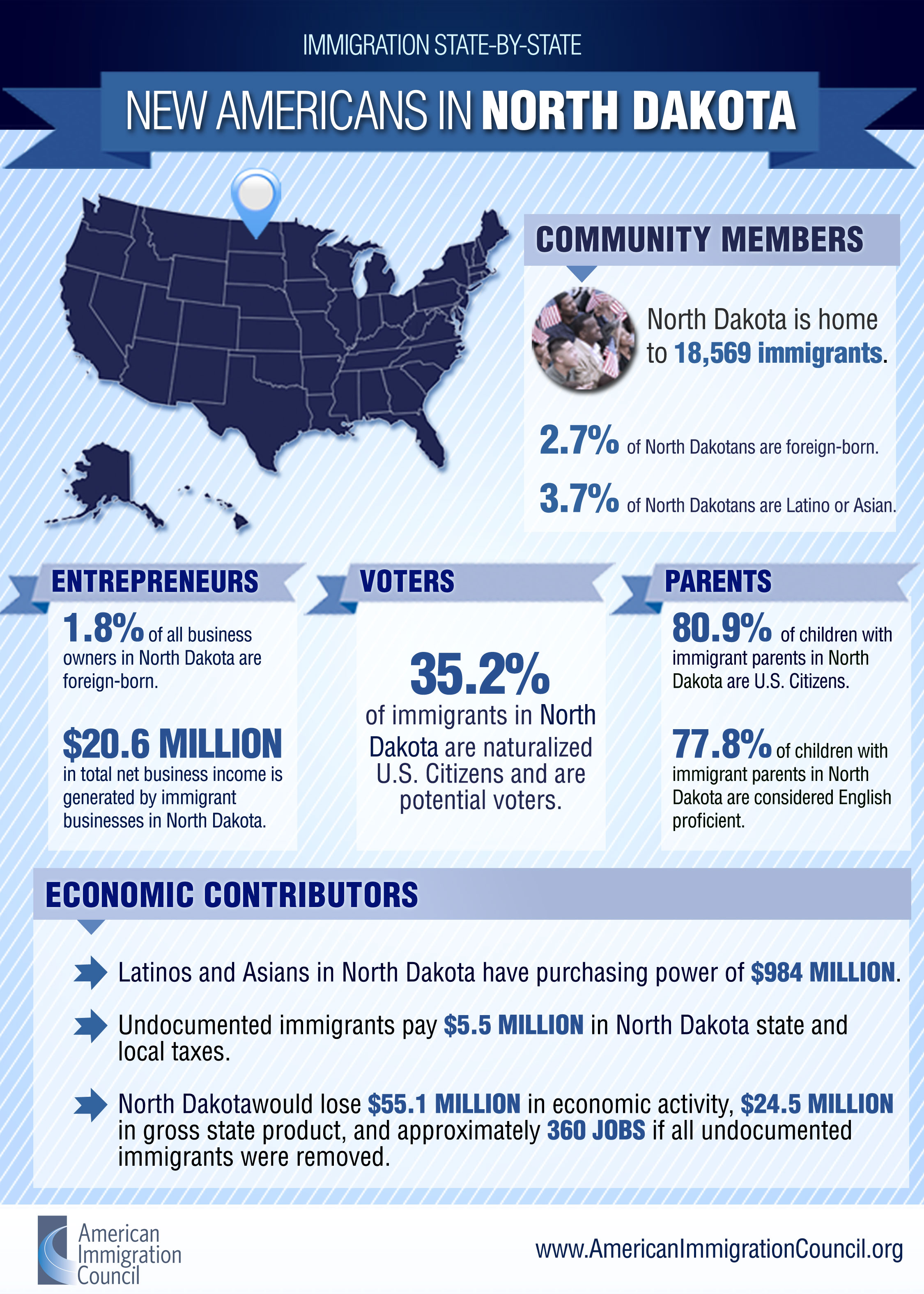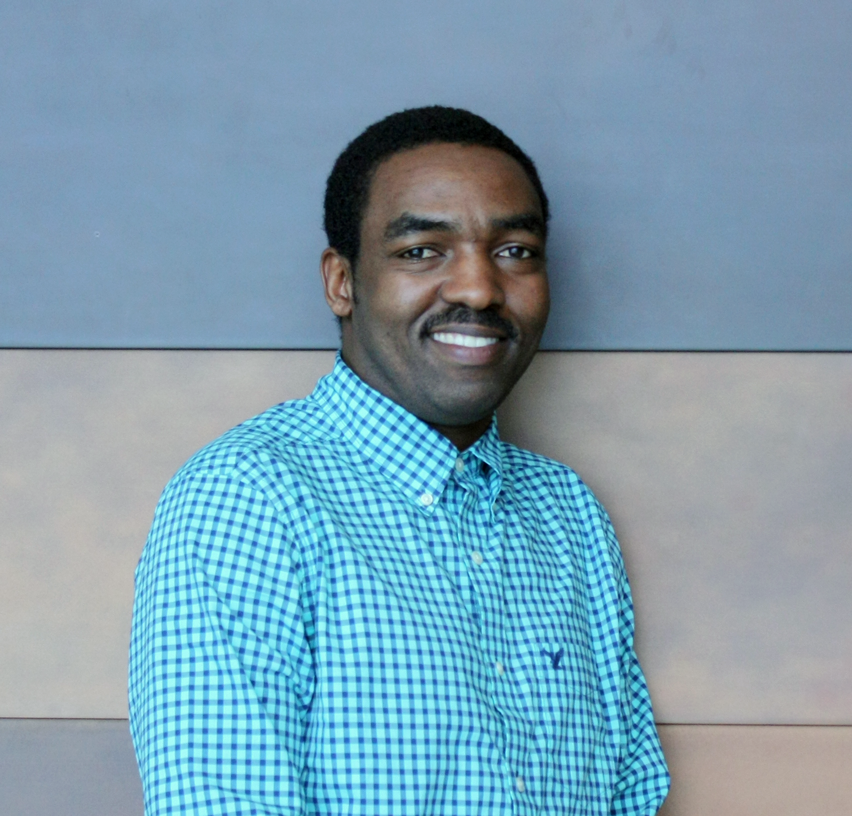 Conflicts occurring in some countries have forced many refugees to leave their homes. Often, these individuals faced death every day. They fled their homes, sometimes without any possessions, sometimes without even a simple understanding of the English language. Some have resettled in North Dakota.
The immigrants of the 19th century came primarily from northern Europe. A few came from the Middle East. Recent immigration has broadened North Dakota's ethnic diversity, increasing the ethnic diversity of our state.
In 1975, a refugee sponsorship program resettled 204 refugees from Vietnam in North Dakota. In the 1980s, Civil War broke out in Somalia. The war continues after two decades, and many Somalis sought refuge. With the help of the United States government and some church organizations, many Somali refugees arrived in North Dakota.
In the early 1990s, the United States welcomed Bosnian refugees as war in Bosnia led to ethnic cleansing in the former Yugoslavia. The United States and private refugee support organizations such as Lutheran Immigration and Refugee Service also welcomed refugees from the civil war in South Sudan. All of these refugees hoped to find work, education, safety and a better life in the United States.
North Dakota's branch of Lutheran Social Services is one of the private organizations that have brought refugees to North Dakota. This group works with refugees for up to five years. Refugees are first offered orientation classes and help in learning English. Refugees receive aid in finding employment, housing, and education. Lutheran Social Services (LSS) has headquarters in Fargo and offices in other cities around the state. Since 1997, LSS has settled an average of 400 refugees per year in North Dakota.
So many Somali refugees settled here that a nonprofit specifically supporting this community was formed in Grand Forks. Within the first year of its recent formation, the Somali Community of Grand Forks helped about 1200 refugees with employment, language translation services, and cultural integration.
Not all of North Dakota's new immigrants are fleeing war or disorder. Many came for a good education at one of the state's universities and stayed to take advantage of job opportunities. About 43.5 percent of the science and math graduates at North Dakota's colleges and universities are foreign-born. Among students receiving a doctoral degree in engineering, 76.2% were born outside of the United States. In addition, many of North Dakota's medical doctors are immigrants to the United States.
Immigrants who struggle to learn English or who have not had a good education may find work in manufacturing or in retail positions where English is not important. Many find positions in health care. Some immigrants have opened food shops or cafés featuring the food traditions of their home countries. Between 2006 and 2010, 381 immigrants opened their own businesses in North Dakota.
A recent North Dakota immigrant is Jean de Dieu Musabyimana who came to the United States from his former home in Rwanda. As a child, he saw his mother and grandfather killed in the ethnic war between the Hutus and the Tutsis. Jean's family was Tutsi but they were sheltered by sympathetic Hutus. Years later, Jean was able to forgive the family of those who murdered his mother. In 2014, Jean asked for and was granted asylum in the United States. Today, he lives in Dickinson and works at Walmart. He also speaks publicly about his boyhood in Rwanda. He has moved to Bismarck and is preparing to enter the medical field.
New immigration to North Dakota continues to occur. According to reports from the U.S. Census Bureau, between 2010 and 2014, 2.9 percent of the population living in North Dakota listed that they were foreign-born persons, and 5.4 percent listed that they spoke other languages than English at home. The addition of these immigrants from varied parts of the world only adds to the diversity and beauty of the fabric composing North Dakota. As long as there is opportunity for development and growth, this percentage should only increase into the future.
Recent immigrants to North Dakota have ample opportunity to establish homes, attend school, work. The settlement of new immigrants in North Dakota is also good for the economy and culture of the state, providing workers and broadening cultural horizons and awareness.
...
Sarah Walker graduated from the University of North Dakota in 2007. She has worked for the State Archives at the State Historical Society of North Dakota since 2008 where she is a Reference Specialist.
The Problem of Outmigration
By Jim Davis
North Dakota has wide open spaces, a low crime rate, and great educational and recreational opportunities.  While it is true that winters can be harsh, it is a great place to live. What causes the so many of our young adults to leave the state?  For some it is the desire of adventure, others may be seeking a spot in the corporate world, but for most, living in or leaving North Dakota is a matter of "commodity economics."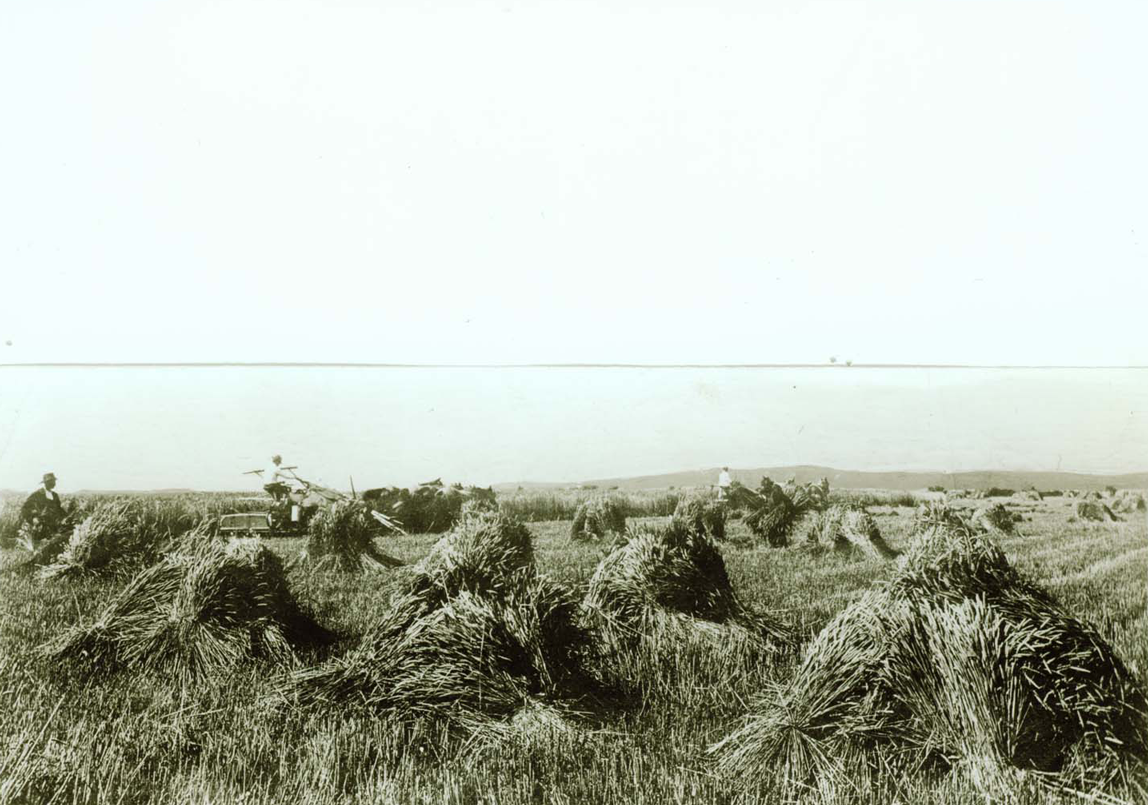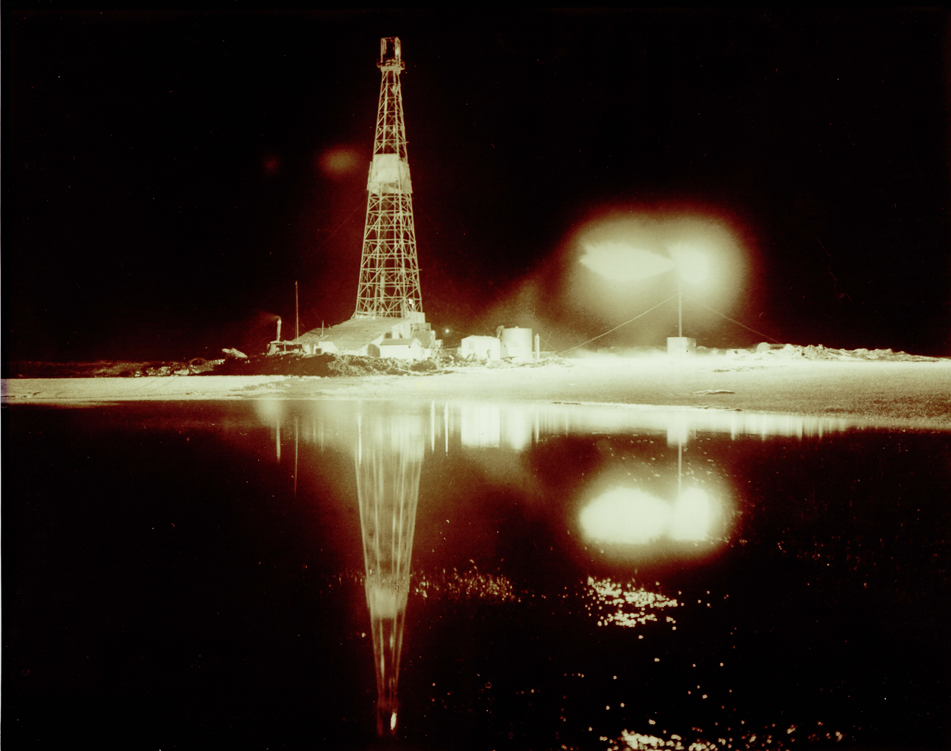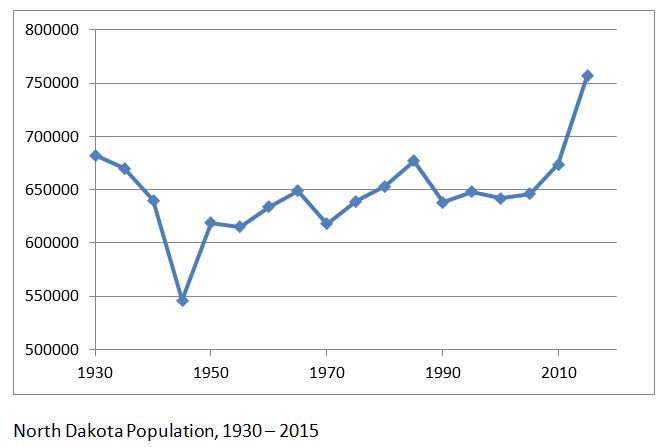 Commodities are goods which are bought or sold on the open market. Throughout its history, the economy of North Dakota has been tied to commodities, especially wheat and oil. These commodities have not only defined the lifestyle of the people of the state, but have had a profound influence on its population. The rise and fall of grain prices on the commodities market can affect the long term stability of North Dakota's economy and create a population outmigration.  It is the boom and bust cycle in oil country that creates the most dramatic swings in our population.  
When the tracks of the Northern Pacific Railroad crossed the Red River in 1872, thousands of immigrants sought the fertile prairies of Dakota Territory. Wheat was "King" and by 1930 the population of North Dakota climbed to a peak of 682,000. But drought and a prolonged poor national economy during the Great Depression of the 1930s wreaked havoc on the Plains. Crops dried up, livestock died by the thousands from lack of feed and, with no other source of income, many famers could not pay their taxes or mortgages and lost their land. Over 60,000 people left the state during the next two decades.
In April of 1951, oil was discovered near Tioga ushering in a new era and a new commodity for North Dakota's economy.  Oil field jobs brought on a huge influx of workers to operate the rigs. In the months immediately following the discovery of oil, workers were arriving at the rate of 200 to 300 per day. While most worked in the oil fields, some found work at the refinery in Mandan or at the Garrison Dam as it neared completion. The oil found in the deep strata of shale rock proved difficult and expensive to extract. When crude oil prices dropped on the commodities market, drilling nearly stopped altogether. Jobs were lost, businesses were abandoned, and the workers moved on.
There was a short period of time when construction work helped to raise North Dakota's population. During the 1960s, North Dakota's population was affected by Cold War tensions between the United States and the Soviet Union.  New jobs were created when the Grand Forks and Minot Air bases were established.  Workers were needed to build the bases and the Intercontinental Ballistic Missile bases and silos.  Construction on Interstate highways and Highway 2 (also related to missile systems) also created new jobs. Outmigration paused during this construction boom. But even with this limited prosperity, by 1970, the population had shrunk to 617,000.  But an agricultural boom was on the horizon.
In the early 1970s, the global wheat trade strengthened. Worldwide crop failures, coupled with the devaluation of the US dollar, sent prices for wheat soaring to new highs. The new-found prosperity created agricultural jobs which supported banks, railroads, small town merchants, and many other businesses. The outmigration of college graduates slowed down, and many people who had left the state returned home to their roots. Farmers were encouraged to plant as much as possible.  Farmers borrowed heavily to purchase additional land and modernize equipment.
However, overproduction of wheat eventually caused a rapid decline in the price. By the early 1980s, many farmers had failed to repay loans and they were forced off their farms.  These displaced farmers sought jobs in urban areas outside the state.
In 1973, the Arab oil embargo caused motorists to have trouble locating gasoline.  Gas was rationed among the service stations. The embargo forced oil prices to rise which encouraged more oil extraction in the North Dakota oil fields. Another oil boom was underway. The result was a population increase of over 30,000 people. However, and the North Dakota Legislature put a heavy tax on oil production.  
However, the decade of the 1980s proved to be as volatile as earlier decades. By 1982, OPEC (Organization of Petroleum Exporting Countries) had flooded the market with oil.  The price of oil dropped.  Low prices together with North Dakota's oil extraction tax encouraged oil producers to limit drilling.  Oil workers were forced to go elsewhere in search of jobs. Once again, the oil patch was deserted. Business in oil towns slowed down. Buildings stood empty.
North Dakota saw little growth in the 1990s, however less outmigration occurred as more effort was put into introducing a wider variety of manufacturing jobs. Then, a new technique in oil production known as "fracking" allowed for a resurgence in oil production in the 2000s. Once again, the population of the "oil patch" swelled dramatically. Frantic activity was ongoing as oil prices topped $50 per barrel and went as high as $90. But in 2016, with the cascading fall in the price of oil, production dropped by 70% leaving thousands of oil rig workers and those in supporting businesses out of work. A new wave of outmigration began, showing that "commodity economics" still plays a significant role in living in North Dakota- or leaving. Both young and old leave the state when jobs are scarce, but it is the young people who are missed the most.
...
Jim Davis holds degrees from Lake Region Junior College and University of North Dakota. He has worked for the State Archives and Historical Research Library of the State Historical Society of North Dakota since 1980 where he is currently Head of Reference. 
Centennial: Party on the Prairie 
By Barbara Handy-Marchello
North Dakotans began to think about celebrating the state's 100th anniversary in the 1970s.  In 1981, the state legislature established and funded the North Dakota Centennial Commission led by former Governor Arthur Link.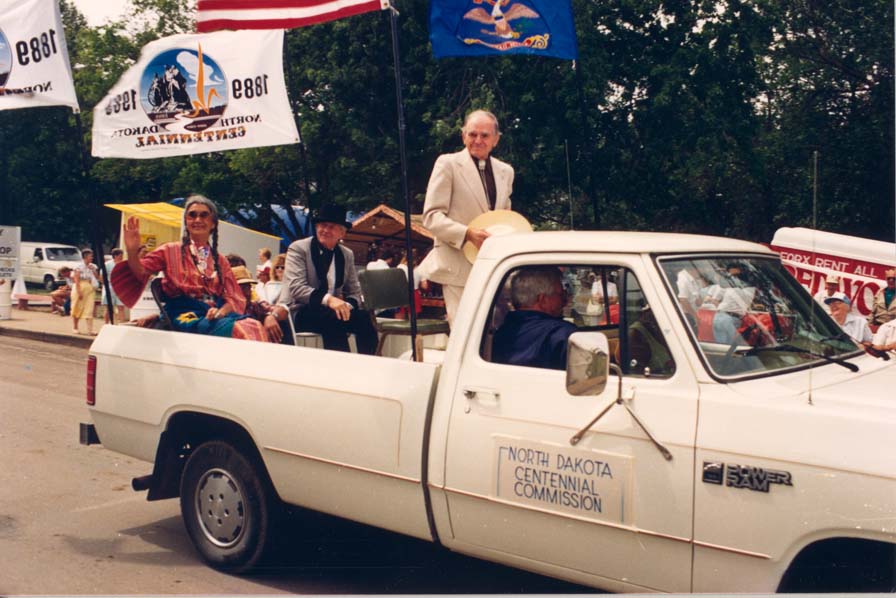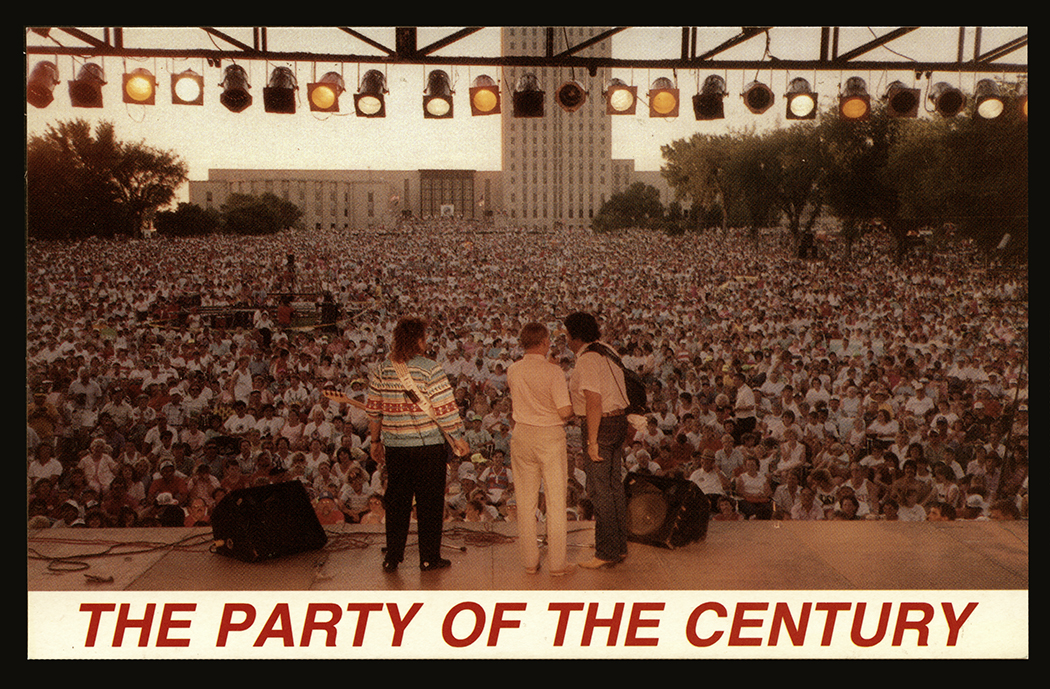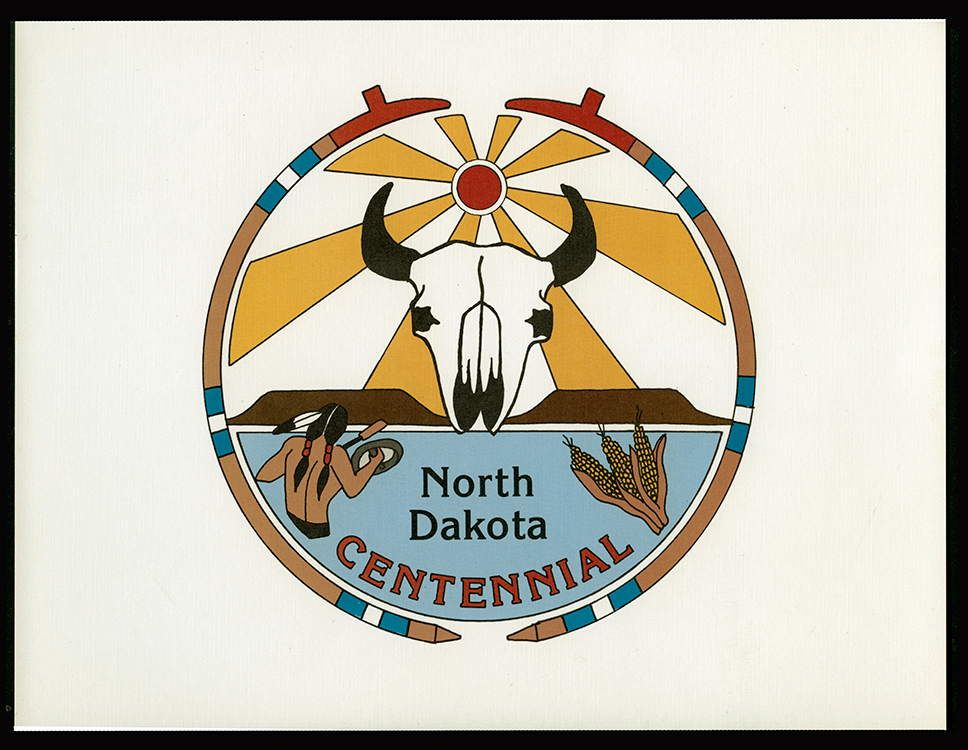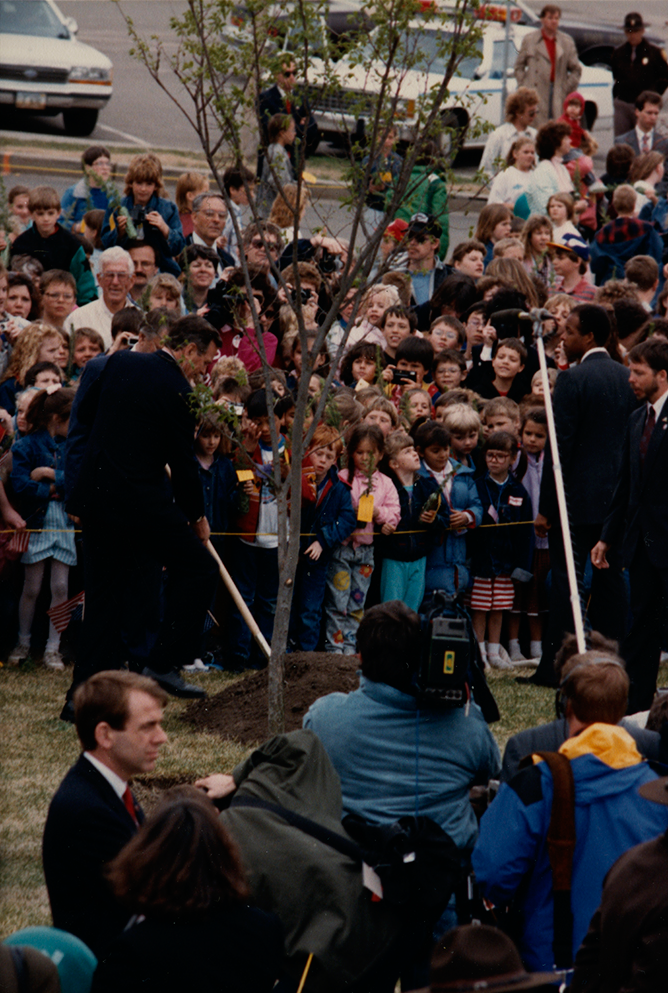 The commission made plans to celebrate the anniversary on several important dates in cities around the state.  The biggest celebration was on July 4, 1989 in Bismarck. The celebration marked the 100th anniversary of the Constitutional Convention which wrote the state's constitution.  An estimated 100,000 people came to Bismarck for the Party on the Prairie.
Centennial events were funded largely by the sale of official commemorative items such as medallions, coins, and belt buckles. Other items were produced by vendors who made dolls, quilts, china cups, and other things. Any vendor who used the Centennial logo paid a royalty of seven percent to the state. The income from sales of commemorative items totaled $2,058,437 or 57% of the centennial budget.
Though the celebration officially ended on November 2, 1989, Statehood Day, the Commission arranged for the state to have a long-term, living legacy of the centennial. The North Dakota Centennial Decade Trees Project was initiated when President George H.W. Bush came to North Dakota to plant an American Elm tree on the state capital grounds. Over the next 10 years, the commission planned to see thousands of trees planted.  The trees would "carry the centennial spirts well into the second century of statehood," according to Governor Link.
Governor George Sinner said that "the state's Centennial was really a celebration of the people, by the people, and for the people." North Dakotans could take "pride in the quality of life here."
...
Barbara Handy-Marchello is retired from the University of North Dakota History Department. She currently works for the North Dakota Studies program at the State Historical Society of North Dakota.
Abortion Rights
From 1910 to 1972, most abortions (the medical termination of a pregnancy) were illegal. Many states allowed abortion only to protect the life of the mother. During those years, women sometimes resorted to illegal or self-induced abortions when they felt it was necessary. Some women died from these procedures.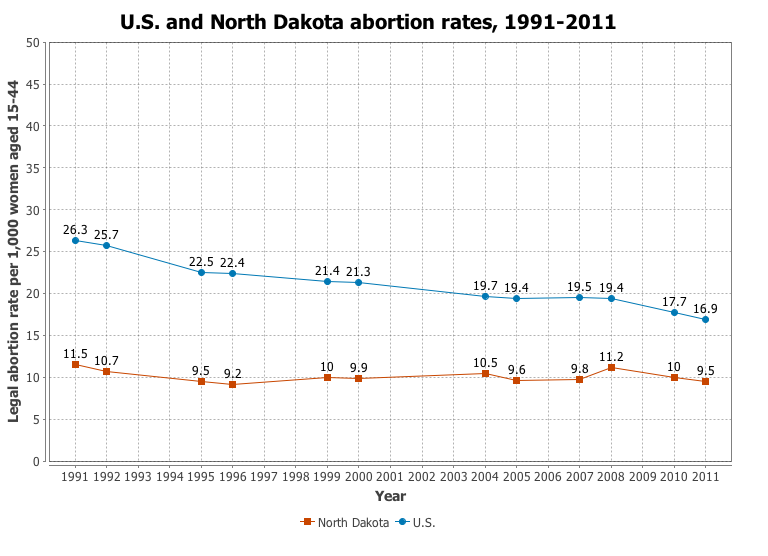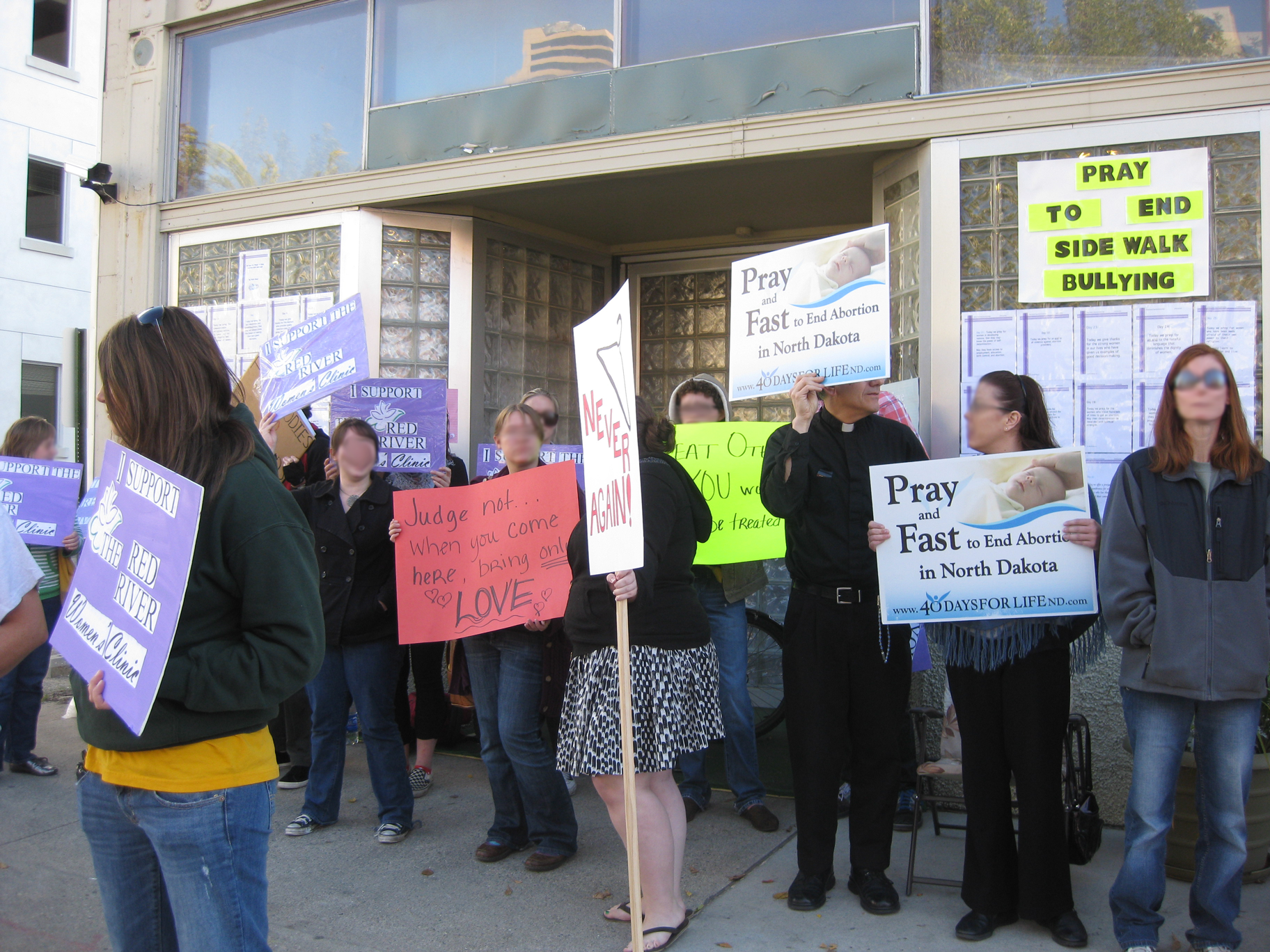 Many women and men believed that abortions should be legally available. It was necessary to challenge the laws prohibiting abortion through the court system.  In 1972, a woman identified by the false name (to protect her identity) Jane Roe filed a lawsuit in the state of Texas. The lawsuit was heard at different levels of state and federal courts. In 1973, the case, known as Roe v. Wade, was heard by the Supreme Court of the United States.  The Court decided (7 to 2) that a woman's right to privacy as protected by the 14th amendment to the U. S. Constitution included the right to an abortion. As a result of this decision, 46 states changed their laws on abortion.
In 1972, a year before Roe v. Wade, an initiative on abortion rights was presented to North Dakota voters on the ballot. The initiative failed by a vote of more than three to one.  Nevertheless, when Roe v Wade was decided by the Supreme Court, North Dakota had to allow abortions within certain limits. For the most part, these medical procedures were performed in doctor's offices. In 1981, the Women's Health Organization (WHO) opened a clinic in Fargo.
The clinic had a difficult time finding a place to rent and staff to hire, but when it opened, there were patients. There were also many North Dakotans who believed that abortion was immoral and should be made illegal again. The challenges to legalized abortion in North Dakota took two paths.
The most persistent challenges were directed towards the WHO clinic, which by 1990 was the only place to obtain a legal abortion in North Dakota. Protesters marched in front of the clinic and sometimes harassed the staff. In 1991, a group from other states came to Fargo with the intention of putting the WHO clinic out of business.  Many of the protesters were arrested; the clinic remained open.
The other challenges came through the legislature. Between 1990 and 2015, more than 1000 bills were introduced to regulate, outlaw, restrict, or reduce access to abortions. Some of these bills were approved by legislators: of these some were vetoed by the governor, some were referred to the voters and did not pass. The bills that did become law did not ban abortions, but regulated them. Some laws that presented major obstacles to legal abortion were challenged by abortion providers. 
In March 2013, the North Dakota legislature passed the most restrictive abortion law (House Bill 1456) in the United States. The law made abortions illegal if the doctor detected a fetal heartbeat. Fetal heartbeats can be detectable by ultrasound at six weeks.
The only abortion clinic in North Dakota (the Red River Valley Women's Clinic) filed suit challenging the constitutionality of the law in July 2013. U. S. District Court Judge Daniel Hovland ruled the law unconstitutional. The state carried the lawsuit to the Supreme Court. On January 25, 2016, the justices of the U.S. Supreme Court declined to hear the case. That means that the lower court's ruling was allowed to stand.  The law, H.B. 1456, would not go into effect.
Another legislative effort to eliminate legal abortion in North Dakota was referred to voters in 2014.  The "Human Life Amendment" was defeated by voters at the November elections. 
Today, the only abortion provider in North Dakota is the Red River Valley Women's Clinic in Fargo. In addition to abortions, the clinic provides other services such as pregnancy testing and birth control counseling. The clinic performs about 1,200 abortions each year. Organizations that oppose abortion as a solution to a problem pregnancy provide counseling to patients at several clinics around the state. 
...
Completing Interstate Highways
By Dr. Kimberly K. Porter
Two Interstate Highways cross North Dakota. Interstate 29 parallels the Red River on the eastern side of the state and Interstate 94 runs east-west across the southern third of the state.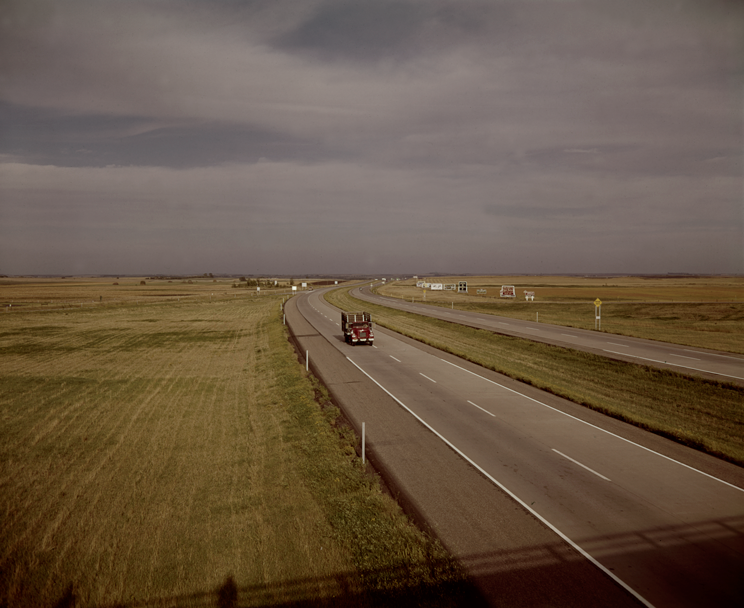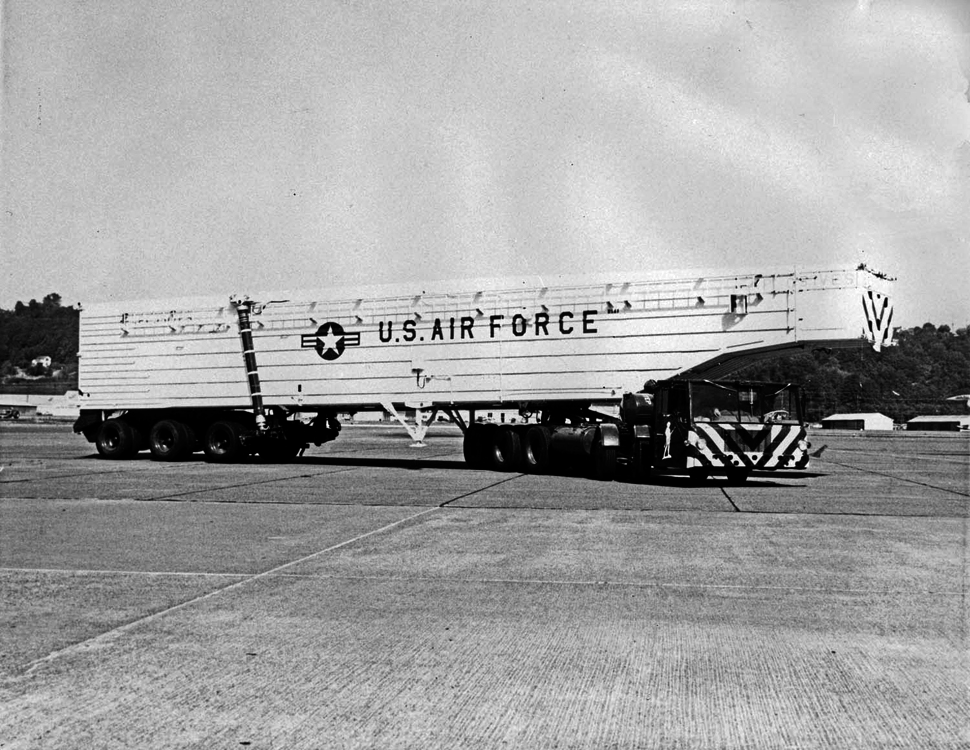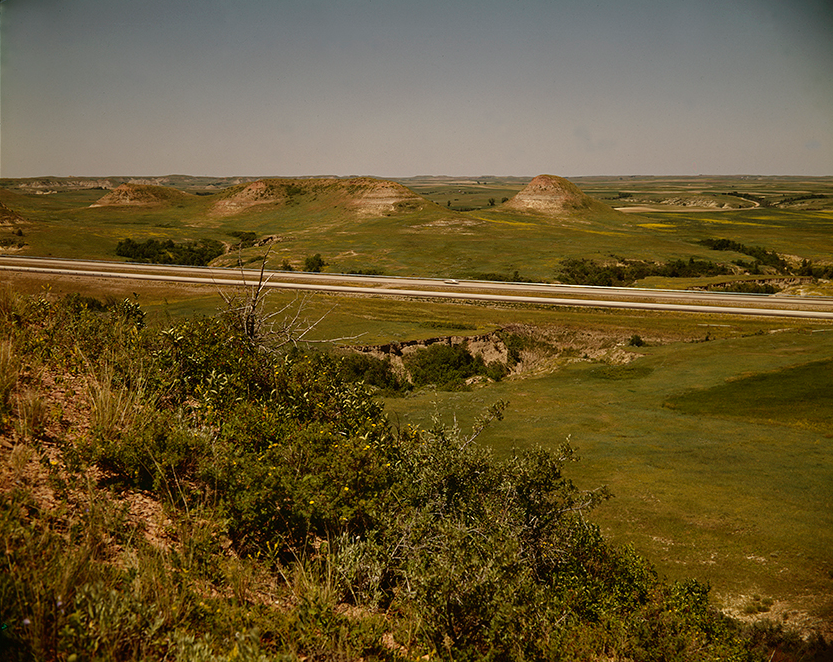 The nation's interstate system was a plan that came from President Dwight Eisenhower's office. Congress passed the National Defense Highway System Act of 1956. This law funded the construction of the interstate highways. 
The highways were designed and built in the time of the Cold War when the United States was concerned about nuclear war with the Soviet Union. The interstate highways were designed to move large numbers of people out of cities in case of war. The highways were also designed with limited access and wide lanes to move military weapons.
In the fall of 1960, Interstate 29 was completed to the Canadian border, becoming the first highway to connect with a foreign country. In 1961, Interstate 94 was opened to traffic from Dawson to the Red River. North Dakota's interstate system was completed in 1977 providing excellent highways for North Dakota residents and tourists. 
...
Kim Porter is Professor of History at the University of North Dakota.
Opinion
Where We Are Now
North Dakota built its towns, schools, and other institutions on a land-based, farming economy. Most of the people who lived here were hard workers with European heritage. Rich in fertile soil, but short on population and industry, North Dakota has had a pretty steady, reliable, if not exciting economic and social history. This picture of North Dakota prevails through the 1970s, 1980s, and 1990s.
Early oil production made a small blip North Dakota's radar screen. Here – then gone. Towns in oil-rich counties and reservations leaped at the promise of growth, but were disappointed by the shuttering of oil operations in the early 1980s. These towns returned to the quiet existence of small farm communities.
But change had begun, and though progress was slow, it would not go away. Our population gained new cultural features with the airmen assigned to Grand Forks and Minot Air Force bases, students and staff at the state's universities, and refugees seeking a peaceful life in the United States. The coal industry grew with exciting new technologies. Nevertheless, we protected the land even as we developed coal industry, so former coal mines could be returned to agricultural purposes. Our confidence in the land was strong; the land would always sustain us.
But suddenly, around 2008, everything changed. Oil came back BIG, and it coincided with a severe economic depression in the rest of the nation. Sleepy North Dakota towns became the destination of Americans from everywhere and all walks of life. Oil production revenues filled the state treasury with billions of dollars.
Of course, agriculture had always had its ups and downs. Drought, insects, excessive rainfall and flooding periodically harmed crop production. Some years, blizzards killed thousands of cattle or drought forced ranchers to sell their livestock. Poor market prices for crops or livestock were a recurring challenge for farmers. On the other hand, farmers diversified their crops and modernized their operations in order to manage and stabilize their income. In good years and bad years, farm families lived within their means and remained on their farms.
Having always been good at saving money (because we never knew when that rainy day would come), our state bank accounts were usually "in the black."  After 2009, however, oil revenue brought a huge surplus. We seemed to have more money than we could spend.
North Dakotans were excited and awed by this success and wealth. We cautiously welcomed newcomers with different accents, habits, and skin color. We re-built our roads for oil traffic and enlarged schools and hospitals. We enjoyed prosperity while the rest of the nation struggled.
Just as quickly, a few years later, oil production closed up again. And now, we understand that, like the rest of the nation, we will struggle with periodic economic upsets on a much larger scale than we had experienced with an economy based on agriculture. We adapted well to exuberant prosperity and a new vitality of our people. Now, our task is to adapt to the rock and roll of an economy that grows and shrinks in world markets. A tough job, but our experience suggests it is not beyond our ability. Just like our ancestors, we have the ability to adjust to both prosperity and loss.
Political News
• North Dakota Indian Affairs Commission   
• Tribal-State Relationship   
• Lowering the Voting Age
North Dakota Indian Affairs Commission 
By Dakota Goodhouse
In 1949, the North Dakota Legislature created the North Dakota Indian Affairs Commission (NDIAC). The first responsibilities of the NDIAC were to help American Indians find work in agriculture or other businesses, to coordinate federal and state programs for American Indian tribes and individuals, and to evaluate the need for state and federal aid programs. 
In the early years of the NDIAC, the commission encouraged American Indians to assimilate or adopt Anglo-American cultural ways.  Commissioners believed that assimilated Indians would work and live in the general population and engage in business and social relations with non-Indians.  In addition, the commission was interested in "termination policy" which favored closing reservations and making the land available to the states. 
In 1952, Congress decided to abolish the Turtle Mountain Band of Chippewa reservation.  The NDIAC, which was composed entirely of non-Indians, supported termination even though executive director John B. Hart expressed doubts about the policy. Even though Congress terminated the Turtle Mountain Band of Chippewa, the tribe challenged and successfully reversed that decision to retain their recognition and rights. 
Over the next few years, NDIAC turned away from termination and assimilation to investigate many important issues, including an effort by the federal government to determine a new and more specific definition of who an "Indian" is. The commission also considered how off-reservation American Indians access the benefits of all North Dakota citizens, such as medical care, education, housing, and employment.
The NDIAC changed with the needs and growing power of the tribal nations. In 1959, the tribes of North Dakota were given a voice on the NDIAC board. The chairmen of the Three Affiliated Tribes, the Standing Rock Sioux, the Devils Lake (now Spirit Lake) Sioux, and the Turtle Mountain Band of Chippewa were appointed to the commission. In 1963, Governor William Guy appointed Hans Walker, Jr. of Three Affiliated Tribes to executive director of the commission.  He was the first American Indian to hold the position. The presence of American Indian leaders on the commission was a long-sought step toward self-determination of Indian tribes.
The NDIAC continued to improve the relationship between the state of North Dakota and the four Indian nations within the state.  In 1999, the 50th anniversary of the commission, the NDIAC updated its goals to include "work for greater understanding and improved relationships between Indians and non-Indians" and "to assist tribal groups in developing increasingly effective institutions of self-government." To promote those goals, the NDIAC co-sponsored the University of North Dakota's Writers Conference, which featured Native American authors and film makers, and brought their work in contact with the general public.
Today, the commission's work includes promoting educational awareness and opportunities, economic advantages, improved health care, the pursuit of cultural traditions.  The commission also supports a legislative effort to adopt a requirement for educators to have at least one college course in American Indian Studies to teach in North Dakota.
...
Dakota Goodhouse is an enrolled member of the Standing Rock Sioux Tribe. His research has appeared in the Smithsonian's The Year the Stars Fell, and other publications. 
The Tribal-State Relationship
by Dr. Birgit Hans
In 1985 the members of the North Dakota legislature listened to the first "State of the Tribal-State Relationship" address delivered by the Honorable Russell Hawkins, Chair of the Sisseton-Wahpeton Sioux Tribe.  Hawkins described the problems faced by American Indians of North Dakota. Since then, one of the tribal chairpersons of the Five Tribal Nations in North Dakota has delivered such an address at every legislative session.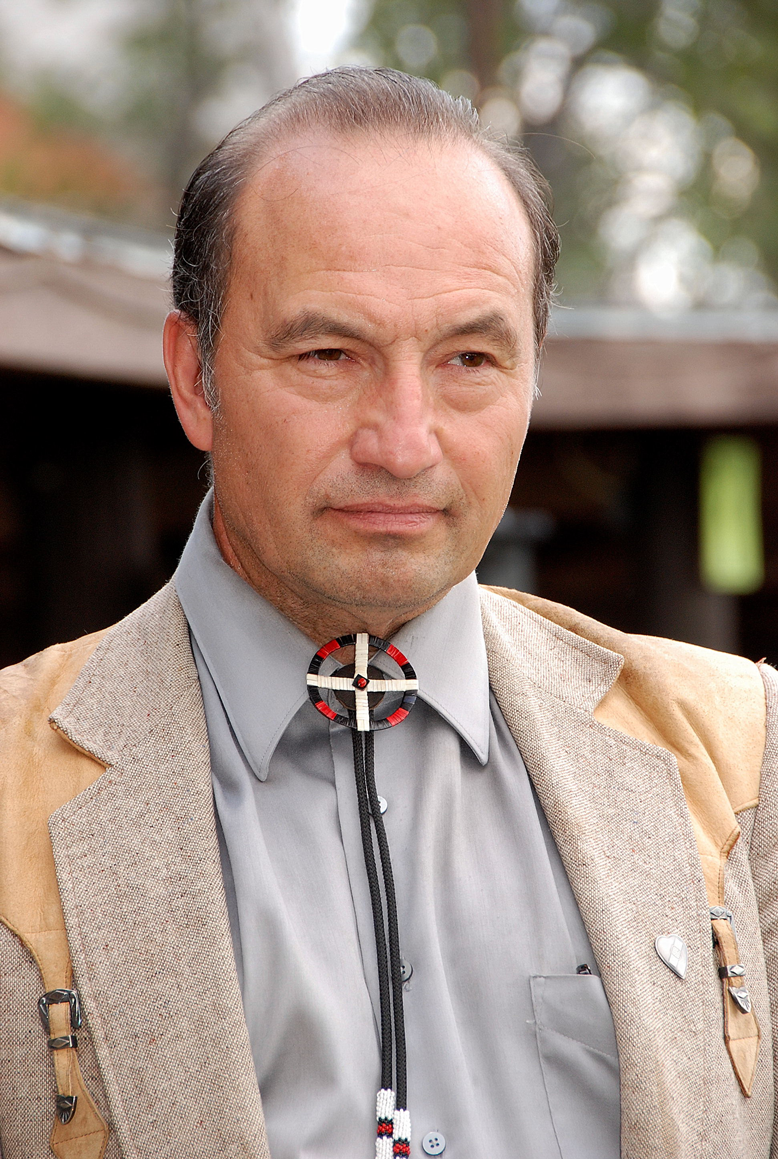 By emphasizing sovereignty in the biennial speeches to the North Dakota legislature, tribal representatives strengthen the idea that American Indian nations and the state of North Dakota are equal under the U.S. Constitution. Tribal governments make decisions that affect tribal members on the reservations.
In the 2015 address the Honorable Dave Archambault, chairman of the Standing Rock Sioux Tribe, said: "We ask that North Dakota reconsider its approach to its government-to-government relationships with the five Tribal Nations, and bear in mind that although tribes embrace elements of a shared history, each tribe is also unique." He indicated that the recognition of tribal sovereignty is still and issue for the state.  It is important, he noted, that agreements between tribal governments and the state take into account geographic, economic and historic differences among tribes.
Although non-Indians in North Dakota find it difficult to recognize tribes as unique and complex cultures, there have been some successful cooperative endeavors in the last ten years.  Take, for example, the compacts regarding gaming on reservations.  The State of North Dakota has a separate compact with each tribe concerning regulation of gaming at tribal casinos.  These compacts have benefitted the rural population of the state by creating employment opportunities for Indians and non-Indians alike. The recurring statements about the sovereignty of tribes do not exclude arrangements that are mutually beneficial to both the tribes and the state of North Dakota. 
Unfortunately, the social and economic issues that make these government-to-government negotiations between tribal and state governments so important have remained essentially the same through the decades. These issues include education, unemployment, substance abuse, lack of health care, housing needs, infrastructure, and water management. In recent speeches, the tribal chairmen have outlined problems caused by oil and gas development.
The "State of Tribal-State Relationship" speeches emphasize that what affects American Indians on reservations also affects the rural population of North Dakota. It is therefore in the best interest of both the state and the tribes to work as partners. As the Honorable Charles W. Murphy, former chairman of the Standing Rock Sioux, said in his speech in 2005: "Our Tribal-State relationship will flourish through cooperation, respect, and communication. We've been working on that for the past 20 years and we must continue doing so in the future."
...
Birgit Hans is Professor of Indian Studies at the University of North Dakota.
Lowering the Voting Age 
By Lloyd Omdahl
While interest in lowering the voting age to 18 had been expressed in earlier years, it took   the wrenching experiences with the Vietnam War and violent draft protests in the late 1960s to force the nation to respond to the argument that "Old Enough to Fight" also meant "Old Enough to Vote."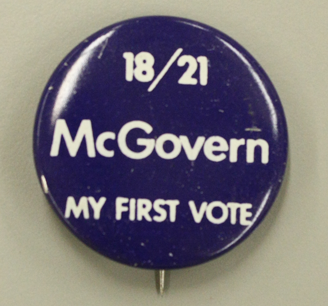 By the time the issue rose in Congress, support for 18-year-old voting had solidified and both the Senate and the House exceeded the two-thirds vote requirement and submitted the proposal for the Twenty-sixth Amendment to state legislatures. However, before the states could act, a lawsuit was filed and the scrutiny of the Supreme Court was invoked.
Ever since the adoption of the Fifteenth Amendment guaranteeing the right to vote to former slaves in 1870, legal consensus held that constitutional amendments were required to alter voting rights. This interpretation was confirmed in 1920 by the adoption of the Nineteenth Amendment guaranteeing women the right to vote.
In March of 1970, however, advocates of lowering the voting age had concluded that the amending process was too slow. The war was hurting young people in the present and it would take years to complete the tedious amending process. So Congress passed an ordinary statute lowering the voting age.
This law was immediately challenged. In Oregon v. Mitchell, the Supreme Court ruled in December 1970 that Congress had the authority to set the voting age for federal elections, but the states made the rules when it came to state and local elections.
The decision created an untenable situation for states administering elections. The decision meant that states would be required to conduct two separate elections – one for president and members of Congress and a separate one for governor, legislatures and local officials. Because states did not wish to implement an election process wrought with confusion or added expenses, they were eager to ratify the Twenty-sixth Amendment to restore a single election process.
While previous amendments had required years to adopt, the required number of 38 states adopted the Twenty-Sixth in 1971.  It took only three months, the speediest adoption of all amendments.  
While support for an amendment lowering the voting age at the federal level had been building for years, the states were not idle. Georgia lowered the voting age to 18 in 1943 followed by Kentucky in 1955. Alaska and Hawaii entered the Union in 1959 with 18-year-old voting.
North Dakota was not idle. Three years before the national initiative, the 1967 legislative session proposed a constitutional amendment lowering the voting age to 19 and submitted it to the electorate for a vote in the September 1968 primary.
A core of young people across the state led the campaign. One of the leading activists on behalf of the proposal was Kent Conrad (later U.S. Senator) who reported that 50 to 60 activists, mainly from the Bismarck area, raised $15,000 to $20,000 and distributed supporting literature at every gathering of crowds across the state. However, when the votes were counted, the measure lost 61,813 (51%) to 59,034 (49%). Conrad attributed the margin of loss to a sensational auto wreck immediately preceding the election in which three young people were killed due to youthful indiscretion.
The issue of lowering the voting age was not without political implications. Both Republicans and Democrats speculated about the political beneficiaries of a lowered voting age. Even though Republican Presidents Dwight Eisenhower and Richard Nixon endorsed the idea, it was Democrat Ted Kennedy who introduced it in Congress.
Local politicians also were concerned about college students taking over city governments and legislative races when their connections to local communities were tenuous at best. This concern led to long-running battles over the definition of "residence" for voting purposes.
Even though young voters have not delivered on the claim that their involvement would result in higher turnover of elected officials, some jurisdictions are now looking at lowering the voting age to 16. In 2013, Takoma Park, Maryland, was the first local government to adopt the proposal.
Though North Dakotans appeared to support a lower voting age, the state never ratified the Twenty-sixth Amendment.  The ratification process started in March 1971, in the middle of a biennial North Dakota legislative session. By the time the 1973 session rolled around, 43 states had already fulfilled the three-fourths requirement for ratification. Consequently, North Dakota remains as one of seven states that didn't bother to ratify the Twenty-sixth Amendment.
...
Lloyd Omdahl is a former Lieutenant Governor of North Dakota (1987-1992) and a retired professor of Political Science at the University of North Dakota. 
Environment & Energy
The Bakken Oil Field 
By Clarence Herz
North Dakota first produced petroleum in what was then referred to as the Nesson Anticline in the Williston Basin in April of 1951. However, petroleum production later fell dramatically from a 1967 peak of over 25 million barrels of oil to a little more than 20 million barrels in 1972. In 1973 political forces and war in the Middle East changed American policy toward petroleum.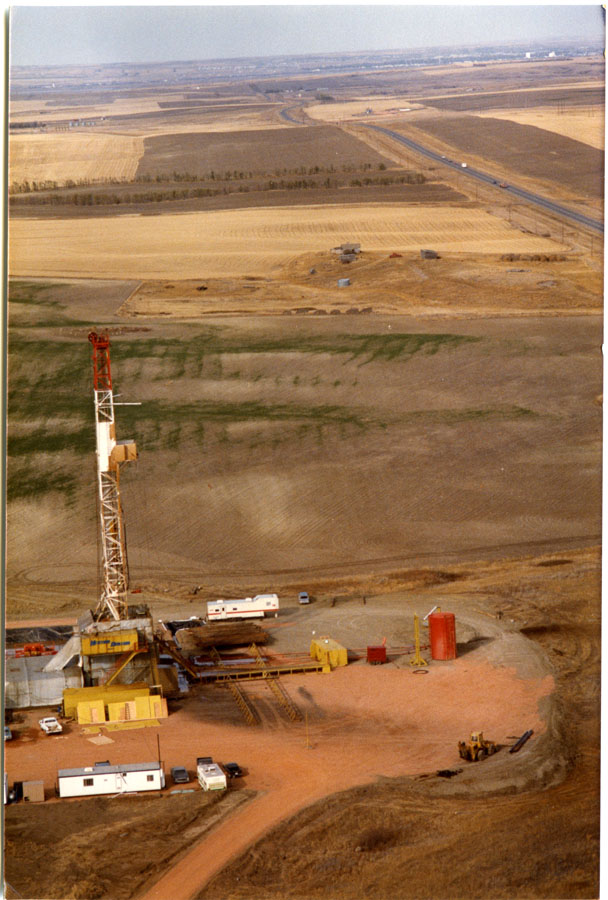 In 1973 the Arab-Israeli War broke out between Israel and the Arab nations of Egypt and Syria. The United States, under President Richard Nixon, backed and re-supplied the Israelis while Russia supported the Arab nations. As a result of the United States' involvement the Organization of Petroleum Exporting Countries (OPEC), led by its Arab members, instituted an oil embargo against the United States, the Netherlands, Portugal, and South Africa.
The OPEC embargo shocked global petroleum markets and the price of oil quickly rose from $2.90 ($13.90 today) a barrel before the crisis to $11.65 ($55.90 today) by January 1974. In response the United States instituted policies of conservation. The highway speed limit was lowered to 55 mph and U. S. oil producers were encouraged to increase petroleum production. This led to an increase in activity in the Williston Basin as the price of oil again made it profitable to produce oil in North Dakota.
Petroleum production, now driven by higher prices, led to the second North Dakota oil boom from 1974 to 1984 in the Williston Basin. This boom was driven by petroleum markets which were largely controlled by OPEC. In 1973, North Dakota drillers completed 134 new wells, but in 1974, that number jumped to 240 and climbed to 260 in 1977.
While the market for petroleum remained high, the boom continued and production once again began to climb. In 1984, 3,698 wells produced nearly 51 million barrels of oil annually. However, the nationwide market for petroleum fell once again in the mid-1980s and the boom ended. In North Dakota, the boom ended abruptly. Thousands of oil workers and their families left the area practically overnight. The number of producing wells declined. Williston, Watford City, Dickinson, and Belfield, once home to workers from throughout the United States, were now blighted by abandoned mobile homes, empty houses, and incomplete construction projects. The cities had heavy debt burdens related to their previously booming growth.
The 1986 oil bust affected western North Dakota for decades. Throughout the late 1980s and the 1990s production of petroleum in North Dakota rose and fell only slightly. During this time, petroleum companies continued to search for better and cheaper ways to produce oil in the Williston Basin, but little would change without a technological breakthrough.
Technology in the Williston Basin had not changed in fifty years. Companies drilled vertical wells into the producing formation, perforated the well by setting off explosives to break open the rock. Oil workers then added some acid or hot oil and waited to see what kind of production they would get. That all changed when companies began drilling horizontal wells in the late 1980s. Meridian Oil was the first to drill horizontal wells into the Bakken formation beginning with their 1987 well the MOI Elkhorn 33-11H.
Having succeeded at drilling horizontal wells companies still faced geologic problems unique to the Williston Basin. The most complicated problem was what geologists refer to as tight oil. Tight oil is the term used to describe petroleum that consists of light crude oil contained in petroleum-bearing formations of low permeability, such as sandstone. Permeability is a geologist's term that refers to how easily oil can flow through the pore spaces in rock or sediment. The rock in North Dakota's Williston Basin does not easily permit the flow of fluids. Vertical and horizontal wells in the "low perm" wells found in the Williston Basin produced little petroleum in relation to the cost associated with drilling the well.
Continental Resources drilled its first horizontal well in 1995, but was not satisfied with the results. The company continued to explore ways to extract oil from the rock. In March 2004 Continental finally drilled a commercially successful well. This well, the Robert Heuer 1-17R, was drilled horizontally and fractured. When working a fracture-stimulated well, workers pump sand, water, and chemicals down the drill hole under extremely high pressure to force the sand into the pores of the rock. The fracturing materials force the light crude oil out of the rock in quantities that are economically advantageous to the oil company.
Continental's Robert Heuer 1-17R well kicked off a new oil boom based on fracturing technology. The boom lasted from 2004 until 2008 when a global financial crisis caused petroleum prices to fall. Many producers sold their holdings and left the area.
The region, referred to as the Williston Basin for nearly fifty years, now came to be known as the Bakken. It was named for the geological layer or stratum where producers were finding oil about 10,000 feet below the surface. The Bakken formation was named for Henry O. Bakken, a North Dakota homesteader who once owned the land where the second producing oil well was drilled. Bumper stickers and t-shirts began appearing throughout the oil patch proclaiming North Dakotans were "Rockin' the Bakken."
In 2009, as oil prices were recovering, Brigham Petroleum drilled a well that far exceeded all previous production records kicking off the "boom to end all booms."  North Dakota's petroleum industry was in the news daily as thousands of companies, job seekers, thrill seekers, roughnecks, roustabouts, and criminals flocked to the region looking to capitalize on North Dakota's good fortune.
Man camps (housing units for workers) sprang up across the western prairies as companies struggled to find housing for their employees. Cities and towns in the Bakken struggled to provide space and services for a growing number of students, criminals, and sick people. Between 2009 and 2014 the Bakken was big news across the state, region, country, and world as petroleum production continued to climb, finally exceeding 1 million barrels per day in the spring of 2014.
The old adage what goes up must come down held true for the Bakken as prices slowly declined. from 2014 to 2016 producers continued their exodus from the state leaving doubt as to what the Bakken would look like in the future. By January 2016, oil prices had fallen below $30.00 per barrel for the first time in decades causing all but the most dedicated producers to pack up and leave the Bakken. 
...
Clarence Herz, originally from Linton, is a graduate of North Dakota State University. He is currently working on a Ph.D. dissertation about the North Dakota petroleum industry from 1917 to the present. 
Coal Creek Station 
by Cathy A. Langemo
Located 50 miles north of Bismarck is North Dakota's largest power plant, Coal Creek Station. Owned by Great River Energy (GRE) which is headquartered in Minnesota, the plant's two units can generate 1,210 megawatts each. Unit 1 started generating electricity in 1979 and Unit 2 in 1980.  With more than 200 employees, Coal Creek is one of the largest employers in McLean County.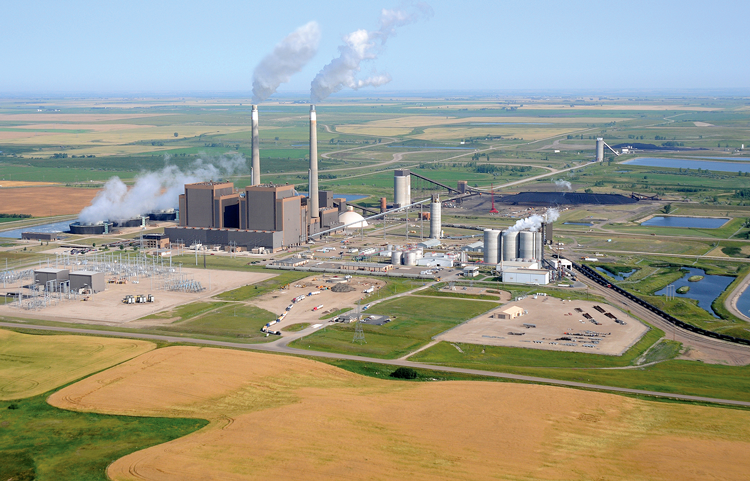 Coal Creek plant burns about 22,000 tons of lignite per day or about eight million tons per year. The plant used coal mined nearby at the Falkirk Mine.  
Great River Energy is a member-owned electric cooperative. Its 28 member cooperatives distribute electricity to about 650,000 homes, businesses, and farms in Minnesota and Wisconsin through a network of high-voltage transmission lines.
Protecting the environment has always been a priority at Coal Creek Station. John Weeda, a GRE executive says, "Our mission at GRE is to . . . provide our members with reliable, affordable wholesale power in an environmentally sound manner."  The cooperative has invested in equipment costing $200 million to clean the plant's emissions. With this equipment, the plant has become one of the cleanest coal-fired power plants in the region.
Coal Creek Station also reduces emissions through a patented coal refining project called DryFiningTM. Since lignite contains a high percentage of water, reducing the water content of lignite increases the amount of heat (BTUs) that the coal can generate.  Dryfining also reduces the amount of sulfur and mercury in the plant's emissions by as much as 40 percent.  Since 2009 when Coal Creek began using Dryfining, the plant's overall efficiency has improved by 4 percent.
Great River Energy has found other ways to improve the efficiency of its plant by harnessing some of its by-products to new uses.  The plant burns coal to produce electricity, but it the process produces excess heat. Since 2007, that heat has been re-directed to the Blue Flint ethanol plant located next to the Coal Creek power plant.  Blue Flint uses waste heat from Coal Creek to process 18 million bushels of corn into 50 million gallons of ethanol each year.
Another by-product is fly ash.  This is a particular type of ash that could "fly" from the smoke stacks, but GRE removes fly ash from its emissions to use in other purposes.  When fly ash is added to concrete, it fills in tiny spaces and mixes with water to make a stronger, more durable concrete that can be used in buildings and highways. Fly ash can also be used to stabilize soil in erosion-prone locations.   
The Coal Creek Station is a great success story.  Its innovative and environmentally sound practices have brought numerous awards including two Environmental Protection Agency (EPA) awards in 2005 and 2006.  Today the plant faces new challenges in the Clean Power Plan, a federal plan to reduce carbon emissions by 45 percent in coming decades.  
...
Cathy A. Langemo, owner of WritePlus Inc. in Bismarck, is a writer, editor and researcher.  Her true passions are genealogy, history and historical preservation.
Coal Mine Reclamation  
by Cathy A. Langemo
Coal mining has been a major industry in North Dakota since the early 1900s. By the 1930s, the underground mines had closed and all mines were operated as open or strip mines. Currently, operating mines include the Dakota Westmoreland Corporation's Beulah Mine south of Beulah, the Coteau Properties Company's Freedom Mine northwest of Beulah, the BNI Coal Limited's Center Mine south of Center, and the Falkirk Mining Company's Falkirk Mine near Underwood.
Prior to 1960 little was done about reclaiming the mined lands in the state. The coal spoil piles and some structures remain today as evidence of disturbance of the earth's surface. However, Basin Electric Power Cooperative (BE), a power supplier to electrical cooperatives in eight states, took an early interest in reclamation. The first fuel supply contracts written for BE include provisions for mine reclamation. BE was the first utility company in the U.S. to voluntarily reclaim mined land.
Today, surface mining and reclamation operations are governed by both state and federal laws. The North Dakota Legislative Assembly enacted the state's first mine reclamation law in 1969, which became effective January 1, 1970. Between 1969 and 1977, the North Dakota Legislature passed several laws concerning reclamation. The first law required only that the spoil piles (where the mine waste was dumped) be leveled and re-seeded to grass. Later laws asked mine companies to save the topsoil and subsoil that were originally removed from the mine site and re-spread these materials in approximately the same contours the land had before mining. Since 1977, the Federal Surface Mining Control and Reclamation Act have assumed federal oversight on North Dakota's reclamation laws and enforcement.
In 1980, it cost about $5,583 to reclaim an acre of mined land, but costs continue to rise. Costs involved in reclaiming mined land include pre-mining and life-of-mine studies, mapping the landscape, mining and reclamation equipment, and fuel and maintenance services. By 2009, the cost to reclaim one acre had risen to $6,500. The cost of reclamation is applied to the cost of coal which increases the cost of generating electricity.
Reclamation requires a careful plan and mapping of the site before digging begins. The process requires proper handling of topsoil and subsoil. These two layers are removed separately, stockpiled and accurately marked for later return in their original order and location. The topsoil and subsoil layers are seeded to prevent erosion while the mining goes on. Draglines excavate remaining materials covering the coal seam. These materials, called overburden, are also preserved.
The law requires that land be returned to equal or better productivity than before mining and requires special equipment and labor, such as seeding, mulching and fertilizing. The most expensive lands to reclaim are wooded draws, with their trees, shrubs and sloped areas. Cropland is the least expensive to reclaim.
Following reclamation, former mine sites take on the appearance of the original landscape. It may take a few years for reclaimed land to mature, but North Dakota's commitment to reclamation means that the land will continue to be productive and beautiful after mining.
...
Cathy A. Langemo, owner of WritePlus Inc. in Bismarck, is a writer, editor and researcher.  Her true passions are genealogy, history and historical preservation.
Diverting and Feeding the Red River 
By Barbara Handy-Marchello  
In the 1870s, the city of Fargo was sited at the perfect place.  The Red River offered water for domestic, industrial, and agricultural use as well as transportation.   The Red River's tributaries – the Wild Rice, the Sheyenne, Maple, and Rush rivers – contributed to economic and population growth in the area.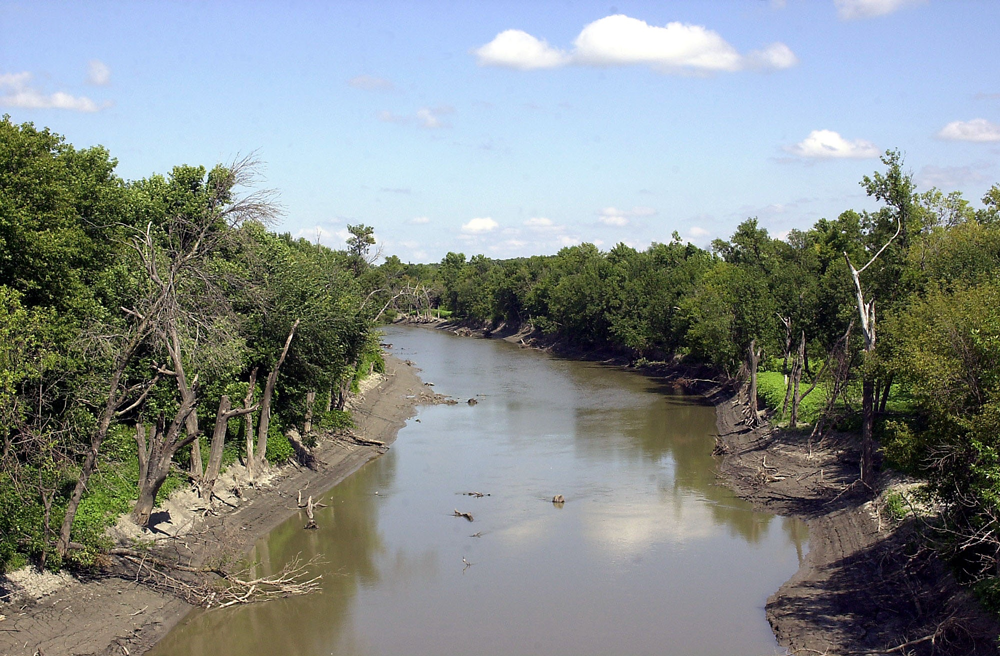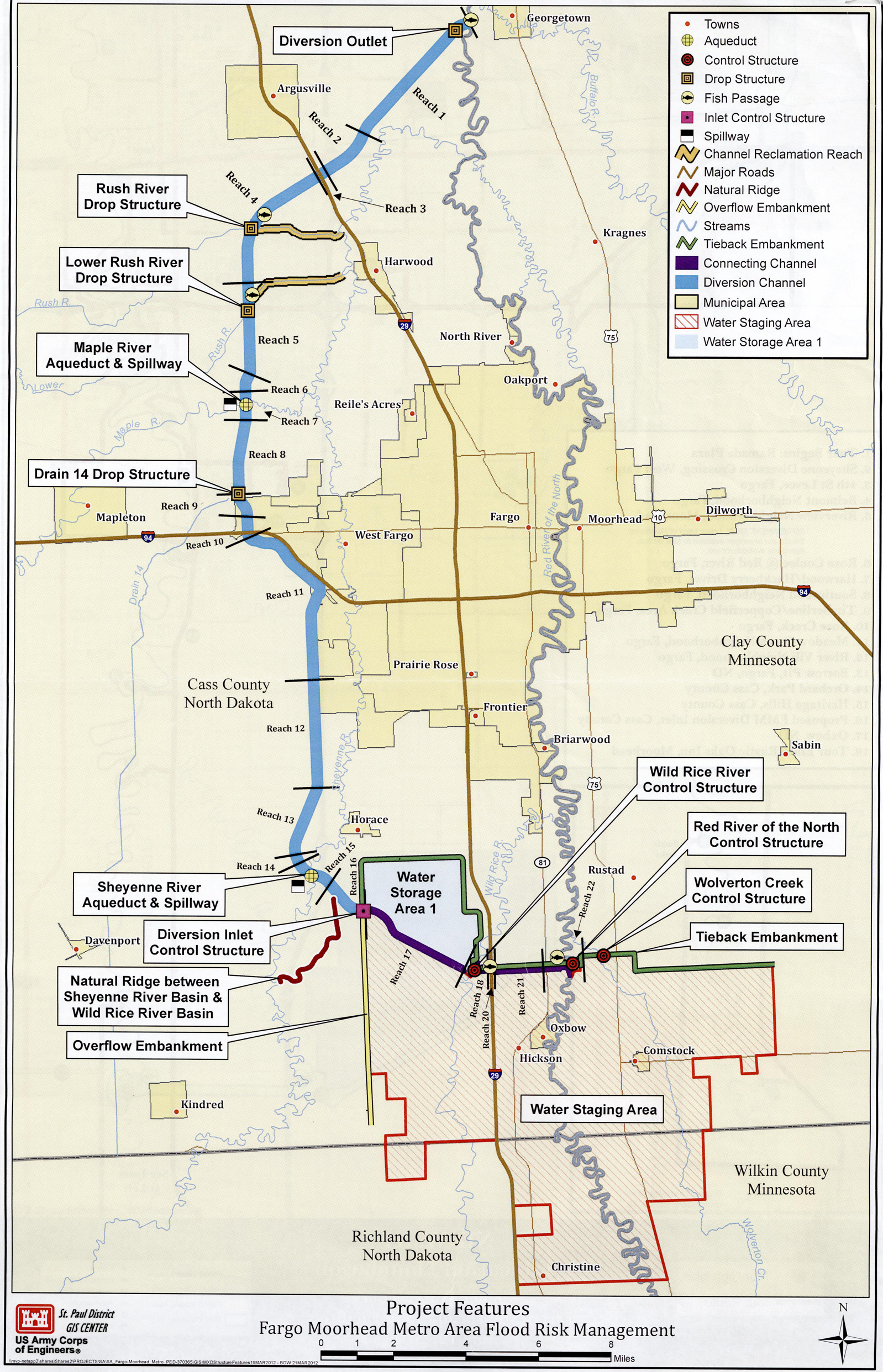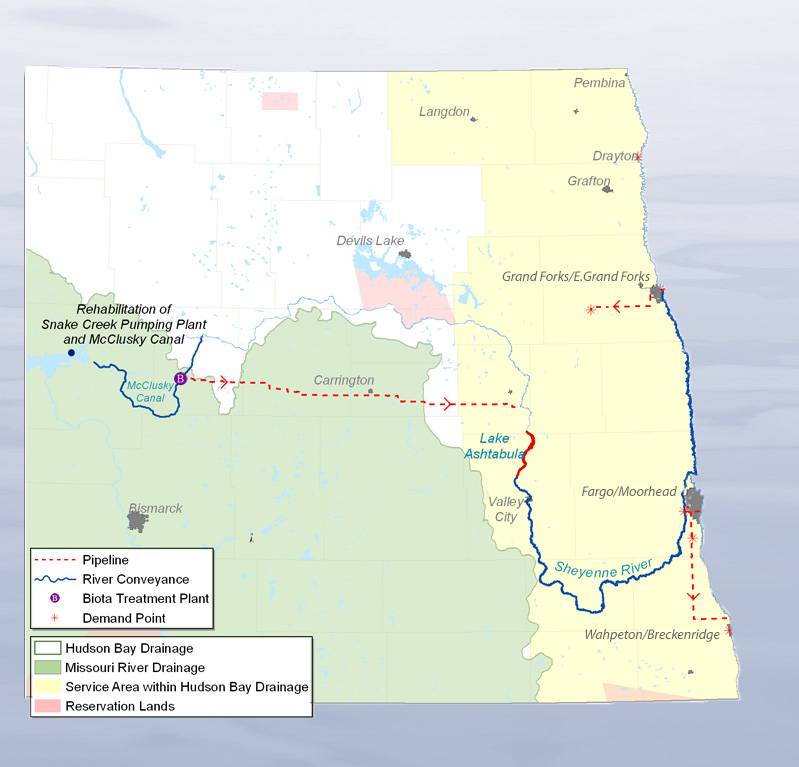 Periodic flooding challenged the city's residents and its economy.  From time to time, engineers tried to find an upriver location for a dam to control floodwaters, but the shallow valley did not present a good dam site.  Residents learned to cope with flooding. However, increased frequency of flooding since 1993 along with higher flood levels and the loss of flood plain to development, stirred more thinking about flood control.
The flood of 2009 crested at 41 feet and nearly inundated Fargo.  Officials had to find a permanent solution to flooding.  The project would require the support of the Army Corps of Engineers and involve both North Dakota and Minnesota.  Engineers designed a plan for a diversion channel to take water to the west of Fargo.  The Corps agreed to the plan.  The cost was estimated at $1.8 billion.
Congress authorized the diversion project in 2014. The Army Corps of Engineers (ACE) expects to begin construction in 2016.  In the meantime, the cities of Fargo and Moorhead have been working on a series of flood walls or levees to minimize recurring flood damage. The cities have also purchased and removed homes that were likely to be flooded. The new open space allows the river to overflow without causing damage.
The enormous cost of the project will be divided among the federal government and non-federal governments. The federal government will pay 45% ($800 million) of the cost.  The remaining $1 billion will be divided among Minnesota (10% or $100 million) and North Dakota (90% or $900 million). North Dakota's share may be divided fifty-fifty between the state and the city of Fargo in partnership with Cass County.  Each would pay about $450 million.  The state has appropriated $175 million as of 2016. Fargo and Cass County have approved a sales tax that will fund their portion of the costs.  
The flood diversion channel will prevent flooding in Fargo, West Fargo, Harwood, and nearby housing developments.  The flood of 2009 cost the city of Fargo between $40 and $50 million.  In addition, 100,000 people left work or school to fight the flood. Some businesses closed or lost work costing workers their paycheck. The proponents point out that the diversion will allow the city to continue in its normal functions when the Red River rises.
There are some who oppose the diversion as it is planned.  Those living upstream of Fargo (south of Fargo) have concerns about having more floodwaters than previously that would submerge farm fields, houses, roads, and cemeteries.  In 2011, the ACE revealed that planned floodwater storage in fields in Richland County and southern Cass County would, indeed, add water to farm fields in a storage system that uses roads to collect and hold excess water in a major flood event.  There is also some concern that once the river has been diverted, migrating fish will encounter more obstacles.  
While flooding is a periodic concern for the residents of Fargo, the opposite problem may also arise.  As the city grows, it will need a dependable source of water for domestic, commercial, and industrial use.  The city currently relies on the Red River, but in times of drought, the water supply may not be adequate.
The Lake Agassiz Water Authority was created by the state legislature to address the need for a stable water supply for the cities and counties of the Red River Valley.  The current plan is to move water from the McClusky Canal (part of the Garrison Diversion system) through a buried pipeline to Lake Ashtabula then to the Sheyenne River.  The Sheyenne empties into the Red and will make adequate water available as necessary.  The water will be treated as it is taken from the McClusky canal to prevent the transfer of living creatures (biota) from one water system to another. 
Flood protection and water transfer will help assure growth and prosperity in Fargo and the Red River Valley for decades into the future.
...
Barbara Handy-Marchello is retired from the University of North Dakota History Department. She currently works for the North Dakota Studies program at the State Historical Society of North Dakota.
Water Lifelines
By Barbara Handy-Marchello 
For decades, North Dakotans living in the 12 counties south and west of the Missouri River often drew dark, unpalatable, sometimes unsafe water from their taps. Many families purchased drinking water in town and hauled it home. Cattle sometimes refused to drink the water. Well water in the southwest portion of North Dakota was high in mineral content which corroded hot water heaters, toilets, and pipes.  Brown stains made porcelain sinks and bathtubs unsightly and white clothes came out of the washer with a dark tint.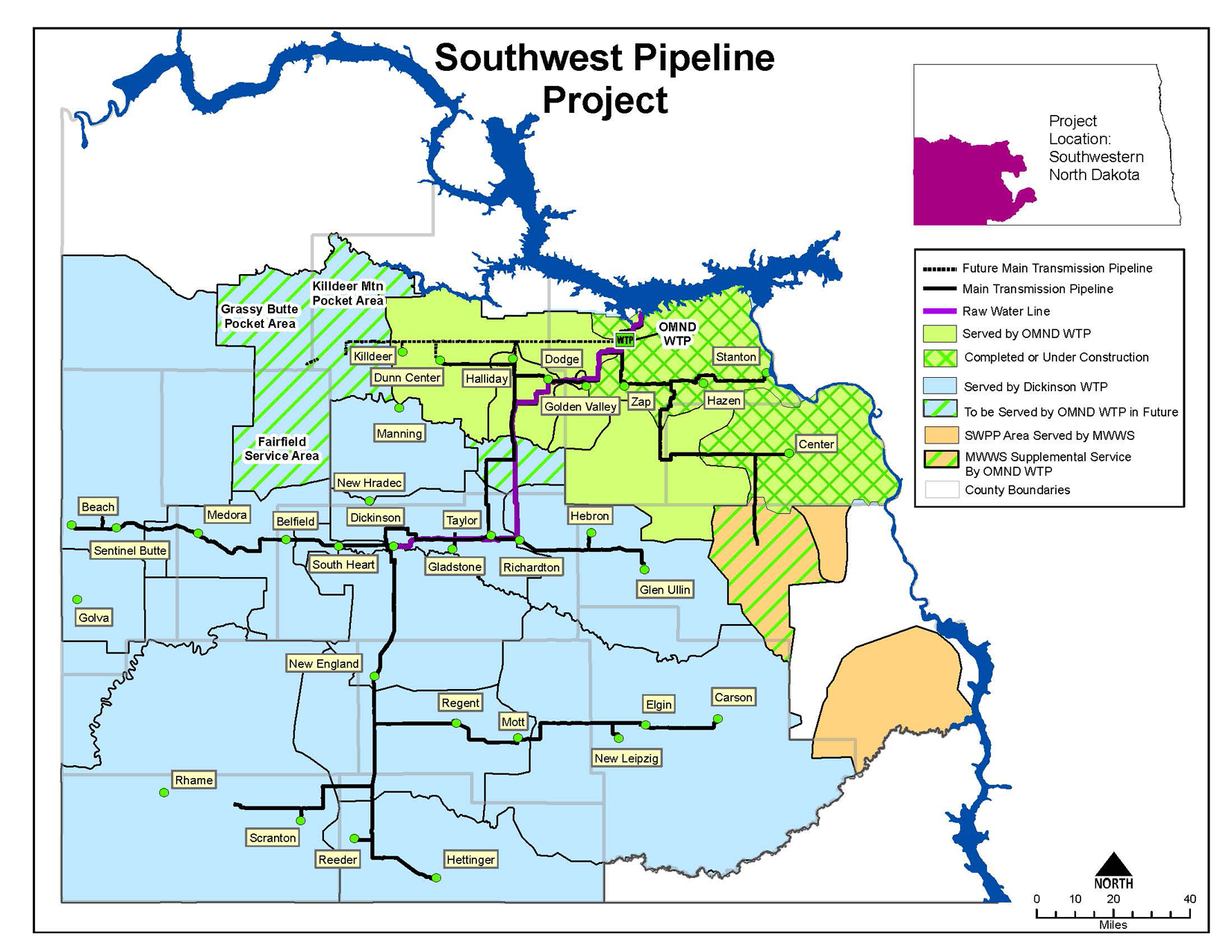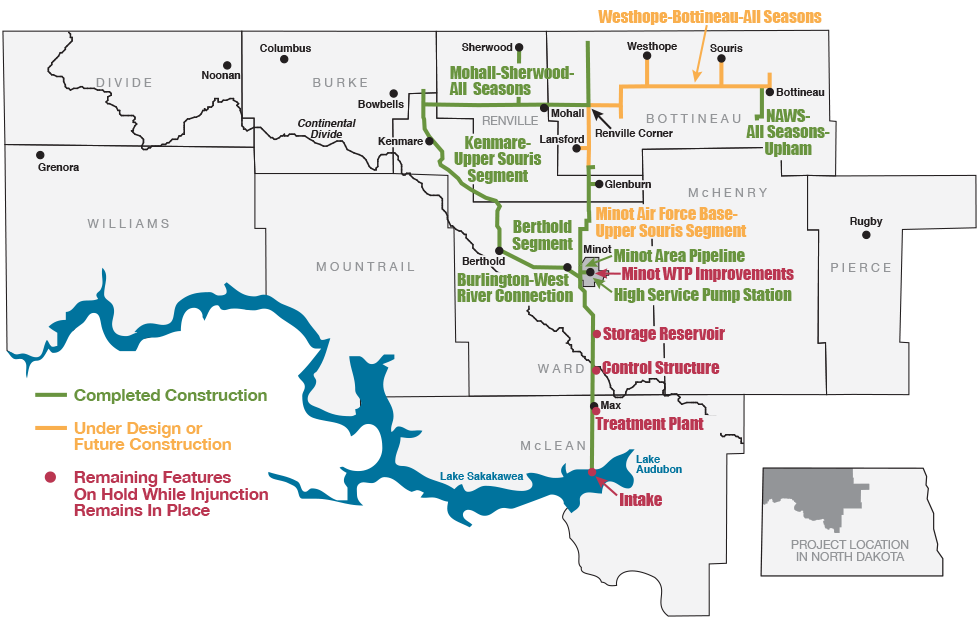 In 1981, the legislature funded a plan to draw water from Lake Sakakawea and deliver it to towns, rural water systems, industries, and mining operations.  The plan was known as the Southwest Water Pipeline Project (SWPP).  After four years of work on the design, construction began in 1986.  In 1991, the legislature made a change to the SWPP by creating the Southwest Water Authority (SWA).  The SWA manages the SWPP and distributes water through the pipeline to rural, industrial, and urban water users. Today, with all the legal pieces in place, the SWPP is owned by the state of North Dakota and administered by the State Water Commission through the Southwest Water Authority. 
The pipeline was planned for growth.  Engineers calculated water delivery potential to 150 percent of the rural users and 150 percent of the town water use in 1985.  Ultimately, the growth of water demand exceeded those estimates.  In 1995, the SWA sold less than 700 million gallons.  In 2010, sales reached 1.6 billion gallons.  The SWA expected water sales to reach 2.6 billion gallons in 2015.  Much of the growth in water sales between 2010 and 2015 was related to oil development including the household water needed by oil field workers and their families. 
The cost of water development is high.  By 2015, the SWPP had absorbed more than $275 million.  Construction of pipelines continues and the SWA is currently working on a second water intake station at Renner Bay on Lake Sakakawea.
Today, the Southwest Water Authority provides water to 58,000 residents.  They live on 5,350 farms or in one of 32 communities. The water they drink is taken from Lake Sakakawea and treated at one of the  water treatment plants either in Dickinson or north of Zap. A third plant is under construction. Businesses also buy raw (untreated) water from SWA which they pick up with their own trucks at water depots. One of those depots is in Dodge. Much of the raw water is used by oil fracking companies.
The Southwest Water Pipeline has brought good quality water to homes and businesses. In 2015, SWA water competed with other water suppliers in the state and won the title of "Best Tasting Water."  Competing with other states and Canadian water suppliers at Berkeley Spring, West Virginia in 2015, SWPP earned fourth place in the water taste test.  SWPP water routinely ranks in the top 10 for water taste in the United States and Canada.
The Southwest Water Authority is managed by Mary Massad who notes that the SWA is a long-term project and not likely to be completed soon.  Massad said, "A high-profile, high-demand project such as the SWPP will eventually be completed, but our job here at Southwest Water Authority to manage, operate, and maintain the project will never be done. . . . We must maintain and continue to implement the ND Department of Health and Environmental Protection Agency's stringent drinking water standards, as well as continue to connect those who are still patiently waiting to receive quality water.
The Southwest Water Pipeline is not the only major water project in North Dakota. A large pipeline serving northwestern North Dakota was authorized by the state legislature in 1991 and began construction in 2002.  It is known as the Northwest Area Water Supply or NAWS. The first step was to build a 45-mile pipeline from the Missouri River to Minot where the water would be treated for human consumption.  This line was completed in 2009. NAWS now serves several small communities near Minot.  It was a great help to communities which faced the problem of replacing aging water systems. Treated water of superior quality from Lake Sakakawea replaced water that contained high levels of iron, sodium, arsenic and other undesirable minerals. In order to meet the goals of NAWS, the Minot water treatment plant had to be upgraded.
NAWS is designed to service a project area of 81,000 people, (63,000 in urban areas).  In 2013, NAWS users required about four million gallons of water per day.  However, oil-driven population growth suggests a greater need than originally considered. Eventually, the NAWS project will be able to deliver a maximum of 26 million gallons per day.
NAWS, however, has been troubled and delayed by lawsuits.  The Canadian Province of Manitoba sued over the movement of various kinds of biological materials (biota) from the Missouri drainage to the north-flowing Souris drainage.  The Canadians believed that the transfer of biota over the two different water systems (interbasin water transfer) was not natural and possibly environmentally dangerous.  U.S. courts that heard the case asked NAWS to conduct a new environmental impact statement (EIS).  Multiple filters in the water pipelines were installed to prevent biota transfer. 
The state of Missouri also filed a federal lawsuit over NAWS use of Missouri River water.  Missouri claimed that NAWS would deplete water quantity in the river and deny Missouri its legal right to Missouri River water. 
These lawsuits stopped construction for a time and the final outcome is still pending.  However, about 240 miles of pipeline has already been buried and some towns such as Kenmare are already seeing benefits of the new water system.  
The water pipeline projects in western North Dakota have brought excellent quality water in adequate quantities for industry, ranching, and household use to a dry country.  Rick Scheid, a rancher who uses water from the Southwest Water Pipeline, appreciates the water he began to use in 2013.  He said, "You can tell the water is a lot clearer and not as high in sodium.  It's good water, and I'm happy with it." 
...
Barbara Handy-Marchello is retired from the University of North Dakota History Department. She currently works for the North Dakota Studies program at the State Historical Society of North Dakota.
Sports & Outdoors
Title IX and Girls' Sports
by Cathy A. Langemo
Title IX of the Education Amendments was signed into law by President Richard Nixon on June 23, 1972. Its main purpose was to prohibit discrimination on the basis of sex in any education program or school activity that is federally funded. Title IX does not provide for women to receive more benefits than men, but it does offer both females and males equal benefits in school, especially high school and college.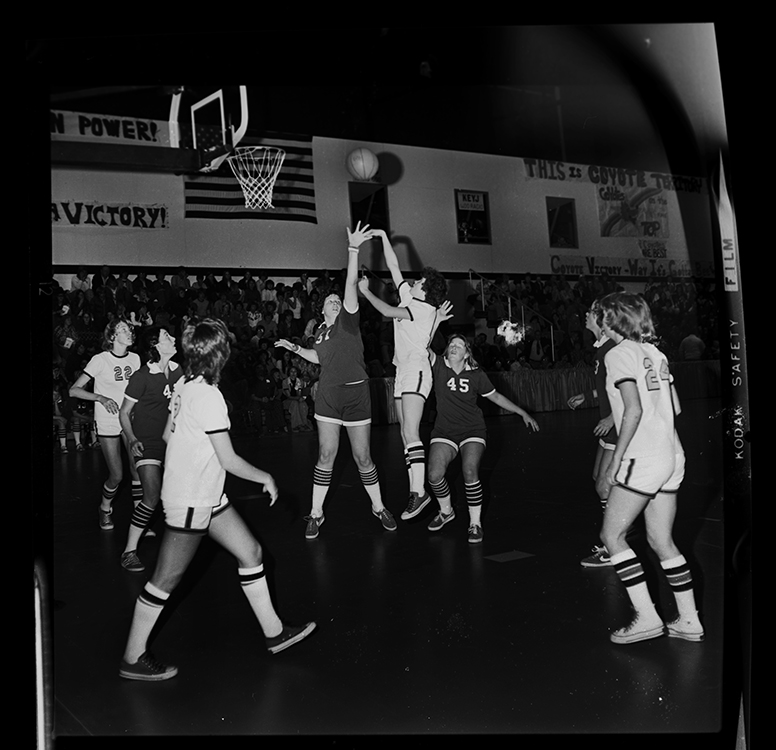 Title IX applies to all institutions that receive federal financial assistance from the U.S. Department of Education, including high schools and universities.  It was aimed at maintaining gender balance, not only in athletics, but also in drama, music and other extracurricular activities.  The law also covers discrimination in counseling, access to services for married or pregnant students, and sexual harassment cases.
Prior to Title IX, women and girls were excluded from most athletic opportunities in schools. Now, opportunities for girls in high school athletic competitions have increased considerably. It has also shown that women and girls have an equal interest in sports and deserve equal opportunities.
Before Title IX was passed, fewer than 300,000 girls participated in high school athletics nationwide. In 2010-11, there were nearly 3.2 million female athletes or 41 percent of all high school athletes. In college sports in 1971-72, fewer than 30,000 women participated. By 2010-11, the number exceeded 190,000.
Schools faced a tough transition when they began to support women's athletic teams. The University of North Dakota wanted to add women's competitive sports teams, but at the same time faced a budget cut. The budget cut forced the university to make the difficult decision to cut men's wrestling. In 1998, members of the wrestling team sued the university for gender discrimination.  The Eighth Circuit Court of  Appeals agreed that eliminating men's wrestling was necessary to meet both budget requirements and the spirit of Title IX. 
While the wrestlers at UND lost their case, the new support for women's athletics made a big difference at schools around the state.  Matthew J. Fetsch, executive director of the North Dakota High School Activities Association, says, "In North Dakota, Title IX has undoubtedly had a greater impact on high school sports than any other law over the past half century."
Fetsch says, "In 1965, there were virtually zero girls participating in high school athletics.  Girls' golf, tennis and track were the first sports to be sponsored by the NDHSAA in the spring of 1966. Now, in 2014-15, there are over 10,000 girls in 12 different high school sports in North Dakota."
Title IX addresses nine other key areas to protect female opportunities, including math and science, women's health, and education and employment opportunities. The law allowed girls to take shop and boys to take home economics. It has provided access to scholarship funds and admission to colleges and universities.
Young women see sports as a healthy lifestyle, with better self-esteem, grades, and education and career choices. Though Title IX's original language made no mention of sports, its greatest impact has been on high school and college athletics.
Matthew Fetsch says, "Title IX has ensured that both girls and boys have the opportunity to experience all of the advantages that educationally-based activities provide."
...
Cathy A. Langemo, owner of WritePlus Inc. in Bismarck, is a writer, editor and researcher.  Her true passions are genealogy, history and historical preservation.
The Outdoor Heritage Fund
By Barbara Handy-Marchello
Amidst controversy about how oil exploration and extraction might be harming North Dakota's landscape the 2013 state legislature approved a bill creating the Outdoor Heritage Fund (OHF). The purpose of the fund is to support projects designed to enhance North Dakota's natural habitats and recreational facilities. The legislature designated up to $40 million per biennium (two-year legislative period) in support of the grants.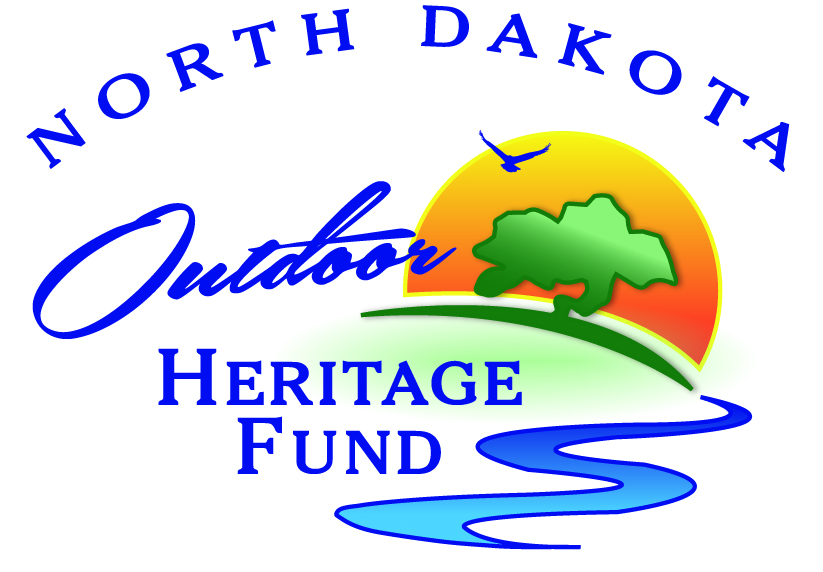 The grants are approved by the North Dakota Industrial Commission (NDIC) which includes the governor, the attorney general, and the commissioner of agriculture. Recommendations are made by the OHF Advisory Board. Members of the advisory board are appointed by the governor to represent the fields of agriculture, energy, business, recreation and parks, and conservation. There are also four non-voting members. The first chair of the advisory committee is Wade Moser of Bismarck.
The advisory committee prioritizes applications for grants according to four directives. The directives ask that the projects 1) provide access to private and public lands for sportsmen for hunting and fishing; 2) improve, maintain, and restore water quality, soil, plant diversity, animal systems, and enhance farming and ranching; 3) develop, enhance, conserve, and restore wildlife and fish habitat on private and public lands; and 4) conserve natural areas and create other areas for recreation such as parks. State agencies, tribal governments, political entities (such as cities), and nonprofit organizations can apply for grants.
There were 62 applications in the first round (2013) totaling $34,139,011. The advisory committee approved 18 of these applications which were then sent to the Industrial Commission for final approval. Seventeen applications received final approval for a total of $5,848,133. The grants supported 31% of the total cost of the projects.
By Round 5 in 2015, applicants understood what the Outdoor Heritage Fund would support. Only 31 agencies applied for funding. Of these, 19 were approved by the Industrial Commission for a total of $4,464,906 in grants or about 35% of the projects' costs.
Advisory committee chair, Wade Moser, said that the OHF is about "conservation, conservation, conservation." Several of the grants have resulted in successful conservation projects. For instance, the North Dakota Association of Soil Conservation Districts received funding in 2014 for a statewide tree planting project. The project was so successful that the organization applied for a second round of funding to continue the project. 
...
Barbara Handy-Marchello is retired from the University of North Dakota History Department. She currently works for the North Dakota Studies program at the State Historical Society of North Dakota.
Private Lands Open to Hunters  
By Barbara Handy-Marchello
Since 1977, the North Dakota Game and Fish Department has been working with private land owners (mostly farmers) to develop wild animal habitat. The program, called Private Lands Initiative (PLI), will improve habitat (living space and food supply) for wildlife. PLI is funded with revenues from the sale of habitat stamps which all hunters must purchase. Hunters will see more game in the field because of landowners' cooperation with Game and Fish.
In 1998, PLI expanded to open 20,000 acres of private land to hunters. The new program is called PLOTS which is an acronym for Private Land Open to Sportsmen. Land owners receive compensation from North Dakota Game and Fish for allowing hunters walking access to their land. PLOTS land is marked with yellow triangular signs on each corner of the land.
By 2007, more than 1,000,000 acres were enrolled in PLOTS. Both hunters and landowners consider the program a great success. 
...
Barbara Handy-Marchello is retired from the UND History Department. She currently works for the North Dakota Studies program at the State Historical Society of North Dakota.
Bird Watching  
By Chris Grondahl
North Dakota is a paradise for an outdoor activity known as bird watching.  Our state is a perfect place for observing as many as 400 different species of birds.  The reason that so many different types of birds can be found here is because there are so many different types of habitats, and we are in a major migratory pathway.  We have wetlands, grasslands, and woodlands that provide great areas to find birds. To get started watching birds, all you need to do is get outside and start looking.  The back yard of your house is a great place to start.  A pair of binoculars will help in identifying birds.  A bird identification guide will help you positively identify the bird you are observing.  Challenge your friends to a competition of identifying the most species on a hike.  Take a camera and record your sightings. It is fun to see that so many different birds are right there in front of you.  A great interactive site to visit is eBird.org.  Check it out.  You can share your information with other bird watchers, share your pictures and look at the bird world on a global level.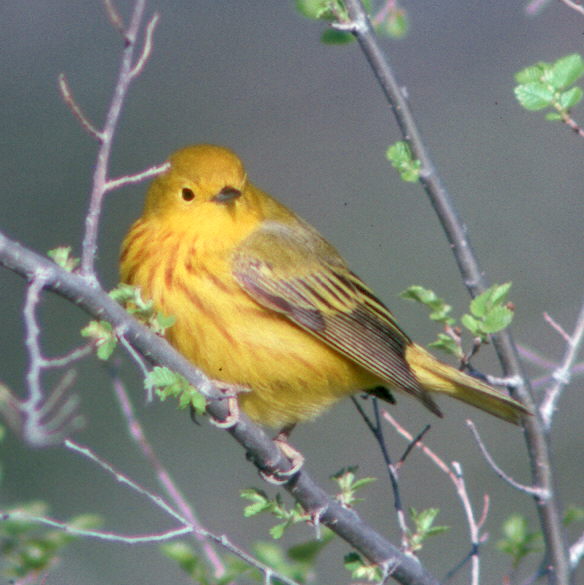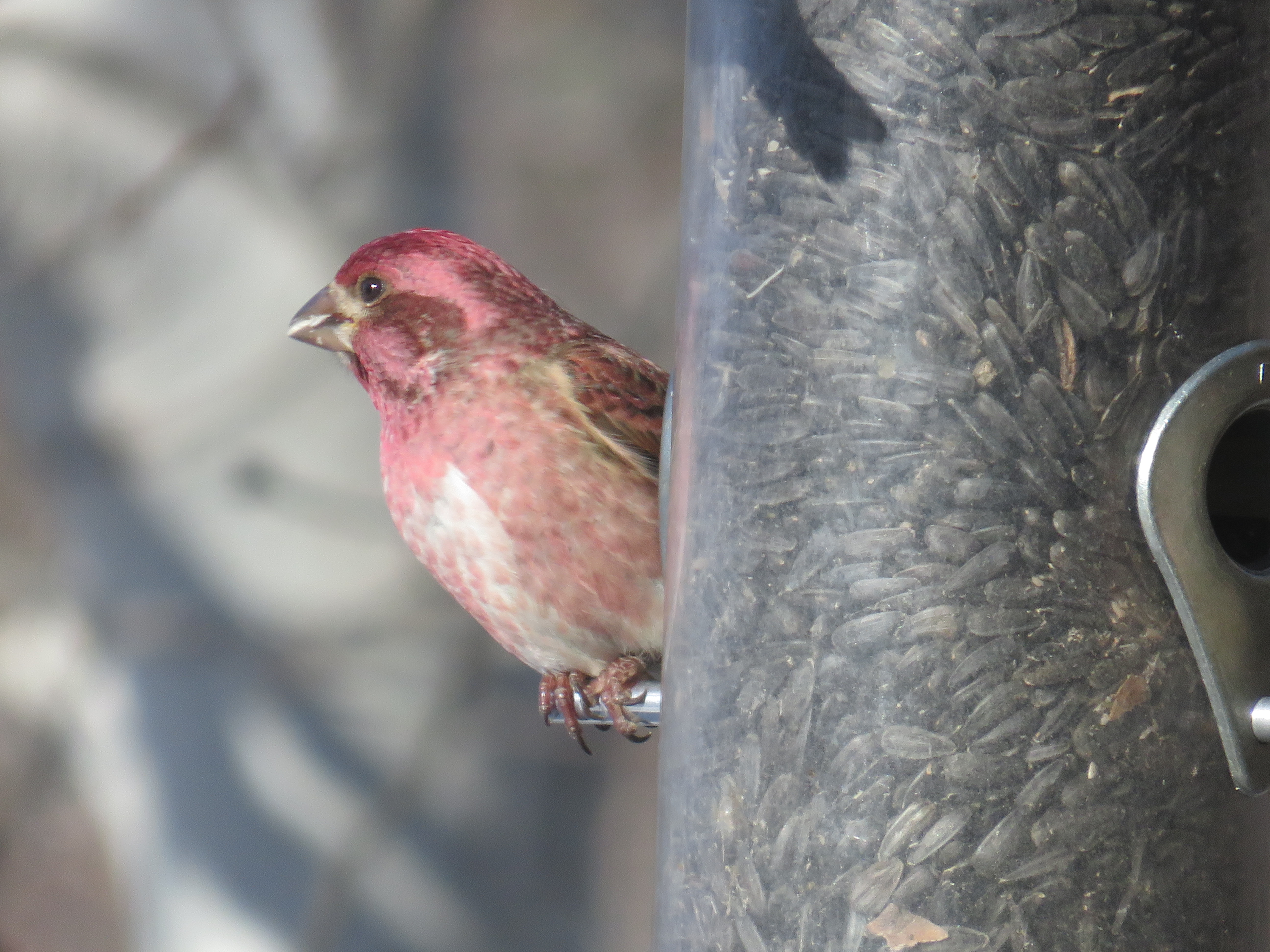 ...
Chris Grondahl is the Education Supervisor of the Conservation/Communications Division of the North Dakota Game and Fish Department.
Youth Hunts 
By Chris Grondahl
There are plenty of opportunities for young people to hunt in North Dakota.  The North Dakota Game and Fish Department manages the state's wildlife and offers a unique set of special youth seasons to hunt a variety of small and big game.  A young hunter can start hunting small game at any age as long as they are accompanied by a parent or guardian.  At the age of 12, hunters are required to pass a hunter education course and then purchase a license.
A youth deer tag to harvest a whitetail doe is available at both ages 12 and 13.  An additional opportunity is the traditional youth deer tag which allows the harvest of a doe or a buck at either the age of 14 or 15.  Interest in youth hunts is growing.  In 2004, the first season of the youth hunt, 467 deer were harvested. In 2015, 4,052 deer were harvested by hunters with a youth permit.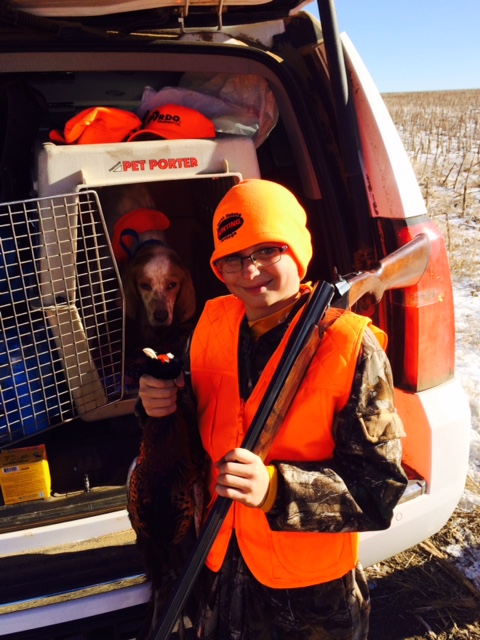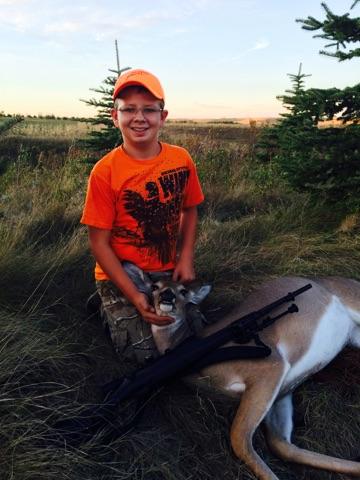 Special youth seasons are also set aside for young hunters who are interested in waterfowl, pheasants and turkeys.  In all cases, these seasons begin before the regular hunting seasons.  It allows the hunter to spend time in the field without competition from adult hunters.  Young hunters also benefit by being the center of attention of their parents or mentors to learn proper safety and ethics as well as landowner relations.
New hunters also play a huge role in preserving wildlife and their habitats.  Money generated by hunting licenses and equipment goes right back into paying for conservation.  For more information on youth hunting opportunities, visit the Game and Fish Department's website at http://gf.nd.gov/. 
...
Chris Grondahl is the Education Supervisor of the Conservation/Communications Division of the North Dakota Game and Fish Department.
Life & Culture
Lakota Language Is Living Tradition
By Dakota Goodhouse
The Lakota people have a great flood story in which a spotted eagle saves a woman. The eagle took her to the heavens and later returned her to the world when the flood receded. The eagle transformed into a man and married the woman, and through them the line of Lakota people was preserved. The birds, in particular the western meadowlark, saved the Lakota language and taught it to the people in song.
When I was a boy, growing up on the Standing Rock Sioux Indian Reservation, the Lakota language was spoken by some adults and by all the elders. It was spoken in my grandparents' home, spoken and sung at church, and on formal occasions. For the most part, however, Lakota was not spoken in everyday conversation.
Today there are an estimated 16,000 members of the Standing Rock Sioux Tribe, about 6,000 of whom live on the reservation. There are estimated to be about 200 first language Lakota speakers still living in 2015. The Lakota Language Nest aims to change all that.
Lakȟól'iyapi Wahóȟpi (lah KHOL  eee yah pee  wah HOH pee), or the Lakota Language Nest, opened on Standing Rock in the fall of 2012 in response to the rapid decline of the Lakota language. It is a language immersion school that teaches children, ages 3-5, in Lakota, all day. Immersion means that English is not permitted in the classroom, and parents must take Lakota language classes themselves, participate in fundraising, attend training, and assist with other classroom events.
Tom Red Bird, a first language Lakota speaker, says that after a few weeks, the children lose their "American" accent. "They hold hands and pray before lunch," he said. "When they finish praying, they say in unison, Mitákuye Owás'iŋ (Mee TAH coo yay  oh WAHS eee)," a term of address to all of creation (the heavens, the earth, the stars, the winds, etc.)
Why is the Lakota language so important?  The Lakota language, like all languages, embodies the world view of the people of this culture.   The language explains one's place and relation to relatives and the world. The language reveals a vibrant, descriptive world in the relationship with the landscape.
For example, the Missouri River is known as Mníšoše (mih NEE sho sheh), which is literally "water-astir," and describes the lively river before the dams were built. The people who speak the Lakota language are called Thítȟuŋwaŋ (tee-TOON-wahn), which means "Dwellers On The Plains." The Thítȟuŋwaŋ, called Tetons in English, comprise seven Lakota speaking tribes. The Thítȟuŋwaŋ group of tribes, is one of seven Dakota tribal groups in a confederation called the Očhéthi Šakówiŋ (oh CHAY tee  shah KOH ween), a phrase which means "The Seven Council Fires" of the Dakota Indians.
The Lakota people refer to the Great Plains as Makȟóčhe Wašté (mah KOH chay  wash TAY), which means, "The Good Country."  The Great Plains is my home, and I call it  Tȟaté na Maȟpíya   Makȟóčhe (tah TAY  nah   mah PHEE yah  mah KOH chay), which means "The Land of Sky and Wind."  Returning the Lakota language to the Lakota people of Standing Rock is an important step in preserving their culture.  The study of Lakota in the schools helps young people to connect to their homeland, their history, and their traditional culture.  Welcome home, my friend.   
...
Dakota Goodhouse is an enrolled member of the Standing Rock Sioux Tribe. His research has appeared in the Smithsonian's The Year the Stars Fell, and other publications. 
North Dakota's State Parks
by Cathy A. Langemo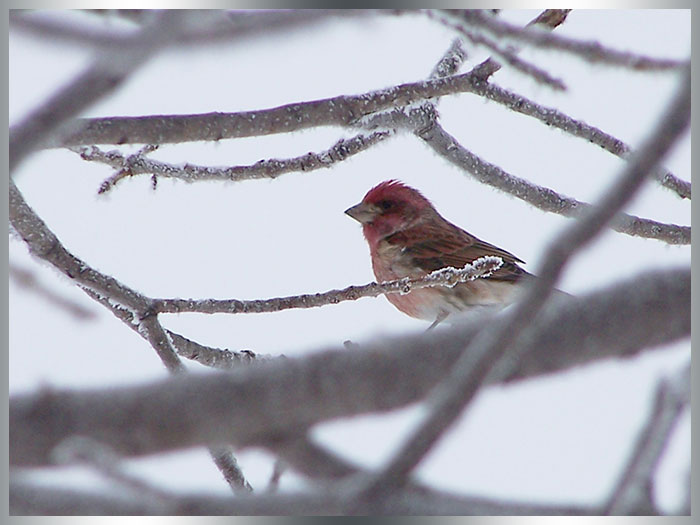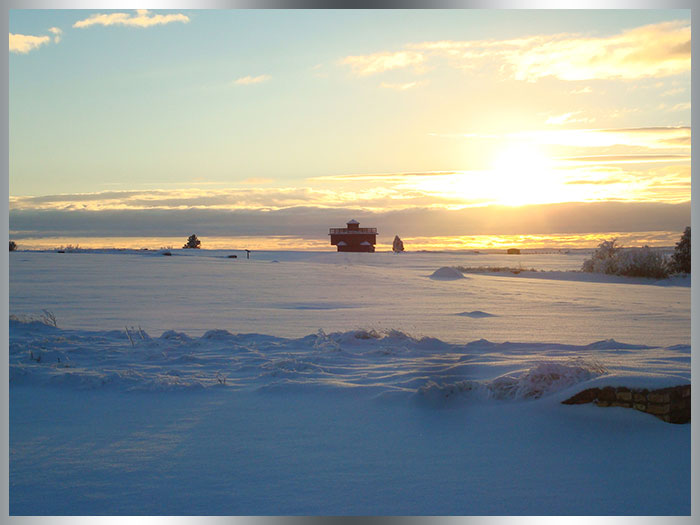 During 2015, the North Dakota Parks and Recreation Department celebrated its 50th anniversary with special events at North Dakota's 13 state parks. Thousands of visitors joined in the various celebrations held around the state.
Though the Parks and Recreation Department was not established until 1965, many of the state parks are older than that. They were once administered by the State Historical Society of North Dakota to preserve the state's cultural and historical sites.
North Dakota's state park system began in 1907 after President Theodore Roosevelt deeded 75 acres of Fort Abraham Lincoln to the State Historical Society. Development of the property along the Missouri River south of Mandan began in 1934. The Civilian Conservation Corps (CCC) provided the labor to build the museum, picnic shelters and replicas of the former Mandan Indian earth lodges. Now covering over 1,000 acres, the park hosts about 150,000 visitors each year.
Since 1970, the State Parks system has doubled the number of parks. The other state parks are (in chronological order):
Beaver Lake (1932 – southeast of Napoleon)
Turtle River (1934 – west of Grand Forks)
Lake Metigoshe (1937 – south of International Peace Garden)
Icelandic (1964 – northwest of Cavalier)
Lake Sakakawea (1965 – north of Pick City)
Fort Ransom (1969 – north of Fort Ransom)
Sully Creek (1970 – south of Medora)
Little Missouri (1971 – north of Killdeer)
Lewis and Clark (1973 – east of Williston)
Fort Stevenson (1974 – south of Garrison)
Grahams Island (1988 – southwest of Devils Lake city)
Cross Ranch (1989 – northwest of Washburn)
In May 2015, ND Parks and Recreation acquired the Lewis and Clark Interpretive Center with Fort Mandan near Washburn.  In August 2015, Mark Zimmerman, director of the department, announced plans for another new park to be develop on more than 200 acres south of Bismarck. The park is expected to cost $11.75 million.
...
Cathy A. Langemo, owner of WritePlus Inc. in Bismarck, is a writer, editor and researcher.  Her true passions are genealogy, history and historical preservation.
Pride of Dakota
by Cathy A. Langemo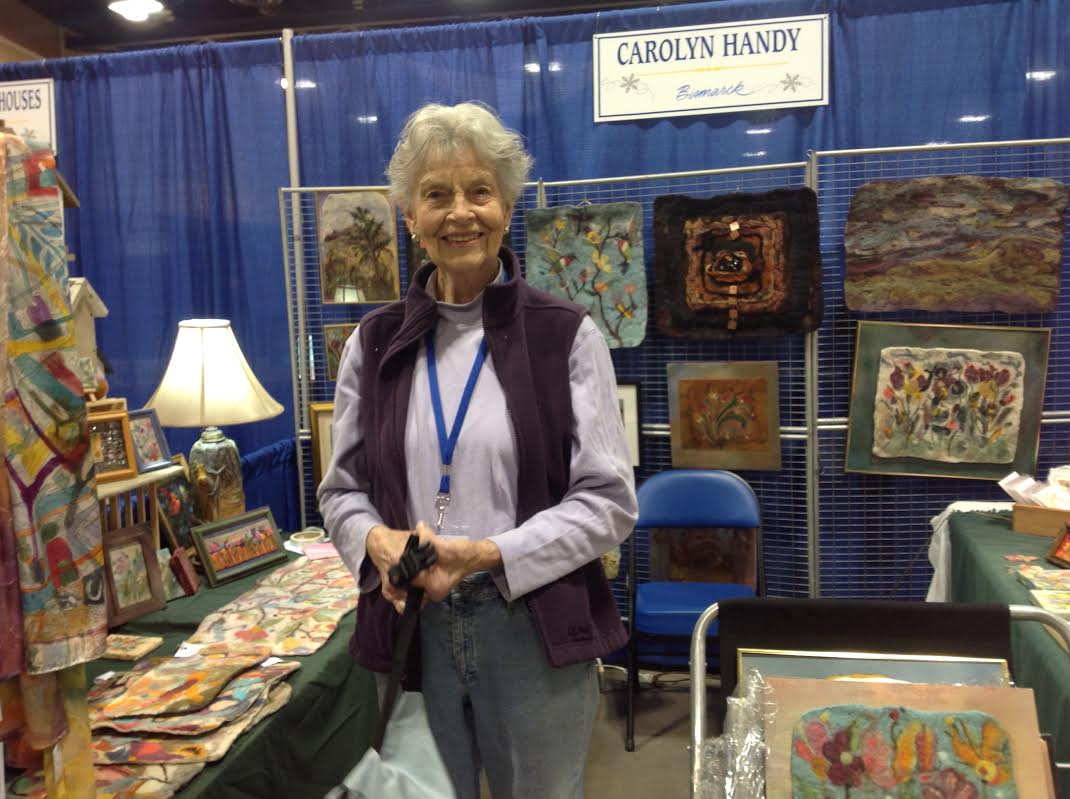 Established in 1985 by former Commissioner of Agriculture Kent Jones, the Pride of Dakota program celebrated its 30th anniversary last year of assisting North Dakota businesses. Under the North Dakota Department of Agriculture, Pride of Dakota (POD) works to increase market exposure for member companies. 
Pride of Dakota started with 20 companies and grew to more than 500 members in 2015. POD members include food companies, manufacturers, publishers, service providers, and artists.  The memberships range from food and beverage to agricultural products, from publishing to manufactured goods, and from art and gift items to holiday and home décor.
To guide its members in becoming successful, POD offers members business development resources and marketing opportunities in North Dakota, the United States, and overseas, too. The members include companies with more than 100 employees, while others are small "mom-and-pop" businesses, and many fall somewhere in between.
POD also offers members benefits such as access to development grants, sales and promotional support, and development assistance.  Pride of Dakota also gives members use of the POD logo, access to important business contacts, and a place on the POD website.
Many public events throughout the year, include the holiday and harvest showcases, POD days at the State Capitol, and a tent at the North Dakota State Fair.  Many people look forward to doing their Christmas and other annual shopping at the showcases in Dickinson, Williston, Grand Forks, Minot, Fargo, and Bismarck. In addition, some stores feature Pride of Dakota products.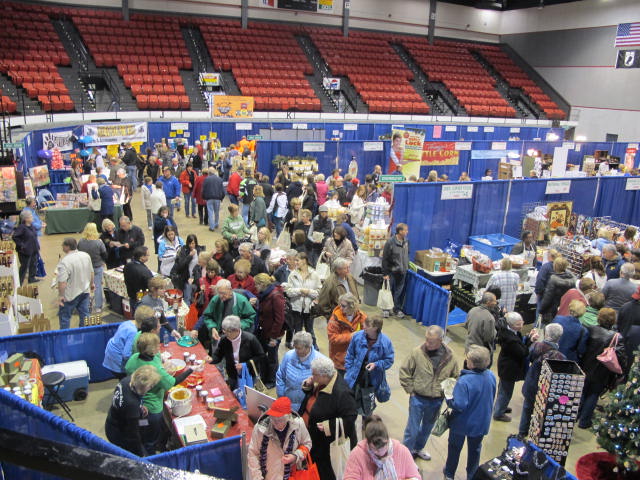 Attendance at the POD showcases has grown considerably over the years, from nearly 38,000 people in 2012 to 42,000 in 2015.  Because of customer demand, Friday openings have been added to the Fargo and Bismarck holiday showcases. 
For the past 14 years, POD has organized the POD School Lunch Day at over 230 North Dakota schools. These events give POD food vendors a chance to teach students how the food is raised and produced. According to Agriculture Commissioner Doug Goehring, "School lunch programs can also help their local and state economy by buying locally-produced and locally-processed foods. A wide range of North Dakota food products are available for school lunch programs, in addition to the high-quality raw commodities produced in the state."
Pride of Dakota has given North Dakota residents and many people outside of our state a good look at the way imagination and hard work combine to produce beautiful, interesting, and useful products. We do, indeed, take pride in this remarkable program. 
...
Cathy A. Langemo, owner of WritePlus Inc. in Bismarck, is a writer, editor and researcher.  Her true passions are genealogy, history and historical preservation.
Powwows: A History  
By Dr. Birgit Hans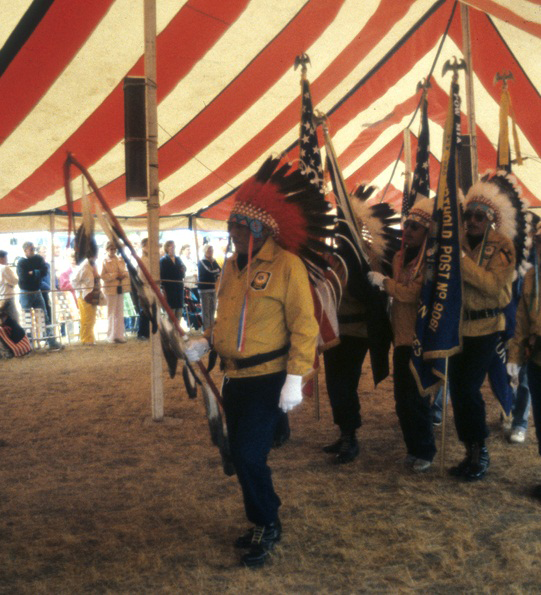 Many people think that "all Indians dance at powwows." In reality, less than one-half of American Indians on the northern Great Plains participate in powwows. However, everyone is welcome at the colorful celebrations that can be found everywhere on the northern Plains during the summers.
During the second part of the 19th century and the beginning of the 20th century the federal government tried to force American Indians to assimilate.  Government agents tried to prevent social and religious dancing from taking place. Although participating in dances could have led to jail time for those who were caught, dancing continued. Those American Indians who participated in Wild West shows found some freedom from the supervision of federal Indian agents.  They were able to participate in traditional dances on their own time. Agents were ultimately unsuccessful in suppressing the revitalized interest in dancing.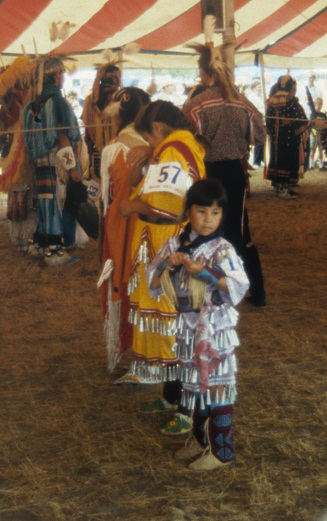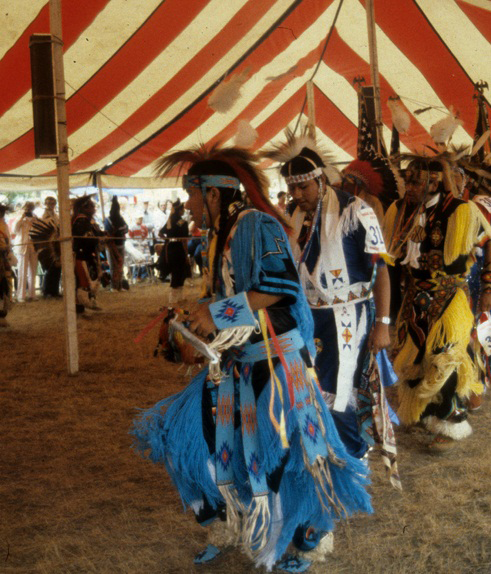 After World War I (1917-1918) and World War II (1941-1945), American Indian veterans came home to re-establish the old warrior societies, especially on the southern Great Plains. Federal policy changes in the 1930s removed the restrictions on traditional tribal dances and spiritual activity. The new freedom to dance led to the emergence of the powwow – a word from the Algonquian language family which means "he/she dreams."  
In the 1940s, powwows spread very quickly from the southern to the northern Plains. Several tribes often came together to participate in homecoming celebrations for veterans.  These dances were called Intertribal Powwows. Today, tribal and intertribal powwows can be found all over the United States. They might be traditional powwows as a celebration of American Indian culture, or contest powwows where dancers compete for prize money. Powwows are popular, but many tribes also maintain their traditional dances and songs. 
There are currently six distinct dance categories on the northern Plains: Men's Traditional, Women's Traditional, Grass, Jingle Dress, Fancy and Fancy Shawl. The categories are the same for each of the age groups. Besides a general age category for dancers there are also the Golden Age dancers (the elderly), the teenagers, and the tiny tots.  Dancers in all categories wear moccasins; the women wear leggings. Each category has its own dance steps, but the dance steps associated with the categories are the same for all age groups. Regalia or clothing and objects the dancers carry such as fans can be made by the dancers or members of their families or they might be inherited, purchased, or received as a gift. It can be very expensive to assemble a dance outfit. The pieces of the regalia often show exquisite beading and feather work designs.  Many dancers  add to their regalia only as they can afford new pieces.
Two other important parts of the powwow are the drum and the announcer. The drum and its singers are often called the "heartbeat of the people." On the northern Plains, there are usually a number of drums arranged around the dance arena, and the drums take turns. The singers at the drum compete for prize money at contest powwows. The announcer is usually a highly respected elder. He is one of the most important people at the powwow. The announcer makes sure that everything runs smoothly.  A good announcer adds jokes and humor to the announcements.
The powwow itself is not a sacred event, but some elements of the event have religious importance. For example, eagle feathers worn by dancers and the eagle staff carried into the arena by a veteran during the Grand Entry must be treated with respect due a spiritual object. The dancers are also supposed to pray for their families and their communities as they dance. Although powwows are complex events that may leave a first-time visitor bewildered and amazed, many people simply enjoy the beauty, energy, and music of a powwow.
...
Birgit Hans is Professor of Indian Studies at the University of North Dakota.
Wičhóȟ'aŋ Wačhípi: The Pow-wow Tradition
By Dakota Goodhouse
The Lakȟóta (Lakota Sioux) people refer to a pow-wow as "wačhípi" (waa CHIP ee). The word means "Dancing," or "They-Dance." There are eight districts on the Standing Rock Sioux Indian Reservation, and throughout the summer each district hosts a wačhípi.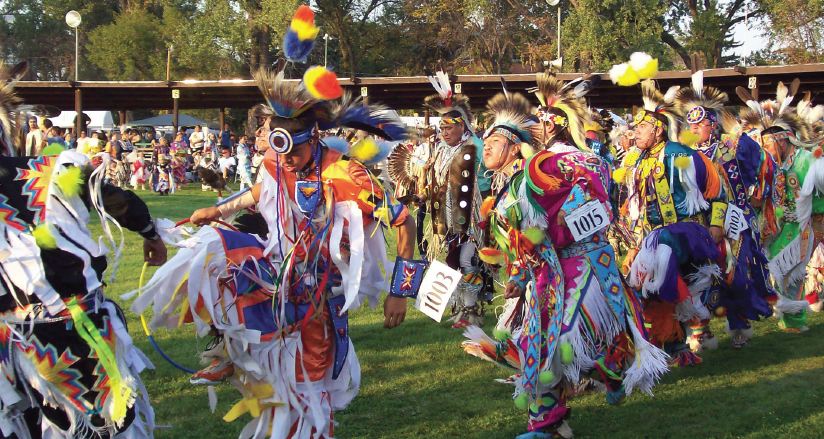 The wačhípi is a time for celebrating achievements, commemorating loved ones, and meeting friends and relatives, as well as for making new friends and making new relatives through a traditional ritual. Sons sit with their fathers in the second circle at the drum (the drum is the first circle).  Even newborn babies sit with their fathers in the drum circle and are brought up in the tradition. Women stand with their daughters, sometimes holding their babies, in the third circle and give strength to the singers. Some singers invest years of their time learning old songs and composing new ones. They say there is a song for every occasion.
Akíčhita (ah kee CHEE tah), the soldiers and veterans carry the wápaha (staff and flags) and lead the dancers into the circle. The Lakȟóta remember all soldiers who had fought to defend our way of life from the days when soldiers first arrived on the Great Plains to World War I, World War II, Vietnam and the current Global War on Terror. All veterans are honored, even those who aren't native. Dancers follow the akíčhita into the dance circle; spectators rise if they are able to as the wápaha pass by.  People remember their relatives who fought and sometimes died defending the American flag.
The éyapaha (announcers) interpret songs for spectators, share stories of survival, and sometimes jest with the singers, dancers, and spectators. As a young dancer and spectator myself, I remember my grandmother spreading a blanket on a chair and resting in the tree-shade of the bowery. My grandfather stood behind the singers with an old tape recorder as the flags representing relatives who served our country snapped in the wind above the arena. They say when you sing with other people, that your heart and their hearts begin to beat at the same time. The wačhípi is where I dance, sing with relatives, meet old friends and make new ones. The wačhípi is where my heart is when I think of Standing Rock.  
...
Dakota Goodhouse is an enrolled member of the Standing Rock Sioux Tribe. His research has appeared in the Smithsonian's The Year The Stars Fell and other publications. 
Agriculture
Dynamic Change in North Dakota
By Tim Faller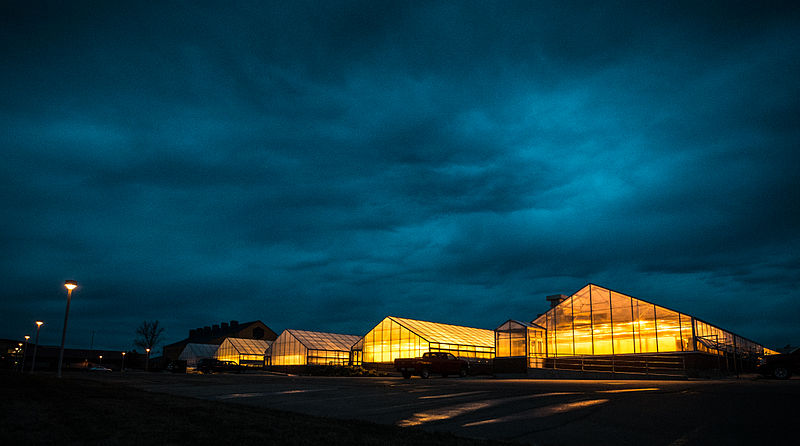 Agricultural scientists develop and test new varieties of crops, fertilizers, and herbicides in greenhouses such as these at the US Department of Agriculture center at North Dakota State University.  Courtesy, USDA
Tremendous changes have occurred in North Dakota agriculture in recent years. Agricultural settlement in the area coincided with the building of railroads in the late 19th century. Opportunity led to the establishment of large bonanza farms beginning in the 1870s. These huge farms utilized large numbers of workers to perform agricultural tasks by hand and with the aid of horse drawn implements.
While bonanza farms performed well for a few years they were not economically sustainable. In contrast, farms of 160 acres did not have enough natural resources to meet the early settlers' needs for existence. The combination of the depression beginning in the 1920s and the drought of the 1930s caused many early North Dakota settlers to leave. Following the Great Depression, farmers were encouraged to increase farm acreage. In addition, many state and federal programs were developed to assist farmers with diversification of crops. North Dakota today is known for great diversity of agricultural products.
In the early 1900s, the internal combustion engine expedited the mechanization of agriculture. The land grant college at Fargo (today's NDSU) added a department for the study of mechanized agriculture. The college inspired leading innovations that greatly increased productivity of agricultural producers. This growth led to the demise of horse-drawn implements and reduced the horse population and livestock feed crops.
Engineering has played a major role in increasing productivity of farmers. From the early 1940s to 1970, a single farm was able to produce enough food to feed 65 people. By 2010 this number had increased to 155 people. It is possible that a North Dakota farmer feeds even more people since farms here are larger than the national average. Until recent years, farm families supplied most of the labor needed on the farm. That is why they are called "Family Farms."
Very early in the 1970s, farmers were encouraged to increase production and essentially plant their farms "fencerow to fencerow." This encouraged many producers to specialize their crops, remove fences, and eliminate their animal enterprise. Farmers also borrowed money (usually from banks) to purchase additional or improved equipment. However, when commodity (crop) prices fell in the 1980s, a crisis in the farm economy caused major problems for farmers. The combination of borrowing too much money, high interest rates, and low crop prices during the 1980s, forced many North Dakota farms into bankruptcy. Many farm operators were displaced and many sons and daughters of farmers were encouraged to leave the farm and seek advanced education for jobs away from agriculture. Rural North Dakota lost population and many rural communities struggled for existence.
North Dakota farmers experienced much technological change between 1972 and 2014. Crop protection increased greatly during the period led by consumers' increased awareness of food safety. Farmers are aware of the need to protect the environment for future generations. In 1972, agriculture relied on minimal applications of herbicide primarily to control broadleaf weed invaders in cereal crops. Fertilizers were used mainly to push seeds to grow. The agricultural industry has since developed many new herbicides that are safer for the environment and target weeds more specifically. New fertilizers have been developed that are specific to the crop and specific growth periods. This complex process requires multiple applications at specific times to minimize overuse of fertilizer products. The application of both fertilizers and herbicides required the development of new technologically-advanced equipment.
Prior to 1972 North Dakota farms typically raised crops along with many species of livestock. By the 1990s, many North Dakota farms had converted from well-balanced crop and livestock operations to a specialized farming operation. This often involved expanding farm size. Today, a typical farm family is usually too small to provide the needed labor for expanded farm operations.
While beef cattle numbers have been stable, labor-intensive livestock operations, such as swine, dairy, and sheep operations faced difficulties. The numbers of operations and the numbers of animals in livestock operations has dropped in recent years. For example, fewer sheep farms leads to fewer veterinarians with experience in sheep health, and less sheep research at agricultural universities. On the other hand, growing livestock operations provide a market for feed crops grown in North Dakota.
Farm producers now make use of advanced genetic science that allows them to improve and increase both crop and livestock production. Currently there is much debate about the safety and health implications of genetically modified organisms. Many scientists and farmers think that genetic modification may be the key to feeding future populations.
Horse-drawn equipment was the standard for agricultural power at the beginning of the 20th century. Today, farmers use massive tractors with an excess of 600 horsepower, combines with 50-foot headers, 60-foot wide row crop planters, and 100-foot wide drills. Sprayers can be as wide as 120 feet and can vary the rate of spraying based on maps produced by satellites or drones. Tillage has been reduced by no-till planting practices requiring specialized equipment to conserve water and preserve soil quality for future generations. Genetics is the foundation for animal breeding.
The dynamics of larger farm units, new crop techniques, and modern equipment, requires higher levels of education for owners and employees of farming operations. Institutions that teach agriculture courses are now seeing a rebirth of interest in production agriculture. Today, many operations employ production specialists and marketing personnel to maximize net income. Many of these employees did not come from a farm background, but got into the food-raising business through education.
With all the changes that have occurred, farmers today have to feed a world population that is in excess of 7 billion people and may reach 9.5 billion people by 2050. How much food will have to be raised in the future?   This is a very critical question to the future of our world. To meet the need, North Dakota farmers will continue their effort to find adequate markets, financing, labor, and the proper balance between livestock and crop operations. Without doubt, young people who are intrigued by science and food production will soon be the next generation of agricultural leaders. 
...
Tim Faller is the former director of the Hettinger Research Extension Center (North Dakota State University) and a consultant in agriculture.
Adding Value to Agriculture  
By Kim Porter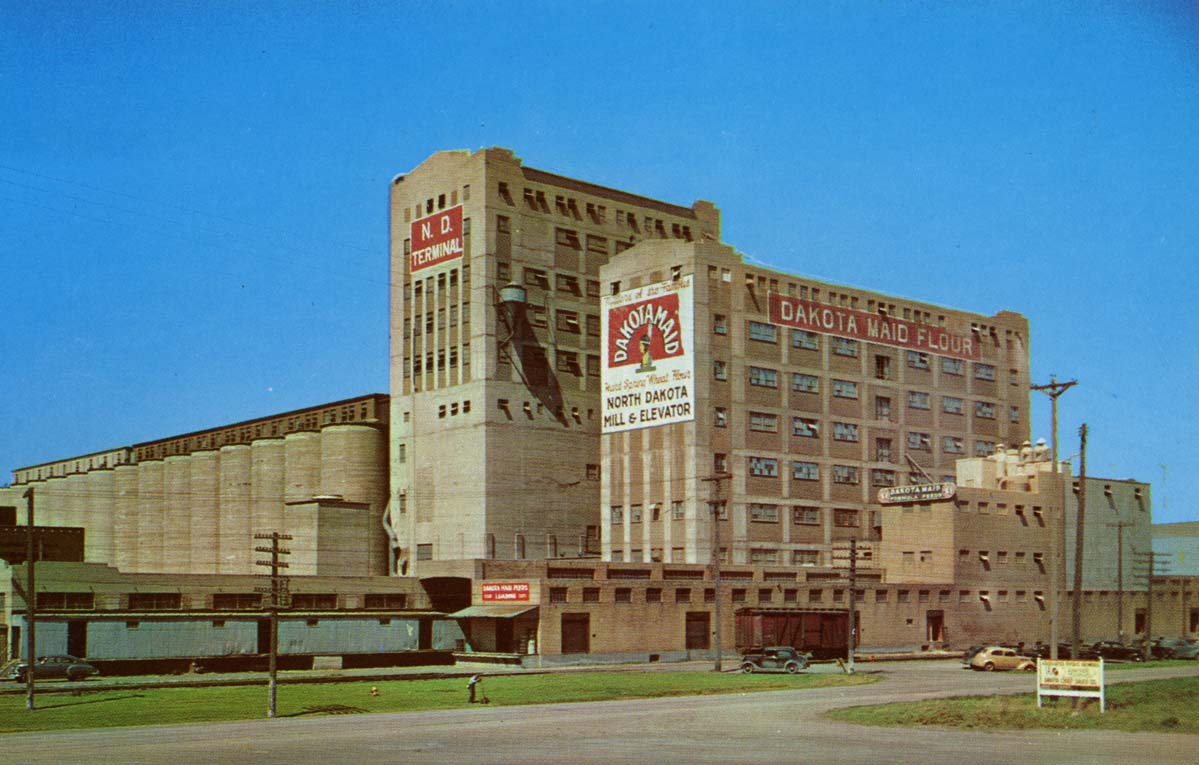 The North Dakota Mill and Elevator had its beginning in 1919.  The Mill went into operation in 1922 and has produced value-added wheat flour products ever since.  SHSND A3267
Agriculture has been the secure foundation of North Dakota's economy since the very early days of Dakota Territory.  However, through most of those years, North Dakota's agricultural products were shipped out of state to be processed into food or other products. 
In 1919, farmers had the good idea to build a wheat processing plant in North Dakota.  A local processing plant, or mill and elevator, would save the cost of shipping to distant mills.  The North Dakota mill had problems in the early years, but by 1922, the mill was producing Dakota Maid flour and other wheat products for North Dakotans to buy and to ship to other markets.  The mill was owned by the state, so all the profits went into the state treasury.
The mill was not the first "value-added" wheat processor in North Dakota.  A small wheat mill in Grand Forks was nearly bankrupt in 1893 and looked for a new product to sell.  The head of their milling operation, Tom Amidon had an idea to turn the wheat that had been crushed by the first turn of the mill into a breakfast cereal.  He called it Cream of Wheat.  By 1897, Cream of Wheat was a nation-wide success.
In spite of these major advances in processing wheat, most of North Dakota's products left the state. Developing processing plants in North Dakota that would add value to the crops – and increase farmer's share of the income – meant organizing companies and fin
ding people who would invest in a processing plant.  It was hard work and required some careful planning, but by 1972, North Dakotans were well on the way to controlling the processing of many of their crops.
One of the most successful value-added products in North Dakota is pasta.  Durum is the wheat that is used in making pasta such as spaghetti and macaroni.  North Dakota grows more durum wheat than any other state.  In 1993, durum farmers organized a cooperative to build a plant to process durum wheat into  macaroni, spaghetti, and 48 other varieties of pasta that were shipped to markets around the country.  The co-op prospered and grew in size.  Farmer-members not only were paid for durum wheat, but earned a share of the profits on the sale of pasta.
Value added agriculture is a simple concept.  Take the products of farms including wheat, barley, corn, beans and other products and make them into something that has more value.  Today (April 2016) wheat sells for $2.97 per bushel. A bushel of wheat makes 42 loaves of bread.  The average price of a loaf of bread in the United States is $2.35.  A farmer who turns his wheat into bread makes a great deal more money by making bread.  In addition, the farmer saves the cost of transporting wheat to a distant processor.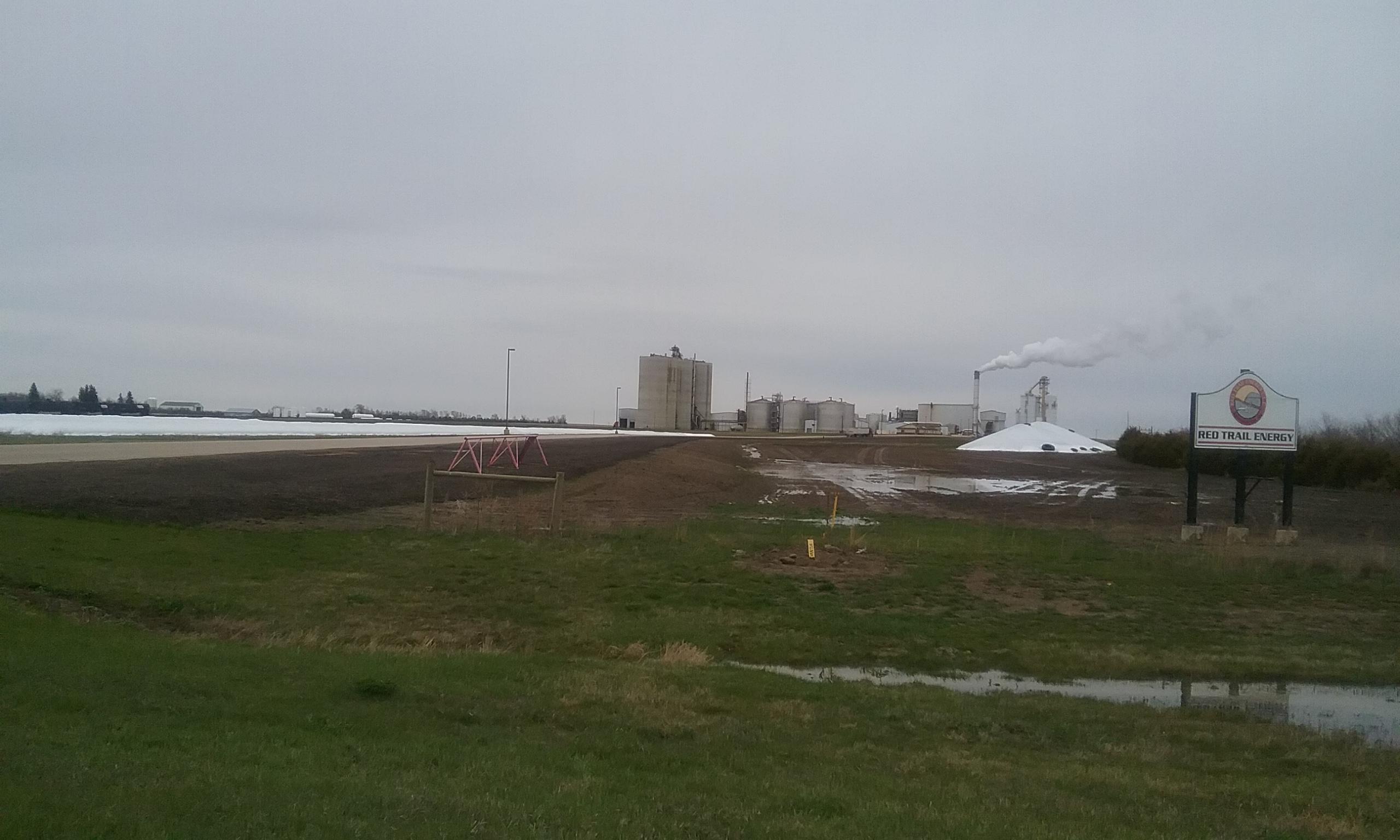 North Dakota corn is processed into ethanol at the Richardton Red Trail Ethanol Plant.  Courtesy Jessica Rockeman 
Value is added not only to food crops, but to other crops.  For instance, wheat straw can be chopped and left in the field or rolled into bales to use as bedding for cattle or other livestock.  However, processing wheat straw adds another level of value. Primeboard, a Wahpeton company now owned by Masonite, makes particle board for building out of wheat straw.  In this process, wheat straw is milled into fine particles which are bound together with a formaldehyde-free resin. The boards can be used in construction or in furniture manufacturing. 
North Dakota's farmers no longer have to send most of their crops to St. Paul, Minnesota or even farther for processing.  Many of the state's agricultural products are successfully processed and marketed right here where they are grown.
...
Kim Porter is Professor of History at the University of North Dakota.
Timeline
The first rural water system begins operation in Grand Forks and Traill counties
International grain sales nearly double the price of wheat after President Nixon's trade trip to China
 
1973
US military ends engagement in Vietnam War.  203 North Dakota soldiers died in the war; 2 held as prisoners of war are released and return home. 
U.S. Supreme Court hears Roe v. Wade. The decision legalizes abortion in the United States.
Mobile phone invented
Prison break at state penitentiary in Bismarck. All 10 prisoners re-captured within a week.
 
1974
President Nixon resigns after being accused of crimes; Gerald Ford becomes president.
Republican Senator Milton R. Young defeats Democratic-NPL candidate William Guy in a race decided by 186 votes
North Dakota ceases coal mining operations while considering reclamation and environmental issues
 
1975
Congress votes to abandon the Safeguard Antiballistic Missile complex at Nekoma, North Dakota shortly after it becomes operational
Blizzard in January causes death of 12 people and thousands of head of livestock. Damaging spring floods follow
Bill Gates and Paul Allen create Microsoft Corporation 
North Dakota is one of 35 states to ratify the Equal Rights Amendment ensuring full equality for women.  However, the amendment fails to be approved by the necessary three-fourths of the states.
 
1976
The United States celebrates the 200th anniversary (bicentennial) of its founding
Republicans and Democrats hold 50 seats each in the North Dakota House of Representatives
SHSND breaks ground for the North Dakota Heritage Center
Steve Jobs and Stephen Wozniak create Apple Computer corporation 
North Dakota has driest year since 1930s
 
1977
North Dakota is the first state in the nation to finish its interstate highways as Interstate 29 is completed
North Dakota has wettest year on record to date
 
1978
New oil boom in western North Dakota
Tornado in Elgin, North Dakota kills 4 people
 
1979
Coal-fired Coal Creek Power Station near Underwood goes "on line"
 
1980
Construction begins at Beulah, North Dakota on first plant in United States to convert lignite to synthetic gas (synfuels)
Allen Olson elected governor; first Republican governor in 20 years
 
1981
North Dakota voters approve charitable gambling
Coyote Station No. 1, a coal-fired electrical generating plant, opens at Beulah
North Dakota Heritage Center opens on the capitol grounds in Bismarck
First computer "mouse" marketed by Xerox
First cases of AIDS identified
 
1982
Northern Tier Oil Pipeline construction begins
Democrats control North Dakota House of Representatives
 
1983
Two U.S. Marshals shot and killed near Medina as they try to arrest Gordon Kahl
NDSU captures the NCAA Division II national football championship
 
1984
Ruth Meiers is elected North Dakota's first woman Lieutenant Governor
Apple introduces MacIntosh computer
 
1985
North Dakota's first ethanol plant is built at Walhalla
Beryl Levine becomes first woman to serve on North Dakota Supreme Court
North Dakota identifies first case of AIDS; last state to confirm a case
 
1986
Democrats control North Dakota Senate for the first time in North Dakota history
 
1987
Cattle prices rise
Chemical warehouse fire in Minot forces evacuation of 10,000 people from their homes
Virgil Hill of Williston, North Dakota wins World Boxing Association light-heavyweight title
 
1988
Severe drought destroys portion of wheat crop
San Haven, a state institution built at Dunseith to treat people with tuberculosis and later a home for the developmentally disabled, closes
First computer virus reported
Basin Electric Power Cooperative of Bismarck, ND, buys Dakota Gasification Company of Beulah for $85 million from the US government $85 million
 
1989
Party on the Prairie; North Dakota celebrates its centennial (100 years)
 
1990
 
1991
U.S. and USSR sign arms limitation agreement which leads to the dismantling of the Grand Forks Air Force Base missile wing
North Dakota State University women's basketball team wins NCAA Division II title. The team wins the title again in 1993, 1994, 1995 1996
 
1992
Gary Greff of Regent begins to build the Enchanted Highway. To date, he has placed seven giant sculptures constructed with scrap metal along the road from Gladstone to Regent
Jocelyn Burdick is appointed to the U.S. Senate to complete the term of her late husband Quentin Burdick; she is the first North Dakota woman to hold a U.S. Senate seat
 
1993
Devils Lake begins to rise during a wet cycle. In a few years, the lake covers roads, farms, and towns
 
1997
University of North Dakota's women's basketball team wins first of three consecutive Division II National Championships
Eight blizzards and record snowfalls kill thousands of cattle and sheep during the winter
The Red River rises to 39.5 feet at Fargo. Flooding leads to the evacuation of Grand Forks. Downtown buildings burn as flood waters rise into the city.
 
1998
The last missile of the Grand Forks Air Force Base is removed from its silo. The silos are imploded except for Oscar Zero site (near Carrington) which becomes a state historic site
 
1999
Tyler Lyson discovers a 67 million year old hadrosaur (dinosaur) with mummified skin on his uncle's ranch near Marmarth  
 
2000
John Hoeven, president of the Bank of North Dakota, elected governor
UND wins its seventh NCAA hockey championship
 
2001
Terrorists attack New York City and other targets
 
2002       
Jan 18, a train carrying anhydrous ammonia fertilizer derails near Minot. The liquid turned to gas upon contact with air. Several residents are injured and one dies from inhaling the gas.
North Dakota voters approve a state lottery
 
2004
North Dakota, along with several other states begins a two year celebration of the expedition of the Corps of Discovery led by Meriwether Lewis and William Clark
North Dakota voters approve a ban on same-sex marriages
 
2005      
North Dakota opens a $28 million, 14-mile drainage channel to drain excess water from Devils Lake to the Sheyenne River.
Canada, Minnesota, and environmental and tribal groups ask the International Joint Commission to review the channel which drains water from Devils Lake to Sheyenne River. Canada and others object to the transfer of Devils Lake biota to the Red River and Lake Winnipeg.
 
2006
Basin Electric Power Cooperative with NDSU North Central Research Center plan a station in Minot to refuel hydrogen-powered vehicles using wind power.
Severe drought takes 10% of the state's wheat crop income
 
2007 
On the Capitol grounds, 8,962 North Dakotans earn the Guinness World Record for the most snow angels in one place
 
2008   
Former North Dakota governor, Edward Schafer, appointed Secretary of Agriculture by President George W. Bush
U.S. Geological Survey reports on huge oil reservse in Bakken Formation of Williston Basin
 
2009
North Dakota Gov. John Hoeven reports a budget surplus and plans to increase reserves to as much as $1.2 billion
In 2009, the North Dakota Legislature passed House Concurrent Resolution No. 3054 authorizing the Legacy Fund; resolution referred to the voters  
Thousands evacuated as the Red River rises to 40.82 feet at Fargo, more than 22 feet above flood stage 
 
2010
North Dakota's population reaches 672,591. The population is smaller than the peak population of 682,000 in 1930.
Voters approve the Legacy Fund
North Dakota Supreme Court rules that the State Board of Higher Education has the authority to drop the University of North Dakota "Fighting Sioux" nickname
Scientists test roadside plants in North Dakota; 80% show evidence of genetic modification indicating that genetically modified crops are "escaping" from farm fields
 
2011
Severe flooding in Minot. Nearly 2,500 Minot homes destroyed; 40,000 residents evacuated
Bismarck and Mandan experience first floods since the closing of Garrison Dam in 1954      
 
2012
Halek Operating ND LLC, an oil-field company, fined for illegally dumping over 800,000 gallons of oil-field wastewater into a former oil well and attempting to cover up the crime
U.S. Census announces that North Dakota is the fastest-growing state in the United States. The population growth was largely due to oil-field jobs.
North Dakota becomes the second highest oil-producing state in the United States, but farming remains the most important sector of the state's economy
North Dakota is named the best-run state in the United States
NDSU wins the first of five consecutive FCS football championships
Heidi Heitkamp is elected to the U.S. Senate. She is the first North Dakota woman elected to national office.
Voters in every North Dakota county approve a law to ban smoking in all public places
Voters repeal a law prohibiting UND from dropping the "Fighting Sioux" nickname and logo
 
2013
North Dakota Legislature passes "personhood" resolution giving fertilized human embryos status and rights as a person. The law restricts abortion access, but must be approved by voters.
Craig Cobb buys property in Leith, North Dakota in an attempt to establish a whites-only community friendly to white supremacists. Cobb is later arrested for threatening Leith residents with guns.
A mile-long train carrying Bakken crude oil derails five miles from Casselton. Twenty rail cars exploded and burned.
In Lac-Megantic, Quebec, Canada, an unattended train carrying Bakken crude oil rolled away and exploded. The fire killed 42 people, destroyed 30 buildings in the city, and contaminated the town.
The Federal Aviation Administration selected North Dakota and five other states to test drones
 
2014  
Voters do not approve the "personhood" resolution granting human embryos human rights
Seven North Dakota couples file a federal lawsuit challenging North Dakota's constitutional ban on same-sex marriage
President Obama speaks at Standing Rock Sioux Reservation in North Dakota promoting the need to help reservations create jobs
 
2015
U.S. Supreme Court rules that same-sex couples have a right to marry. Three days later U.S. District Court in Fargo rules North Dakota's ban on same-sex marriages invalid. Several same-sex couples of North Dakota marry soon after the ruling. 
About
About
This issue of The North Star Dakotan covers the years 1972 to the present. We offer many articles on a variety of topics for you to think about and discuss. Some of these topics are constantly changing (oil, for instance) and some have been very controversial (abortion rights). You can find references to some of the current articles (girls' basketball or agriculture) in earlier issues of The North Star Dakotan. Continuity and change are constant themes of our state's history.
The beginning of this period, 1972, was in the middle of a long stretch of years of economic stability, if not prosperity. North Dakota was not a very rich state, but not very poor, either. The unemployment rate was usually quite low, but then we had few industrial jobs which are subject to international and national economic trends. The farm economy had its ups and downs, but state residents and government knew what to expect and how to manage our needs within that economic framework.
The end point of this issue, 2015, takes us through the upsurge and the subsequent slump in oil production. Today, North Dakota has a far more diverse economy with a great deal more industrial activity than it had in 1972.  
This edition of The North Star Dakotan contains a few articles that might divide people into opposing sides. Immigration, the events in Medina in 1983, even energy development and the future of coal-fired power plants can heat up a discussion among friends. Perhaps the most controversial topic in North Dakota's recent history is the issue of legal abortion and whether a woman has a right to an abortion.
Though our authors try to present a topic from all sides, it is impossible to please everyone. We expect that we have ruffled a few feathers with our presentation on some of these topics. Nevertheless, we believe that it is better to irritate readers than to slide an issue out of sight where it is impossible to discuss it. We hope you approach these articles with an open mind, do further research if you are interested, and adopt a position afteryou have the information necessary to support your ideas. That, dear readers, is what a newspaper can do for you.
Acknowledgements
This online issue of The North Star Dakotan is produced and published by the North Dakota Studies program at the State Historical Society of North Dakota. Major funding for the issue has been made possible through a grant from the North Dakota Humanities Council.
A team of dedicated staff at the State Historical Society of North Dakota has been responsible for the oversight, development, writing, and design of Issue No. 5 of The North Star Dakotan.  Staff members include Neil D. Howe, Barbara Handy-Marchello, Erik Holland, and Jessica Rockeman. A special thank-you is extended to Brenna Daugherty Gerhardt, Executive Director the North Dakota Humanities Council.
Images and graphics for this issue have been provided by the American Immigration Council; Bismarck Tribune; Carolyn Handy; Chris Grondahl; Granger Creative Common; Great River Energy; Gwyn Herman; J. Musabyimana; Jessica Rockeman; Lake Agassiz Water Authority; North Dakota Department of Agriculture; North Dakota Department of Emergency Services; North Dakota Parks and Recreation; Northwest Area Water Supply; Red River Women's Clinic; Southwest Water Authority; State Historical Society of North Dakota; United Tribes Technical College; U.S. Army Corps of Engineers; U.S. Department of Agriculture.
Authors
This issue continues the efforts of Dr. Jerome Tweton and the late Everett Albers who created and published the first five editions of The North Star Dakotan.  
Chris Grondahl is the Education Supervisor of the Conservation/Communications Division of the North Dakota Game and Fish Department.
Lloyd Omdahl is a former Lieutenant Governor of North Dakota (1987-1992) and a retired professor of Political Science at the University of North Dakota.
Barbara Handy-Marchello is retired from the UND History Department. She currently works for the North Dakota Studies program at the State Historical Society of North Dakota.
Kim Porter is Professor of History at the University of North Dakota.
Birgit Hans is Professor of Indian Studies at the University of North Dakota.
Clarence Herz, originally from Linton, is a graduate of North Dakota State University. He is currently working on a Ph.D. dissertation about the North Dakota petroleum industry from 1917 to the present.
Cathy A. Langemo, owner of WritePlus Inc. in Bismarck, is a writer, editor and researcher.  Her true passions are genealogy, history and historical preservation.
Sarah Walker is a Reference Specialist at the North Dakota State Archives. She graduated from UND in 2007, and has worked for the State Historical Society since 2008.
Jim Davis holds degrees from Lake Region Junior College and UND.  He has worked for the State Archives and Historical Research Library of the State Historical Society of North Dakota since 1980 where he is currently Head of Reference.
Tim Faller is the former director of the Hettinger Research Extension Center (NDSU) and a consultant in agriculture.
Dakota Goodhouse is an enrolled member of the Standing Rock Sioux Tribe. His research has appeared in the Smithsonian's The Year the Stars Fell, and other publications.