Introduction
Spirit Lake Leaders
History has characteristically cast Indian leaders in strong leadership roles. In their traditional homelands, and prior to 1862, all the Dakota who comprised the Oceti Sakowin, Seven Council Fires, did not place all of the decision-making in the hands of one leader. It was through the process of oratorical debate, the ability to shape a vision for Dakota society, and build a consensus among the people, that leaders or spokespersons were chosen. All the bands of the Dakota were communal people. As a result, tribal and family identity was a critical factor because individual leaders needed to possess the desired skills to provide for the well-being of the tribe. The people depended upon them.
Many tribal people were similar in their social and political organization. In non-hierarchical societies, leaders "ascended." Very often, individuals became leaders because they made "wise" decisions over long periods of time. Other leaders established status recognition through prominence within their kinship group, or because they were descended from "medicine" or "leadership" clans. These clans or bands often served to carry on the tribe's history and/or religion. In some instances, leaders were chosen in the order in which they were born. Generally, the eldest son of the leader of a band, or clan, was chosen for the leadership role.
The form and substance of Dakota leadership was greatly influenced by the events following and 1862–1863 Dakota Conflict. Several bands of the Sisseton and Wahpeton, reluctant to take part in the conflict, were inadvertently drawn into it. Others, who refused to participate, were forced to flee because of the general outcry for retribution of all Dakotas. Many Dakota leaders and their bands, to be protected, were subjected to reservation life, while their land base diminished and government policy persistently attempted to assimilate them. A decentralized form of leadership was further dispersed as many traditional leaders were killed, deposed, fled, or replaced by those chosen by the government to act as spokespersons. From roughly the late 1860s to the early 1920s, many of the long lines of hereditary chiefs ceased to exist or, if they survived, were limited in their ability to function in that capacity on the Spirit Lake Reservation.
Traditional
STANDING BUFFALO
Standing Buffalo was born in about 1833 near the headwaters of the Minnesota River. His father was Star Face or Wicanpihiteton (later called The Orphan or Wamdenica). He was the leader of a Sisseton band. In 1858 his father passed the leadership to his favorite son. Standing Buffalo's band was hunting buffalo on the Sheyenne River when the Dakota Conflict began. In about mid-September 1862 he and other Sisseton leaders visited Little Crow and spoke against the conflict. Standing Buffalo then sent a letter to General Henry Sibley stating his band's desire for peace.
After the battle of Big Mound (north of present-day Tappen, North Dakota) the Sissetons fled northwest and by 1864 were in Manitoba. Gradually the band moved westward to Montana. Repeated attempts were made to induce their surrender, but Standing Buffalo could not make this decision. Eventually he was killed in battle with the Gros Ventres and Assiniboine Indians on June 5, 1871.
GABRIEL RENVILLE 1880–1890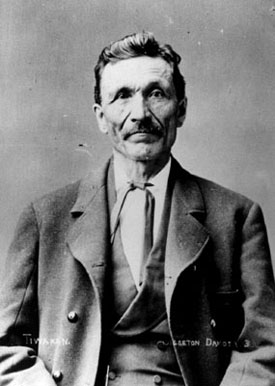 Gabriel Renville, or Ti'wakan meaning Sacred Lodge, was born in April of 1825 at Sweet Corn's Sisseton village on the west side of Big Stone Lake. His parents were both mixed-bloods. His father died in 1833, and he was reared as a Dakota by his stepfather, Joseph Akipa Renville, a full-blood. In 1859 Gabriel settled with his third wife on a farm on the north side of the Minnesota River.
When the Dakota Conflict began, Renville helped to organize a soldier's lodge that opposed the warriors. Renville served as a scout for General Henry Sibley in the spring of 1863, and for three years Renville acted as the leader of the Dakota scouts, working out of Fort Wadsworth in Dakota Territory. When peace finally came to the eastern portions of Dakota Territory, Renville began organizing the new Sisseton Reservation, and led the delegation to Washington, D.C. to negotiate and sign the Treaty of 1867. He served as chief of the Sissetons and Wahpetons at the Spirit Lake Reservation throughout the 1880s and 1890s, and died at Samuel Brown's house at Browns Valley, Minnesota, on August 26, 1892. He adhered to Dakota customs throughout his life and never spoke English.
SIPTO (BEAD)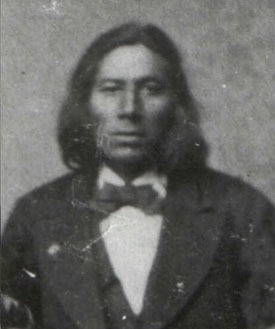 Sipto (Bead) was a hereditary chief of the Abdowapusikiya (Back Drying) Band of the Sisseton Dakota. He was born in 1834 at Wood Lake, located in Benson County, North Dakota. His father, Hoksinawasteka "Doubtfully a Goodboy" (1805–1890), was a relative of Chiefs Standing Buffalo and Waanatan. He spent his boyhood in the north Sisseton territory between the sand hills of the Mouse River and the woodlands of south central Minnesota.
He was a warrior and hunter of 28 winters when the Dakota Conflict occurred in 1862. During these trying times of near starvation, his band moved to the Poplar River in Montana Territory. When his grandfather Standing Buffalo died, Hoksinawasteka, Sipto's father, was in line to be chief. However, Hoksinawasteka, acceded to his son, Sipto, the chieftainship of the band. They separated from the main band, and Sipto led a group of 131 people to the new reservation and settled at Mni Wakan (Spirit Lake). He was baptized Adam Sipto. He took an allotment in Mission Township and became an excellent farmer. Blind in his old age from glaucoma, he amazed everyone by his ability to tell the time of day and the phases of the moon while in total darkness. He died at the age of 87 on October 20, 1921, the last chief on the reservation. He is buried in the St. Michael Cemetery.
ČANTEMAZA (IRON HEART)
Chief Ironheart was born in 1822, a member of the Wahpeton Dakota. His father was Mahpiya Wicasta (Cloudman) 1796–1863, a leader of the Hazelwood Republic, a church-founded farming band. One of his three brothers was the famous Presbyterian missionary, Solomon Tunkasaiciye (Holy stone who makes himself red). Another brother was Lot Iteojanjan (Light on his face) who rescued some of Little Crow's captives. The third brother, Četanmaza (lronhawk), was the famous rescuer of Abbie Gardner in 1857. Solomon and Lot settled at Lake Traverse Reservation while Ironheart and Ironhawk settled at Devils Lake. Their eldest sister Tawapahatankawin (Great Banner Woman) was married to Chief Running Walker. He played a prominent role in the battle of New Ulm during the Dakota Conflict. He often related his deeds from the pulpit, describing himself as a "bad Indian" during the conflict. He ran a hotel where five trails met on the "east end" of Devils Lake during the 1880s. He was elected Elder of the Wood Lake Presbyterian Church in 1883 using the name Adam Ignatius Ironheart. He was able to locate his war-scattered extended family, and moved back to the old reservation at Granite Falls, Minnesota to reunite with them in 1885. He died on May 21, 1896, at the age of 74. He is buried at the Downcaster Cemetery in Granite Falls, Minnesota.
WAANATAN (CHARGE UPON) II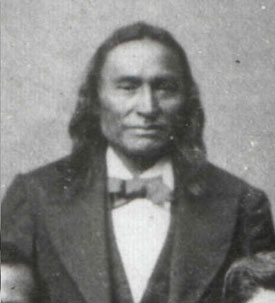 Waanatan was born in 1828 to a Sisseton mother who was related to Chief Standing Buffalo. His father was the famous Yanktonai, Chief Waanatan I (1795–1840), of the Cuthead Band. His father claimed more than 11 million acres of land from Granite Falls to the Missouri River. Their main village was on the west side of Lake Traverse. The Cutheads traveled to all points in their territory hunting buffalo which brought them into direct conflict with the Ojibwa, and the riverine tribes, the Arikara, Mandan, and Hidatsa along the Missouri River. Many Yanktonais were lost to the smallpox epidemic of 1837. At age 12 his father was killed by a rival in the year 1840. The Cutheads split into three groups. Waanatan's older brothers, Red Thunder and Catfish, took the majority of the band and remained near the Missouri River. Waanatan and his mother left the group and settled with her people, the Sissetons, at Lake Traverse. Eventually Waanatan II became chief and hunted mainly between Devils Lake and Lake Traverse.
In the fall of 1862, Waanatan and his Sissetons were hunting buffalo near present-day Hamar, North Dakota, when news came of the Dakota Conflict. Together with Chief Standing Buffalo, Waanatan forbade Little Crow to flee across their territory. Anticipating the army would follow, Standing Buffalo and Waanatan declined to give them aid. In spite of their efforts to remain neutral, Waanatan and Standing Buffalo were drawn into the war. After the Battle of Big Mound in 1863, Waanatan remained in the Mouse River Loop area and his band traveled back and forth across the Canadian border. Because of the dwindling numbers of buffalo and the need to survive, he returned to Devils Lake and surrendered in 1867 at Fort Totten with only 62 people.
In 1872, through a series of entanglements between the government, the church, and business interests, Waanatan was cheated of most of his money. He was forced to sell all of his father's land for 10 cents an acre. Later in life he remained active in political affairs and became a tribal judge. He died in 1897 at the age of 69 and was buried in the St. Michael Cemetery. Chief Waanatan lived in a large two-room log house beneath the blue water tower at St. Michael. His son, Suna (Bullets) Waanatan, succeeded his father as a political leader. Many Waanatan descendants still live in the area.
TIOWASTE (GOODHOUSE) OR LITTLE FISH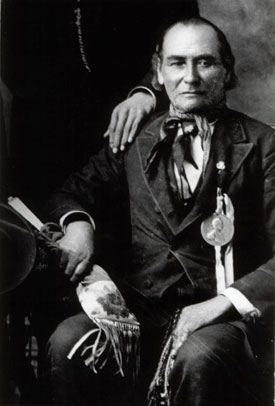 Tiowaste was not a hereditary leader but became a headman of the Sisseton Dakota by his own tenacity. His mother was related to Standing Buffalo and his father was a Frenchman. Goodhouse, or Little Fish, as he was known, was fluent in Dakota and French. He was born in 1825 and was 37 years old during the Dakota Conflict. By his own testimony he was present at the battle of Big Mound. He was recognized as a chief on May 23, 1868, when he surrendered his band of 130 to the garrison at Ryan's Hill, near Fort Totten. Fearing they would be mistaken for a band of Sioux under Rain-in-the-Face, (who had only hours before their arrival stole some of the soldiers' mules and inflicted casualties upon the herders), Little Fish's group requested a special interpreter to relay their message to the fort.
Appointed chief by the soldiers, Little Fish and his band settled on the Fort Totten Reservation, and he became a farmer in the Mission District. Although he resigned himself to reservation life, he refused to give up his Indian customs. In 1878, Agent McLaughlin tried to depose him but failed. In addition to farming, Little Fish worked as a teamster delivering grain raised by the reservation farm to Fort Seward at Jamestown, which provided badly needed cash for the people.
Little Fish was a prominent figure at all the celebrations. He always led the parade at Chautauqua at Fort Totten from 1893 well into the 1900s. He was a noted orator and later became a judge of the Court of Indian Offenses. On these special occasions he always wore a stovepipe hat and a King George Medal on a ribbon around his neck. He purchased the medal in 1877 from the son of Chief Red Thunder, Makanahunhunze (rocking his foot on the ground) for a good horse. On August 28, 1901, he testified for the claimants regarding the movements of Standing Buffalo's band during the battle of Big Mound before the U.S. Court of Claims. Little Fish, or Goodhouse, died December 8, 1919, at the age of 94. His grandson Louis Goodhouse was a longtime Chairman of the Spirit Lake Sioux Tribe between 1960 and 1970. Descendants of Little Fish's daughter include Carl McKay, who became the youngest tribal chairman in the Nation, and Ila McKay-Lohnes, the first woman to become chairwoman of the Spirit Lake Tribe.
Contemporary
Contemporary Tribal Leaders
Between 1901 and 1930s, much of the leadership for many tribes was provided by the Bureau of Indian Affairs. During this period, the Spirit Lake Tribe lost about two-thirds of its land base. With the shift in government policy and the passage of the Wheeler-Howard Act of 1934, known as the Indian Reorganization Act (IRA), the policy of Congress changed, and under this piece of legislation, the loss of Indian lands was halted and Congress attempted to preserve what culture and land the Indians had left. Given the opportunity to reorganize as legal entities, many tribes drew up constitutions. Some tribes did not. The Spirit Lake Sioux Tribe, skeptical of its motives, by a vote of 144 in favor, and 233 opposed, rejected participation in the Act. However, the Spirit Lake Sioux tribe did find new leadership, drew up a constitution by which to govern themselves, and began operation as a formal government. The tribe has operated in that capacity since that time. Characteristically, chosen leaders tend to hold office for lengthy periods of time, affording a measure of political and economic stability for the tribe.
CHARLIE BLACK BIRD 1946–1957
Charles Black Bird was born on November 4, 1894 at Fort Totten. He received his education at Fort Totten and Carlisle School in Carlisle, Pennsylvania. He served in the U.S. Army during World War I—July 10, 1917 to August 27, 1919. After he returned home, he was married in 1920, and resided in the Fort Totten area with his wife, one son, and two daughters.
He worked for many years as the agent for the Bureau of Indian Affairs at Fort Totten. In 1946, he was elected chairperson, and served for two years. He died at the age of 74 on October 29, 1968. (Charles Blackbird, 1968)
JEROME ABRAHAM
Jerome A. Abraham was born May 24, 1905 at Fort Totten. His parents were Jacob and Virginia Goodhouse Abraham. He was raised and educated at Fort Totten. In 1926, he and his family established a farm at St. Michael and they farmed in the area for many years.
He was employed with the North Dakota Highway Department and the North Dakota Game and Fish Department. He later served as tribal chairman of the tribe for two years. He also served on the Benson County Selective Service Board for 20 years. After serving on the tribal council, he was appointed as Tribal Judge, a position which he held for five years. He died February 4, 1978. (Jerome Abraham, 1978)
ERNEST SMITH 1955–1956, 1956–1957
Ernest H. Smith was born on March 28, 1912. His father was Moses Smith and his mother Mary Emma Strait. He was born in the old hospital at Fort Totten, North Dakota. He received most of his education at Fort Totten. He attended school at Wahpeton, Haskell Institute, and the University of Kansas in Lawrence, Kansas. He graduated from the University of North Dakota at Grand Forks, where he majored in civil engineering. Following his graduation, he married and lived in the Fort Totten area for a time.
During World War II, he served with the Army Engineers in Seattle, Washington and St. Louis, Missouri. He also worked for a number of years as highway engineer in Rapid City, South Dakota. He became tribal chairman in the mid 1950s and served for two years. Mr. Smith was the first member of the Dakota to graduate from college. He died at the age of 49, while still employed as an engineer for the highway department. He died June 22, 1961 at the age of 49, while still employed as an engineer for the highway department.
LOUIS GOODHOUSE 1957–1972
Louis Goodhouse was elected tribal chairman in 1957, a seat which he held for 12 years until 1971. When Congress passed Public Law 280, which gave some tribal jurisdiction to states, Goodhouse mustered support for retaining tribal rights. His administration was responsible for building the tribe's physical (community) environment, securing numerous programs and improving the tribe's land holdings.
During his 12 years, the tribe saw the construction of a day care center, fire house, a badly needed jail (new in 1966), a new housing office, neighborhood center, 120 new homes, a juvenile detention and rehabilitation center, 20 elder housing units, lighted football field, trailers for teacher quarters, two new school buildings and new buses, arts and craft's library, a reservation information center, and a maintenance shop.
His administration advocated for off-reservation tribal members by securing medical care for them in Devils Lake. As chairman, Goodhouse worked extensively with various organizations, promoting education for Indian students at Lake Region College to establish programs for tribal members. He sold his own cattle so that students from Fort Totten could travel to Europe. He worked with the University of North Dakota to promote assistance for students aspiring to be physicians, and later sought funding for the Indians into Medicine Program (INMED).
He was responsible for having the administration of Fort Totten Agency returned from Belcourt, and changed the name of the tribe from "Fort Totten" Tribe, to "Devils Lake Sioux Tribe." He and four others were responsible for organizing United Tribes Educational and Technical Center (UTTEC), presently United Tribes Technical College.
CLAUDE RED HAIL LONGIE 1971–1972
Claude Red Hail Longie was born and raised in Fort Totten, North Dakota. After completing his early schooling, he joined the Navy embarking on a 20-year career. He returned to Fort Totten, where he resided for several years and involved himself in the local affairs of the tribe. In 1971, he was voted to assume the chairmanship of the Spirit Lake Sioux Tribe, after three members of the Tribal Council were recalled. He completed the term of Louis Goodhouse. He served approximately one year as the Chairman, after which he resigned for personal reasons.
Four years after leaving the tribe, he moved to the Pine Ridge Agency on the Oglala Sioux Reservation, Pine Ridge, South Dakota. There, he immersed himself in learning about the customs of the Oglala Lakota. As a spiritual leader, he continued to practice his culture and participated in ceremonies.
He died in 1994 and is buried at the National Veteran's Cemetery, Rapid City, South Dakota.
EVELYN YOUNG 1972–1973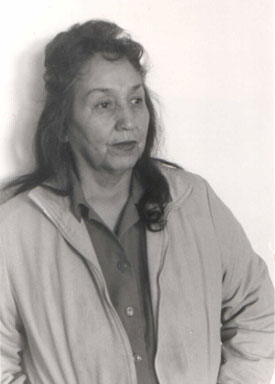 Evelyn Young was born at the old agency hospital in Fort Totten on May 15, 1931. The granddaughter of a traditional Wahpeton Chief, Matochatka (Left Bear), Evelyn received all of her education in the Fort Totten community, first attending the east side day school, and then Fort Totten school.
She became chairwoman in 1972, completing the term of Claude Red Hail Longie, who had resigned. She became a council member in 1971 and served for 10 months.
During her ten-month term, the tribal administration increased the minimum negotiated lease rate for tribal land from $4.00 to $12.00 per acre, continued negotiations with Senator Milton R. Young, and secured contracts for Sioux Manufacturing Plant. In addition, she began negotiations with the Bureau of Indian Affairs and hand-carried the proposal to Washington, D.C. for the first high school in Fort Totten, and Little Hoop Community College. She worked on the Mississippi Sioux Claim in December 20, 1972. She chose not to seek reelection in 1973. Her administration brought back the original name of the people as Sisseton-Wahpeton.
Today, Evelyn Young serves as postmistress at Tokio, North Dakota, where she lives. Ever concerned about her people, she believes that the welfare system continues to be a problem for the people. She questions a system where so many young people are not employed and receive general assistance.
CARL MCKAY 1974–1977, 1977–1979, 1979–1981, 1981–1982, 1985–1987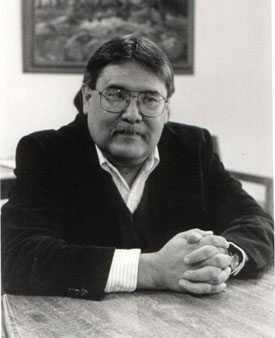 Carl McKay was born December 18, 1948 at Fort Totten. He attended elementary school at Fort Totten and high school at Devils Lake Central High School, Devils Lake, North Dakota. He received all of his higher education at the University of North Dakota. From 1967 to 1971 he received a bachelor's degree in social work, and worked toward a master's degree in education from 1973 to 1974. During his tenure as tribal chairperson, he resigned his position from the tribe and completed a Juris Doctorate in Law in 1984.
He was elected tribal chairperson in 1974, making him the youngest tribal chairperson in the United States to hold that office. He served continuously from 74 to 1981, at which time the tribe instituted staggered terms. He resigned in 1982. He was elected tribal chairperson in 1985, served until 1987, and then reelected for two additional consecutive terms.
During his tenure as chairperson, he was able to put together a team of tribal members who worked hard to develop a tribal education plan, kindergarten through grade twelve. In 1972, at the age of 22, he became President of the Fort Totten School Board. At that time the Tribe didn't have a high school. Working with Glen Walking Eagle and Demus McDonald, McKay started the Tribe's first high school.
He worked diligently with the tribal members on the Board of Directors of Sioux Manufacturing to gain 100 percent ownership and management of the firm, at that time, the tribe owned 51 percent of the company. Negotiating with State Street Bank of Boston, the tribe borrowed $3.2 million to secure full tribal ownership of the plant, and purchased Brunswick interest in the plant.
As chairman, he was instrumental in building the tribe's business and regulatory infrastructures. Between 1985–1986, under his leadership, the tribe formed Dakota Tribal Industries, a 100 percent Indian owned and managed company fabricating products for the U.S. Department of Defense. They became the first tribe in the state to develop a uniform commercial code and an employment rights ordinance. The tribe also incorporated federal rules of civil procedures and federal rules of evidence in their criminal code. A significant accomplishment of his administration was the preservation of the tribe's sovereign right to regulate commerce [utilities] on the reservation.
His belief and goal were to make the Tribe and people self-sufficient. For a long time, McKay held the belief that the present welfare system goes against the belief of Dakota culture. The ability of the people to put food on the table for the family is a matter of pride always known to the Dakotas. There was a time in history when the Dakotas were self-sufficient, farming, and reinvesting in their own lands. When the government intervened by instituted the 1904 Homestead Act, lands were taken away effectively destroying a growing tribal economy and with it the productivity of the people. He firmly believes that given the right tools, The Dakota have the capacity to be self-sufficient again.
PAUL LITTLE 1979–1980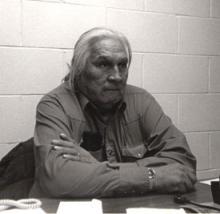 Paul Little was born on May 11, 1930 at Crow Hill, and was educated at Fort Totten, St. Michael's, and Standing Rock Boarding Schools. During his early years, he was an iron worker in Minnesota. He later attended the University of Minnesota and worked with them to develop a Dakota language course.
He was vice-chairman of the Tribal Business Council, and became chairperson when Carl McKay resigned. During his term, the tribe was dealing with land concerns and farming. Under his leadership, the tribe secured piping for the reservation irrigation system and funding for housing units. He worked along with others to support bilingual education for the community. His administration worked on a 10-year-old case to determine the tribe's ownership to the lake bed of Devils Lake.
After he left tribal politics, he served as a member of the tribe's Repatriation Committee and the State Repatriation Committee for 12 years. He was a strong advocate for the Dakota culture believing that individual accomplishments of the people should be honored and recognized. A strong traditional man, Paul Little believed in education as a tool for survival today. He promoted both contemporary and traditional forms (Indian way) of education. He taught Dakota language and culture in the Fort Totten School system, and during his personal time, he traveled, participated in traditional ceremonies, drummed, sang, and crafted pipes. He also spent his time as an artisan. He died in the winter of 1996.
DAN DUBOISE 1980–1982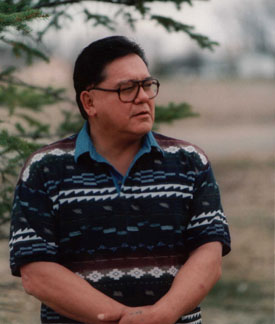 Daniel J. Duboise was born in Ft. Totten on November 23, 1921. Up until the 9th grade, he attended school in Fort Totten. He graduated from Maddock High School in 1960, and spent several years in Cleveland, Ohio. After returning home in 1971, he attended the police science program at United Tribes Technical College.
Prior to becoming chairperson in 1980, he served two terms as district councilman for the Ft. Totten District (1976 to 1980). In 1980 he served as vice-chairperson. When then Chairperson, Carl McKay elected to return to the University of North Dakota, Mr. Duboise filled Mr. McKay's unexpired term until 1982. During his term, the tribe secured a paving project for the entire reservation. He also testified to secure $14.8 million for the new school which was then sixteenth on the list. He continued advocacy for Senate Bill 503, the Indian Land Consolidation Act, begun by former Chairman McKay. The Act was to preserve the Spirit Lake Tribal land base. The Act was passed and Mr. Duboise was invited to the White House for the signing. He also worked to secure small business set-aside status for Sioux Manufacturing Company.
From 1988 to 1990 Dan Duboise served on the council as a representative for the Fort Totten District. He worked for the school system until 1990, and then moved to the Dakota Reserve at Sioux Valley, Canada. His long term vision was to build a tribal resort on Devils Lake. He believes in the importance of the tribe to reestablish self-sufficiency, as a legacy to children.
ELMER WHITE 1983–1984, 1995–1996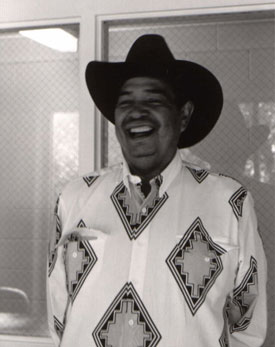 Elmer White was born in Fort Totten in 1936. A lifelong resident of the St. Michael's district, his mother was the great, great, granddaughter of Chief Waanatan I. He was raised by his grandparents. He attended school at both St. Michael's mission and the Fort Totten school.
He served as Tribal chairperson from 1983 to 1984. His administration was responsible for retiring a tribal debt of $4.5 million. He advocated for the final settlement of the Joint Tribal Advisory Committee which negotiated claims and settlement for lands taken by the Pick-Sloan (Garrison Dam) Project. Part of the settlement included the construction of the McClusky Canal, a plan to transfer Missouri River water to central North Dakota and the Fort Totten Reservation to create a rural water system for the tribe. He negotiated the tribe's ownership of the buffalo ranch and ushered in the their involvement in tribal gaming by authorizing the creation of the Dakota Bingo Palace at St. Michael.
After leaving the tribe, he became housing director and later served as Dakota language teacher at the elementary school where he worked for seven years. He was one of the first Indian educators in the state of North Dakota to be named Indian Educator of the year by the North Dakota Indian Education Association.
In his early years, as a hobby, he began announcing at high school basketball games, an experience which has led him to a career as emcee for local rodeos. This eventually led to a 25-year career as emcee for pow wows and celebrations, becoming known both nationally and internationally. From 1992 to 1995, he has served as bilingual resource teacher for the Tate Topa Elementary School where he taught tribal songs and the Dakota language.
In September of 1995, he suffered a stroke and in November of 1996, he resigned as chairman. He currently lives at home in St. Michael, North Dakota.
ILA RAE MCKAY—HINTUNKASAN WASTEWIN (PRETTY WEASEL WOMAN), 1990–1991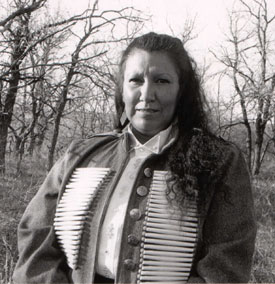 Ila Rae McKay was born on July 24, 1959 at Devils Lake, North Dakota. She is the daughter-of William F. McKay and Hermenia (Rainbow) McKay. Her ancestry is that of Cut Head and Ihanktowana. Her ancestors were scattered throughout the Dakotas and Canada as a result of the Dakota Conflict of 1862. She is a descendant of Chief Little Fish and Chief Sleepy Eye. She was raised on the Spirit Lake Sioux Reservation.
Ila attended elementary and high school at Devils Lake Public Schools, and graduated from Central High School, Devils, Lake, North Dakota. She attended the University of North Dakota in Grand Forks, North Dakota where she received a bachelor of arts degree in Public Administration/Indian Studies.
She worked for the Indians into Medicine Program at the University of North Dakota School of Medicine for four years. During that time, she worked for student support services.
When she returned home in 1985, she was employed as Health Educator for the tribe. She was instrumental in the development of health and wellness programs on the Spirit Lake Sioux Reservation by raising consciousness of prevention against diabetes, HIV/AIDS, and alcohol and drug abuse. In her work she developed a K–6 curriculum on diabetes prevention.
On June 23, 1990, in a special election, she was appointed to replace Carl McKay as Chairperson after he resigned. In 1986, she was chosen as an Outstanding Young Woman of America for her work in the areas of community organization in health and wellness. A strong advocate for Native women, she believes the woman to be the strength of the Dakota. Ila Rae McKay is currently a tribal planner for the Spirit Lake tribe.
PETER BELGARDE 1991–1995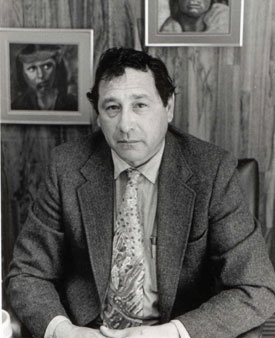 Peter Belgarde was born September 26, 1944 in Fort Totten, North Dakota. He is a descendant of Waanatan II. Red thunder and Waanatan II were brothers. Except for the years of 1990 to 1994, he lived all of his life in the St. Michael's District. He attended his first years of school at Fort Totten, and then moved to St. Michael's Day school, "The Sister's School" He attended high school at Flandreau Boarding School in Flandreau, South Dakota. He returned home and graduated from Maddock High School in 1964. After high school he relocated to California, where he was drafted. He entered the service in 1966 and served in Vietnam from 1976 to 1978.
Upon his return home, he became involved with law enforcement, a position which he held for 14 years. In the early 1990s, the tribal council hired him to work with a troubled court system. Confronted with difficulty in getting action from the federal government, he approached the Bureau of Indian Affairs for assistance. With no response, he closed the jail and took issue with the management of the situation with the Bureau of Indian Affairs central office in Washington, D.C. Through the assistance of the state's congressional delegation and the news media, it was an important victory for the tribe.
In 1990, he was approached by tribal elders to run for tribal chairperson. From the traditional standpoint, and he could not refuse. He ran and won. During his terms, his efforts were focused at reducing the tribe's debt and establishing a tribal financial accountability system. His administration established a recreation program for tribal youth and expanded cultural programs. The result of the efforts of his administration created more than 200 additional jobs on the reservation, through the establishment of the tribe's Dakota Casino. Funds were allocated for youth scholarship programs. He committed the tribe's involvement in repatriation efforts and brought back artifacts and remains from the Smithsonian Institution that belonged to the tribe.
His personal goal for the tribe was the development of honest government and leadership. He envisioned the tribe establishing a dialysis center and a family development center. A strong opponent of substance abuse, he was one of the first Dakota chairpersons to provide drug free leadership.
PHILIP "SKIP" LONGIE 1999–2003
Philip "Skip" Longie assumed the chairmanship of the Spirit Lake Nation on May 25, 1999. His parents are Philip Longie and Mary Jane Little Ghost. He is fluent Dakota speaker.
Longie's early education included the Flandreau Indian School, Flandreau, South Dakota. He worked in Chicago for a number of years, where he met and married Shirley McCloud and raised a family. He returned to North Dakota in 1967 and subsequently worked as a finance director for the Spirit Lake Nation. He attended North Dakota State University and received a BA in accounting.
Prior to assuming the chairmanship in 1999, Longie served as president of Dakota Tribal Industries, one of the two large manufacturing ventures of the Spirit Lake Nation. He also worked for Sioux Manufacturing, Inc. He also worked for a time with the North Dakota Tax Department as a certified public accountant.
Longie has a strong commitment to tribal sovereignty and maintenance of the Dakota language and culture. During his administration he worked to assure and maintain communication for the Spirit Lake people. He held weekly radio reports, and supported the creation of the KABU FM radio station of the Spirit Lake Nation. His office was responsible for easing local tensions and forging agreements with the Federal Emergency Management Agency and the North Dakota Department of Transportation brought about by the rise of Devils Lake throughout his administration.
Losing the tribal election by 39 votes in May of 2003, Longie continues his leadership as a private consultant.
MYRA PEARSON 1995 – 1999, 2003 – 2011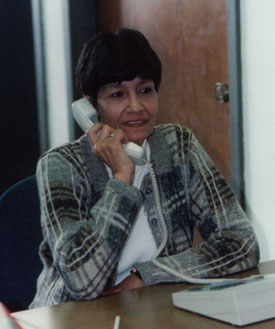 Myra Pearson assumed the chairmanship of the tribe in December of 1996. She did so after Elmer White, former chairperson, resigned after suffering a stroke in the fall of 1995.
ROGER YANKTON, SR. 2011 – Present