Land, Topography, and Climate
Land Base
The Spirit Lake Reservation, formerly the Devils Lake Sioux Reservation, was established by a treaty signed at Washington, D.C. on February 19, 1867, Article 4, ... it is further agreed that a reservation be set apart for all other members of said bands who were not sent to the Crow Creek reservation, and also for the Cut-Head bands of Yanktonais Sioux, a reservation bounded as follows, viz: Beginning at the most easterly point of Devils Lake; thence on a direct line to the nearest point on the Cheyenne (Sheyenne)River; thence down said river to a point opposite the lower end of Aspen Island, and thence on a direct line to the place of beginning.
Land Status
The Spirit Lake Reservation area includes approximately 245,000 acres of land, of which about 60,000 acres are held in trust and under the jurisdiction of the Tribe. The rest is under private ownership by both Indian and non-Indian land holders. The Spirit Lake Sioux Reservation consists of 393.03 square miles or 245,141 acres. Land is the main resource of the reservation, and sales of production constitute the economic framework of the reservation. Recreation and tourism is enhanced by the reservation's location and access to Devils Lake. The tribe has acquired additional reservation lands over the years through its land acquisition program. At present, all tribal lands are leased, or are in lease negotiations. Most tribal lands are used for agricultural purposes, with a small portion for residential purposes.
The following is the 2009 land break down on the Spirit Lake Sioux Indian Reservation:
| | |
| --- | --- |
|   Alloted Land |   34,026 acres |
|   Tribal Land |   26,283 acres |
|   State and Federal Government |   375 acres |
|   Private Land |   184,451 acres |
|   Total Acreage |   245,135 acres |
Topography and Climate
The Spirit Lake Sioux Reservation is located in northeast North Dakota approximately 90 miles west of Grand Forks, North Dakota. The reservation is primarily located in Benson County, but portions extend into Ramsey, Eddy, and Nelson Counties of north central North Dakota. The reservation is bounded on the north by Devils Lake and on the south by the Sheyenne River. The terrain on the southern portion of the reservation is relatively flat, much of which is prairie lands suitable for grazing and small grain crops. There are small potholes and fresh water lakes to support tree growth, but it is minimal on the southern portion of the reservation. The northern part of the reservation, bounded by Devils Lake, "Mini Wakan" —Spirit Water, is lush with forested rolling hills. These hills reach an elevation of more than 1,700 feet above sea level and more than 300 feet above the lake level.
The climate on the Spirit Lake Reservation is consistent with the general climate of North Dakota. The mean summer temperature for the months of June, July, and August is 65.7 degrees F., and for December, January, and February, 9.7 degrees F. Humidity is relatively low, averaging 68 percent.
Population
North Dakota counties that include Indian reservations are among the few areas of the state to experience population increases. According to the 2010 U.S. Census, the resident population of the Spirit Lake Reservation is 4,238, with an enrolled population of approximately 6,748.
2010 U.S. Census Data

| | |
| --- | --- |
|   Total Resident Indian Population |   4,238 |
|   Total Under 16 Years of Age |   1,675 |
|   Total Over 16 Years of Age |   2,760 |
|   Potential Labor Force |   1,642 |
|   Employed Total |   1,354 |
|   Not Employed |   288 |
Education
The early history of providing schooling for Indian students was "not so much to educate as to change." (United Tribes/Indian Affairs Document, p. 42) Boarding and day schools in early reservation life were dismal failures. As the tribe was concentrating efforts on the elementary and secondary school systems on the reservation in the 1970s, there was a movement nationally to provide locally-controlled higher education opportunities for Indian people. The efforts of the Sioux Tribe culminated in the establishment of a charter for Little Hoop Community College in 1974.
In the early 1970s, Indian education became a national focus with the passage of the Indian Education Act of 1972. This law, Public Law 92-318, provided funds for schools to meet the culturally-related academic needs of Native American children. The Indian self-determination and Education Assistance Act of 1975 (Public Law 93-638) provided funds to tribes for administrative support.
In 1960, a new elementary school was erected at Fort Totten. This school was operated by the Bureau of Indian Affairs. Most high school Indian students attended public high schools in Devils Lake, or in one of the other non-Indian communities near the reservation. As the reservation school population grew, students studied in portable buildings behind the Bureau of Indian Affairs elementary school. In 1984, a public high school was constructed. The new facility, the Four Winds High School, was designed to bring together all the Indian students on the reservation and to promote the tribes desire for a culturally responsive curriculum. The Tate Topa Elementary School has a K–8 enrollment of about 335 students. Four Winds High School has an enrollment of about 150 students. Indian students also attend public schools in the surrounding communities of Warwick, Oberon, and Minnewaukan, North Dakota.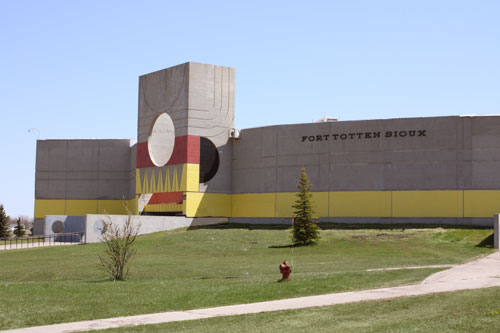 Cankdeska Cikana Community College
Cankdeska Cikana Community College (formerly Little Hoop Community College) was named in honor of Cankdedéska Cikana (meaning Little Hoop), the Indian name of Paul Yankton Sr., a tribal member who brought honor to his people. He was the recipient of two Purple Hearts, the military's highest award for bravery.
Prior to the establishment of Cankdedéska Cikana Community College, Indian students, when they were able, attended colleges distant from the reservation and families. The cultural adjustment, coupled with a new academic environment, was often too great for Indian students. The attrition rate for Indian college students attending state schools was between 85 and 97 percent. (United Tribes Technical College, 1985, p. 57) It became evident that the community required a post-secondary educational setting that was culturally responsive and provided a supportive network for close-knit families. What evolved was a two-year community college directed at providing for the special needs of the local population. In reality, community colleges like Cankdedéska Cikana were successful because they provided limited disruption in the lives of families. Many of the students enrolling were older and married.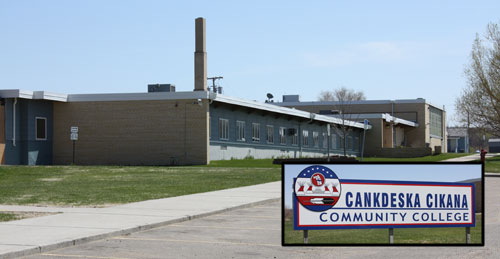 Located on the reservation, in makeshift facilities, the Cankdedéska Cikana Community College began actual operation in 1975. During the development phase, the college's board of regents (the tribe) entered into a bilateral agreement with Lake Region Junior College in Devils Lake. The agreement took place in 1974, and provided academic instruction. Funded with a grant from the Higher Education Act, Cankdedéska Cikana began operations in the Tribal Administration building. It had a staff of four. From 1975–1980, the college gradually increased its enrollments and program offerings. In 1978, the college joined three other Indian post secondary institutions to form a North Dakota Vocational Consortium, permitting the college and its sister schools to develop and equip vocational programs.
By 1982, Cankdedéska Cikana discontinued its bilateral agreement with Lake Region Community College, and was granted candidate status for accreditation by North Central Association of Colleges and Schools. In the summer of 1984, they acquired the buildings that had housed the reservation's BIA elementary and secondary schools.
The college grew from a staff of four in temporary quarters, to a modern 21,000 square foot facility with a staff of forty full and part -time staff. The college currently offers two-year associate degrees, one-year vocational certificates, short courses for tribal industries, and community interest courses. It also operates a day care center, supports a public library, and the Reservation Head Start Program. In 2007, Cankdeska Cikana Community College enrolled 233 students.
Resources, Infrastructure, and Services
Natural Resources
The only mineral resource available within the reservation consists of numerous small deposits of sand and gravel scattered throughout the reservation boundaries.
Woodlands
The Spirit Lake Sioux Reservation possesses significant woodland areas, with 6,390 of woodland acres. Although these areas lack a timberland component, it appears they are of significant commercial woodland value.
Water
Devils Lake is the largest natural body of water in the state of North Dakota. The lake has no natural inlet of fresh water and relies on drainage from summer runoff. The area has increasingly become tourist and sports attraction.
Wildlife
Sully's Hill National Game Reserve, located within the reservation, is divided into two parts. The original 994 acre big game unit is housed in a 70-acre enclosure. There is also a 680-acre hay unit located southwest of Fort Totten. Within the Game Preserve there are bison, white-tail deer, elk, prairie dogs, and waterfowl. There are also numerous species of fox, raccoon, weasels, mink, squirrels, muskrats, rabbits, and birds.
Infrastructure and Services
Fort Totten is the main tribal community and is the headquarters of the Spirit Lake tribe. The tribe's headquarters are located in the Community Building—called the Blue Building. This facility contains the Bureau of Indian Affairs offices, Indian Health Services Clinic, and a number of other programs administered by the tribe.
Other principal communities are St. Michael, Tokio, and Warwick. In addition, the Reservation is divided into four districts—Crow Hill, Fort Totten, St. Michael, and Wood Lake. The reservation communities are served presently by their own municipal water systems. Water is provided by wells located near the sites they serve. All three communities have sewer systems in existence, except in the Crow Hill District where, because of its smaller size, septic tanks are used. All four districts have small water treatment facilities. The reservation has one solid waste site. The tribal landfill is approximately four miles from Fort Totten.
Figure 13. Spirit Lake Reservation. (SHSND-ND Studies)



The Spirit Lake Sioux Reservation is above two aquifers— the Sweetwater Aquifer and the smaller, more shallow, Warwick Aquifer. This aquifer is the target of the tribe's Municipal Rural and Industrial Project. Under Phase I, a main trunkline will be installed and run through each community. In Phase II the trunkline will branch off of into reservation homes.
The tribe is presently supplied with electrical power by three power companies: Ottertail Power Company, Sheyenne Valley Cooperative, and Baker Electric Power Cooperative. Montana Dakota Utilities has a natural gas line running through the reservation. This also supplies part of the reservation with heat.
Housing
In recent years, 65 new housing units have been built with funds from the U.S. Housing and Urban Development Program (HUD). Within this number there are mutual self-help homes, lower income homes, and elderly units. The quality of housing on the reservation is generally poor. The tribe assists home owners with plumbing and heating needs through various home improvement and weatherization programs.
Transportation and Economy
Transportation
The transportation system on the Spirit Lake Reservation consists of state and county Highways 57, 20, and 15. These run through the reservation. The Reservation has access to two major highways, Highway 281 which crosses the reservation north-south and, provides access to Jamestown and Bismarck, and Highway 2 which provides east-west access to Grand Forks and Minot. Other roads include county and Bureau of Indian Affairs roads which are graveled or dirt roads. All other roads are hard surfaced.
Rail and Freight
Three forms of rail services are available to the reservation: Amtrak, a passenger service, provides some small freight service; Burlington Northern Railroad, which runs west of the reservation, can haul freight and agricultural products; and the Soo Line Railroad, which offers freight service all over the Midwest. The Midwest Motor Express Co. maintains an office in Devils Lake, North Dakota. The tribe's industrial firms—Sioux Manufacturing and Dakota Tribal Industries use Consolidated Freight Company of Minneapolis, Minnesota for most of their shipping needs.
Air Service
Air link service is available at Devils Lake Municipal Airport, located 15 miles from Fort Totten. Presently Great Lakes Airlines provides daily flights to Minneapolis, Minnesota and Denver, Colorado. Air freight and passenger service is available for charter, rental, instruction, photography, and other industrial and agricultural purposes. The municipal airport has two hard surface runways, which will accommodate turbojet aircraft.
Tribal Economy
The Reservation has an industrial park located in Fort Totten, North Dakota. Within the park are three buildings which house the tribe's two major industrial plants. Sioux Manufacturing Corporation is a precast concrete building with 12,600 square feet. Dakota Tribal Industries is a precast concrete building with 51,000 square feet. The Tribal Utilities building is steel and precast concrete, and has 12,950 square feet.
Sioux Manufacturing Corporation
Sioux Manufacturing Corporation began operation in 1973. The Company produces Kevlar helmets and panels for the U.S. Department of Defense. The Corporation is diversifying and is developing prototypes material for the aerospace industry. Sixty-five percent of the employees of Sioux Manufacturing are tribal members.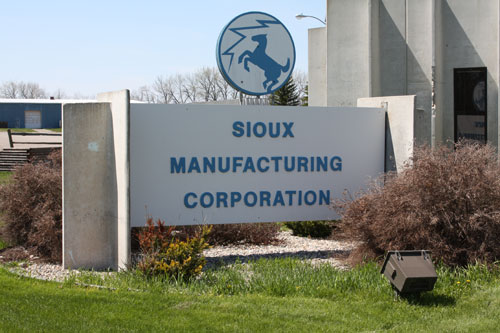 Dakota Tribal Industries
Dakota Tribal Industries (DTI) began operation in 1985. Government contracts have been the mainstay for DTI. Dakota Tribal Industries has produced a wide variety of specialty items for both government and various other contractors. DTI manufactures cargo slings, tents, and camouflage netting from treated and untreated canvas, as well as coated and laminated vinyl. They also manufacture cotton and cotton duck, cotton and nylon webbing, wool, woven kevlar, and charcoal impregnated nylon-laminated cloth.
Business Sector
The primary sources of revenue for the tribe have been derived, in the past, from federal grants and contracts, farming, land leases, and revenues generated as a result of profits realized from Sioux Manufacturing. Additional income is generated from the tribal casino. In 1989, 24 small retail and construction firms were operating on the reservation. In the late 1970s the tribe started a shopping mall complex which served as a catalyst for private entrepreneurs. This building contains 43,900 square feet. The mall houses a cafe, laundromat, video store, food, and gas retail stores.
Spirit Lake Casino
The opportunity to strengthen the tribe's economic potential came with the passage of the Indian Gaming Regulatory Act in 1988. Following the signing of an agreement between the Governor of North Dakota and the Tribes, the first tribal casino on the reservation was opened at St. Michael, North Dakota. The facility employed 35 individuals, most of whom were tribal members. In 1994, the tribe renovated a gymnasium and added a casino in Tokio, North Dakota. This development created employment for 191 people, 75 percent of whom were Native American.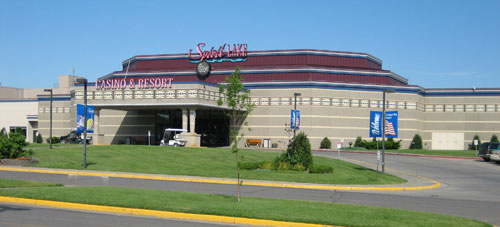 In 1996, the Spirit Lake tribe invested $7 million and began the construction of a new 49,000 square foot casino. The facility began operation on June 1, 1996, and was named the Spirit Lake Casino. This new venture created an additional 150 new jobs for the reservation and the surrounding communities. The facility is located six miles north of Fort Totten, North Dakota on Highway 57.