Basketball became a popular girls' sport by the end of the nineteenth century. Wearing heavy woolen uniforms, girls played half-court basketball. (See Image 6.) The six players were separated by the half-court line. The center and two forwards of each team played on one end of the court and three guards (guarding the other team's forwards) on the other end. Players were allowed to dribble only twice before passing. The coach was not allowed to speak to the players except between quarters. Only the ball (and the referees) could cross the center line. The rules of half-court basketball were developed at a time when strenuous exercise was thought to be dangerous for girls.In 1972, Congress passed the Education Act with an amendment called Title IX. Title IX prohibited sex discrimination in all school activities including sports. Under Title IX, all schools receiving federal funds (practically all schools) had to offer girls equal opportunity to participate in sports.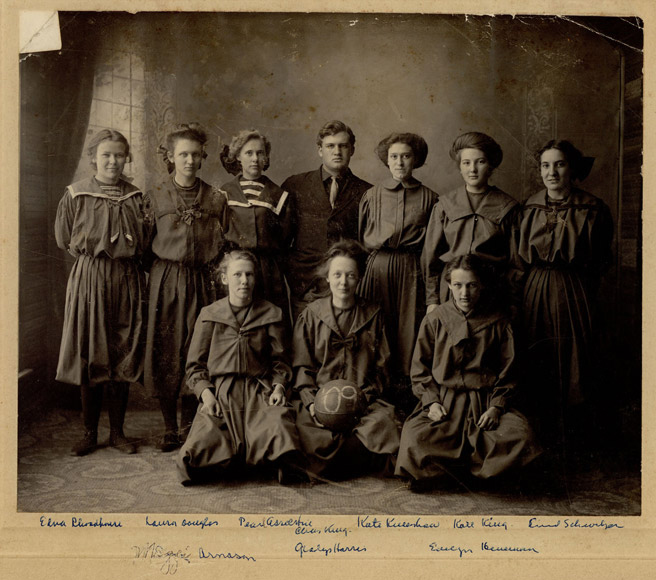 Girls played basketball in North Dakota from the 1890s on. In the beginning, there were only a few teams. The girls' basketball team at the University of North Dakota often played local high school teams because neither the university team, nor the high school teams could afford to transport students very far. Perhaps competition between the university and the high schools explains why basketball was most popular among schools in the northeastern part of the state for many years.
High school girls' teams had to share the gym with the boys for both practice and games. In many schools, girls practiced for one hour after school on Tuesdays and Thursdays while boys practiced on Mondays and Wednesdays. The luckiest students had basketball hoops at home or in the town playgrounds for extra practices.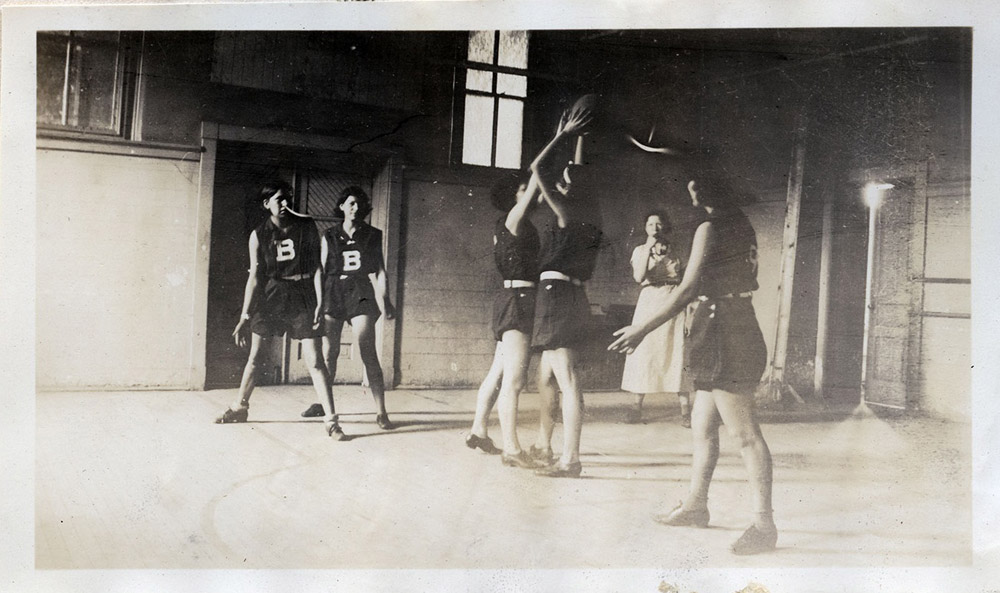 By the 1930s, schools approached the concept of a state tournament through invitational tournaments. Beginning in 1934, the North Dakota High School League sponsored girls' basketball state tournaments to determine the "unofficial" state champion. (See Image 7.) From 1938 to 1950, girls' state tournaments were played under the sponsorship of the Consolidated League. In 1951, girls' teams began playing in regular district and state tournaments under the sponsorship of the North Dakota High School League.
In many states, girls' basketball competition was suspended for a number of years. In some places, the Great Depression caused schools to look for ways to reduce costs. Cutting out girls' sports was a quick way to save money. Some schools ended girls' competitive sports in the 1950s. In both the 1930s and the 1950s, the official excuse for eliminating girls' sports was that competitive sports were not good for girls' bodies or social status. Girls became cheerleaders, or participated in non-contact activities such as synchronized swimming or dance.
In North Dakota, girls' competitive basketball was suspended from 1960 to 1973. Girls continued to play basketball in physical education classes, but not in competition with other schools. However, in 1973, North Dakota girls' basketball teams resumed competitive play. Girls no longer played half-court basketball. They now played the modern five-person, full court game. The following year, girls' basketball was divided into Class A and Class B. However, during these years, girls' basketball was played in the fall instead of winter as it had been in previous years. In 2002, girls' basketball once again became a winter sport.
Though many teams have made multiple appearances at Class B state tournaments, no one school has dominated the Class B girls' tournaments. However, before the beginning of regular state tournaments, some teams stood out as a powerhouse of girls' basketball. Ayr won seven Consolidated League tournaments between 1938 and 1946. Gardner took four state championships in the 1950s.
Before Title IX, girls did not experience educational and career opportunities because of their participation in competitive sports. However, once the Class A and Class B systems were established, basketball gave many girls the opportunity to develop athletic talent. Many Class B players earned honors in their hometowns, colleges, and in subsequent careers.
The first Miss Basketball, Pat Smykowski of Lidgerwood, competed in several state Class B tournaments. She also lettered in track and played softball. She played basketball for NDSU and was named to the 1986 NCAA all-tournament team and honored as Best Woman Athlete of North Dakota by Sports Illustrated magazine. Today, she coaches and teaches physical education in Fargo.
Another Class B player, Sheri Kleinsasser of Carrington, went to college at UND where she had a stellar career. She helped UND win two conference championships. Kleinsasser was twice named to the All-American team and was named 1995 NCAA Division II Player of the Year among many other honors. When she graduated from UND, Kleinsasser was the university's leading scorer. She earned her bachelor's degree in Athletic Training and a master's degree in kinesiology.
Why is this important? Though women's sports in the United States do not have the power to pull in an audience the way that men's sports do, Class B girls' basketball has been prominent in North Dakota. Communities follow their teams to tournaments and state championship games and take as much pride in the girls' basketball teams as any other school teams. Entire towns attend the state tournament to support the team. In addition, since 1972, girls' basketball has opened doors to higher education and excellent careers for young women.