The first basketball game in the United States was played in Massachusetts in 1892. The game proved to be popular and spread quickly. (See Image 2.) By the turn of the century, both boys and girls were playing basketball in grade school, high school, and college. In North Dakota, college teams sometimes played local high school teams because there were no organized leagues to manage the basketball season.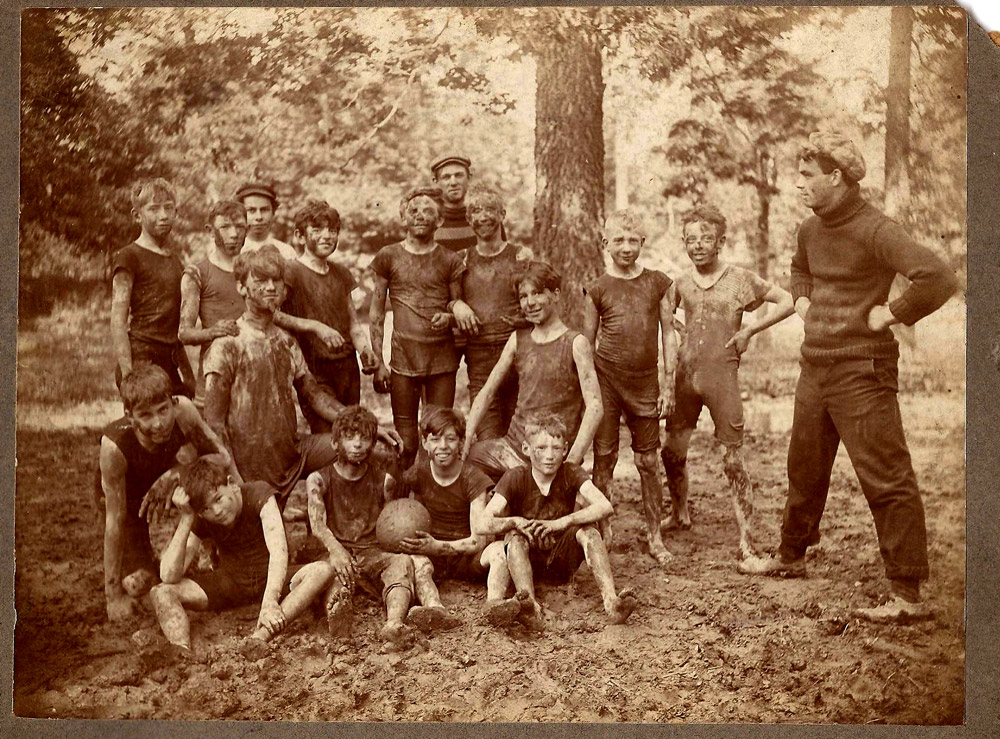 By 1920, North Dakota high schools regularly played basketball in competition with nearby towns. The North Dakota High School League (today's North Dakota High School Activities Association) started organizing a state tournament in 1920. (See Image 3.) However, all schools played in the same tournament. The schools were not classedThe classification of schools has changed from time to time since 1933, but classification usually depends on the number of students enrolled in the school. Today, a high school with enrollment of more than 325 students is a Class A school. High schools may also choose to play in Class A if they have an enrollment of more than 200 students. All other schools are in Class B. These rules apply specifically to basketball competition.
For many years there was also Class C basketball and from 1922 to 1950, very small schools sent teams to the North Dakota Consolidated League tournament at Valley City (boys) or Buffalo (girls). as A or B until 1933.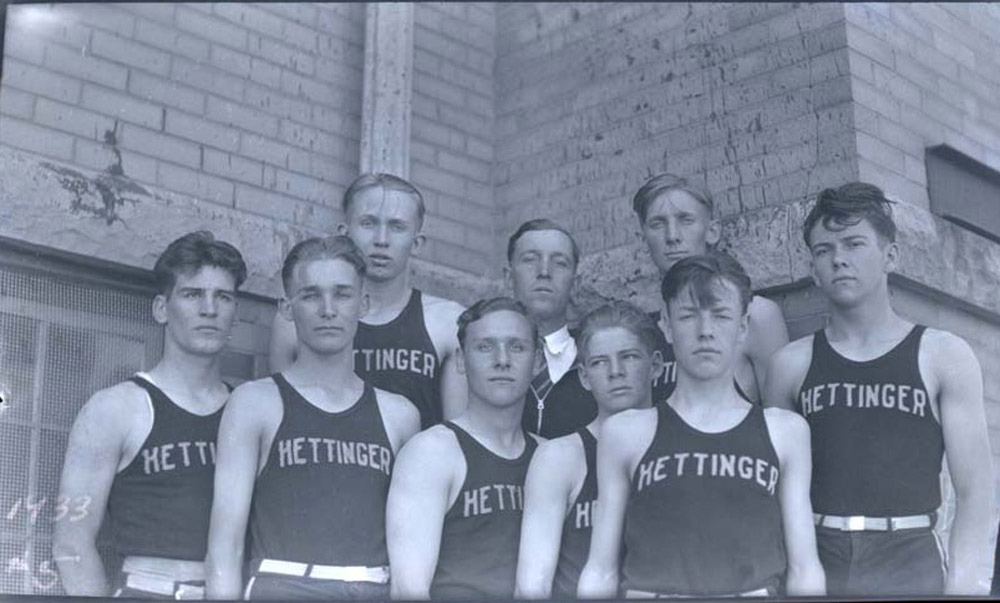 Small towns with Class B teams supported both the boys' and the girls' teams. Winter weather kept people near home and indoors. Basketball suited the season very well. Basketball games provided a fun evening out and a chance to visit with friends.
As the season progressed, successful teams planned for district and regional playoffs. The number of teams moving on from tournaments has changed over the years, but the intense interest throughout the state in Class B state tournament has never changed.
In the early 20th century, some schools did not have a gymnasium large enough for basketball games and the crowd that came to watch. (See Image 4.) Their teams played in city auditoriums or in gyms built by local organizations such as the Elks or the American Legion. (See Image 5.) As basketball increased in popularity, more schools added a gym and bleacher seating to accommodate the crowd. But the gymsFormer Governor Allen Olson spoke to an interviewer about a gym he played in when he was on the Sarles High School basketball team: 'I'll never forget the Wales gym; it was in the basement of the school like many, many small towns. We'd play Wales, and the gym was so small that the free throw circles intersected the center circle. Maybe twenty to thirty people could be up in the balcony and look down. Wales had a bunch of big Norwegian and German kids. I was the guard and I was a pretty good shot, but Wales had these big guys, I mean big in those days, six-two, maybe six-three, but they could get into a zone defense and you'd have to throw the ball at the basket because you couldn't get much arch, because, you know, there was a light hanging down.' Source: North Dakota History Vol 74, Nos 1 & 2 (2007): 5 were often small, "cracker box" rooms heated by a pot-belly stove. Walls loomed close to the end line and one side line. Some gyms had a stage at one end so that the room could be used for graduation exercises, theatre performances, and school assemblies. In time, some school districts, recognizing the importance of Class B basketball, built gyms large enough to seat a good crowd and host district or regional tournaments.
The number of teams invited to the state tournament changed considerably as the NDHSL (and later NDHSAA) changed the rules. However, interest in the tournament required the use of a large gymnasium with plenty of seating for the thousands of people who attended the games. Whole towns turned out to cheer their teams in addition to a great many interested fans throughout the state.
For the players, tournaments were the highlight of their high school years. The winning teams always spoke of the bond among the players and their respect for the coaches. The team learned to work hard in practice and stay focused throughout the season in order to get to state tournament.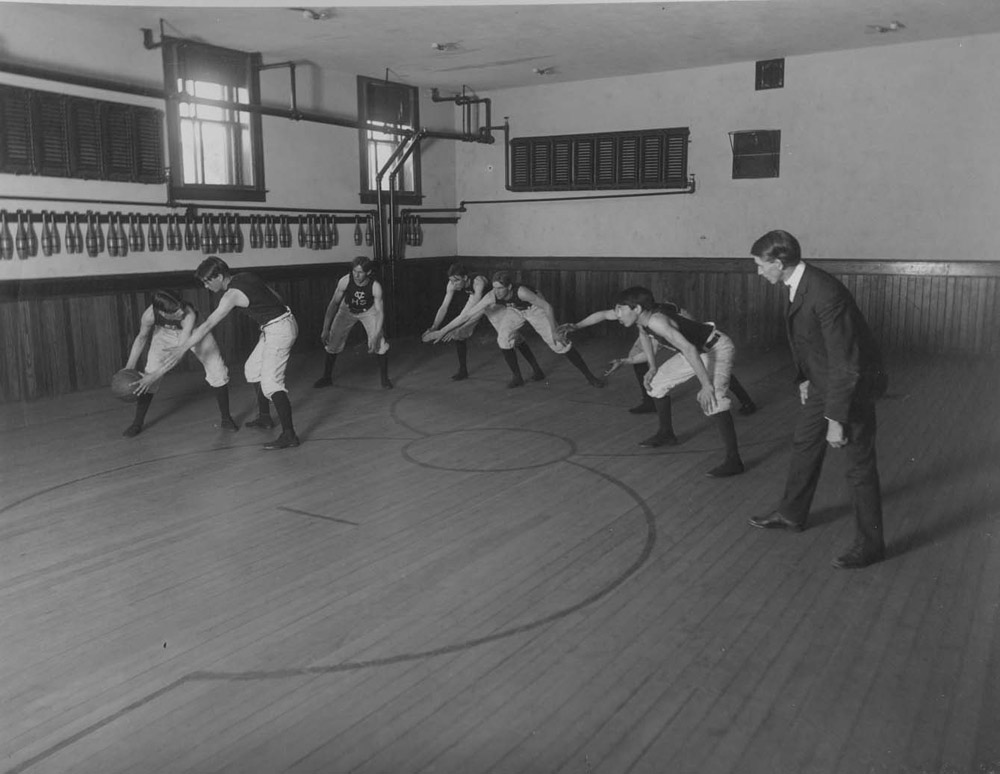 Many Class B basketball players also played football and baseball for their schools. When they graduated, many went on to college to play basketball or football. Northern State University in Aberdeen, South Dakota actively recruited from among Class B basketball players. North Dakota State University and the University of North Dakota also recruited among Class B players. One of the best Class B basketball players was Scott Guldseth of Edinburg who led his team to the 1988 state title. He later played for UND and is the university basketball team's all-time leading scorer. Basketball helped Dr. Scott Guldseth earn his college degrees in clinical psychology.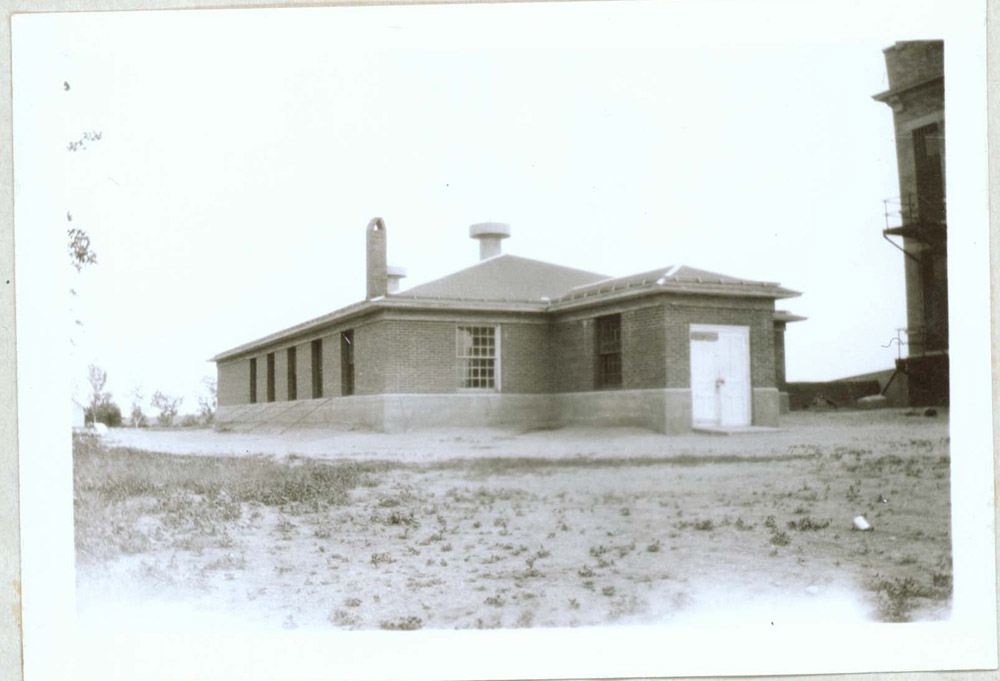 Other Class B players found careers in professional sports. Jim Kleinsasser held titles in track and football, and he led the Carrington Cardinals to the state basketball title in 1995. He was named Most Valuable Player at the state B tournament. He went on to play football for the Minnesota Vikings.
One of North Dakota's best athletes was Butch Lince who played basketball for Mott. He also played football, track, and baseball. Lince played on the Mott teams that won the state tournament in 1961 and 1962 and was named Most Valuable Player in 1962. Lince lettered in three sports at UND, and then went on to play professional football for the Philadelphia Eagles and the Minnesota Vikings.
Class B schools gave athletes a chance to play and excel in several sports. For many young men and women, their training in team sports and state tournament competition helps them make their way to college and careers. Many Class B athletes have returned to Class B competition as coaches and referees.
Why is this important? Class B basketball opened the door to a college education and careers for many young athletes. They earned the respect of their communities, teachers, and coaches, but they also became known throughout the state for their athletic ability.
Class B tournaments cemented friendships, strengthened a town's identity and commitment to its youth, and gave many small towns a moment in the state spotlight. Coaches often said that Class B basketball was one of the best experiences their students could have as they approached adulthood.