The life of a common soldier in the frontier Army consisted of mostly bad meals, poor housing, and boredom. Once in a while, a duty assignment might include something they enjoyed such as teaching the post school or playing in the regimental band. (See Image 1.) Sometimes, particularly in the 1860s and 1870s in Dakota Territory, soldiers (See Image 2.) had an opportunity to use their training, or drill, in combat.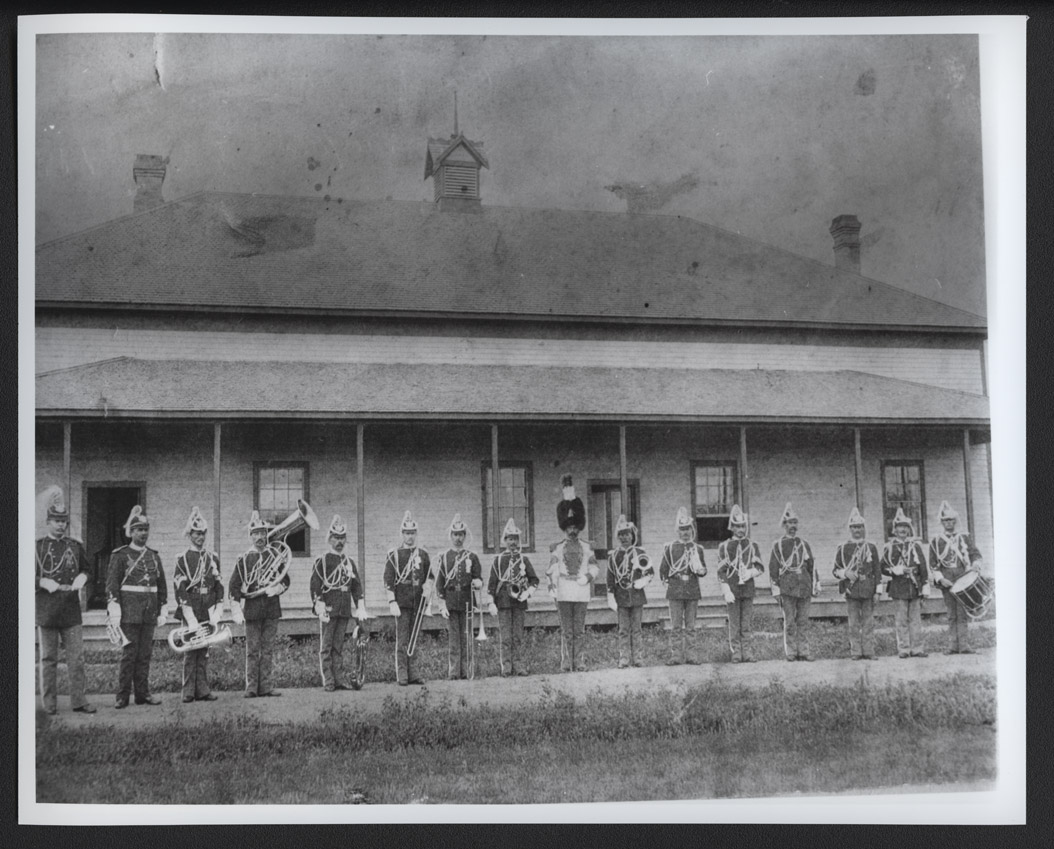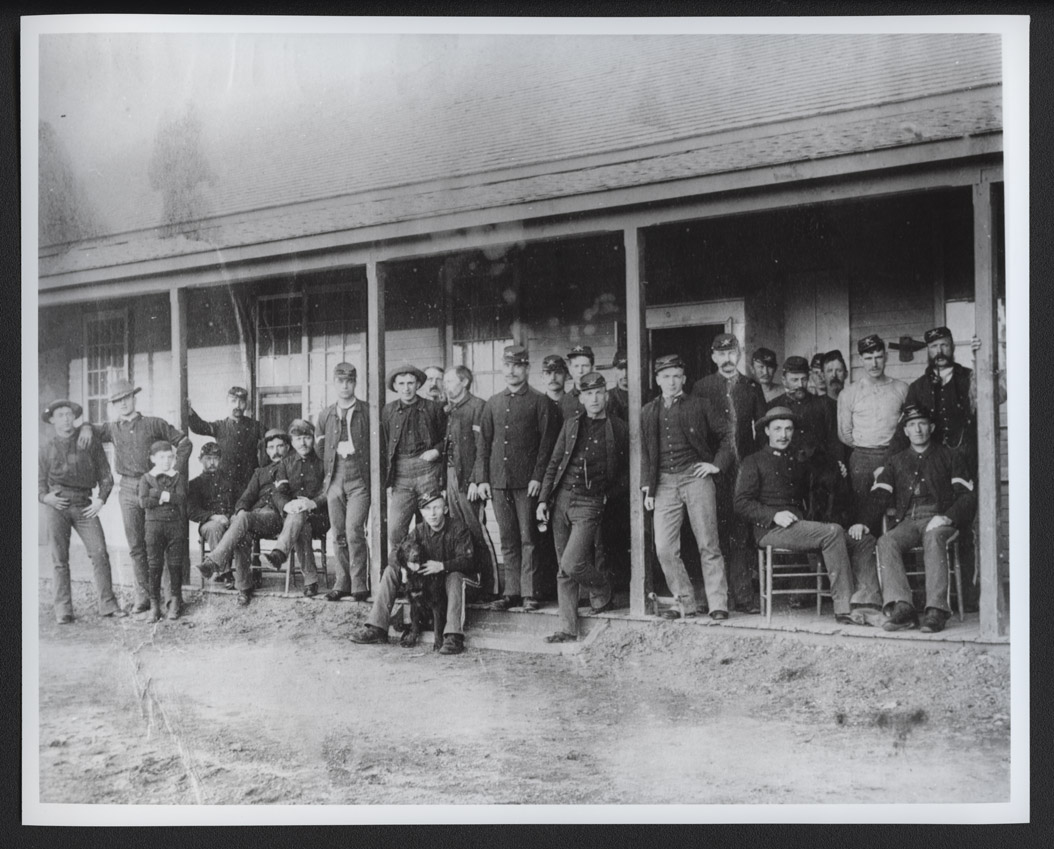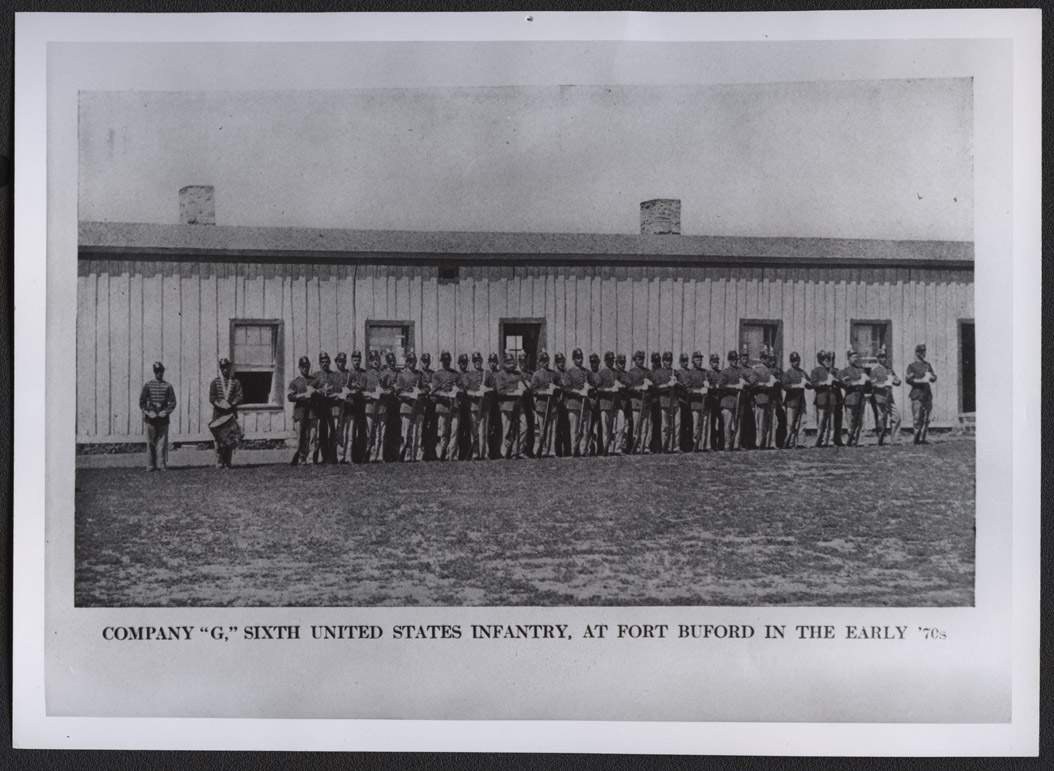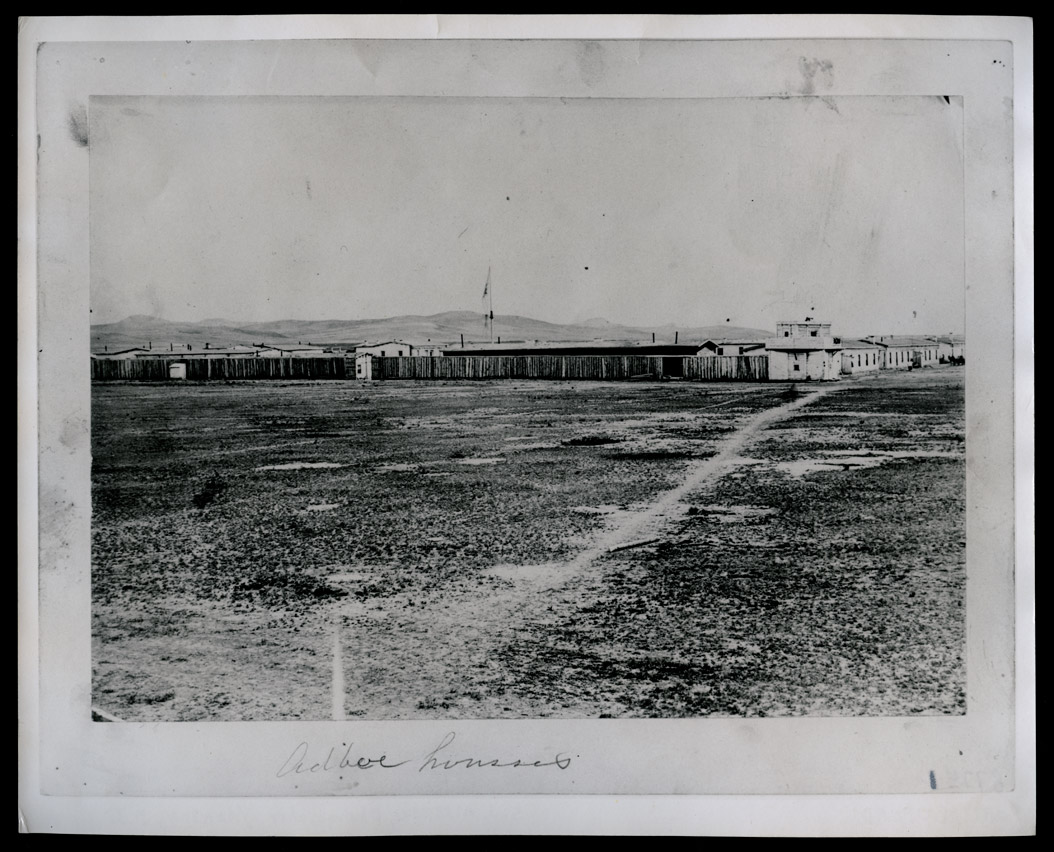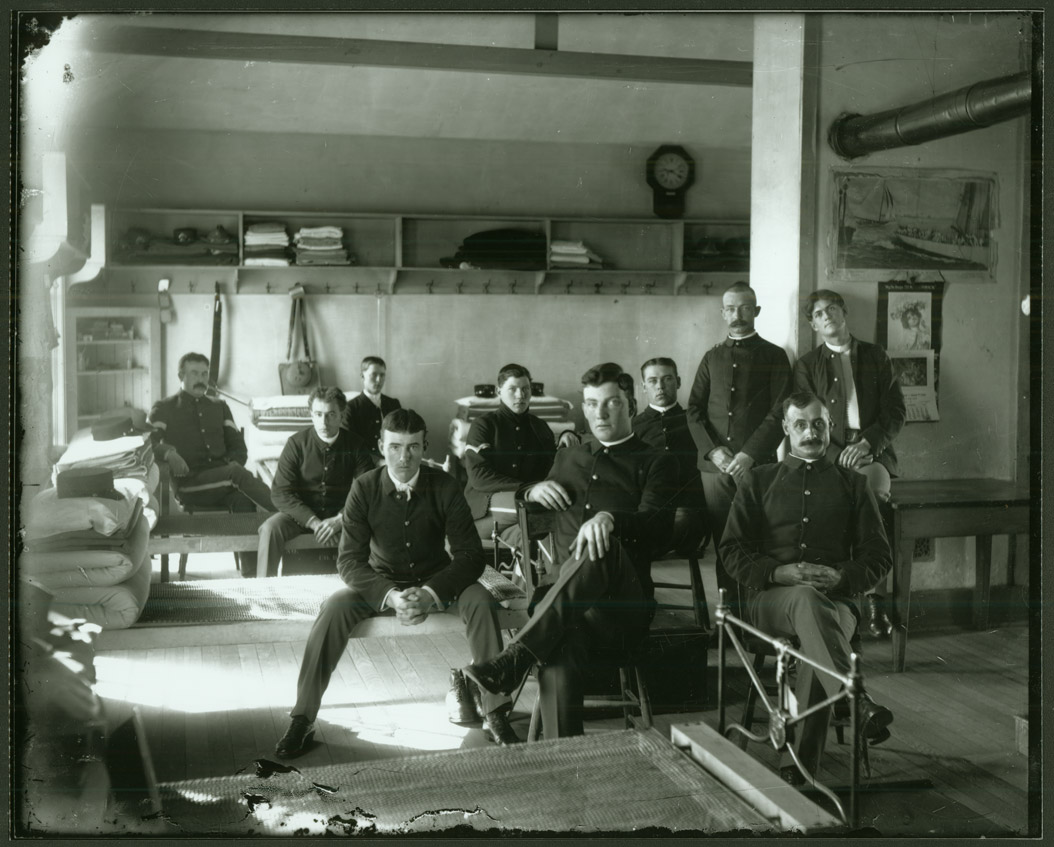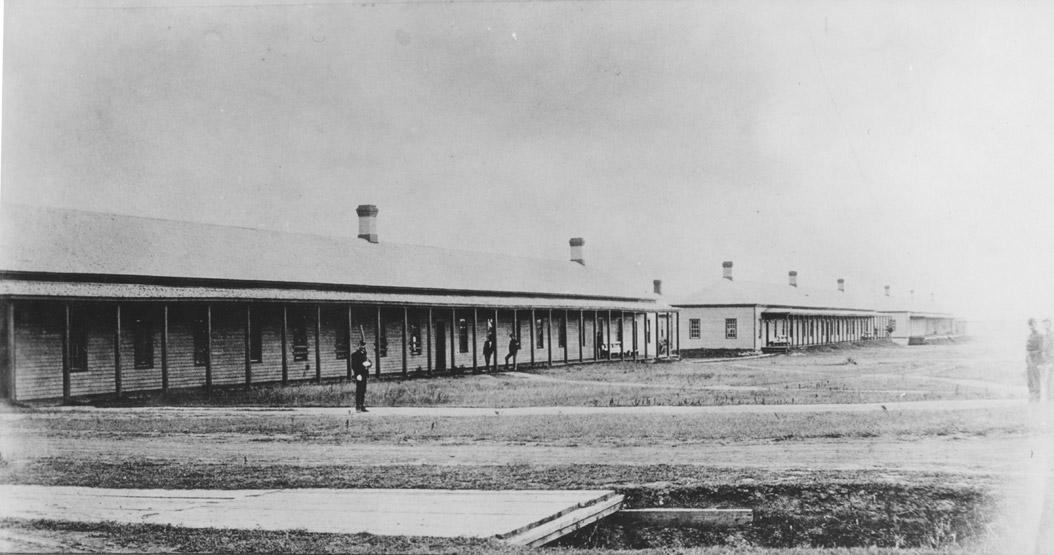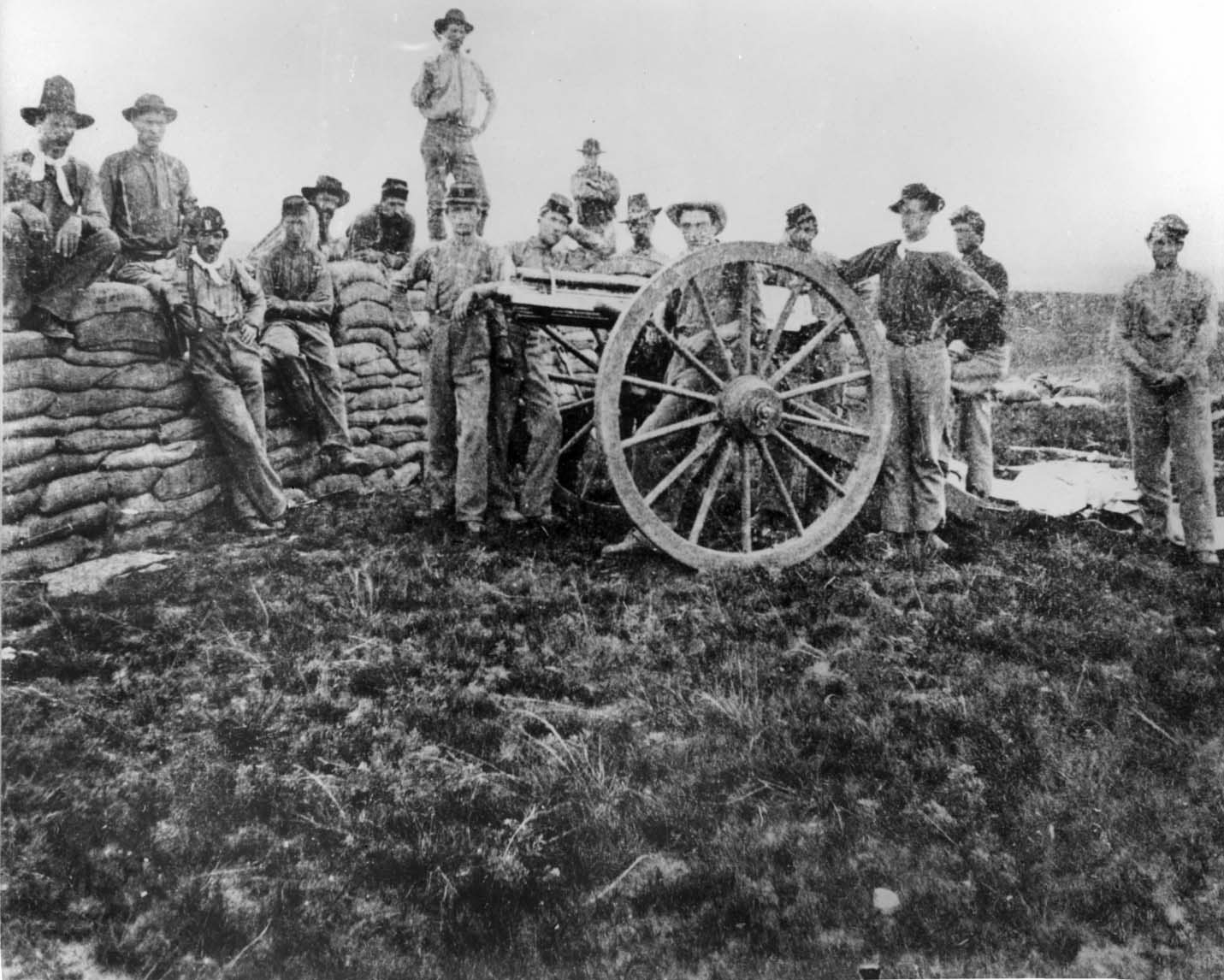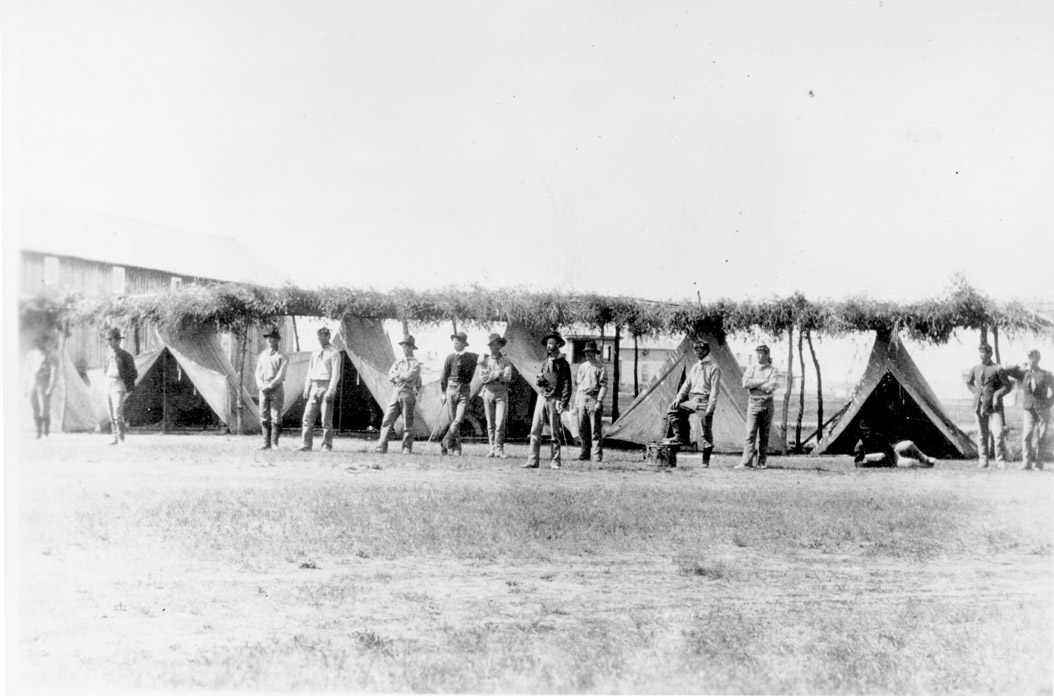 Everyday duties were often just chores. The Army called it fatigue duty. A soldier might be ordered to chop wood for heating or cooking, tend a company garden or an officer's garden, or construct a building. (See Document 2.)
Document 2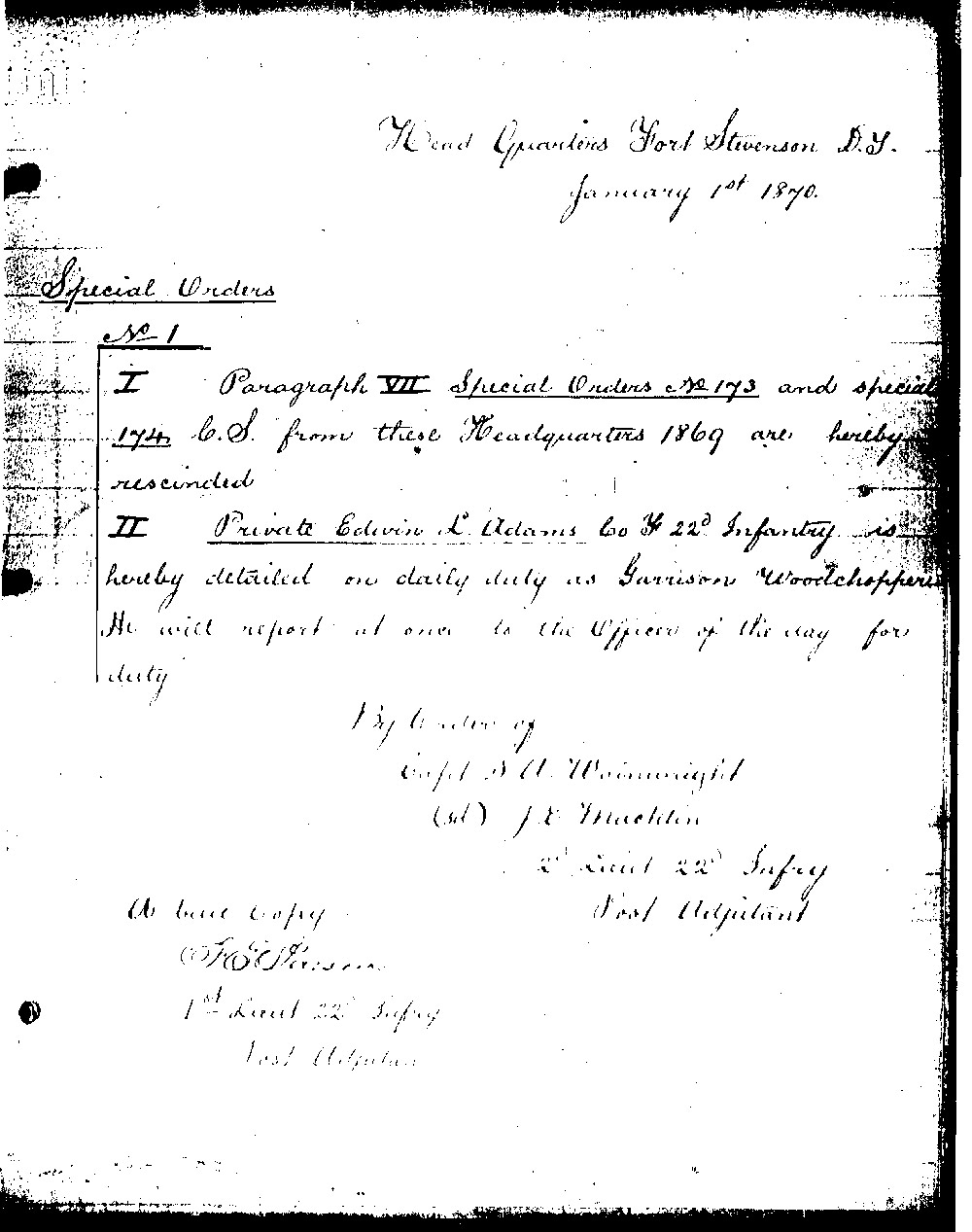 Head Quarters Fort Stevenson D. T.
January 1st 1870
Special Orders
No 1
I. Paragraph VII Special Orders No. 173 and special 174 C.S. from these Headquarters 1869 are hereby rescinded.
II. Private Edwin L Adams Co H 22d Infantry is hereby detailed on daily duty as Garrison Woodchopper. He will report at once to the Officer of the day for duty.
By Order of
Capt S. A. Wainwright
(sd) J. E. Macklin
2d Lieut 22 Infry
Post Adjutant
A true copy
F. E. Parsons
1st Lieut 22d Infry
Post Adjutant
SHSND MSS 32078
Soldiers had to clean corrals, cook, and "police," or clean up, the post. The work was tedious, and many soldiers complained that the work was demeaning. A soldier with particular skills, such as carpentry or music, might receive extra duty pay in regard for his skilled service. (See Document 3.)
Document 3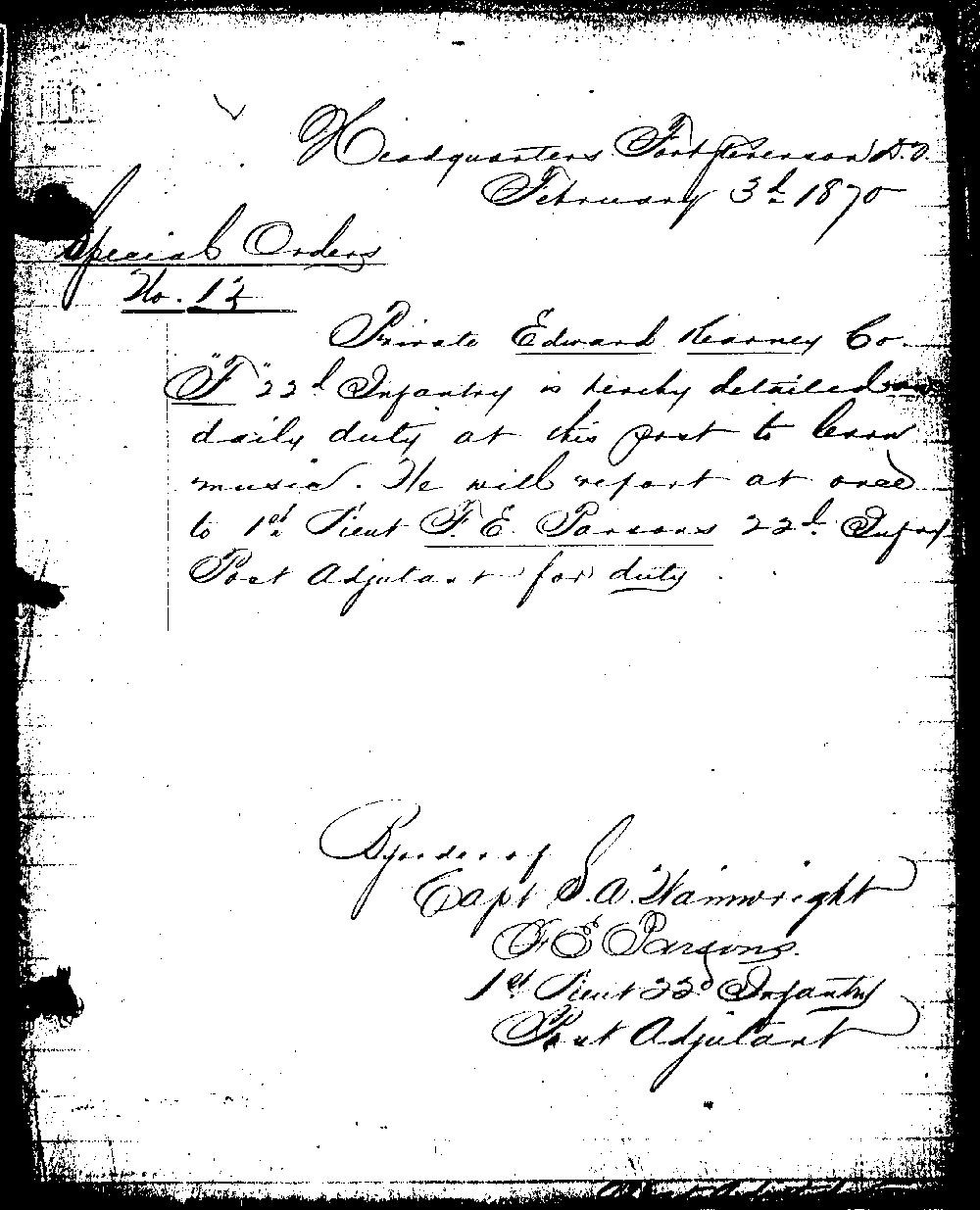 Headquarters Fort Stevenson D.T.
February 3d 1870
Special Orders
No. 13
Private Edward Kearney Co "F" 22d Infantry is hereby detailed on daily duty at this post to learn music. He will report at once to 1st Lieut. F. E. Parsons 22d Infry Post Adjutant for duty.
By orders of
Capt S. A. Wainwright
F. E. Parsons
1st Lieut 22d Infantry
Post Adjutant
SHSND MSS 32078
Document 4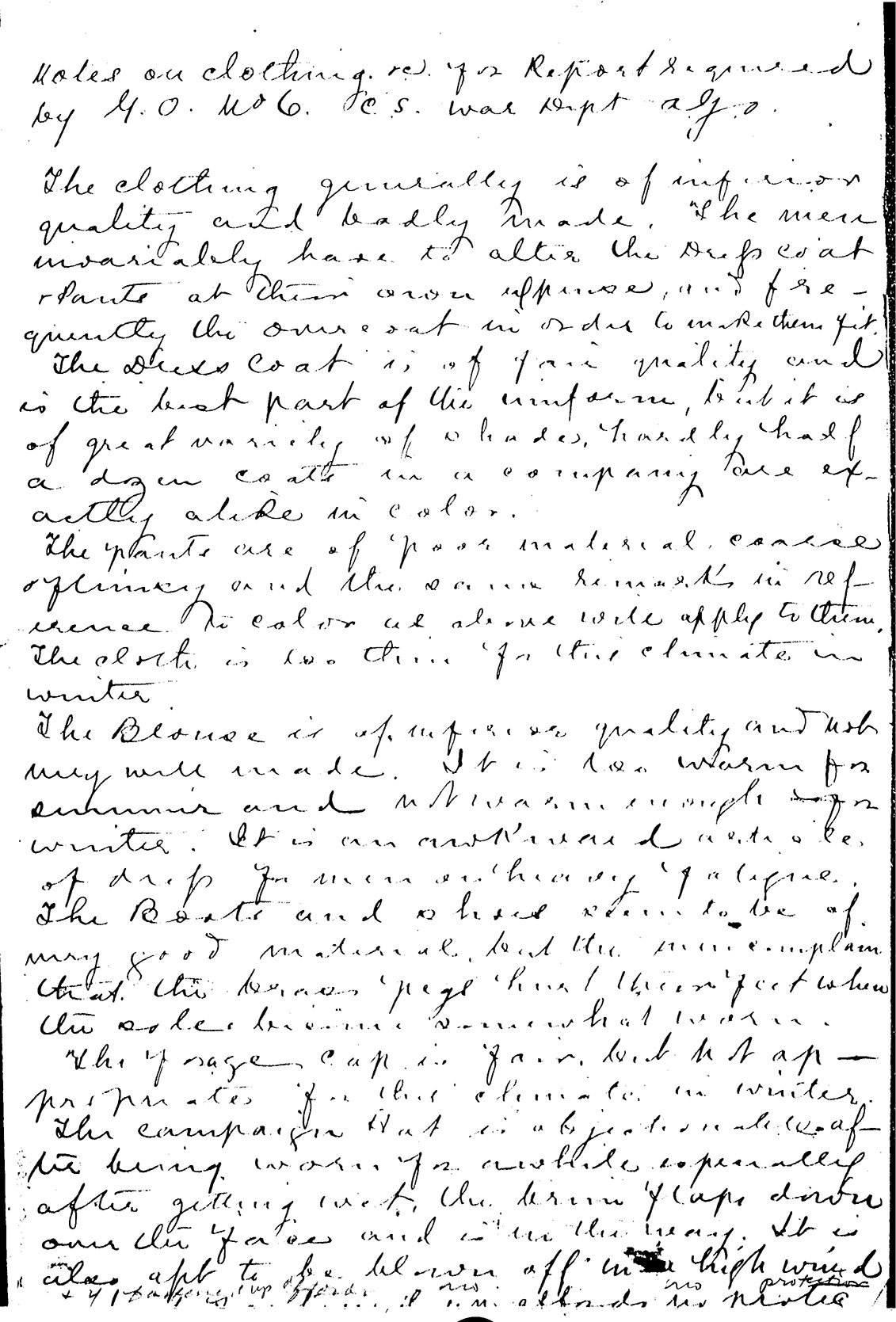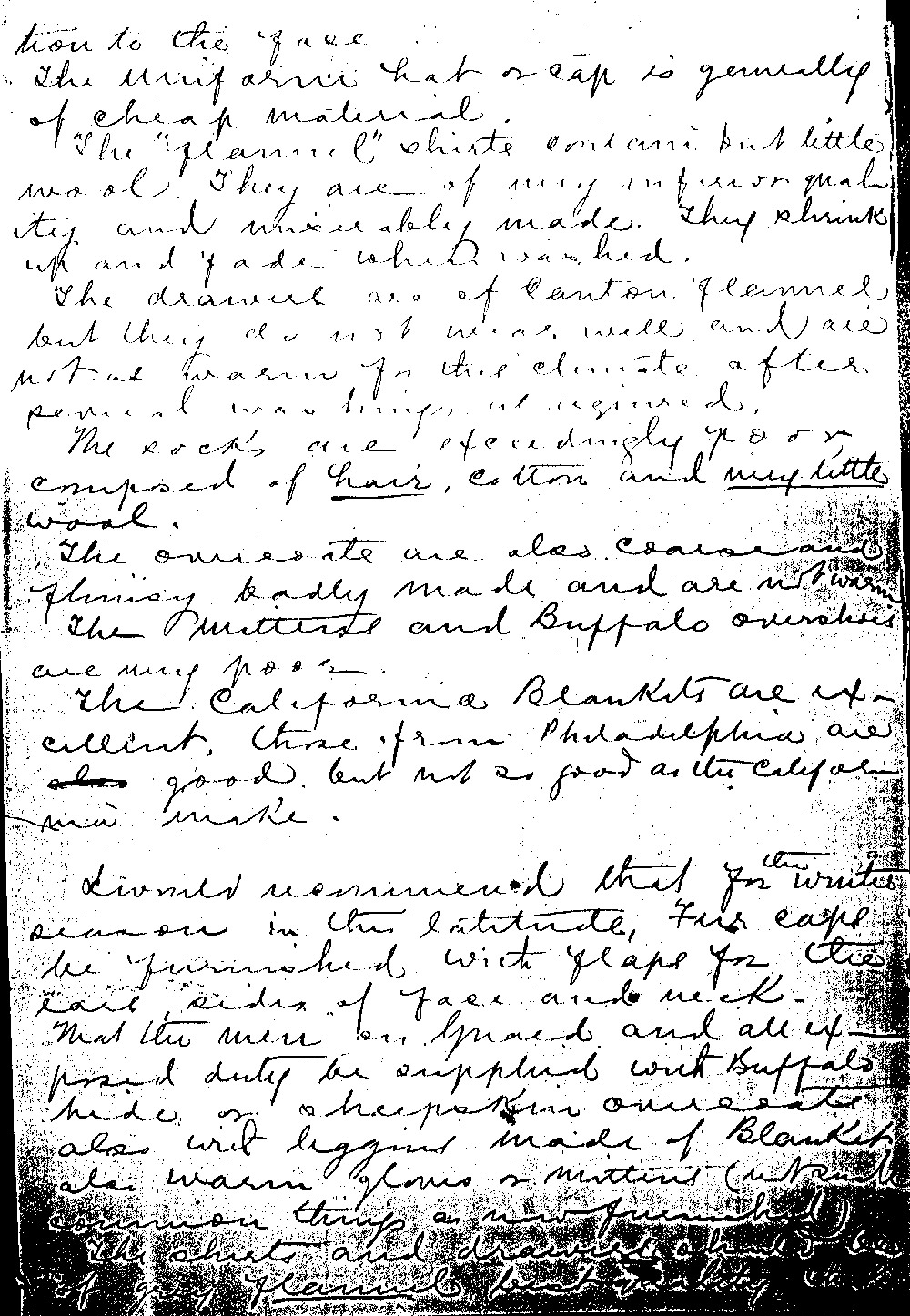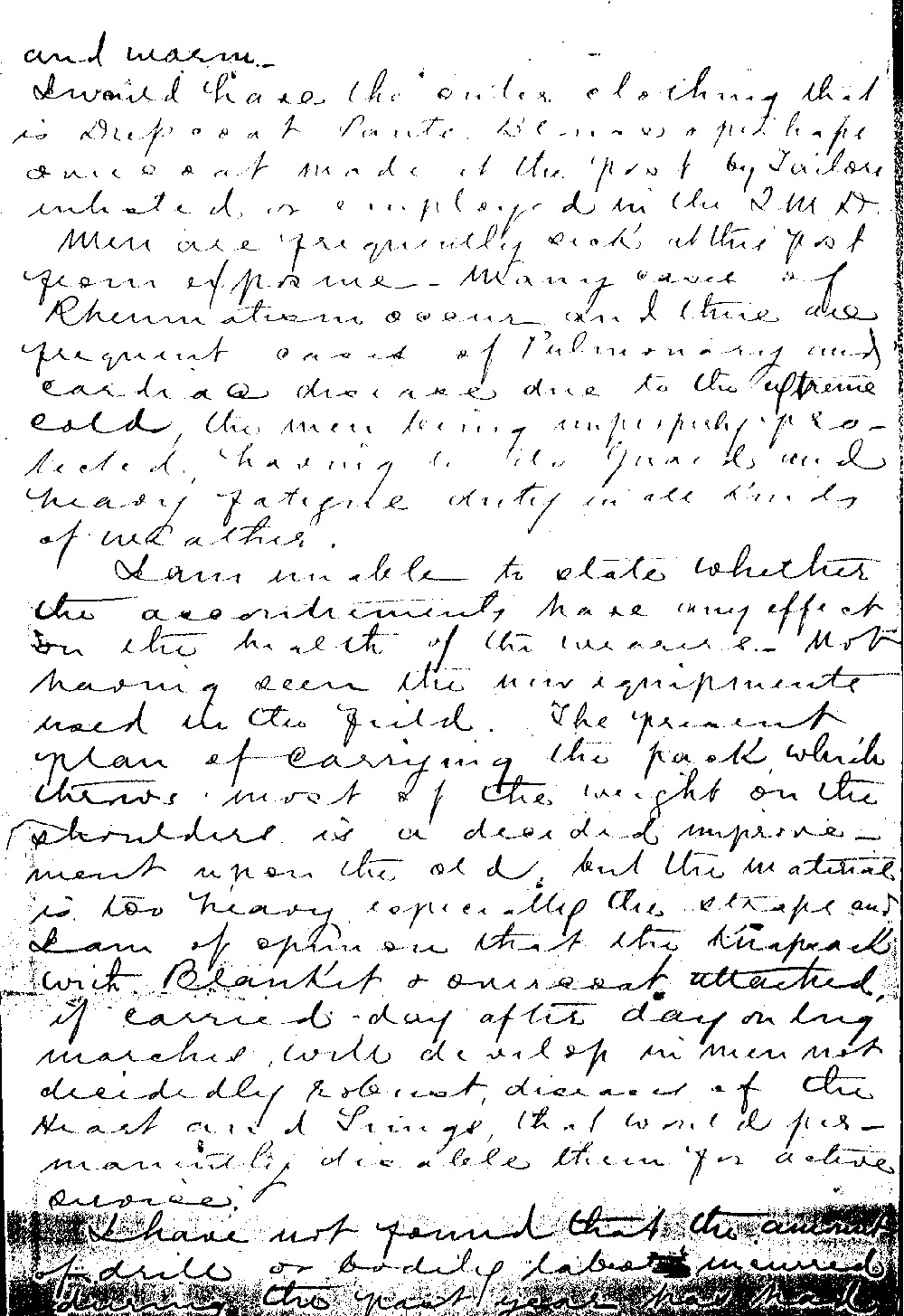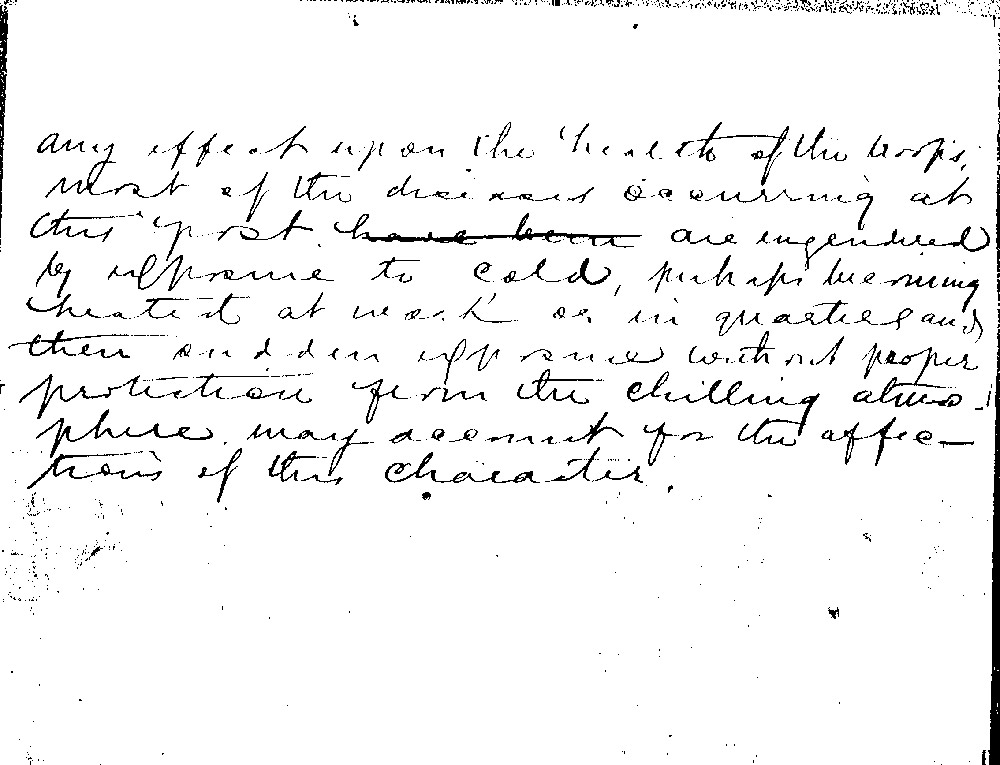 Notes on clothing [illegible] Report Required by G. O. No. 6 CS War Dept AGO
The clothing generally is of inferior quality and badly made. The men invariably have to alter the Dress coat and pants at their own expense, and frequently the overcoat in order to make them fit. The Dress coat is of fair quality and is the best part of the uniform, but it is of great variety of shade, hardly half a dozen coats in a company are exactly alike in color.
The pants are of poor material, coarse flimsy and the same remarks in reference to color as above will apply to them. The cloth is too thin for the climate in winter. The Blouse is of inferior quality and not very well made. It is too warm for summer and not warm enough for winter. It is an awkward article of dress for men on heavy fatigue.
The Boots and shoes seem to be of very good material, but the men complain that the brass "pegs" hurt their feet when the sole become somewhat worn.
The forage cap is fair, but not appropriate for the climate in winter. The campaign Hat is a objectionable after being worn for a while especially after getting wet. The brim flaps down over the face and is in the way. It is also apt to be blown off in the high wind and if fastened up affords no protection to the face.
The uniform hat or cap is generally of cheap material.
The "flannel" shirts contain but little wool. They are of very inferior quality and miserably made. They shrink up and fade when washed.
The drawers are of canton flannel but they do not wear well and are not as warm for the climate after several washings as required.
The sock's are exceedingly poor, composed of hair, cotton and very little wool.
The overcoats are also coarse and flimsy badly made and are not warm.
The mittens and Buffalo overshoes are very poor.
The California Blankets are excellent. Those from Philadelphia are good but not so good as the California make.
I would recommend that for the winter season in this latitude, Fur caps be furnished with flaps for the ears, sides of the face and neck.
That the men on Guard and all exposed duty be supplied with Buffalo hide or sheepskin overcoats also with leggins made of Blanket Also warm gloves or mittens (not such common things as now furnished)
The shirts and drawers should be of grey flannel, best quality, thick and warm.
I would have the outer clothing that is Dress coat Pants Blouse & perhaps overcoat made at the post by Tailors enlisted or employed in the F M D.
Men are frequently sick at the post from exposure - many cases of Rheumatism occur and there are frequent cases of Pulmonary and cardiac disease due to the extreme cold, the men being improperly protected having to do guard and heavy fatigue duty in all kinds of weather.
I am unable to state whether the accoutrements have any effect on the health of the wearers - not having seen the new equipments used in the field. The present plan of carrying the pack which throws most of the weight on the shoulders is a decided improvement upon the old, but the material is too heavy especially the straps and I am of the opinion that the knapsack with Blanket & overcoat attached if carried day after day on long marches, will develop in men not decidedly robust, diseases of the Heart and Lungs, that would permanently disable them for active service.
I have not found that the amount of drill or bodily labor incurred during the past year has had any affect upon the health of the troops most of the diseases occurring at this post have been are engendered by exposure to cold, perhaps becoming heated at work or in quarters and then sudden exposure without proper protection from the chilling atmosphere may account for the affections of this character.
[This report was prepared by the Fort Buford post surgeon on March 13, 1875]
SHSND MSS 32078
When not on fatigue duty, soldiers had drill. Drills consisted of practicing marching (or riding their horses if they were in the cavalry), target practice, and other preparations for combat. (See Image 3.)
Soldiers also served as "strikers," or servants to officers and their families. The household duties of strikers included cooking, cleaning, and child care. Sometimes an officer's family became fond of a striker. The soldiers might enjoy the duty under those circumstances. Occasionally, strikers preferred to avoid household duty, especially in a married officer's home. An officer's wife could be a very demanding employer. The Army ended the tradition of soldier/strikers in the early 1880s, though many officers continued to hire strikers for pay.
Soldiers on guard duty or at certain other duties such as nurse or orderly in the post hospital did not serve on fatigue duty. Guard duty could occur at any time of day or night, in any weather. (See Image 4.) Many soldiers preferred guard duty to fatigue duty because it was "soldiering," not chores.
The Army was responsible for feeding, clothing, housing, and the health of soldiers. (See Document 4.) The Army wanted the soldiers to be healthy and fit. The Army, however, was always looking for ways to reduce costs, and costs were reduced often at the expense of soldiers' comforts. Housing, particularly between the end of the Civil War (1865) and 1878, was often very poor. (See Document 5.)
Document 5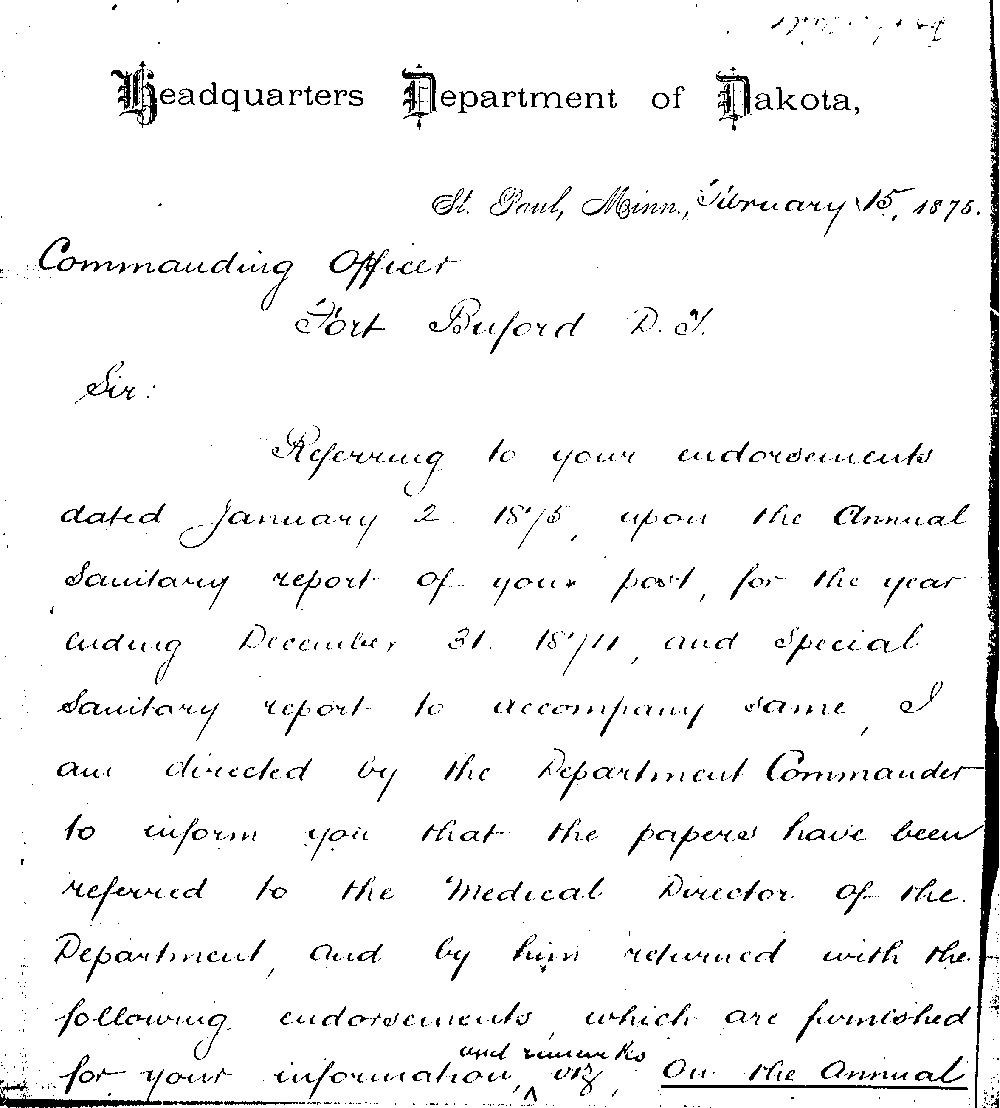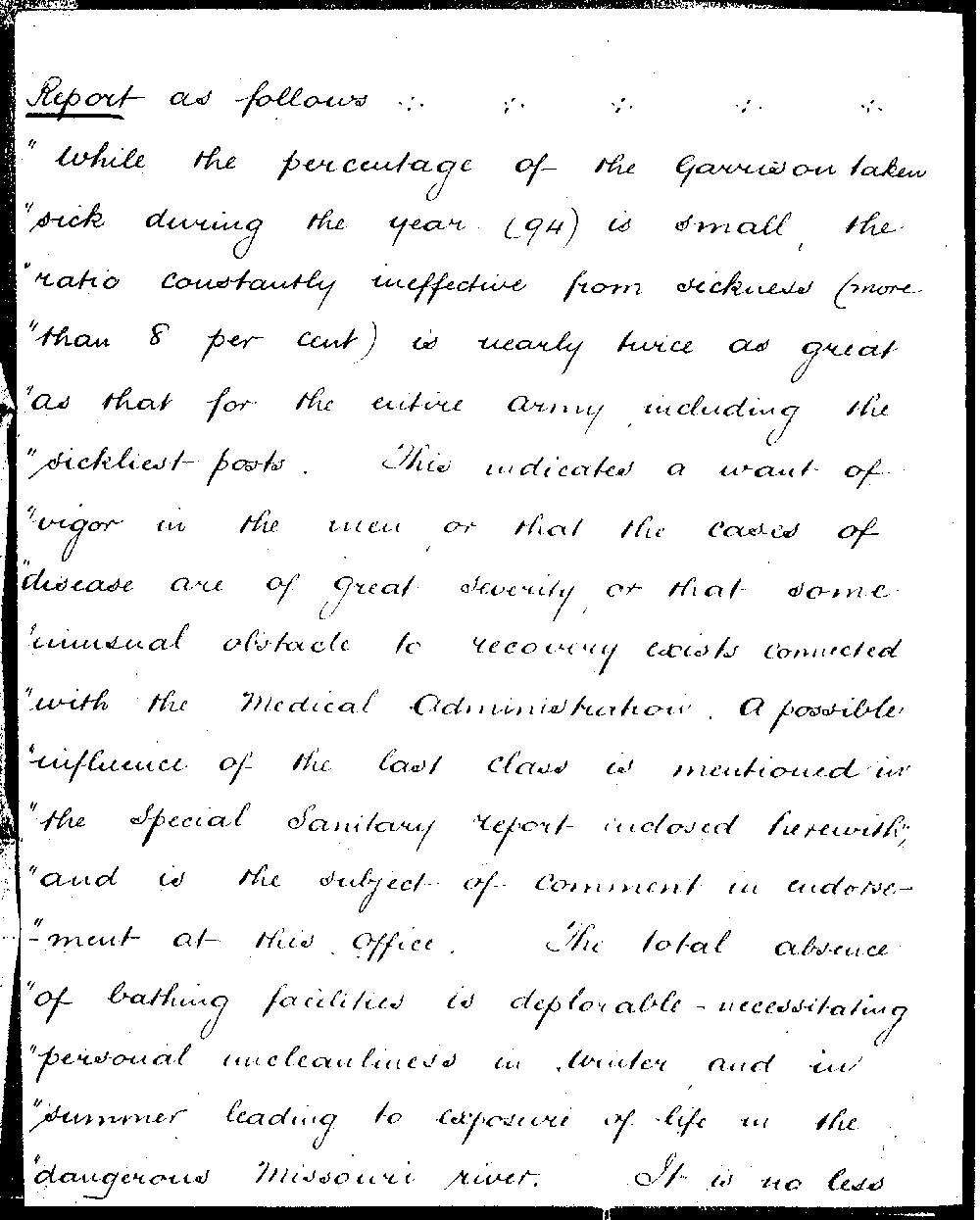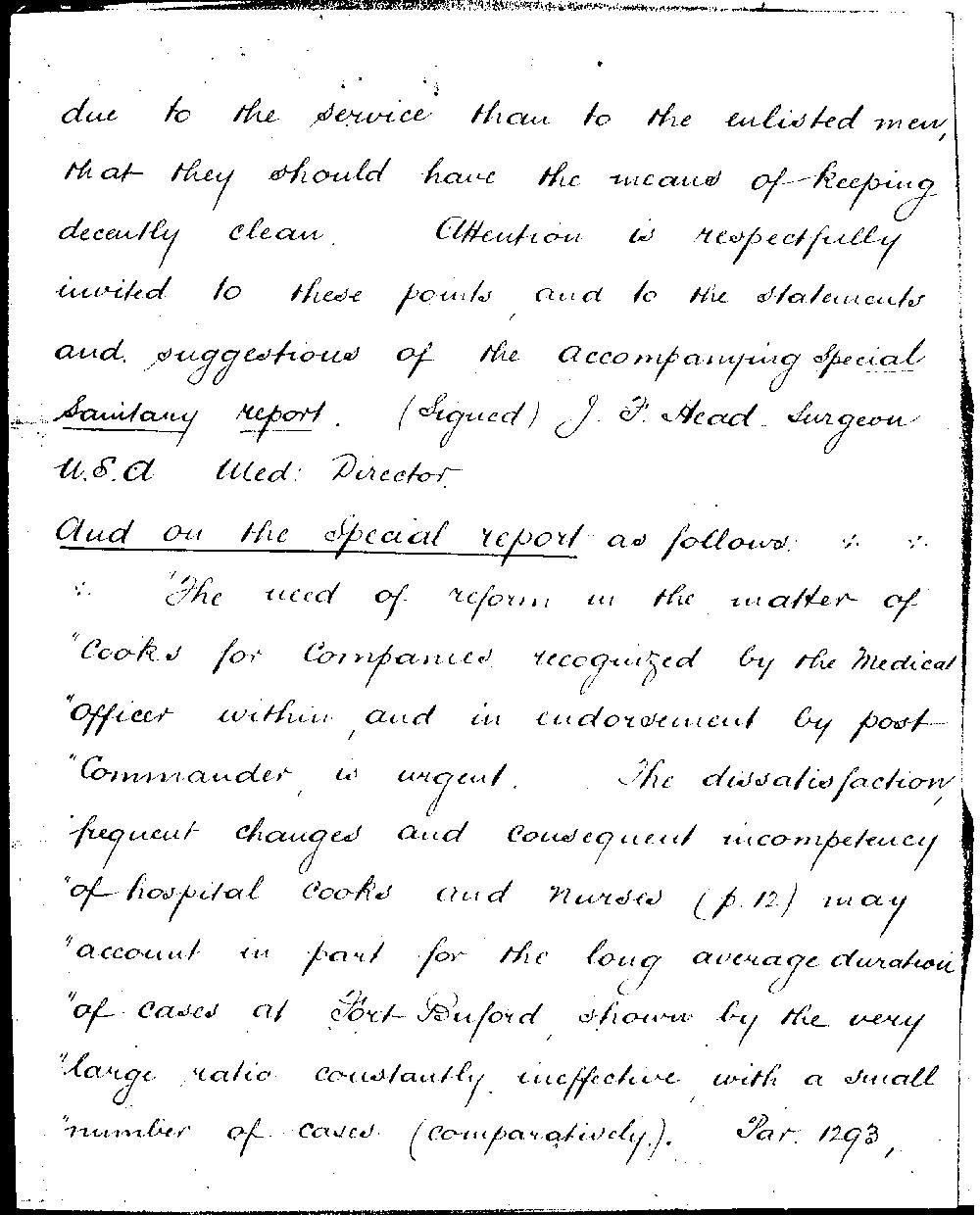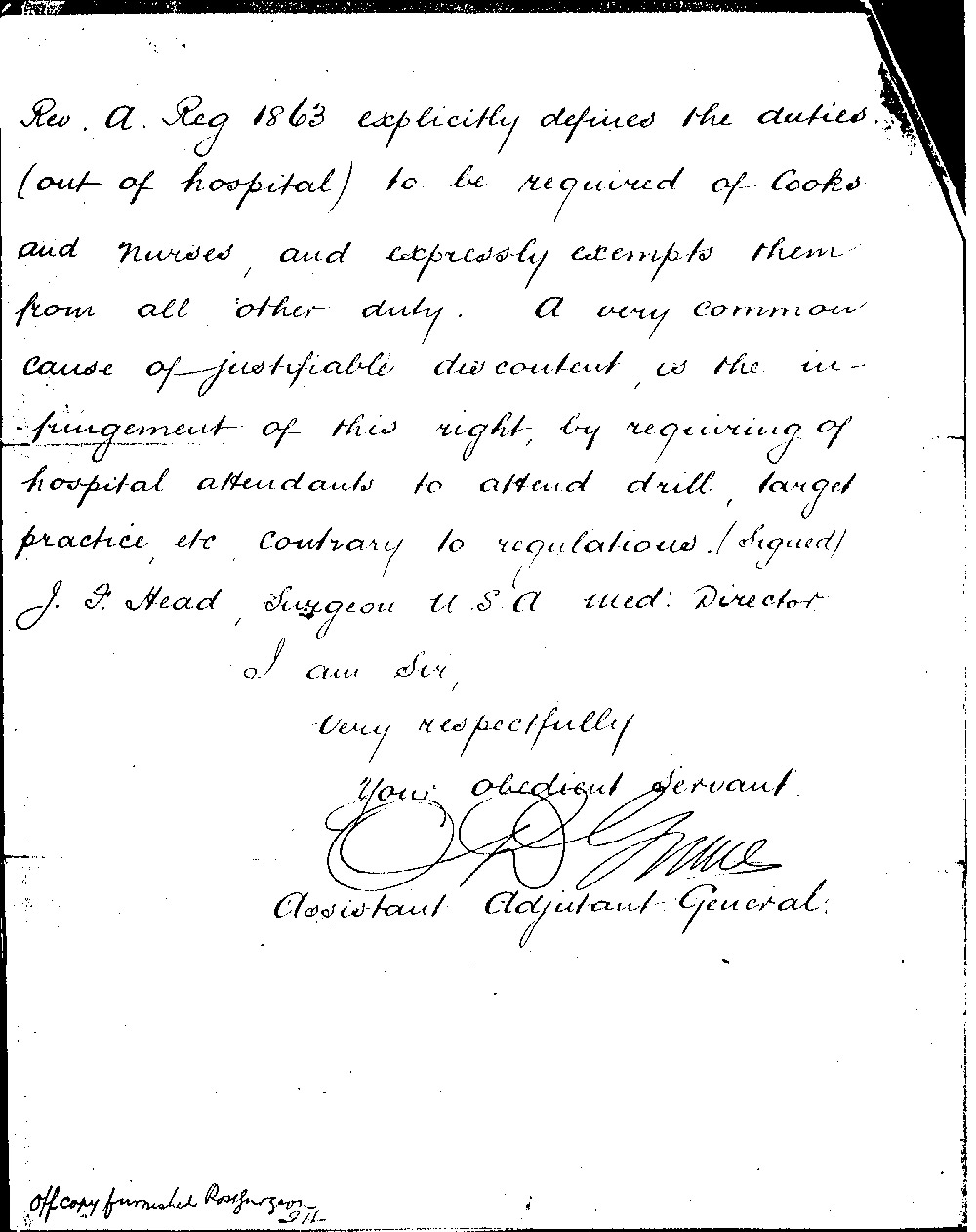 Headquarters Department of Dakota
St. Paul, Minn., February 15, 1875
Commanding Officer
Fort Buford D. T.
Sir:
Referring to your endorsements dated January 2, 1875, upon the Annual Sanitary report of your post, for the year ending December 31 1874, and Special Sanitary report to accompany same, I am directed by the Department Commander to inform you that the papers have been referred to the Medical Director of the Department , and by him returned with the following endorsements, which are furnished for you information with remarks viz, On the Annual Report as follows: :: :: :: :: ::
while the percentage [number] of garrison taken sick during the year (94) is small, the ratio constantly ineffective from sickness (more than 8 per cent) is nearly twice as great as that for the entire Army including the sickliest posts. This indicates a want of vigor in the men or that the cases of disease are of great severity or that some unusual obstacle to recovery exists connected with the Medical Administration. A possible influence of the last class is mentioned in the Special Sanitary report enclosed herewith and is the subject of comment in endorsement at this office. The total absence of bathing facilities is deplorable – necessitating personal uncleanliness in winter and in summer leading to exposure of life in the dangerous Missouri river. It is no less due to the service than to the enlisted men, that they should have the means of keeping decently clean. Attention is respectfully invited to these points, and to the statements and suggestions of the accompanying Special Sanitary report.
And on the Special Report as follows: :: :: :: ::
The need of reform in the matter of cooks for companies recognized by the Medical officer within, and in endorsement by post Commander is urgent. The dissatisfaction, frequent changes, and consequent incompetency of hospital cooks and nurses (p.12) may account in part for the long average duration of cases at Fort Buford shown by the very large ratio constantly ineffective with a small number of cases (comparatively). Par[agraph]. 1293, Rev. A. Reg. 1863 explicitly defined the duties (out of hospital) to be required of cooks and nurses, and expressly exempts them from all other duty. A very common cause of justifiable discontent, is the infringement of this right, by requiring of hospital attendants to attend drill, target practice, etc. contrary to regulations (signed) J. T Head, Surgeon U. S. A. Med: Director
I am Sir,
Very respectfully
Your Obedient Servant
O.D. Greene
Assistant Adjutant General
SHSND MSS 32064
Barracks (See Image 5.)where the soldiers lived were cold in winter, hot in summer. Air quality in the barracks was often poor. The wool garments issued soldiers were too warm for summer and not warm enough for winter. (See Image 6.) Food improved through this time period, but on the northern Great Plains, post surgeons reported many cases of scurvy (a nutritional deficiency disease). Later, the posts built storage cellars for scurvy-preventing vegetables and soldiers maintained their own gardens in the early 1870s.
When soldiers left the post on a military mission or campaign, (See Image 7.) they performed well. (See Document 6.)
Document 6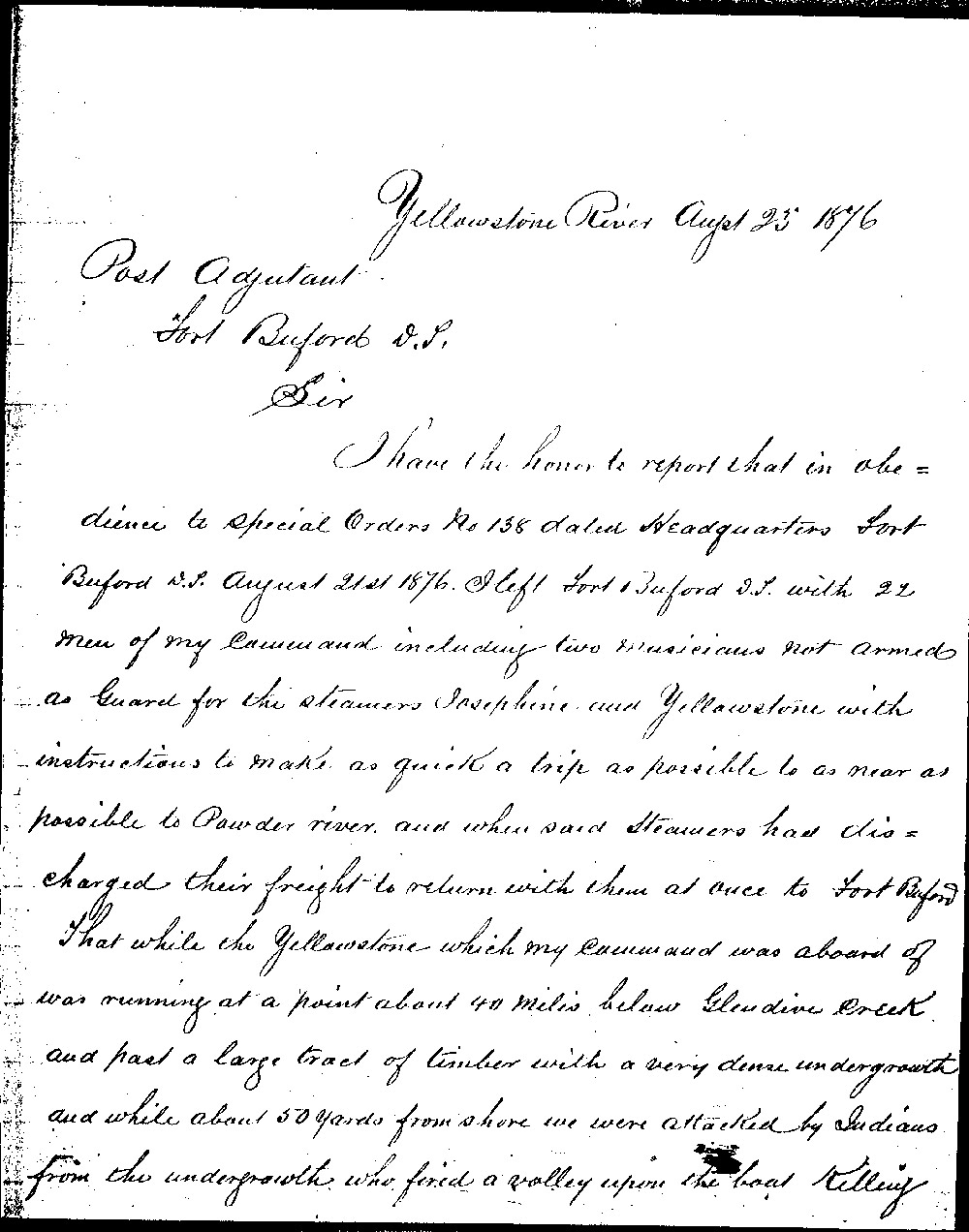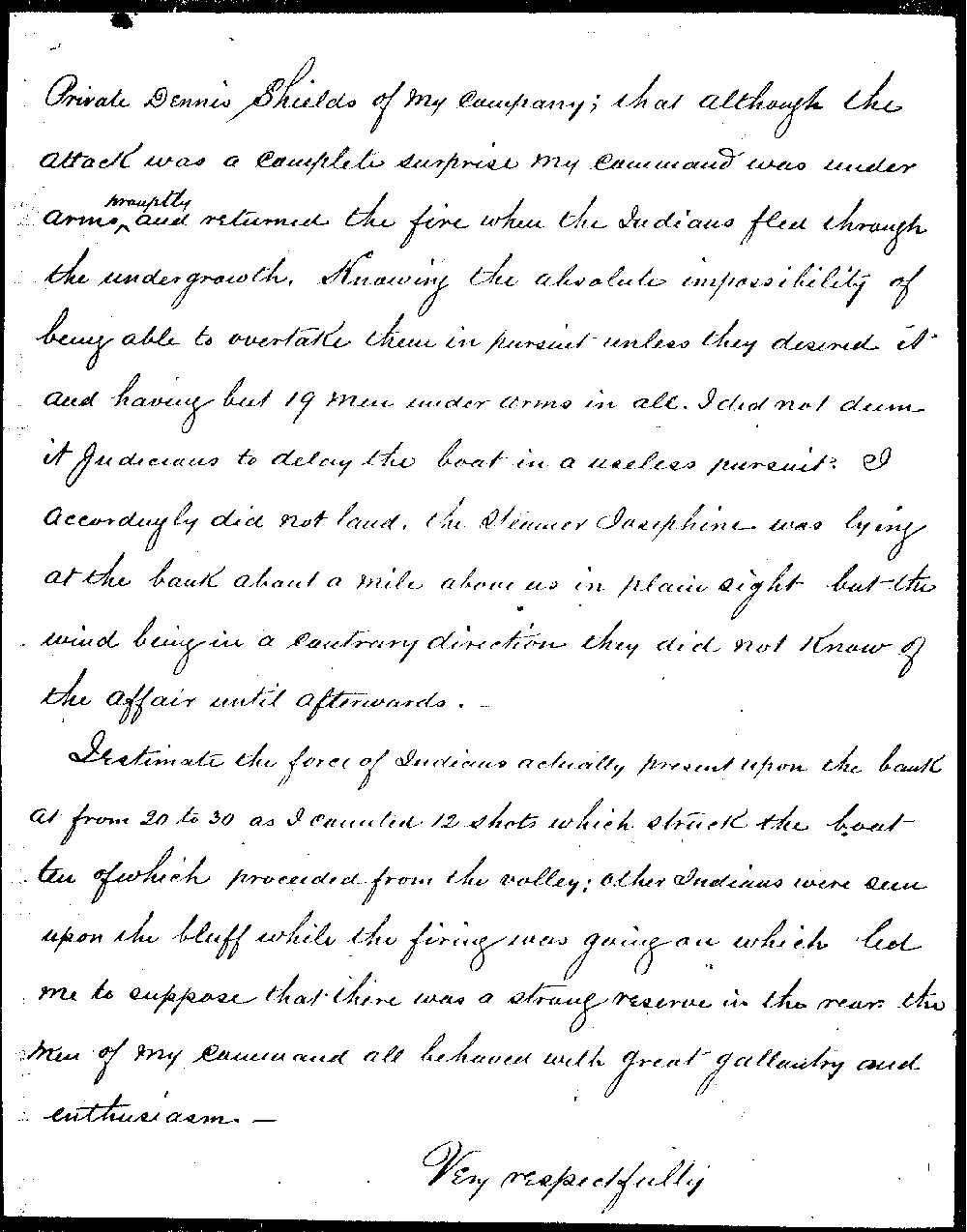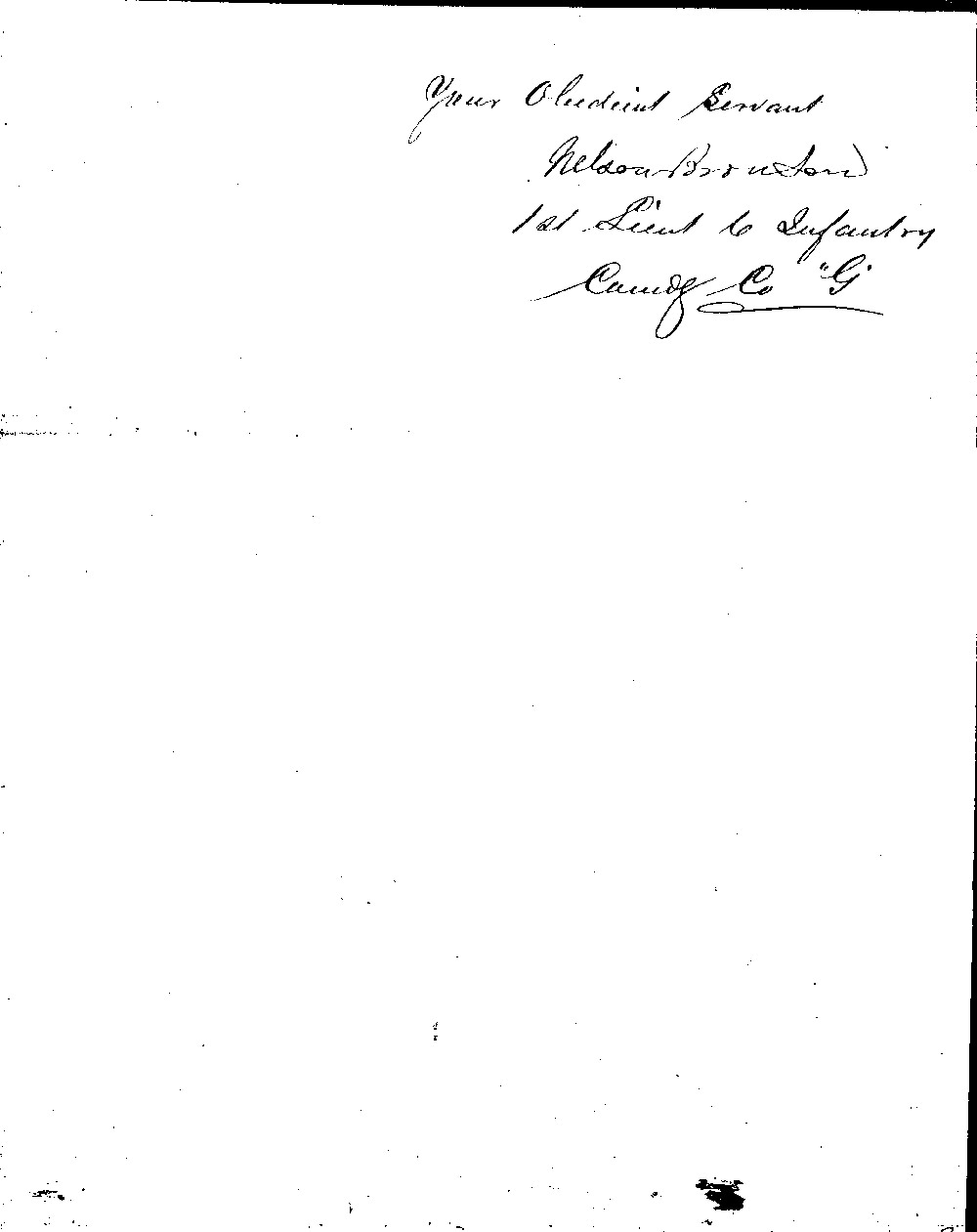 Yellowstone River August 23 1876
Post Adjutant
Fort Buford D. T.
Sir
I have the honor to report that in obedience to special orders No. 138 dated Headquarters Fort Buford D. T. August 21st 1876. I left Fort Buford D. T. with 22 men of my command including two musicians not armed as Guard for the steamers Josephine and Yellowstone with instructions to make as quick a trip as possible to as near as possible to Powder river and when said steamers had discharged their freight to return with them at once to Fort Buford.
That while the Yellowstone which my command was aboard of was running at a point about 40 miles below Glendive Creek and past a large tract of timber with a very dense undergrowth and while about 50 yards from shore we were attacked by Indians from the undergrowth who fired a volley upon the boat Killing Private Dennis Shields of my company; that although the attack was a complete surprise my command was under arms promptly and returned the fire when the Indians fed through the undergrowth. Knowing the absolute impossibility of being able to overtake them in pursuit unless they served it and having but 19 men under arms in all, I did not deem it judicious to delay the boat in a useless pursuit. I accordingly did not land. The steamer Josephine was lying at the bank about a mile above us in plain sight but the wind being in a contrary direction they did not know of the affair until afterwards.
I estimate the force of Indian actually present upon the bank at from 20 to 30 as I counted 12 shots which struck the boat ten of which proceeded from the volley; other Indians were seen upon the bluff while the firing was going on which led me to suppose that there was a strong reserve in the rear. The men of my command all behaved with great gallantry and enthusiasm. –
Very respectfully
Your Obedient Servant
Nelson Bronson
1st Lieut. 6 Infantry
Comdg Co "G"
SHSND MSS 32064
Officers noted their bravery and reported that the soldiers executed their field duties well. (See Image 8.)
In the 19th century (and half of the 20th century) soldiers served in racially segregated regiments. African Americans enlisted after the Civil War and served in two infantry (24th and 25th) and two cavalry (9th and 10th) regiments under the leadership of white officers. Native Americans enlisted as scouts. Scouts served with the regiments, but lived with their families near the post.
Regiments often included immigrants from Europe. Some of these men had experience as soldiers in their homeland and brought excellent soldiering skills with them to the U.S. Army. They joined the Army to avoid life in the tenements and factories of eastern cities or to learn English and American ways. (See Document 7.) They brought with them a deep love for democracy and freedom. In some regiments, less than 50 per cent of the soldiers had been born in the United States.
Document 7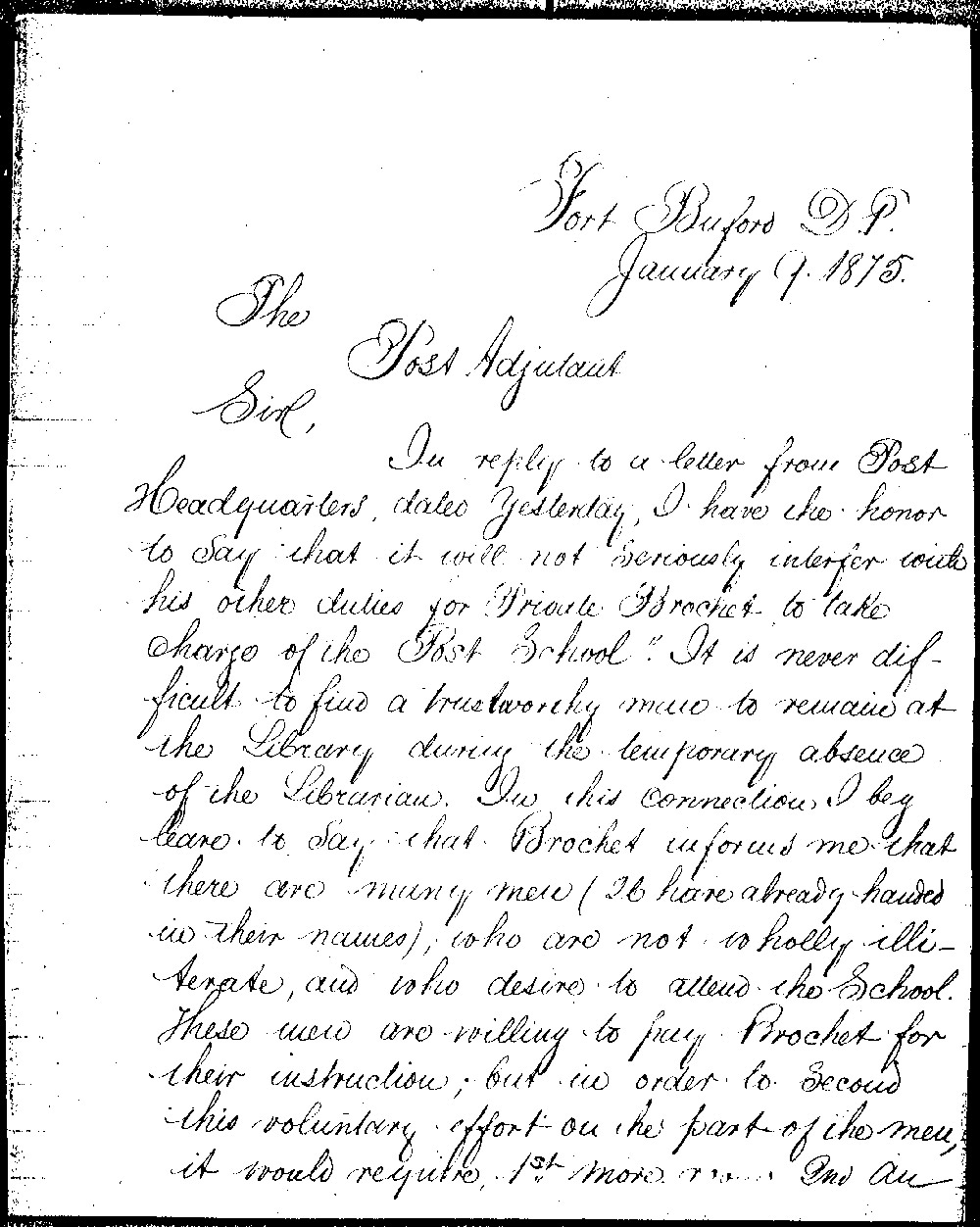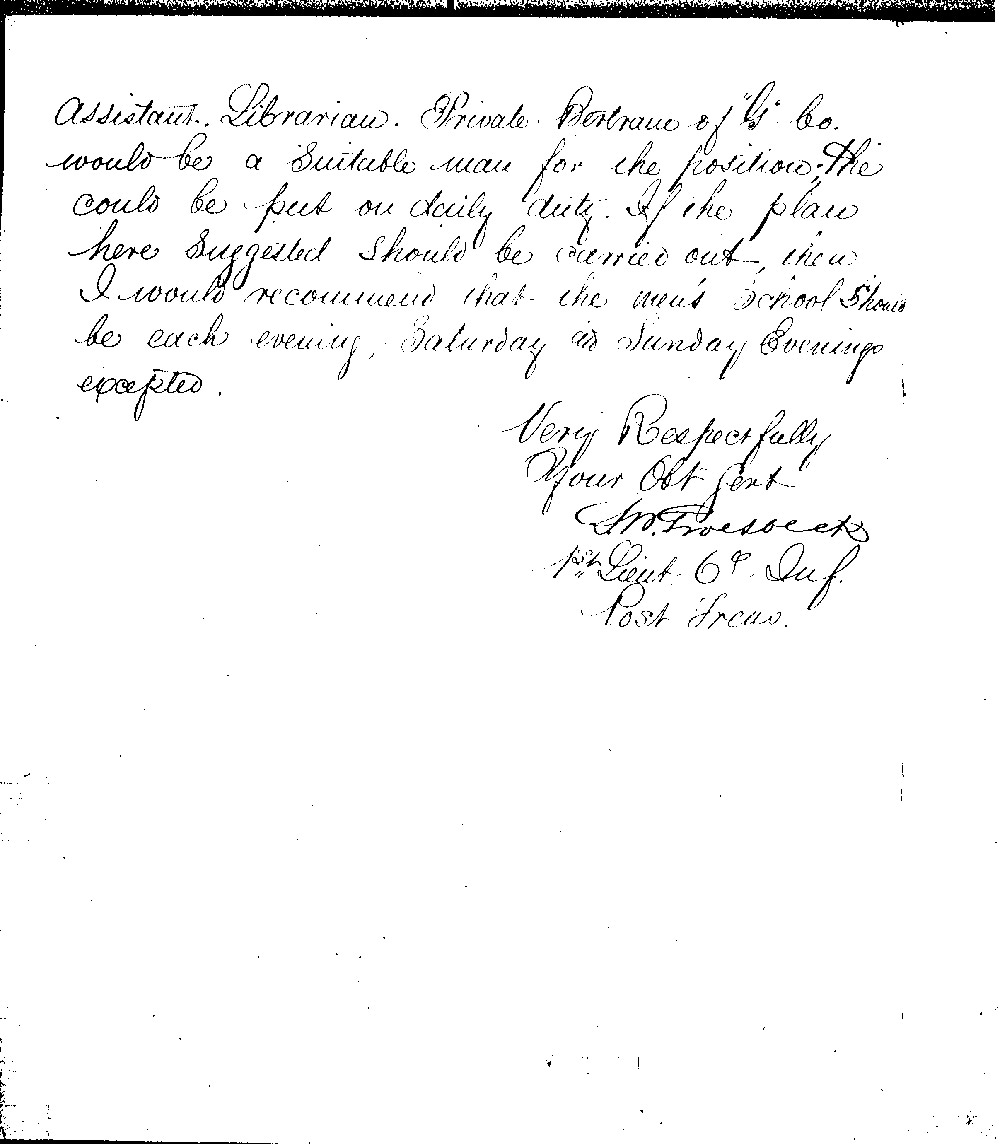 Fort Buford D. T.
January 9, 1875
The Post Adjutant
Sir,
In reply to a letter from Post Headquarters, dated Yesterday, I have the honor to Say that it will not seriously interfere with his other duties for Private Brochet to take charge of the Post School. It is never difficult to find a trustworthy man to remain at the library during the temporary absence of the Librarian. In this connection I beg leave to say that Brochet informed me that here are many men (26 have already handed in their names), who are not wholly illiterate, and who desire to attend the School. These men are willing to pay Brochet for their instruction; but in order to Second this voluntary effort on the part of the men, it would require 1st more room, 2nd an Assistant Librarian. Private Bertram of "G" Co[mpany] would be a suitable man for the position. He could be put on daily duty. If the plan here suggested should be carried out, then I would recommend that the men's school should be each evening. Saturday and Sunday Evenings excepted.
Very Respectfully
Your Obt Svt
F. N. Troesoeth
1st Lieut. 6th Inf
Post Treas.
SHSND MSS 32064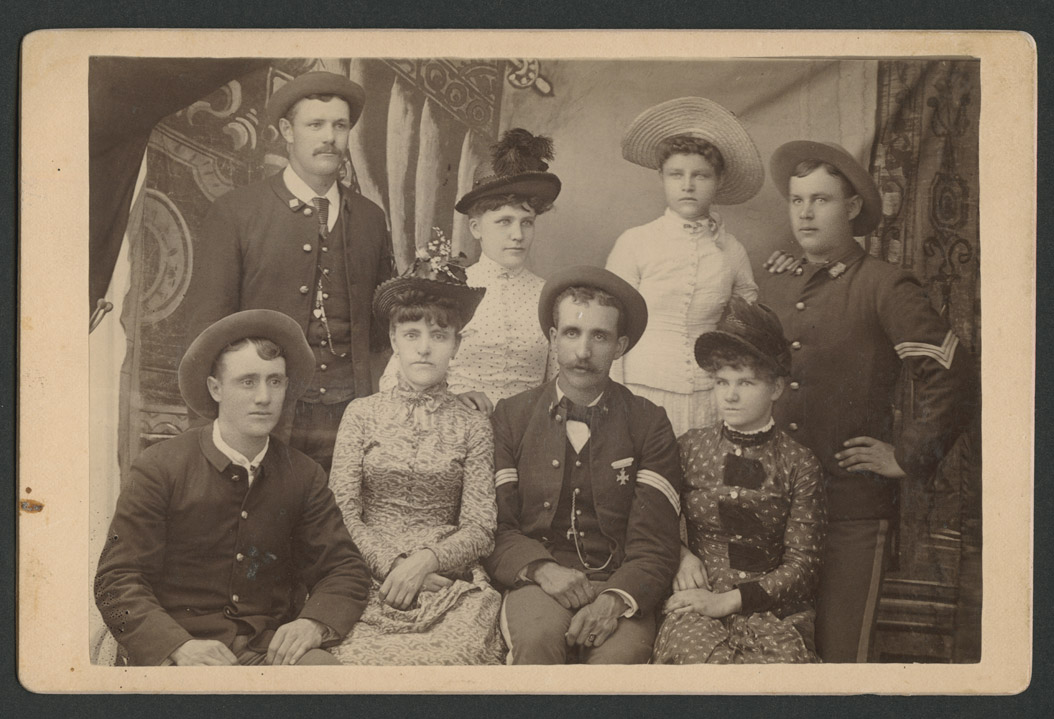 Unfortunately, some men enlisted in the Army without knowing what to expect. Many enlisted men deserted. When possible, deserters were tracked down and disciplined. They faced time in prison and often served with hard labor. Sometimes they had to wear a chain around their ankles that was attached to a heavy iron ball.
Soldiers were paid far less than working men of that time. The average working man in the late 19th century made one dollar a day, but had to pay for his housing and food. Privates were paid $13 a month after the Civil War. Their housing and food were provided by the Army. If soldiers wanted extra food, tobacco, writing paper, stamps, or civilian clothes, they had to purchase those out of their pay.
Generally, enlistment was for five years. Men like Private Wilmot Sanford served that time with as much good humor as possible. (See Document 8.) After soldiers were discharged, they usually carried on with civilian life, married, and found work. Other soldiers stayed in the Army for life. A competent soldier who could read and write might be promoted to Corporal and then to Sergeant. These men usually served for 20 years or more. (See Image 9.)
Document 8. Private Sanford's Diary
Private Wilmot P. Sanford of Nashua, New Hampshire was an infantry soldier stationed at Fort Buford from 1874 -1877. He worked as a farmer until he enlisted in the Army in 1872 at the age of 23. Sanford was a private soldier. He went on patrols to places quite distant from the post. He worked in the post garden and stood guard. Sanford also helped his fellow soldiers by writing letters for them, mending their uniforms, and lending money. Though his spelling was poor, Sanford was probably better educated than most enlisted men. He obviously enjoyed writing in his diary, and he often read newspapers, letters, and books to pass the time when he was not on duty. You will notice that Sanford reports lots of rumors that may or may not have been true. He records his own activities and those of other soldiers and officers. He was discharged at Fort Buford in April, 1877.
The portions of Private Sanford's diary that are known to exist are housed in the Beinecke Rare Book and Manuscript Library at Yale University. Words in brackets [. . .] have been added by the editor. Three dots, or ellipses, indicate that one or more words or entries have been skipped. North Dakota History Vol 52 No 3 (Summer 1985): 2-40
Saturday March 25, 1876. Snowy and warm. On no duty. To the barber shop, the library and get my book changed to Sister Damines Sons by Pines. The male trane came in after another horse got sick and had to leave the male at the Muddy [Missouri River]. Got another mule teem and went after the male this afternoon. 3 men on fatigue and 3 on guard. [Pvt] Winn and lot of others in the mill [the fort's jail]. Snowed all day, but melted most as fast as it fell. Warm night and calm. Snowed most all night. W[ind]. N. E.
Sunday March 26, 1876. Cloudy and warm. The male got in a 9 A. M. Got letters from C. G. Ridgeway and Fred Courtney and two diarys from Hamlin. 2 men on guard and 3 men on fatigue. Bradly, Seanger got in from the hunting party. Stew for breakfast and backed beans for supper. Down and got my washing and to the store and spent [$]2.00 4 companies of the 6th going with Gen. Custer up to the black hills. Wind N.W.
Monday March 27, 1876. Cloudy and warm, but cold at night. Supernumery [extra soldier] of the guard. 3 on fatigue. Dry hash for breakfast & krout for D[inner]. Bread & coffee for supper. Minstrel & Masquerade ball this evening [the actors were military personnel]. Admission to theater 50 cts. Ball 50 cts. . . . Round the garrison at retreat. Go to the library and got my book changed & got Unoworeist by Ophie. Bradley sent to the hospital. To the Gymnasieum. [Pvt.] Deley, Dumlop and [Pvt.] Connell on guard at the river. It has risen. W. N.W.
Tuesday March 28, 1876. On guard with Ginds. H[enry] Howard. No 2 of the 3rd relief. Cap[tain] Henders is officer of the day Hartford S[ergeant] of the guard. Smith & Kroft Corporals. Stood post for 2 hours from 11 to 1. Maynerd and Redd in the mill. Changed my book and got Rose Garden by Ophie. Brown first cook. Stew for breakfast. Backed beans for dinner, bread pudding for supper. Curley and Armstrong had a fuss [small fight or disagreement] up to the Indian camp [at nearby Fort Union]. Warm still night. The rivers are falling. W. N. W.
…
Saturday April 1, 1876. Cloudy, squally & rainy. On Q[uarter] M[aster] fatigue polising [cleaning] out the corrill [corral] guard and polising up sinks [latrines]. Got through at 10:30. Wrote some letters. Bradley doing duty change with Huges 1st Cook, Daly 2nd. Sick 7:30, Fatigue [duty] 8:00 . . . go to the Post Office. Gen[eral] polising by all hands. 3 men on guard and 5 in fatigue. . . .
Thursday April 6, 1876. Clear and cold. . . . 4 men on guard. Dunlop, Connell, Howard G. Sup[ernumerary] Howard. . . . Mulligan and me cent out after [an Army] gun that Donnell sold and got it and fetched in the citizen that had it and put him in the guardhouse. Praire fire. . . . Daniels put in the mill. I[ce] in Missouri not broke yet. Some snow in the hills yet. Windy. Wind East.
Monday April 10, 1876. Clear and warm. . . . 3 men on guard, 10 on fatigue. To werk in the officers yards cleaning them out. Cleaned out all the yards and through at noon. To the library. My book turned in. Got Custer's Life on the Plains [published in 1874]. Dry hash for breakfast and pot pye for dinner. Molases for supper. Colder in the afternoon and windy. Started to make a grill. The men pitching darts and playing ball. A little gamboling. Down to the river with Corp. Rodgers. Wind North West.
. . .
Monday April 17, 1876. Clear and cool. On Kitchin Polise with G. Howard and Mulhern. Dry hash for breakfast and soup for dinner. Apples for supper. 2 men on guard, 7 on fatigue, the rest on Co[mpany] polising. To the library and changed my book. Got the Witherd Affair by P. W. DeForest. Ise in the river yet on the sand bars. To the guardhouse with the prisiners checks. Wierbach and me agreed to buy the Photograph gallery for [$]275.00 to be paid this pay day. Cold night. Wind N. West.
. . .
Thursday April 20, 1876. Clear and cool. On no duty. . . . Down to the photograph gallery all day cleaning plates. No pictures taken as the [developing] bath is out of order. Dry hash for breakfast and roast beef and potatos for dinner. Dried apples for supper. Fires on the praires both up and down the river. Windy but not as bad as yesterday. I am feeling sick today. I have some kind of private disease. Took Linen to the gallery and one change of clothing. Wind N.W.
. . .
Tuesday May 2, 1876. Clear, warm and windy. . . . to work in the cattle corrill. Cleaned up the yard and cleaned the manure pileout. Got through at noon. . . . To the gallery in the afternoon. We made [$]3.00 today. I made a picture frame. Fire down in the woods. I bought a dress coat last night fo [$]1.00. Worked hard in the fornoon. The cook is drunk. We set up and silvered paper for about 80 pictures. . .
Sanford along with other soldiers of several companies took a steam boat up the Yellowstone River while the 7th Cavalry under Col. George A. Custer and other regiments were converging on the encampment of the Lakotas and Cheyennes at the Little Big Horn River. Sanford's company did not participate in the battle. The soldiers did not know much about the losses of troops at the Little Big Horn for more than one week after the battle. Soldiers were usually uninformed as to the mission of their tour and relied on gossip as a poor source of information. Sanford's details about the fight are inaccurate, but reflect the lack of information available to the common soldier even in the face of a great tragedy.
Thursday May 11, 1876. Clear and warm. Came off guard. Out with the prisiners in the mourning. . . . Bradley gone to the hospital again. He is foolish. To the gallery all afternoon. Attended drill and parade in the evening. Drew rations. Packed up my good to go up the Yellowstone and fixed other things. The negatives are getting plenty now. To the sutlers and the library. Got 50c from the gallery. Im not feeling very well. Wind N.W. Clear night and warm.
. . .
Tuesday May 16, 1876. Clear and warm. . . . Started at 2 oclock [a.m.] Breakfast of Cold Beef at 5:30 A.M. Got stuck on a sand bar at 6 in the morning. Stayed until ½ hour to fin the channel than got on a sand bar in a second and it took 6 hours to get off, then took an hor to pass a rapid. Passed the storehouse place where the Josephine [steamboat] left the goods & I Co[mpany] got them just before night. No game seen yet or fresh fish caught. Meat and coffee 3 times today. Awful hot at night. Soldiers do not do anything. . .
. . .
Thursday May 18, 1876. Cloudy and rany. Rained in the night. . . . Bacin and coffee for breakfast and the same for dinner. Passed Canby in the morning early and reached Stanley's Crossing at 11 A. M. but didn't leave the boat till 3 oclock P. M. on account of the rane though. They commenced to unload right away. Turned the breast works all right. Got on one sand bar today. 4 days getting here. Good camping place. Plenty of wood and watter. . .
. . .
Wednesday June 28, 1876. Cloudy and cool. Got up at 3:30 A.M. and had breakfast at Revelle. Fatigue call 5 oclock A.M. Party gone across the river to gather wood for a bonfire on the 4th of July. . . 2 parties of scouts came in with reports of fight with Custers unit and a lot killed. . . Report that a big fight is going on. Fight commenced Sunday [June 25]. Mulligan, Murphy and Cassody and a half breed left for Col Gibbons with a dispatch. Cold night. Wind North West.
. . .
Tuesday July 4, 1876. Clear and hot. Boat came in thie mourning and left for Bismark. Had on B Co[mpany] and 25 wounded men of the 7th Cavalry. Fearful news. 5 Co[mpanies] of the 7th Cav and all the Custers and all of the officers of the 5 Cos killed and Dr. Lord of [Fort] Buford. Soldiers written numbers. Salutes and bonfires on the hills in Celebration of the 4th. Soldier of the 7th buried here today. Came down on the boat. Died on the way down. Bon fire and band music in the evening. Men on a drunk. W. North.
. . .
Friday July 7, 1876. Cloudy and warm. . . Indians seen across the river this morning. . .. Several of the cavalry deserted last night. . . . One of the scouts that started to Gen[eral] Terry with the male came back. He got lost. Indians reported all around. C. Co[mpany] turned out under arms. 3 soldiers deserted last night. Cooler. Windy at night. Wind N.W.
Saturday July 8, 1876. Cloudy and rainy. Rained all night with heavy thunder and lightning. . . Rivers rising. Several of the men drunk. Several of the men in the mill [jail] for forgery and some for theft. Cool and windy all day so to bed early. All kinds of pets here. Eagles, owls, crows, Horned toads, queer rats like a kangaroo. Not much game around here. Saw buffalos about five miles away. Warmer at night. Wind N.W.
Sanford's company continued to go up the Yellowstone on the steamer Josephine. The trip, by foot and by boat, with periodic camps, lasted until September 17, 1876. Sanford's company was not in combat, though for a few weeks there were signs that Indians were nearby. On September 15, he noted that he had only seven more months remaining on his enlistment. The remainder of his service was at Fort Buford. His duties continued to be varied, but rather boring. On April 15, 1877, Private Wilmont Sanford was mustered out of the Army. He returned to Massachusetts where he married and went into farming with his brother Hamlin. Sanford and his wife, Belle, had a son, John, who was born in 1878.
Why is this important? Soldiering was a common way to make a living in Dakota Territory. There were several Army posts in the territory. Soldiers protected the railroad and settlers from Indians. The Army prevented whites from taking Indian land. When the days of conflict were over, many soldiers were posted to forts near Indian reservations such as Fort Totten or Fort Yates. Discharged soldiers often remained in Dakota. They found work in growing cities or claimed a homestead where they could farm.