One of the best ways to make a good living in the early days of North American settlement was in the fur trade. North America, particularly the northern parts of the continent, was rich in furs. The fur trade attracted men who wanted to make money, men who wanted to live the adventurous life of a trader or trapper, and Indians who were interested in acquiring manufactured goods through trade.
The Hudson's Bay Company was the leading fur trading company in the northern Great Plains. It was chartered in 1670, when its trade territory was confined to the Hudson's Bay region. In 1783, a second large fur trade company was organized by independent fur traders who formed a partnership with Montreal businessmen. They called themselves the North West Company. These two companies, along with many smaller companies, engaged in cut-throat competition for fur and for markets. The greatest demand was for beaver fur, but other furs were also traded. (See Document 1.)
Document 1. Made Beaver
The currency of the fur trade was a beaver pelt, stretched, and dried into an oval shaped piece called a beaver dollar or made beaver. There was a known, but flexible, rate of exchange for made beaver (or M.B.) Other furs and manufactured goods were valued in terms of the Made Beaver, just as today we exchange a set number of dollars for goods we buy.
The Made Beaver pelt had to be prime to be at its full value. In other words, the beaver was trapped in late winter when its coat was thick. The pelt had been processed before it was ready for shipping out by boat to collection points in Montreal, St. Louis, or New York City.
| | |
| --- | --- |
| Number of MB | Item of Trade |
| 1 Made Beaver | ½ pound of glass beads |
| 1 Made Beaver | 1 brass kettle |
| 1 Made Beaver | 2 yards of wool flannel cloth |
| 1 Made Beaver | 12 dozen buttons (probably brass, perhaps shell) |
| 1 Made Beaver | 8 knives |
| 1 Made Beaver | 2 hatchets |
| 1 Made Beaver | 1 wool blanket (by 1700, 60 % of the trade was for Hudson's Bay Co. blankets) |
| 1 Made Beaver | 2 cotton shirts |
| 1 Made Beaver | 2 pounds of sugar |
| 1 Made Beaver | 1 pair of trousers |
| 1 Made Beaver | 20 flints (muzzle loading guns required flint to strike the spark that fired the gun) |
| 1 Made Beaver | 20 steel fish hooks |
| 2 Made Beaver | 1 pound of lead shot for a rifle |
| 4 Made Beaver | 1 pistol |
| 6 Made Beaver | 1, 3-gallon kettle |
| 11 Made Beaver | 1 musket |
Made Beaver also set the value of other furs. Though beaver was the most common pelt exchanged in the fur trade until 1820, other fur-bearing animals were also trapped. The value of the other pelts depended on the season, the location of the post (more remote posts paid lower prices), and the amount of competition for the trade.
| | |
| --- | --- |
| 1 Made Beaver | 1-2 lynx pelts |
| 1 Made Beaver | 1-7 marten pelts |
| 1 Made Beaver | 9-14 muskrat pelts |
| 2 Made Beaver | 1 large otter pelt |
| 1 Made Beaver | 2 small beaver pelts |
Unfortunately, Made Beaver was also used to establish the price of a gallon of rum or brandy. These liquors went cheap (1 Made Beaver per gallon) because the liquor was usually watered down and adulterated with pepper, bad wine, or addictive, sleep-inducing drugs such as laudanum.
The companies brought American Indians into the fur trade by promising a good exchange for furs. Indians who gathered pelts (the hides of fur-bearing animals) for traders received manufactured goods such as glass beads and metal cooking pots in exchange. (See Document 2.) Guns and liquor also entered the trade. Though guns were useful in hunting, they also played a role in warfare. Liquor was outlawed in the fur trade after 1802 in the United States, but traders often used liquor illegally to take unfair advantage of Indians.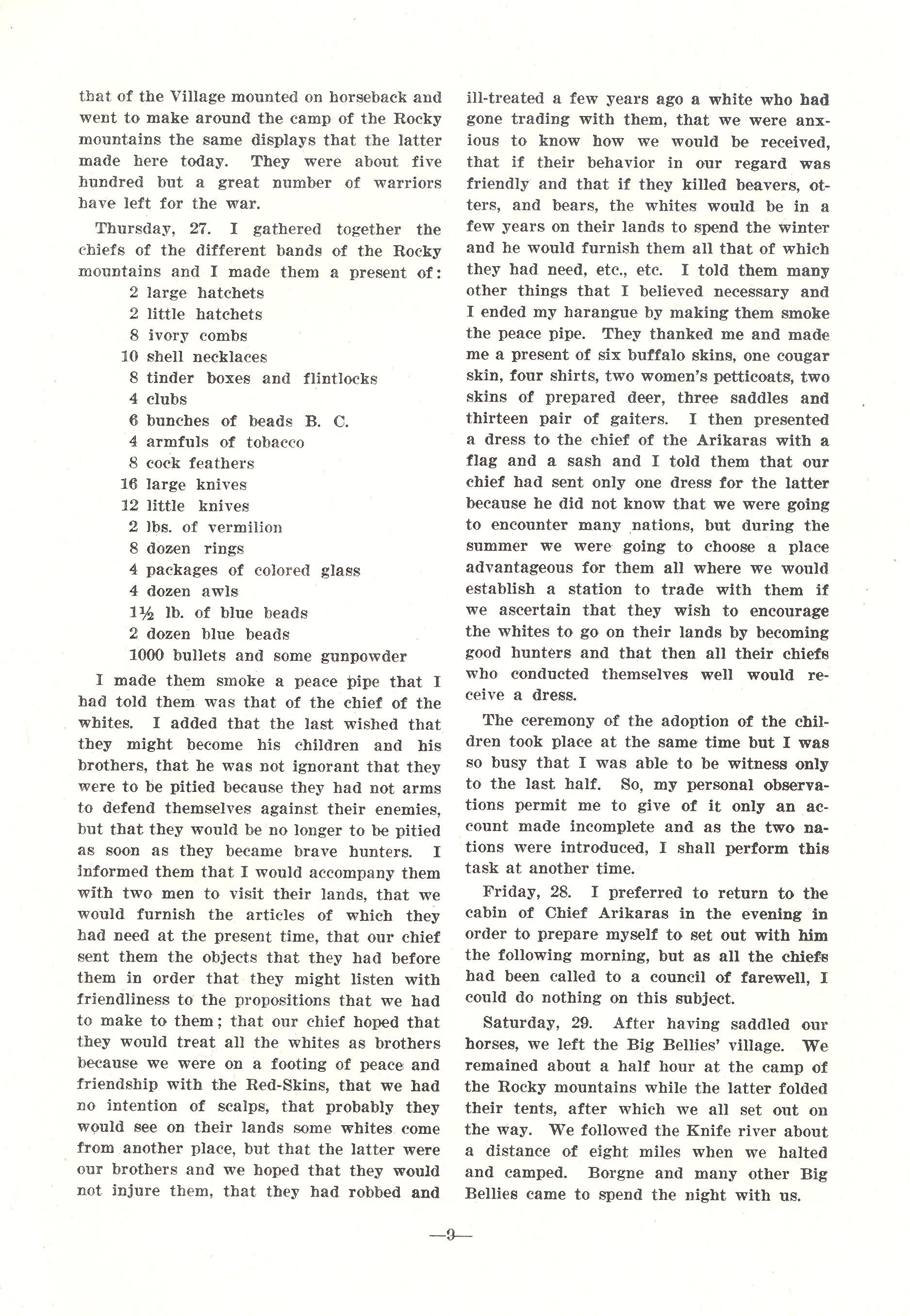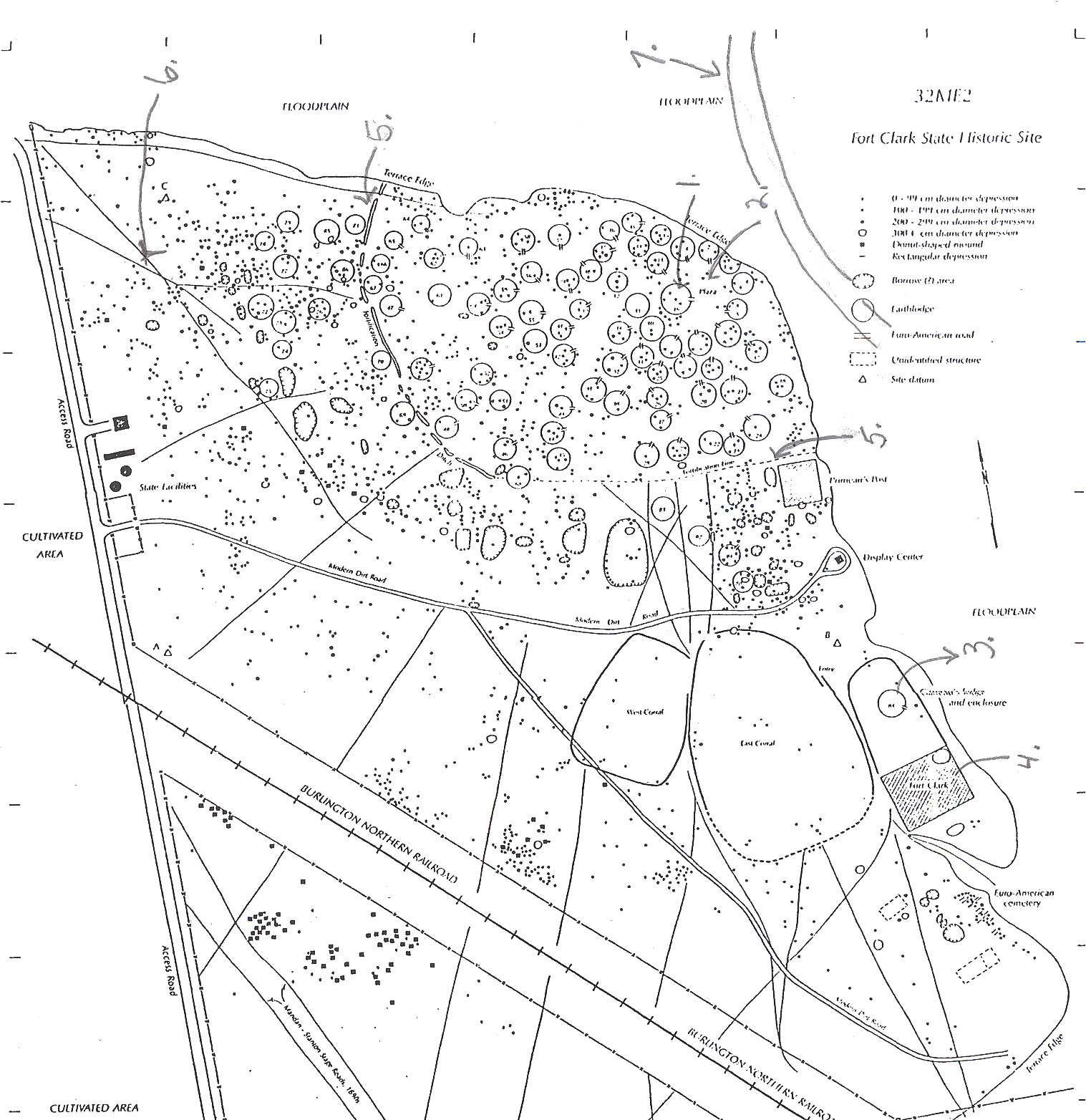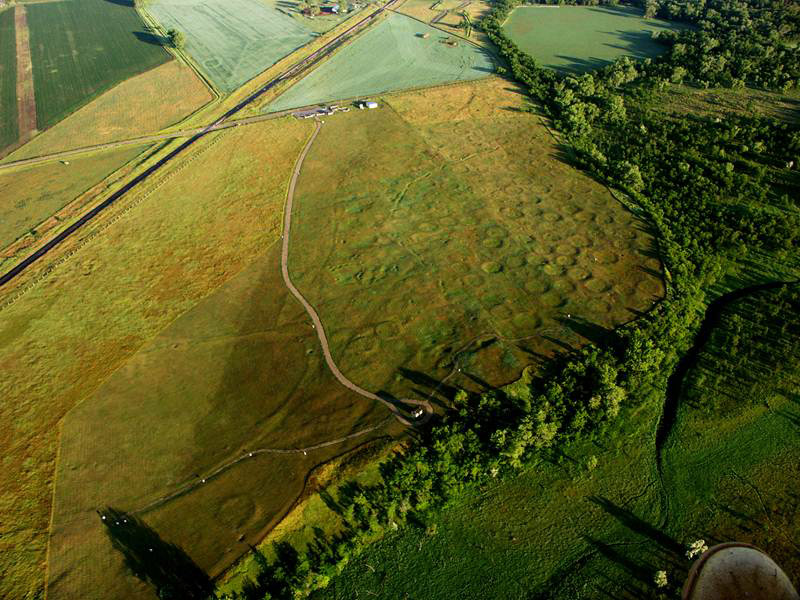 Fur traders entered the region that became North Dakota around 1800. A few independent traders may have entered the region earlier, but Alexander Henry of Canada on the lower Red River (1799) and American Robert Dickson on Lake Traverse (1800) were the first to build trading posts that drew on the rich fur resources of eastern North Dakota.
The Hudson's Bay Company and the North West Company competed with each other by building posts very close to one another. They also tried to take business away from each other by offering better deals to their Indian trade partners. Both companies engaged in over-trapping beavers to drive the other company out of the region. They succeeded in nearly destroying the beaver population of the region and in degrading the cultures of many Indian tribes.
Many smaller companies entered the fur trade, but most were eager to sell their business to a larger company after a year or two of tough competition. In 1821, the beaver trade came to an end when European fashions in hats changed from felt made from beaver fur to silk. Around that time,the Hudson's Bay Company and the North West Company merged, leaving the Hudson's Bay Company in command of the Canadian fur trade.
Around 1820, the focus of the fur trade shifted from beaver to bison hides. Most of the independent fur trappers and traders were now out of work. Some settled in the region and took up farming or other types of business. Others became bison hunters. (See Document 3.) The American Fur Company set up their business in North Dakota at Fort Clark and Fort Union. Most of their trade was in bison hides. (See Document 4.)
Document 3. Chardon's Journal at Fort Clark
Fort Clark was established in 1831 on the Missouri River just south of the mouth of the Knife River. The post was built by the American Fur Company, the largest and most important of fur companies operating in the United States. The post's near neighbors were Hidatsas and Mandans. The Assiniboines, Arikaras, Lakotas, Dakotas, Crows, and other tribes came to Fort Clark to trade.
Francis A. Chardon was the bourgeois (bur ZHWAH), or head trader and manager, of Fort Clark from 1834 to 1839. He was born in Philadelphia. After his service in the War of 1812, he entered the fur trade. By 1834, when he was assigned to Fort Clark, he had several years of experience in the fur trade of the upper Missouri River, he spoke Osage (a language similar to that spoken by the Dakotas), and he had married several American Indian women "in the fashion of the country" meaning that he married according to the woman's cultural tradition. His excellent salary of $800 ($17,000 today) per year allowed him to own a slave. His journal details the day-to-day business activities at a busy fur-trading post.
By 1832, he had married a beautiful Lakota woman named Tchon-su-mons-ka (Sandbar). With Chardon, she had two children named Francis Bolivar (1832) and Andrew Jackson (1835).
Bolivar was sent to Philadelphia where he was raised by Chardon's parents. He later attended St. Louis University. Andrew Jackson Chardon died of smallpox in 1837, a few months after his mother died.
Chardon was lonely and unhappy in his work; he often drank too much. When his slave was killed by Piegan Indians in Montana, he murdered six Piegans in revenge. Because he illegally sold liquor to Indians, he was forced out of Indian Country by U.S. Indian agent Andrew Drips in 1846. He went to St. Louis, but in 1848, he returned to Fort Pierre (present day South Dakota) where he died.
Chardon kept a journal of both his business transactions and his life at Fort Clark from 1834 to 1839. These excerpts from Chardon's journal describe the daily life, boredom, and dangers of life at Fort Clark as well as the business transactions. Daily work included acquiring food, water, and wood for the people who lived in the fort, in addition to engaging in trade, and trying to manage peaceful relations among all of the trading partners.
The entries have been edited. Explanatory notes are included in brackets [. . .]. Chardon's spelling has not been corrected.
Source: Annie H. Abel, ed. Chardon's Journal at Fort Clark 1834-1839 (Lincoln: University of Nebraska Press, 1997) and online: http://catalog.hathitrust.org/Record/006687356
The Journal
August 1834
Wednesday 20 – cloudy – and appearance of rain, finished hauleing wood, and to my surprise instead of 60 cords which I ought to have had, only found 28 – so much have I been duped for not keeping a good and watchfull eye over [employees], who will take every opportunity they can to deceive their employers, however I am in hopes, that all will go on better! Rain and thunder -
September 1834.
Monday 8 - . . . Jonca [a French trader] promised that he would bring me some beaver, skins and robes, that he has at his lodge —
Tuesday 9 — Pleasant day — Feast and council with the heads of [fur business] Departments
Wednesday 10 — The Mandans crossed the river to run Buffaloe — sent Mitchel with four horses — the men came in from the woods, haveing seen Indians.
Thursday 11 — Cool morning — in the evening the Indians all returned from the chaise, with an abundance of meat — Mitchel arrived with [the meat of] four [bison] Cows —
Saturday 13 — Cloudy — I forgot to mention that the Indians, on the [11th of this month], Killed a White calf the skin of which is valued at 4 Horses — Medicine feast at the Village to day — A Yanctonnais [Sioux] slipped in the Village unperceived and brought information that the Sioux Camp will be here tomorrow , that he stole away from their camp, contrairy to the orders of the Soldiers, he will be detained close Prisoner untill further news —
Sunday 14 — This Morning early 2 more Yanctons arrived and affirmed what the Prisoner said — they sent him off with some tobacco — I also sent some tobacco to the [Sioux] Soldiers — The Mandans are all upon their guard, expecting [treason]— rain in the afternoon.
Monday 15 — The Sioux camp has not yet arrived on account of the rain yesterday — a band belonging to the Bande des Chein — or dog band — came and gave us a dance — after [giving] them a small present, they went to the Village expecting to get something there but no one was disposed to give them
anything — they left the Village as they said, with their hearts bad — I am inclined to believe that all will not go on strait —
October 1834
Monday 27— Last night —11 O'clock enemies around the Fort, and Knocked several times at the gate — Set 2 Men chopping wood for [fuel] — Miller with 2 free trappers arrived from Fort Union — No News in that quarter —
Wednesday 29 — Miller, and the two hunters started for below [forts down river]— takeing with them 54 Beaver skins.
Thursday 30 — No news—
Friday 31 — As yesterday! Number of Rats this Month 97 — [Norway rats came into the Upper Missouri country with white traders. One visitor to Fort Clark estimated that the rats at 250 pounds of corn each day. Cats were too scarce to have much impact on the rat population.]
December 1834
Wednesday 24 – A Yancton arrived this Morning from the Camp on Hart river, brought information that 2 horses belonging to the Mandans — that was missing some time since, was stolen by the Onk pa Ta [Hunkpapa Lakotas] and that the [Mandan] soldiers has went in search of them, and that they will be here, in 3 or 4 days — Bijoux [a trader] arrived from the Gros Ventres [Hidatsas], to spend the Christmas day with us, Charboneau [the trader who traveled with Lewis and Clark to the Pacific in 1805] is busily employed in Makeing a grand feast —
Thursday 25 — Christmas comes but once a year, and when it comes it brings good cheer. But not here! As every thing seems the same, No New faces, No News, and worst of all No Cattle, last Night at [half] past 10 0'Clock we partook of a fine supper Prepared by Old Charboneau, consisting of Meat pies, bread,
fricassied [grouse] Boiled tongues, roast beef — and Coffee — the brilliant assembly consisted of Indns Half Breeds, Canadians, Squaws and children, to have taken a Birds eyes view, of the whole group, seated at the festive board, would of astonished any, but those who are accustomed to such sights, to [have] seen in what little time, the Contents of the table was dispatched, some as much as seven to nine cups of coffee, and the rest in like proportion, good luck for the Cooks that they were [among] the Number seated at the table, or their share would of been scant — as every one had done Honour to his plate —
Friday 26—Bijoux started for the Gros Ventres — The Dog bande gave us a dance — they went off well pleased, as both the Whites & Reds, were very liberal [with gifts] towards them, the French [traders] will return them the dance on New Year's day —
Monday 29 — No News to day — Pleasant weather, the Sioux that was expected to arrive yesterday, has not yet arrived —
Tuesday 30 — Stormy disagreeable weather — Garreau started out in search of cattle [bison] — the Yanctons are at length arrived, between 2 and 3 hundred, Men and Women, bringing with them
some few Robes to trade [for] corn — cattle [bison are] scarce in their neighbourhood.
Wednesday 31 — Number of Rats Killed this Month 34 —This Morning a Sioux was Killed in the Village-by a Gros Ventre [Hidatsa], who made his escape after committing the deed, in the
afternoon the Sioux all left the Village for their camp.
August 1835
Fort Clark 12th August 1835
I arrived at this place on the 18th of June 1834 -from that date up to the present - I have traded 340 packs Buffaloe robes - 1100 lb [pounds] Beaver – Killed 39 Buffaloe - 1056 House Rats, and have Made a Fine Boy, who I have Named Andrew Jackson, in Honour of the Old General- Whose health I am in hopes of drinking at St Louis this fall -
September 1835
Monday 14 — Morning Clear — killed 38 rats, 5 last Knight and 33 this morning — The 4 Bear [the great Mandan chief, Four Bears or Ma to to pa] and his companions returned Yesterday having lost the track — 7 OClock A. M. Sioux Camp commenced moving, lodges all down — 8 OClock, all off except a fieu, beggars, — bought a horse from the Yanktonas — Cleared out the Store , and found I had traded from the Sioux 360 Robes, 102 Calf Skins, 74lb [pounds] Beaver , 200 pieces of Meat, 12 Sacks of Cords, — They carried off with them, 1 1/2 pack of Beaver to buy horses with — Contrary to all expectations the Soux have gone without a fight with the Mandans, & I believe have Stole no more horses, — to day has been Tolerable windy —
June 1836
Saturday 18 – The Steam Boat left here to day for the Yellow Stone with . . . McKinzie, Mitchell, and the Agent on board – Newman and Co. arrived yesterday from their beaver hunt (1 pack) – report Buffaloe close –
[In the margins of the pages, Chardon's clerk, David Mitchell, summed up the trade for 1836. These are the packs of furs that went down the Missouri River with the men who left the fort on June 18 (above).]
1836
Juno 16 — Recapitulation
313 Packs Buffalo Robes 10 each is 3130 Robes
4 Packs Beaver . . . . . . .100 each is 400
1 Packton [Beaver] . . . . .42. . . . . . . . 42 442
1 Pack Wolf Skins . . . . . . . . . . . . . . . . . . . . . . . . . . . 48 skins
1 Pack Red Foxes — containing — 102 [skins]
1 Pack Mix . . . . . . . . . . viz
82 Grey Foxes
4 Badgers
7 Hares
6 Red Foxes
85 Musk rats
2 Minks
$ 9330.00
1600.00
168.00
21.00
51.00
30.00
$ 11,200.00 Amount of Pelteries 1836

Amount of Pelteries Made at Fort Clark 35 — 36 — 37 — 38
1835 — 3270 [Bison] Robes 1140 Beaver
1836 — 3130 " 442 "
1837 — 3200 " 436 "
1838 — 2870 " 404 "

Why is this important? The fur trade business had a relatively short life in North Dakota, but it had a tremendous impact. Traders and independent trappers acquired knowledge of the land and passed that knowledge on to mapmakers and government officials.
The fur trade also brought a capitalist economy to North Dakota. All of the requirements for business were present. Fur-bearing animals provided the resource, or raw materials. Wealthy Europeans who wanted beautiful furs provided the market where the furs were sold. Several companies and individuals provided the capital (money) to finance the trading expeditions. The companies supplied traders with the manufactured goods to trade. Fur trappers, traders, and American Indians provided labor for the trade. If the companies were successful, their investments returned a profit.
However, the fur trade also brought disease and increased warfare to the northern Great Plains. These unexpected and unwelcome effects devastated the Indian tribes of the region.