Section 3: William Langer
William ("Wild Bill") Langer was one of the most colorful, controversial, and important politicians in the history of North Dakota. Langer was born on a farm near Casselton in 1886. Young Langer demonstrated his intelligence and forceful personality while still a student. He graduated as valedictorian of his high school class (Casselton 1904) and graduated from UND in 1906. He passed the bar exam, but was too young to practice law. He then entered Columbia University in New York City and graduated at the top of his class.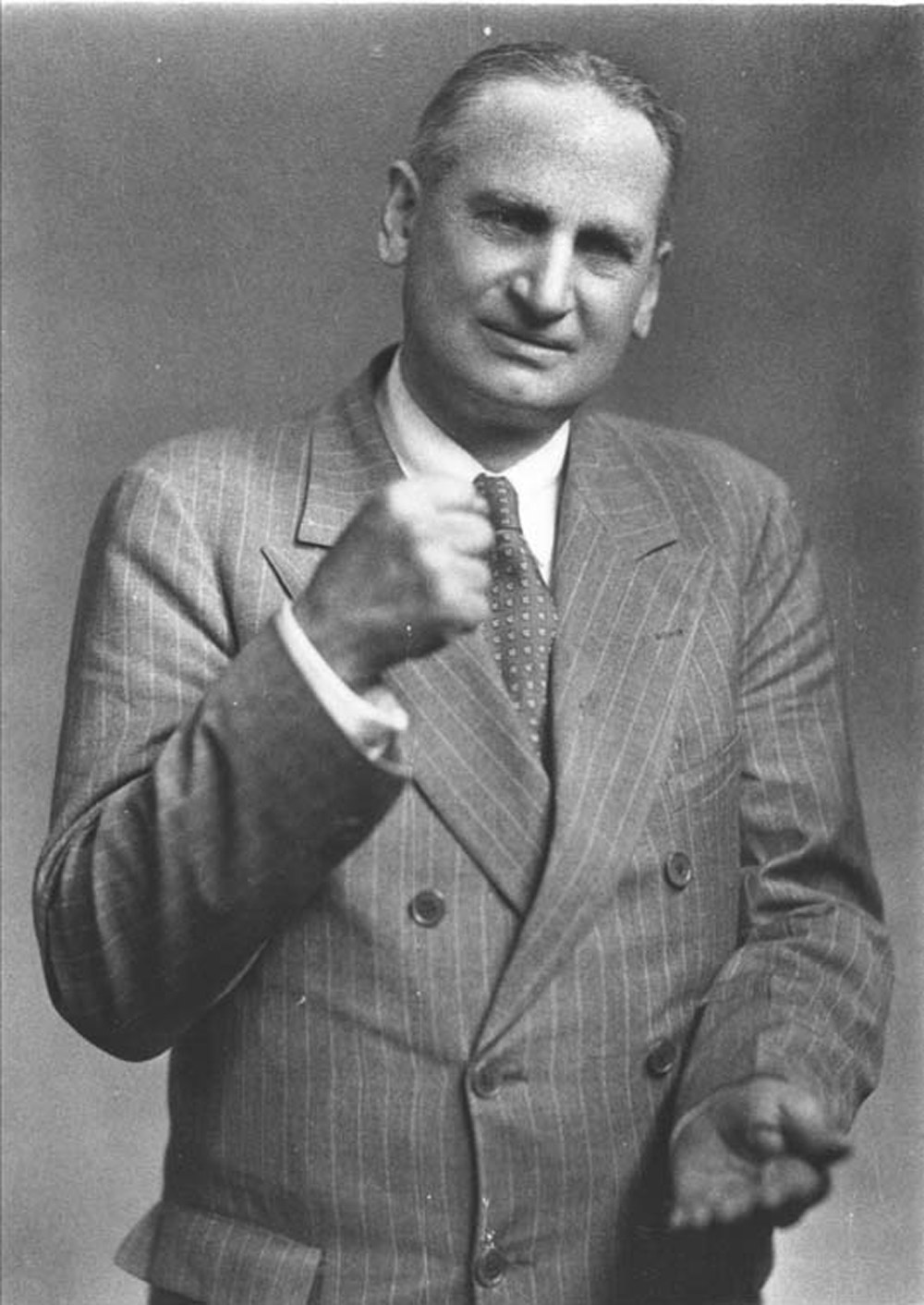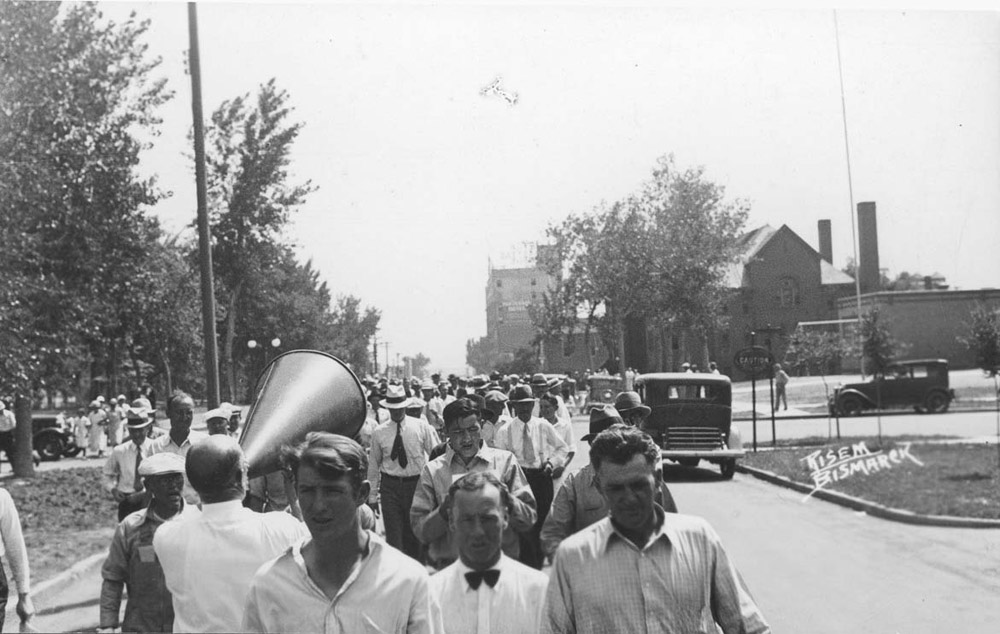 He turned down job offers in New York to return to North Dakota where he took a job as Morton County assistant state's attorney. He vigorously prosecuted offenders of the prohibition laws. He soon made a name for himself in the state by winning a lawsuit against the Northern Pacific Railway to force the railroad to pay $1,250,000 in unpaid taxes.
When Langer ran for Attorney General of North Dakota 1916, he carried every county. In 1918, he ran for Attorney General again with the support of the Nonpartisan League (NPL). However, by 1920, Langer opposed the NPL and worked to remove Leaguers from office. He thought that the NPL, founded by farmers, had not supported farmers and agriculture in North Dakota as well as it should have. Langer ran for governor in 1920 as a Progressive Republican. He was defeated by the incumbent NPL governor, Lynn Frazier, but Frazier was removed from office by recall in 1921.
Langer returned to the NPL in the 1920s. He helped the League solve some of its problems, but by then, the League had little political power. In 1932, in the darkest days of the Great Depression, Langer was elected governor as a Republican with League support. (See Image 4.) Langer became governor when the state was nearly broke, farmers were losing their farms to foreclosure, and the price of wheat had dropped below the cost of production.
Langer soon ran into controversy with his programs. Langer's administration cut state spending and imposed particularly steep budget cuts on the colleges. Langer placed a moratorium (mor uh TOR ee um) on farm foreclosures. This means that the state would not allow banks or counties to take title to farms because the owner had not paid loans or taxes. (See Image 5.) In another controversial move, Langer placed an embargo on the shipment of wheat from North Dakota in October, 1933.
Langer's efforts to protect farmers from the hardships of the Great Depression resulted in federal action against him. Langer was charged with campaign law violations that included requiring state employees to support the Leader (Langer's newspaper) with five per cent of their salaries. When federal employees were asked to subscribe to the newspaper, Langer was indicted on federal charges. Langer was convicted, fined, and sentenced to 18 months in federal prison. He was then removed from office because he was convicted of a felony. Lieutenant Governor Ole Olson completed Langer's first term.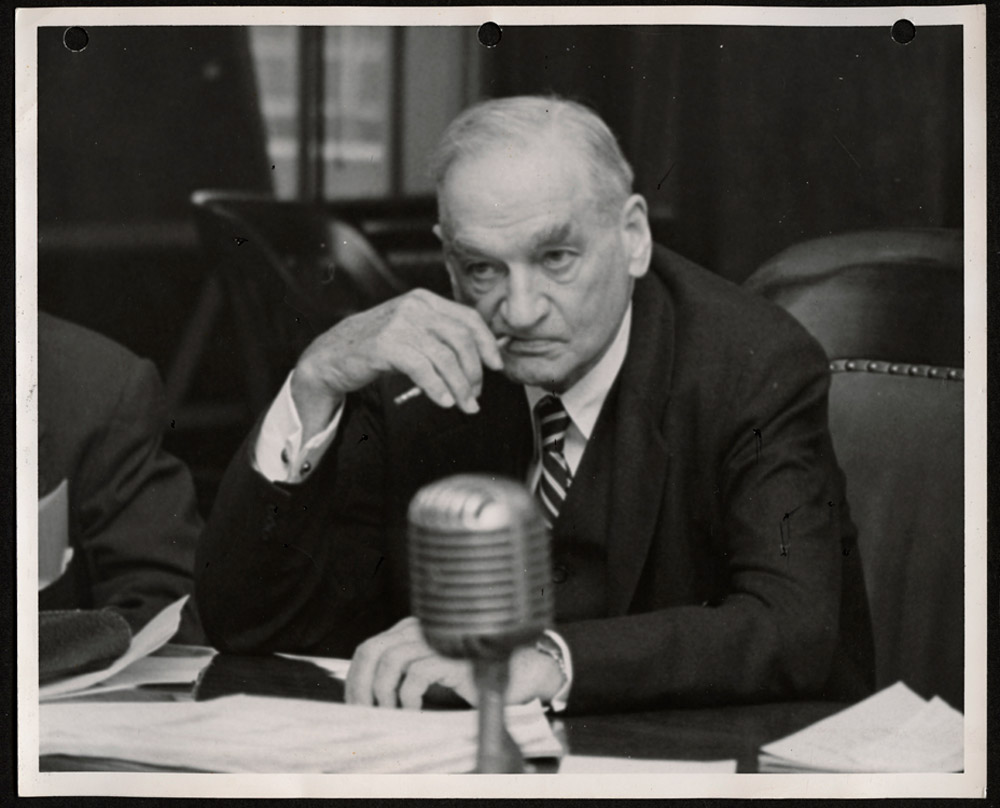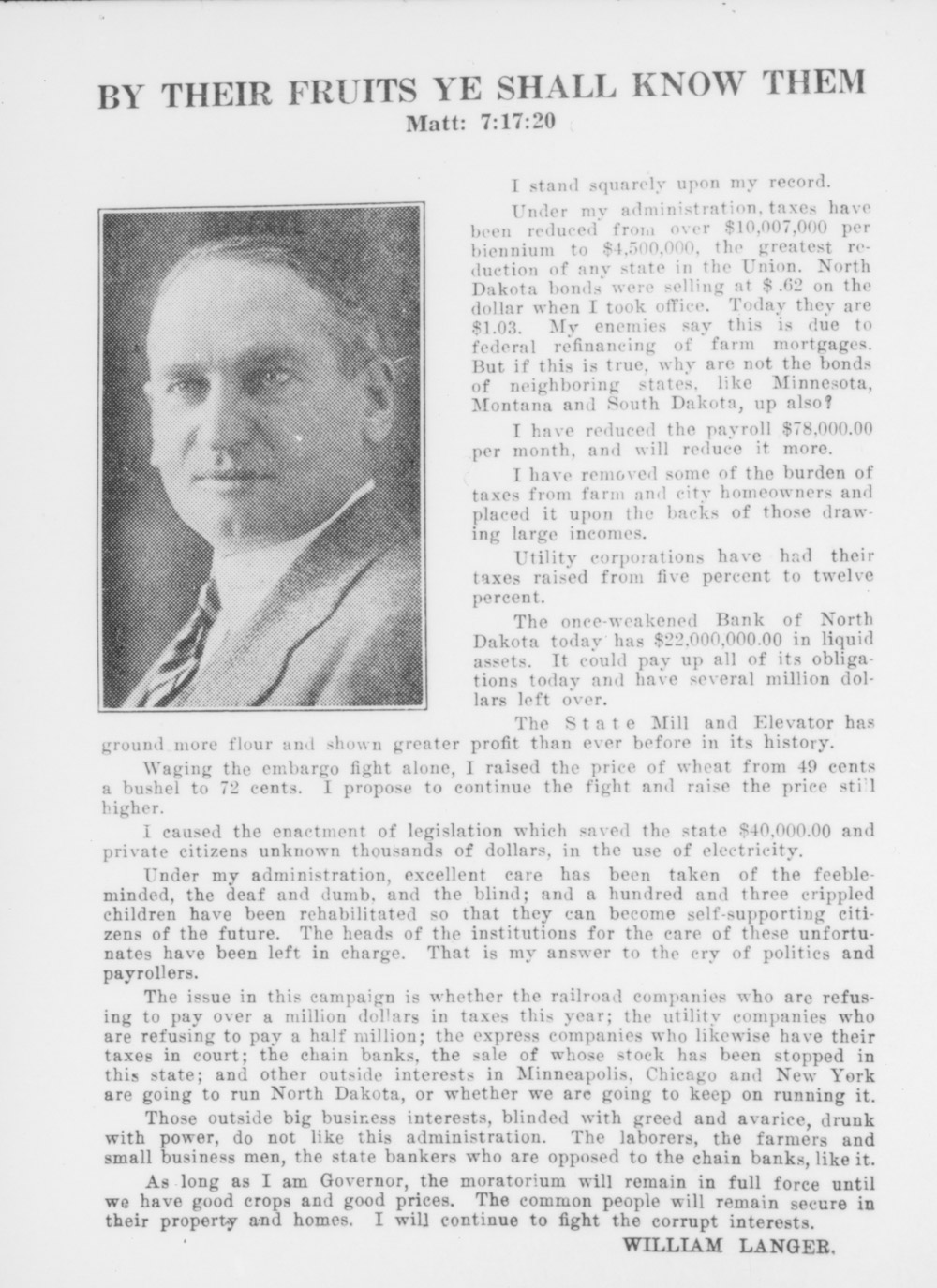 Langer appealed and stood trial three more times. He was finally acquitted in 1935. Langer won the governor's office again in 1936 as an Independent. (See Document 2.) In this term, he was successful in manipulating wheat prices, but his administration was troubled by financial matters that many considered inappropriate. These problems turned up again when he was elected to the Senate.
In 1940, Langer won election to the U.S. Senate. Before Langer was seated in the Senate, some North Dakotans presented a petition to the Senate asking that he not be sworn into office. The petition charged Langer with receiving kickbacks (payments for services), leasing government property to his personal advantage, and other illegal acts. Langer was sworn and seated, but the charges were investigated. After months of investigation and hearings, the Senate Select Committee report stated that Langer lacked "moral fitness to be a senator" and recommended that he be excluded from the Senate.
Though evidence against Langer was strong, senators debated the question of constitutional requirements for office. Some senators argued that the Senate could not add qualifications to those outlined in the constitution, and "moral fitness" was not listed as a qualification. (See Image 6.) These arguments won in a Senate vote. The Senate then debated expelling Langer from the Senate, but the motion to expel him failed. Langer had the support of North Dakota voters and served in the Senate for the rest of his life.
As a senator, Langer voted for the U.S. to declare war against Japan (December 8, 1941). However, on other international issues such as approval of the North Atlantic Treaty or membership in the United Nations, he remained true to his isolationist views. He chaired several committees including Judiciary and Indian Affairs. Langer supported affordable health care and rural electrification and telephone service. Langer was ill with advanced diabetes during his campaign in 1958, and his wife was ill with cancer. However, Langer was so popular with voters that he won every county in the state, even though he did not make any campaign speeches. Langer died in November, 1959. A special election was held in 1960 to replace Langer. Quentin Burdick, a Democrat, won the election.
Why is this important? Politicians represent the state in many ways. Besides casting votes in the Senate or House of Representatives, they express or demonstrate the nature of politics and society in their home states. Langer was, in some ways, an embarrassment to North Dakota and an example of the shortcomings of democracy. However, his sincere and unfailing support of agriculture and farmers made him many devoted friends in this agricultural state. He remains one of the most important politicians in the state for both his political strengths and his moral shortcomings.